Political Notes: October 2013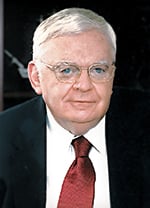 Shipp Tribute: Most of us are lucky to get a cake in the office conference room to mark another turn around the sun. But most of us don't have half a century of singular political journalism under our belts – as veteran reporter, editor and columnist Bill Shipp does.
Four former governors and two first ladies were among the guests paying tribute to Shipp on the occasion of his 80th birthday celebration at the Vinings Bank in Smyrna.
Carl Sanders, Joe Frank Harris, Zell Miller and Roy Barnes provided the gubernatorial presence; they were joined by Shirley Miller and Betty Russell Vandiver, widow of the late Gov. S. Ernest Vandiver.
The gathering was as much a roast as it was a birthday party, as officials whom Shipp had written about – generally not favorably – over his long career engaged in some good-natured ribbing of a Georgia icon.
(In addition to his work with the Atlanta Constittion and his own Bill Shipp's Georgia newsletter, he wrote a political column for Geor-gia Trend for more than 20 years. After his retirement, he was named to Georgia Trend's Most Influential Georgians Hall of Fame.)
Barnes repeated what he says was once a common refrain around the Capitol: "If Bill Shipp needed 1,000 words, his mama wasn't safe." Harris said Shipp stayed at the top of his wife Elizabeth's prayer list.
Miller, who was not always on the best of terms with Shipp while he was governor or U.S. senator, said another guest had asked him if Shipp was for him or against him. "I've had him both ways," Miller said. "There's never been another like him. I love you, Bill."
George Berry, a former state tourism commissioner, emceed the ceremony; Marietta Mayor Steve Tumlin offered a proclamation that included the observation that Shipp, who was a regular on TV's The Georgia Gang for many years, "had a face made for radio."
Other guests at the celebration included former U.S. Sen. Max Cleland, Attorney General Sam Olens, University System Chancellor Hank Huckaby, Board of Regents Chairman Dink NeSmith, UGA Athletic Director Emeritus Vince Dooley, State Supreme Court Justices Harris Hines and Robert Benham, former Justice Conley Ingram, former Labor Commissioner (now interim DeKalb School Super-intendent) Michael Thurmond, Ken-nesaw State University President Dan Papp and President Emerita Betty Siegel, plus former lawmakers Larry Walker and Jane Vandiver Kidd.
A special guest at the celebration was retired Judge Horace Ward. In the 1950s, when Shipp was a student at the University of Georgia and on the staff of The Red & Black, he criticized the UGA administration for denying Ward, an African American with degrees from Morehouse and Atlanta University, admission to the law school. Shipp was kicked out of school and subsequently drafted into the army before resuming his studies and his journalistic career. Ward had a distinguished legal career and was appointed to a federal judgeship by President Jimmy Carter.
More Water Wars? Really? Gov. Nathan Deal didn't take too kindly to an announcement from Florida Gov. Rick Scott promising that his state will sue Georgia in the U.S. Supreme Court over water use. In a statement, Deal says the threat "greatly disappoints me after I negotiated in good faith for two years" and went on to suggest that Scott's motives might be political rather than water-related.
"More than a year ago I offered a framework for a comprehensive agreement. Florida never responded. It's absurd to waste taxpayers' money and prolong this process with a court battle when I've proposed a workable solution," Deal says.
He notes that both Florida and Georgia have experienced record rainfall this year.
"The fastest and best resolution is an agreement, not a lawsuit going into an election year," he says. He believes any Supreme Court decision, should it come to that, would go Georgia's way, since federal courts have already ruled in Georgia's favor.
New State Chair: Former State Rep. DuBose Porter, from Dublin, is the new chair of the state Democratic Party. He succeeds Mike Berlon, who resigned under pressure from fellow Dems. Porter defeated RJ Hadley and former State Sen. Doug Stoner in a special election.
Eat, Pray, Legislate: Attorney General Sam Olens has joined 23 other state attorneys general in an amicus brief filed with the U.S. Supreme Court in support of the tradition of prayer at the beginning of a governmental assembly. A lower court ruling in the case of Town of Greece, N.Y. v. Galloway held that such prayer violates the Establishment Clause of the Constitution.
Olens and the other state officials argue that the country has a long history of legislative prayer. "Our nation has a centuries-long tradition of balancing religious freedom and public prayer, and I believe that tradition must be protected," he says.