Georgia 400: Here Come The Jobs
Community, connectivity and amenities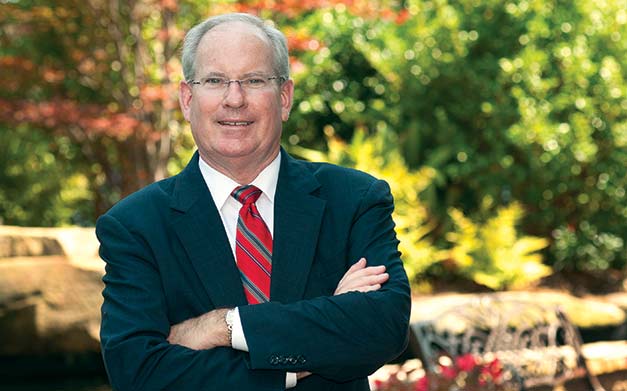 Running north from Buckhead into the northern reaches of Fulton County, the Georgia 400 corridor bisects a region that has become one of the most prosperous and fastest-growing areas in the nation. There are gleaming office towers and busy shopping malls, along with quaint downtowns and palatial homes on grand estates. It is a region dominated by cars, but one where greenspaces and riverbanks beckon.
It's an area that has lately been drawing both expanding companies and their executives alike. The attractions include not just the infrastructure and workforce businesses need, but the quality of life that both managers and workers want.
"We have a lot of companies that have chosen to move to our area," says Al Nash, executive director of Progress Partners of North Fulton Atlanta, the economic development arm of the Greater North Fulton Chamber of Commerce. "We've been able to feed off a great infrastructure of fiber and a great lifestyle. The Central Perimeter area and all along the 400 corridor, plus all the residential areas and the quality education we have, put us in a great position as we came out of this recession. We had great success all over the whole footprint with job announcements."
Truthfully, there has been no shortage of new jobs from all kinds of companies. Big names like General Motors, Ernst & Young and Hewlett-Packard have all been acquiring new space and expanding operations.
And the wins are likely to continue.
Sandy Springs-based AirWatch, which had largely been bootstrapping its growth, received a $200-million infusion of outside capital earlier this year. A few months later, it added another $25-million round – valuing the company at more than $1 billion.
"They announced they were going to create 800 new jobs, and they also put in about $4 million worth of new equipment," says Nash. "These jobs will be mostly in North Fulton and Sandy Springs. It is a huge win for the state and for Sandy Springs."
Ernst & Young announced it is opening a global IT center in Alpharetta and investing $8.5 million to expand its presence with 400 new jobs. The company leased space on Lakewood Parkway in Sanctuary Park.
Over the next five years, Ernst & Young will fill primarily IT positions through a combination of new hires and job relocations, including project managers, business analysts, software architects, software developers, system analysts, executives, managers and other support positions.
Another victory came in the form of General Motors' return to Metro Atlanta. After closing its Doraville plant four years ago, the company decided to expand its presence in Roswell – fueled by $20 million in state incentives.
The GM center will employ 1,000 IT workers at a new $26-million technology development center. The operation, based in a facility once used by UPS, will bring together software developers, database managers and other high-skilled workers to design the company's back-office technical infrastructure.
The Roswell center will be one of four GM opens around the country as it brings IT operations in-house, and Georgia was selected over several other sites in the region.
More technology jobs – about 200 total – also appeared at Hewlett-Pack-ard's Alpharetta campus, as part of a corporate restructuring. The company employs about 800 in Alpharetta. The new positions include customer support workers who help enterprise customers troubleshoot problems with hardware products, such as servers and storage devices found in data centers.
The lure for technology companies and their operations can be found in the infrastructure that runs throughout the North Fulton region.
"We have some of the best fiber, and a lot of it is encased in concrete, which makes it very reliable," says Nash. "We have a tremendous power grid that Georgia Power has laid over the years. The other thing is we have the city governments and their staffs all trying to work to make these transitions happen."
Healthcare, IT
Technology comes in all flavors here in the Georgia 400 corridor. One recent study found that it is the nation's leading home for healthcare services and IT enterprises. Among the companies found here is McKesson, a Fortune 100 company that is the one of the world's largest makers of electronic medical records and healthcare automation technology.
Alpharetta itself claims more than 600 technology firms within its borders – the largest number in the metro area. The city has also been a constant stop for companies seeking space to expand.
"Since one year ago, it's been pretty much nonstop since I got here," says Peter Tokar, who became the economic development director for the city last summer. "We've constantly had every month projects coming in where they're just speculative that end up here or elsewhere, but we've been in the mix for all of them."
North Fulton has also been a hotbed of expansion for small businesses and entrepreneurial ventures. Jim Coyle is a serial entrepreneur running two startup technology companies in downtown Roswell. PaperHost, an online document management venture, and MetaStreams, a provider of revenue cycle management for healthcare, share 38 employees between them. Running the two out of the same building allows for sharing of resources and equipment.
His selection of Roswell as a base of operations owes as much to his desire to be "within five miles of my home" as anything else. Yet it has proven to be an ideal location for growing new companies.
"I've been in Roswell for a while, but we were in another location and we just needed more space," says Coyle.
That's when he learned the area had been encompassed within an Opportunity Zone, which offers substantial tax breaks to companies that add employees. Confident that his ventures would soon be on a growth spurt, Coyle moved his 15 workers into the zone three years ago, and since then the head count has risen to 38.
"I knew the nature of the businesses I was developing, and we just refused to participate in the recession," he explains. "This was a chance to help Roswell as the Opportunity Zone was intended to do by bringing growing, vibrant companies into the zone."
Being in Roswell made it easier to find and retain good workers. He cites the schools, entertainment and lifestyle as factors that have made it a trendy place to live and raise a family.
"Compensation is not just about what you pay people," he says.
Those factors have helped the city emerge from the recession faster than anywhere else, according to Steve Stroud, executive director of the Roswell Business Alliance (RBA), the city's economic development agency.
"The city is working hard to bring in new business and be business friendly," he says.
The private sector has responded to those overtures by adding 1,800 jobs in just the last nine months, he adds.
The RBA is focused on attracting businesses of all types and sizes to the city. These range from helping General Motors find space for its innovation center to fostering rapid growth in the restaurant sector that has made the city a destination for foodies throughout Atlanta.
Along with fiber, data centers and other business pleasers, locals also point to the elusive quality of life as a prime attractor. Of course, there are golf courses, parks, greenspaces and bike paths galore. The Chattahoochee Nature Center offers some of the most extensive urban greenspace in the country.
"It's interesting that these companies that we've been talking to – that's on their radar," says Nash. "They want to know about bike paths and trail systems. The cities are really trying to do a great job in trying to understand what they want."
The combination of corporate headquarters, high-tech jobs and quality of life has helped create a highly affluent region. Just how rich the corridor is can be seen in the high-end developments that are beginning to rise from the ground here.
New Community
Without a doubt, one of the biggest additions to North Fulton is the rapidly unfolding mixed-use development known as Avalon, an 86-acre, $600-million community on Old Milton Parkway and Ga. 400. Avalon's developer is North American Properties.
"What drew us [to the property] was the opportunity to serve one of the best demographic markets in the country with a product that they had never seen before," Mark Toro, managing partner of North American Properties, said in a recent interview with the Atlanta Business Chronicle. "The North Fulton market is one of the strongest demographics, not only in the region, but in the U.S."
The development is geared to affluent shoppers who had to drive into Atlanta – or fly to New York City – to find the brands they covet. The site was originally planned as the home of the failed Prospect Park, and it has sat as an undeveloped eyesore for Alpharetta for several years. The new Avalon has been heavily marketed as an upscale live, work and shop experience. The development has often been compared to something well suited for Buckhead.
Within a seven mile radius of the site can be found representatives of America's top 3.5 percent – more than 12,000 people earning more than $300,000 annually. Another 140,000 have incomes above $150,000. North Fulton has one of the nation's strongest demographic concentrations of affluent families. As the region has grown in both population and average family income, retail has failed to keep pace.
"That's what's attracting Avalon and retailers who are coming here," Nash says. "It's a huge iconic game changer for North Fulton, because it will give that full lifestyle deal."
The development is being modeled after Santana Row, an upscale shopping, residential, dining and entertainment complex in San Jose, Calif., in the heart of Silicon Valley.
Even though a previous version of the project failed, both developers and local officials are confident this one will succeed.
"They really spent a lot of time and worked with the community on what the needs are," says Nash. "The key component is to have a viable mixed-use development that has people there 24 hours a day."
The residential component will include about 800 residents in 250 rentals with 101 homes and townhomes. There will also be 570,000 square feet of retail space, including expected retailers such as Whole Foods, Regal Cinemas, Cru Food and Wine Bar, Marlow's Tavern, Banana Republic and Orvis.
The City of Alpharetta stands to benefit most from the nearby Avalon development, and it is already preparing for the spillover effect that is likely to come. The city is beginning the redevelopment of 22 acres of property in the heart of downtown. The proposed $30-million town center will include the new city hall, a Fulton County library and a five-acre park.
"These two centers are going to be very synergistic," says Tokar.
The public buildings should be out of the ground by August of 2014. Shortly thereafter, work should get underway on the build-out of as much as 125,000 to 150,000 square feet of restaurant and retail space.
"Bringing the city center project to Alpharetta has generated so much interest from retailers and restaurateurs that I don't foresee any problem filling that space immediately once it's online," he says.
Alpharetta will also be the site of a new campus of Gwinnett Technical College. The campus at Old Milton Parkway and Ga. 400 will be across the street from Avalon. Work is scheduled to get underway on its first 100,000-square-foot building, and expectations are that eventually as many as 10,000 students will be enrolled there.
Connectivity
Thanks to the campus and Avalon, this entire section of North Fulton near 400 is expected to undergo tremendous growth. To help facilitate that development with greater connectivity, the North Fulton Community Improvement District (CID) is driving the extension of the Northwinds Parkway through the area.
"We'll create an entirely new roadway. It will run adjacent to the site of their new campus, and their driveway will be off that new road," says North Fulton CID's COO Ann Hanlon. "Our road is going to connect all of that and be the missing link that is not there at all. Right now it's just woods, and we're going to be building out that project, which is pretty exciting."
The CID is in the midst of right-of-way acquisition but lacks the estimated $2 million that will be needed to complete construction. Those funds are expected to be derived from a combination of local, state and federal sources, she adds.
Quaint downtowns are a fixture of the Georgia 400 corridor. From Canton Street in Roswell to Main Street in Alpharetta to the Crabapple crossroads in Milton, they look much like the rural small towns of New England, according to Milton's economic development manager William O'Connor.
The area has become a collection of shops, restaurants and offices along with neat upscale homes. The city's zoning ordinances are guiding the development of a bustling, yet aesthetically pleasing town center that will eventually include a city hall if plans continue to unfold, he says.
"I've been visiting since 2005 when my son moved here," says O'Connor, "and I watched Crabapple be transferred from open field and farmland to what is shaping up as a beautiful village."
Community Snapshot
Local Leaders
Al Nash
Executive Director
Progress Partners of North Fulton Atlanta
678.397.0553
anash@gnfcc.com
Ann Hanlon
Chief Operating Officer
North Fulton Community Improvement District
770.993.8806 x316
ahanlon@gnfcc.com
Peter Tokar III
Economic Development Director
City of Alpharetta
678.297.6075
ptokar@alpharetta.ga.us
Population (North Fulton, 2010)
325,387
Per Capita Income (2010)
Region, $42,270
Georgia, $35,217
Unemployment (June 2013)
Roswell, 6.7 percent; Alpharetta, 6.7 percent; Sandy Springs, 7.0 percent; Johns Creek, 7.4; Georgia, 9.2 percent
Top Employers
Northside Hospital, Verizon Wireless, State Farm Insurance, Saint Joseph's Hospital, Automatic Data Processing, Inc.
Sources
Greater North Fulton Chamber of Commerce, Progress Partners of North Fulton Atlanta, U.S. Census Bureau, Georgia Department of Labor