Core Connections
Atlanta's Oglethorpe University refines its niche.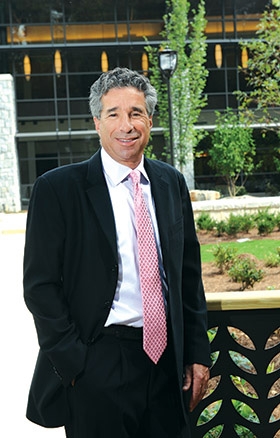 Folks driving along busy Peachtree Road north of Buckhead have probably caught a glimpse of Oglethorpe University behind the stone walls and wrought iron fencing and imagined the place to be exclusive and stuffy. Those folks would be wrong.
There is a definite academic look to Oglethorpe University. After all, it was designed to resemble Corpus Christi College in Oxford, England, the alma mater of its namesake and Georgia's founder, James Ogle-thorpe. But like all universities, Oglethorpe has a vibe, and the one inside the stone walls feels surprisingly fresh and innovative.
"We've developed this niche," says President Larry Schall, "one that's not necessarily unique, but one that provides opportunities for students to be on a beautiful campus in a big city, offering a really rigorous education with deep learning opportunities that the city can provide."
Schall describes Oglethorpe's mission by breaking down its motto, "Make a Life, Make a Living, Make a Difference."
"Those aren't three separate things," he says. "They are three parts of a full life. Make a living is about your opportunity to go out and work. We do that through experiential education and internships. Make a difference is ad-dressed through our Center for Civic Engagement. We have a requirement of our students that they serve. We start off the [academic] year with a day of service. The entire freshman class, on their first full day here at Oglethorpe, will participate in a day of service.
"Make a life is about how one creates a rich life. Part of that is working, part of that is service, part of that is [a student's] part in a community. It's not the old-fashioned, ivory tower, come-on-campus-never-leave-campus mindset. It's about looking forward and trying to have people come out of here ready to lead a rich life and make a good living, while making a difference to the world. We do a very good job of all three things."
Oglethorpe has lived three lives. It was first founded in 1835 in Milledgeville. Among the graduates during its initial incarnation was poet Sidney Lanier in 1860. But in 1862 the university shut its doors, a casualty of the Civil War. The institution operated briefly, 1870 until 1872, in downtown Atlanta and was finally rechartered in 1913. The cornerstone of the historic campus, which is listed on the National Register of Historic Places, was laid in 1915. The original mission as a classic liberal arts university remained intact, and in the 1940s then-University President Philip Weltner and a group of faculty conceived and implemented a critical piece of the Oglethorpe experience known as the Core.
"It's different than any other core curriculum, requirements or classes you have to take," says Todd Bennett, executive director of university communications. "Ours is a four-year integrated process. Every student that enrolls here takes the same sequence of core courses. They're interdisciplinary, cross-disciplinary courses taught by faculty who aren't necessarily teaching in their field of expertise."
Freshman core readings range from Homer to Shakes-peare to Toni Morrison. And before their four years are over, students will have read and written papers on subjects from religion to mathematics, from science to sociology.
"You're sitting in a class with no more than 17 people talking about yourself as it relates to the books you read," says Ruwa Romman, a junior. "Second semester, suddenly the concepts start clicking, you know each other better and people talk more. The next year, you come in and start talking about community and the social order, asking how the self fits into society. Each year builds on the other. You have to spend time thinking about it; you can't skim through."
Schall calls the Core a "rite of passage," one that not all students embrace. "There are students who hit the Core and just leave," he says. "If you were to survey students about their satisfaction with the Core after their first year, they might not be thrilled. But when I'm on the road talking to alums, that's all I hear. It's appreciated more after the fact when they realize they're educated in a way that not everyone is, and the breadth of knowledge they have, whether they're a doctor or an accountant, comes into play."
One reason the Core is deeply appreciated is because Oglethorpe attracts those students who value such an education. "We have a lot of kids who come here who wouldn't be comfortable anywhere else," Schall says. "They're just different enough that they would feel out of place at other places. Most campuses have a vibe and a way to be, but here, there's no way to be." He references the Oglethorpe mascot, the Stormy Petrel. "Here," he says, a student is "just a Petrel."
Student Life
Student groups sponsor campus-wide events such as the Battle of Bloody Marsh, a tug-of-war named for a famous battle involving James Oglethorpe; Hogwarts Day, a celebration of all things Harry Potter including a Quidditch match; and the Petrels of Fire Race, a footrace during which runners must complete the circuit around the academic quad between the first strike of noon on the bell-tower carillon and the 12th and final chime.
One-third of all Oglethorpe students are involved in athletics. The Stormy Petrels compete in NCAA Division III athletics in the Southern Athletic Association. The school offers men's and women's basketball, cross country, golf, lacrosse, soccer and tennis, as well as baseball and women's volleyball.
"I don't know what it is, but it's hard to feel left out at Oglethorpe," says senior Awet Woldegebriel. "We have a lot of diversity, but everyone is on the same level. We call it the 'Oglebubble.' Everyone goes through the Core; it connects you with everyone. The small class sizes, anywhere from 13 to 17 people, force interactions with people that you might never have talked to."
Oglethorpe's students come primarily from Georgia and the Southeast, but more than 30 foreign countries are represented as well. In 2012, 1,079 students were enrolled. There's a surprising racial mix, about 50/50 majority-minority, and 30 percent of students are the first in their family to attend college. The majority of students come from a household where the annual income is $50,000 or less.
It is a private university, so the sticker price per semester is not cheap, $14,950 for tuition in 2012-2013. However, most students receive significant amounts of financial aid in order to attend; more than $15 million in scholarship and need-based grants come from Oglethorpe alone.
The university offers undergraduate de-grees in more than 60 academic programs, including individually planned majors (IPM), which are designed by students and an advisor. In fall 2014, the university will offer its first graduate degree, a Masters of Education in Global Education.
"Our small class size allows students and faculty the opportunity to get to know each other," says Dr. Lynn Guhde, associate professor of business administration and chair of the Economics and Business Division. "Faculty are able to identify opportunities that best fit the strengths and interests of the students." Students take classes in the Core and in their major right off the bat. "I finished my major course work in two years," says Woldegebriel. "But at Oglethorpe they want you to be well rounded. It's not all about academics." And he is a perfect example.
Woldegebriel and his siblings, refugees from Eritrea, came to the U.S. in 2000. He is the first in his family to attend college and is making the most of the opportunity. Majoring in international relations with a minor in international business, Woldegebriel has a part-time job at Coca-Cola through Oglethorpe contacts. That led to his selection into the company's Leadership Associate Program. When he graduates in 2014, he'll work in the human resources department at Coca-Cola and hopes, someday, to work overseas.
But Woldegebriel's non-academic life is equally full; he has served as class president for three years and founded a thriving nonprofit, Knowledge Aid, sending donated books to Africa. Woldegebriel has twice attended the Clinton Global Initiative (CGI), even speaking at the annual conference, and now serves as a CGI Ambassador.
Not every student starts a nonprofit or presents at CGI, but all Oglethorpe freshmen are required to engage in service activities in their first academic year. As with the Core, service to others is a thread running through all four years of campus life. The university devotes considerable resources to create service opportunities through a variety of means and partnerships with nonprofits in the city.
Some students connect their service to the classroom by taking Service Learning (SL) courses for credit. "Service Learning has a specific designation, because it is always linked to an academic course with all the traditional requirements as set by the faculty member or syllabus," says Tamara Nash, Oglethorpe's executive director for civic engagement, who facilitates SL courses. In addition to coursework, SL students are required to perform a minimum of 25 service hours of volunteer work at a nonprofit.
The Real World
While a straight-up liberal arts education might seem like a tough sell in hard economic times, Oglethorpe is addressing the connection between its classic brand of academics and the "real world." Enter the A_LAB, the new Atlanta Laboratory for Learning at Oglethorpe University.
Made up of three components – service, internships and study abroad – the A_LAB codifies those elements into three centers under the common banner of "experiential learning." The Center for Civic Engagement, established in 2006, addresses the area of service. The Center for Experiential Learning administers internships, and the new Center for International Studies directs students' study abroad and travel opportunities. The A_LAB could be described as an incubator, blending a student's academic life with real world experiences in innovative ways.
"We're hearing from business leaders that they need graduates with critical thinking skills, but they need people who are highly adaptive," says Bennett. "They also need people who, when they do step into the workplace, are somewhat prepared for that culture and that environment. We need to find better ways of taking what we're teaching on the theoretical side and helping students to apply it."
Rather than tacking on a service requirement, internship or study abroad to the end of a student's education, the A_LAB will integrate those three experiences into each stage of the student's development. It's a concept that's evolving even as it opens for business this fall in the new $15.2-million, 49,289-square-foot Turner-Lynch Campus Center.
"I think [the A_LAB] is going to enhance what we already do," says Nash. "We've al-ready seen students in civic engagement travel overseas as part of their volunteerism. We've had students take internships that become employment. This gives us an opportunity to collaborate with professionals who know how to do it well and allow us to be even more innovative."
Two new partnerships will further boost cultural exchange and study abroad programs at Oglethorpe. Global LEAD, which has a physical presence in the A_LAB, is a nonprofit that provides study abroad opportunities for students in Ecuador, Greece and South Africa. Oglethorpe faculty will teach some Global LEAD classes.
Education First (EF), a Zurich, Switzerland-based international study provider, chose Oglethorpe University to be its southeastern headquarters. EF brings foreign students to the Oglethorpe campus to live and study in English-language immersion programs ranging from two weeks to 11 months. Though EF students won't take Oglethorpe classes, they will be part of the Oglethorpe community, eating in the dining hall, working out in the gym and participating in various activities, creating an even more diverse campus population.
The Campus
Oglethorpe has made substantial capital improvements throughout the campus in the past several years. Four residence halls were built and promptly filled, and others are being renovated. The lower level of Lowry Hall was renovated to accommodate a 1,800-square-foot Academic Success Center, and 3,000 square feet of space in Robinson Hall was renovated to house the EF offices. The Conant Performing Arts Center housing the university's theater department, and the acclaimed Georgia Shakespeare Festival theater company added a new 3,900-square-foot scene shop at a cost of $588,000. And the school's track and field venue is undergoing a $450,000 renovation.
But the crown jewel, completed in August 2013, is the new Campus Center. "I feel like the physical space of this building will be the glue that pulls the whole campus together," says Michelle Hall, dean of students and vice president of campus life. The president, she says, "has called it the 'living room.' It's a place where we'll play and learn, which is how college students live their lives."
With more students, new programs and new buildings comes the need for more funding. This month, Oglethorpe is announcing the public phase of a $50-million Comprehensive Cam-paign, the first such campaign in 30 years. The campaign, which runs through December 2016, has already raised $39.1 million, with funds earmarked to benefit students, faculty, the historic campus and the university's annual fund.
The campaign's top priority, directly and indirectly, is the students – with the most direct benefit being increased financial aid. "But we're also building brand new facilities and upgrading facilities," says Kevin Smyrl, vice president for development and alumni relations. "We want proper technology in the classrooms and to support faculty in their professional development."
And then there's the historic 100-acre campus, which Smyrl describes as a "blessing and a curse."
"It's one of our greatest assets but one of our greatest liabilities as well, because it costs so much to renovate," he says. "The amount of work it takes to outfit a room in a building that's one hundred years old is much more in depth than people would realize."
Alumni, 70 percent of whom live and work in Atlanta, make up an important constituency of the Oglethorpe community. The university relies on alumni to give financially, but also by offering internships and study abroad opportunities to students – something even more important as enrollment grows.
"Fifteen percent of our alumni give on an annual basis," says Smyrl, "But nearly 40 percent are engaged in some fashion. They feel very connected to this place. We don't have football or Division I athletics to bring people back and connect them; they're connected in other ways, and that's through the experience they had in the classroom."
"This is a good moment in our history," says President Schall. "We're growing in a nice, sustainable pattern and creating a recognizable identity that's strong and brings students here for the right reasons. More and more our message is becoming clearer. We have a connection between the classroom and life afterward."