Class Act
Charter schools – publicly funded and privately run – are gaining ground as a new state commission takes charge.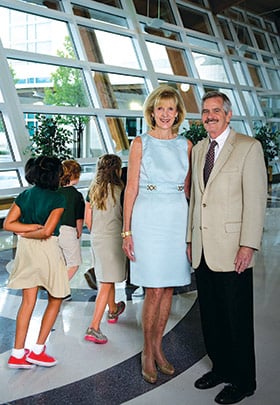 Barbara Grimm couldn't imagine sending her son Will to their Savannah neighborhood's middle school, where the academic expectations were low and discipline was almost nonexistent – not the combination she was looking for.
Grimm, a teacher who left the classroom to raise her four kids, and her husband William, a guidance counselor, didn't find many options for their academically gifted son. They considered private school, but the Grimms have always been staunch supporters of public schools.
"I heard about some parents who were trying to start a new charter middle school in Savannah. This was 1999, and the Georgia Charter School Act was only a year old. We didn't know much about charter schools, but this sounded interesting," she says.
So they joined the effort, heart and soul, putting in 250 volunteer hours to help launch the state's first parent start-up public school in Georgia, Oglethorpe Charter School. And that's just the first part of Grimm's epic charter school journey.
She sent her three oldest children to Oglethorpe, and her youngest is there now, in the 8th grade. Grimm eventually returned to teaching in the Savannah-Chatham Public School System, and she didn't like what she found.
"There were huge deficits in reading when I came back," says Grimm, who then became principal at a small private school. Sometime during that two-year stint, she had her big light-bulb moment.
"I saw a strong academic foundation and literate students who were good writers and great communicators – stuff I wasn't seeing in the public schools. Tuition at the private school was $6,000 per student, about the same amount that was being spent in public funding on poor kids in the city's public school system.
"That's when it really hit me, how unfair it was."
She thought that kids in economically challenged inner-city neighborhoods deserved the same opportunities as kids in private schools. So she started Savannah Classical Academy, which opened its doors for the first time in August, one of the state's newest charter schools.
Momentum
The charter school concept has been steadily gathering converts in Georgia over the past 15 years. There are 314 charter schools (including 206 of them that are part of Georgia's 16 charter systems) serving 225,800 students in the state (about 10 times what it was in 2000-2001).
Charter schools are public schools that operate under a contract with an authorizing body (the local school district or the state commission). They promise to raise student achievement and attain higher degrees of accountability, and in return they receive flexibility and freedom from many state and local rules.
The easy passage last November of an amendment creating a new state government office, the State Charter Schools Commission of Georgia (SCSC), may boost the popularity of these publicly funded, privately run schools, which many Georgians apparently see as part of the solution to improve Georgia's perpetually lagging public school system.
"The reason we pushed so hard for this amendment last year was to make charter schools available to more people," says Tony Roberts, president and CEO of the Georgia Charter Schools Association (GCSA), the nonprofit state-wide lobbying group.
Opponents of the legislation, including teacher and administrator professional associations, saw the amendment and creation of the commission as unnecessary – local school boards already were empowered to approve charter school applications, and if the applications got a thumbs down there, applicants could turn to the state Board of Education.
Opponents also saw the piles of money coming from out-of-state sources, such as for-profit education management organizations (EMOs), Alice Walton (daughter of Walmart founder Sam Walton) and Americans for Prosperity (the Tea Party group founded by the billionaire Koch Brothers) and other donors who saw Georgia as either a potential business opportunity or a key battleground in the movement to give parents more choice in education.
"There are great schools and great teachers in Georgia's public school system, but the aggregate statistics on educational performance in Georgia are what they are, and people are looking for better alternatives for their children," says Charles Knapp, the former president of the University of Georgia (and current interim dean of its business college), who is chairing the new state commission.
"I don't think charter schools are a blanket panacea for what ails public education in Georgia and America," Knapp adds. "But if you look at educational performance in America relative to other countries that were once way behind us and are now in front of us, I'd say we're going to need to try something else; and one of the things that will help, in certain circumstances, are charter schools."
New Authority
The first charter school law in Georgia was passed 20 years ago. It allowed existing public schools to convert to charter status with local and state board approval. In 1998, the legislature passed the law allowing for the creation of startup charter schools.
In 2008, House Bill 881 created the Georgia Charter Schools Commission, a charter-authorizing body that could approve charter schools over the objections of local school boards. But in 2011, the Georgia Supreme Court ruled the commission unconstitutional, saying, in part, "no other constitutional provision authorizes any other governmental entity to compete with or duplicate the efforts of local boards of education."
The commission had already approved 16 charter schools by that time, including several online schools. Knapp, who served on that short-lived commission, says the commission only approved, "something like 20 percent of the petitions that came in front of us. They had to clearly show that their plan was going to offer a better educational opportunity."
When the commission went away, those 16 state chartered schools fell under the direct authority of the state Board of Education (BOE).
But the commission wasn't dead a year before state legislators, led by Speaker Pro Tem Jan Jones, early in the 2012 session introduced House Resolution 1162 (Amendment One). Local superintendents and school boards lined up against it, but the amendment passed easily in November (58 percent to 42 percent).
"The first month after it passed, we got something like 367 calls from parents all over the state, which was unprecedented," Roberts says. "They were asking, 'Where's my charter school?'"
Like the previous commission, the SCSC has the authority to override a local school board's decision. But it isn't as if the new commission threw the doors open and invited all comers. This fall they're considering 16 petitions for new charter schools, says SCSC Executive Director Bonnie Holliday, who previously ran the Governor's Office of Student Achievement.
"About half of the petitions are from the Metro Atlanta area, as you might expect; but the other half are from around the state, places like Macon and Bibb County, the Augusta area, Savannah," says Holliday, who manages a small government agency of five employees.
Interview panels – commission staff, commissioners, state and national education professionals and so forth – will do their digging and make a decision on which petitions to approve this month, and those schools passing muster will be eligible to open for the 2014-2015 school year.
"But if the state board of education feels we've made an inappropriate decision, they can overturn us with a simple majority," Knapp says. "I served on the first commission, and this process, I believe, offers a more comprehensive review process."
Systemic Change
Typically, charter schools operate under five-year contracts, after which the school's performance is reviewed and the charter may or may not be renewed.
"Across the country, states have taken a parochial view of what needs to happen in the schoolhouse," says Kenneth Zeff, chief strategy and innovation officer for the Fulton County School System (the largest charter system in the state). "So they've passed laws that tell you how many minutes students need to be in seats, laws about appropriate courses and what it means to be a teacher – all of those things are baked in state laws.
"At one point in time, they may have made sense; those laws were reactions to bad things happening in schools. But over time, as you can imagine, those things can become straightjackets, stifling innovation."
Zeff joined the Fulton County system in August 2012 from Los Angeles, where he was chief operating officer for Green Dot Public Schools, a charter management company that served more than 10,000 students. In Fulton County, he's the charter point person for a system of 95,000 students with a waiver from many state education laws.
Each of the schools in the Fulton County system will select governance councils and develop strategic plans, much like independent charter schools have done.
Fulton is a wildly diverse system with some of the state's top-ranked schools in the affluent north part of the county and a swath of underperforming schools in the south, a more economically challenged area. So Zeff isn't expecting a one-size-fits-all approach. That would defeat the purpose, he says.
"There will be different solutions in different schools. Some of our high-functioning schools want early release on Wednesdays, reducing institutional minutes so more students can work on self-directed projects," he says. "Then we have schools that are struggling that want kids to come in on Saturday for core academics. If all of our schools wound up looking the same, we will have missed an opportunity."
But, like every charter school, whether it is an independent entity or part of a charter system (again, 16 county or city systems in Georgia are chartered), the students will all be held to the same measures as traditional schools. They all have to take the standardized tests. They all have to demonstrate yearly progress. How they get there is where the flexibility and innovation come in. Teachers and schools have flexibility in how they deliver the curriculum. So far, the results have been mixed.
A national study by Stanford University four years ago looking at charter schools in 27 states (including Georgia) showed that many charter school students weren't performing as well as their counterparts in traditional neighborhood public schools. According to the 2009 study, 37 percent of charter schools were rated worse than other local public schools. But Stanford revisited the study this year, and there's been improvement – the figure fell to 31 percent.
The new study shows charter school students outpacing their peers in reading and performing at roughly the same level in math. The conclusion: slow and steady improvement, with students from poor families, black students and Hispanic students benefitting the most. The charter schools' freedom to direct resources toward specific needs has had something to do with that.
Not surprisingly, Atlanta has been the heart of Georgia's charter school movement, and one of the best success stories has unfolded in what was one of the city's most economically challenged neighborhoods.
The halls are quiet at the Charles R. Drew Charter School a week before classes. It's an unusual sound, the silence, because this is a school where the youngest students are encouraged to speak out.
"The kids here are encouraged to talk and interact. It's part of our literacy foundation," says Cynthia Kuhlman, who chairs the Drew Board of Directors. "Children in poverty are, on average, about 30 million words behind other children by the time they're three years old. That's a huge gap that we'd like to eliminate."
They're doing a good job of it. The kids who started in Drew's pre-K literacy-focused program are now in fifth grade, and their scores last year in English and language exceeded state standards.
Drew is in the heart of the revamped East Lake neighborhood and serves a student population that is at least 85 percent African American; about 62 percent of the student body is on the free and reduced meal program. And Drew, the oldest charter school in the Atlanta Public School System (opened in 2000), is outperforming the state.
According to state DOE figures, Drew's third graders (2011 figures) far exceeded the state performance in CRCT scores. Same thing with fourth, fifth, sixth and so on.
"A student who matriculates at Drew gets exposed to golf, swimming. Every third grader takes violin, and everybody gets exposed to a foreign language," says Drew Principal Don Doran. "Because of our charter, we have a longer school day, a longer school year, and by the time a student has gone from kindergarten through eighth grade, he's ended up having about two more years of instructional time."
Charter schools are considered public schools of choice, and the kids in the nearby Villages of East Lake, the largest mixed-income apartment community in Atlanta, are choosing to go to Drew; and the Drew charter compels the school to take them.
Charter schools can't, by law, screen applicants based on academics – they're public schools. So local kids get first priority, and when there are more applicants than seats, a lottery is held. This year, according to Kuhlman, Drew received about 1,600 applications for 300 new slots.
Drew added ninth grade this year, but the first freshmen class will spend its first year of high school at a temporary campus (they're using Kennedy Middle School for now), then move into the 200,000-square-foot Junior and Senior Academy taking shape across the street from the current elementary school campus – a $55-million project, part of a $73- million capital campaign.
It's all part of a 10-year plan that will result in 600 high school students at Drew Charter, which used to be run entirely by a for-profit EMO, EdisonLearning (formerly called Edison Schools). The company provided pretty much everything, including curriculum, at first. But the EMO's role has been phased down and now Edison is basically responsible for back office services.
"Edison did a really good job for Drew, and they were necessary at the start," says Knapp, who served on the Drew board for a time. "But the best outcome is when the constituent groups – staff, faculty, board – build up their own capacity and the EMO phases out."
There are some fine EMOs, Knapp says, such as the nonprofit KIPP (Knowledge is Power Program), which operates some successful charter schools in Metro Atlanta. And there are some with a history of problems and poor performing schools.
"I'm not against for-profit EMOs. Some are excellent, some aren't," Knapp says. "When I served on the previous state charter school commission, we were always careful that the impetus for starting a school came from parents, local people interested in education. We never want EMOs to be the driver, and we turned down some petitions when we suspected that was the case."
Works in Progress
Pataula Charter Academy serves five counties – Baker, Clay, Early, Ran-dolph and Calhoun (where Pataula is located, in the city of Edison). But the school's demographics differ greatly from the traditional schools in the area, where most of the county systems serve a student population that is more than 90 percent African American (it's 76 percent in Baker, 63 percent in Early). Pataula's student body is only about 25 percent African American, according to Principal Kylie Holley.
And unlike Drew, which earned its charter through the local system, Pataula got state approval (from that first commission) when none of the five districts in its service area would approve the charter. Pataula not only drew students from the underperforming local public schools, but from local private schools.
So far, the growth of charter schools in Georgia hasn't had a dramatic effect on the state's private schools, according to Jeff Jackson, president of the Georgia Independent School Association (GISA), who doesn't seem worried about his industry's continuing viability.
"Independent schools have been around in Georgia for 200 years. We have about 74,500 students in 163 schools. One closed this year, one out of 163 [GISA schools]," Jackson says. "We are all about school choice, and our schools have to be worth what parents are paying. If we're not, we'll cease to exist, and we don't see any signs of that."
Charter schools are not compelled by law to offer transportation like their local public brethren, but Pataula does run limited bus service, picking up students at central locations, rather than door to door.
"We had to go to the state commission, so we don't report to any of the local systems around here, and we don't receive any local tax money," Holley says. "We're very rural around here, and all of the counties we serve only have one elementary, one middle and one high school, and they're all small. We felt like, in order to be a sustainable school, we needed to branch out and serve a wider area."
So far, so good, she says, regarding academic accountability.
"We're consistently above the state average, especially in science and social studies," Holley says.
The Pataula learning model, like Drew's, is built on the project-based (or expeditionary) learning approach, which grew out of the Outward Bound outdoor education program. (Drew's principal, Don Doran, worked in Outward Bound.)
Across the state from Pataula in the "Queen City," the Savannah Classical Academy (SCA) is following a classic liberal arts model with a strong civics component and instruction in Latin, and they're hoping to generate a school culture heavy on moral virtue, decorum, respect and discipline – the things that Barbara Grimm noticed were sorely missing when she returned to the public school classroom.
And they're going to do it all on their own, without the aid (or expense) of an education and/or charter management organization.
"Our district is very anti-management company," says Grimm.
They'll use a vacant school district building this year, then move into a permanent home at the renovated St. Pius X Family Resource Center next August. They'll start as a K-6 school this year and gradually become K-12, and they'll be a Title I school from the start, serving an economically disadvantaged, mostly African American student body.
"We have some struggles ahead of us, but if we really want to make our city better, it begins with providing the same educational opportunities for all students," says Grimm, who will keep her teaching job at another school so she can serve on the board at SCA. "I see this as a chance to be part of something that is truly transformative."