Art Of The Meal: King & Duke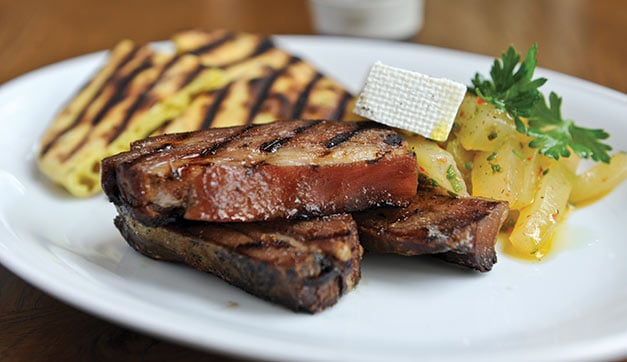 King & Duke
3060 Peachtree Road NW (at West Paces Ferry), Atlanta
404.477.3500
www.kinganddukeatl.com
Hours: Lunch, Mondays-Fridays. Dinner nightly.
Parking: Two hours validated in nearby garage (entrance on Buckhead Ave.)
Dress Code: Smart casual.
Named for the "low-down humbugs and frauds" who masqueraded as royals in Huckleberry Finn, Buckhead's King & Duke likewise swaggers about, tossing off impressive-sounding misnomers and boasting of easy riches in a desperate effort to impress you and, of course, take your money. However, Mark Twain's con men also plot to relieve local rubes of their coins with a faux-Shakespearean play and unwittingly find themselves putting on a real hit show.
King & Duke's mastermind, chef-owner Ford Fry (of The Optimist and JCT. Kitchen) is no con man, and he knows exactly what he's doing. With the name, Fry also refers to a time and method of American cooking, over open fires, with elemental and seasonal ingredients like fish, beef, pork, peaches – all smoke-kissed and paired with stout liquors and heady wines. Little here is shy or subtle – even the restaurant is theatrical, with a dramatic open kitchen and outdoor space that feels both prominent and camouflaged from the high-profile intersection of Peachtree and West Paces Ferry.
Despite the name, what Fry really strives for here is authenticity, and he achieves it even as he stages a shadow play. Take, for example, the "Yorkshire puddings" that arrive on a little oak plank with a scoop of whipped butter. They're actually popovers with a touch of cheddar – but who really cares when these eggy, air-puffed and crisp-edged wonders are so good?
And if this is early Americans' cookery, they must have fought scurvy constantly, as apparently few fresh fruits and vegetables existed and were consumed only if heavily larded, or creamed, or both (such as the small cast-iron pot of lady peas). Still, how can you argue with a "bite" of bacon and grilled peaches that turns out to be a few slices of grilled fruit, a scattering of arugula and six or eight thick slices of lean smoked pork belly? Seeking out such leaveners as the crudité with whipped ricotta rewards you with pretty watermelon radish, radicchio and fennel, sliced to translucent thinness, over herbed, creamy cheese.
For vegetarians, a hearth-roasted ratatouille with egg and mozzarella beckons.
Carnivores, however, will find themselves salivating over the meats from the smoker and grill, including (when we visited) two steaks, a burger, duck, pork roast and roasted bone marrow, candied lamb belly, rabbit and a lamb saddle chop. Some – such as the rabbit – are a tour de forcemeat on a single plate, consisting of a beautifully roasted serving, as well as two different kinds of rabbit sausage (one, of course, bacon-wrapped). The charred lamb and the delectably fatty bar steak, with hand-cut fries, are sumptuous "wow" moments.
Still, the dishes that remain in my memory, beckoning me back, would please a pescatarian: char-grilled octopus with snap peas, chorizo and lemon; "Boy Scout-style" trout (boned, to be opened like a book, its crisp black skin the cover) with buttery roasted almonds and a "summer vegetable salad" of cool, crisp green beans and multicolored carrots, tossed in a light vinaigrette.
Like the endpapers of an 18th-century first edition, cocktails and desserts are memorable openers and closers, imaginative, delicious and downright fun, from the summery Yearling cocktail (Bulleit bourbon, rhubarb tea, strawberries, lemon) and Writer's Block Rousanne to the "Dulcey panna cotta" with grilled peaches, cornmeal shortbread, a smear of vanilla panna cotta and a scoop of Crackerjack ice cream. After your steak, you could do worse than the miniature hot fudge sundae, with an expert proportion of brownie, crushed peanut and salted caramel. It's shamelessly good.
A word here about the expert waitstaff, both knowledgeable and supportive of your wish to try tastes of wines before deciding (one even insisted on allowing us to taste two different cocktails before deciding between them), which is obviously trained well. However, I always wonder why when you are among the first to arrive for dinner, you are immediately steered to the worst table in the house. (It's a bit crowded in here to begin with, especially with your back flush against the wait station in the middle of the room.)
Another small complaint about the space, which has a near-electric vibrance when full, but can mean your chair will be bumped by traffic: There are precious few good two-tops here; most good tables (next to the windows or tucked safely out of the way in a booth) are reserved for large parties. While I'm at it, I must also point out that the lack of signage for parking at King & Duke confused us mightily in the middle of a rainstorm – I hope this will soon be resolved.
It's the kind of basic advance planning that Twain's King & Duke would have aced.