2013 Forty Under Forty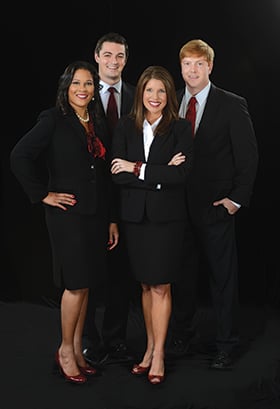 For the 17th year, Georgia Trend presents a group of 40 outstanding Georgians under the age of 40. The honorees represent business, government, politics, nonprofits, science, conservation and education.
The 40 were chosen from nominations made by readers throughout the state. Final selections were made by the Georgia Trend editorial staff. We're proud of our selections and glad we can share the stories of these Georgians and their achievements in the following pages.
Jason Bearden, 39
CEO
Highland Rivers Health
Canton
Bearden leads this public-private behavioral healthcare provider in a role that integrates his "professional expertise with bloom-where-planted faith," he says. Under Gov. Sonny Perdue, Bearden served as Planning and Budget Director of Health and Human Services. "I developed a passion for helping people with developmental disabilities, mental illness and addiction because I saw that even during the darkest times, there's tremendous potential for recovery," he says.
Last year, Highland Rivers, which treats more than 15,000 patients in a 12-county area of northwest Georgia, became one of 93 programs nationally to win a $1.6-million federal grant to improve the "whole health" of patients. "Around 90 percent of our patients with mental illness have significant physical issues, including high rates of obesity, diabetes and smoking," he says. Bearden also serves on the board of the Georgia Supportive Housing Association, working to address homelessness. – CD
Matt Bishop, 38
Director
J.W. Fanning Institute for Leadership Development
University of Georgia
Athens
Last fall, Bishop became the new director of the Fanning Institute as it broadened its mission. "Over time, we've seen the challenges shift from technical needs to more adaptive needs in community leadership," he says, explaining that collaborative skills are critical, along with an appreciation for diversity and honest communication about strengths and weaknesses. "People need to learn to put aside individual agendas."
Bishop is focusing on nonprofits and outreach to at-risk youths to tap their potential – work that comes naturally to the son of a Methodist minister who grew up in the small town of Lumpkin. "I got exposed to a lot of community engagement early on," he says. A 2008 graduate of Leadership Georgia, Bishop also volunteers for Leadership Athens. "I'm looking at community development from several levels – local to statewide – and that gives me a holistic perspective. Strong leadership is vital to job creation." – CD
Otis Brumby III, 32
Chairman and Publisher
The Marietta Daily Journal, Neighbor Newspapers, Cherokee Tribune
Brumby oversees one of the state's largest print-media empires, which includes 23 newspapers that reach 375,000 homes in nine suburban Atlanta counties. Yet when he's asked about his job, he says, "I just say I work for The Marietta Daily Journal," referring to the daily his grandfather, Otis Brumby Sr., founded in 1916 and his father, Otis Brumby Jr., ran for many years. "I didn't go to journalism school because I grew up with a big dose of it at the kitchen table," says Brumby, who majored in finance and then graduated from law school at the University of Georgia in 2006. "Working for the paper ingrains you deeply in your community and in ways of bettering where you live."
Since assuming leadership seven years ago, he has enhanced the digital profile of his flagship publication while developing additional "niche products," including two lifestyle magazines, Cobb Life and Cherokee Life. Brumby also co-chairs the capital campaign for renovation of The Strand Theatre. – CD
John Coleman, 32
Strategic and Business Planning Manager
Invesco
Atlanta
As head of strategic and business planning for Invesco, Coleman is responsible for running special projects and working with senior leadership to develop the strategic plan for the Atlanta-based investment firm with branch offices in 20 countries.
Away from Invesco, the Harvard MBA puts his experience to work for the DeKalb School Board as the District 1 representative. He was one of six new members appointed by Gov. Nathan Deal to replace suspended board members.
A regular writer and blogger for the Harvard Business Review, focusing on leadership and personal and professional development, Coleman has also authored two published business books. Now – as a husband and new dad – he is writing a third book with his wife on how to manage a two-career family. The book will be published by Profile Books in the UK. – MAD
Katie Connell, 34
Attorney, Partner
Boyd Collar Nolen & Tuggle
Atlanta
Connell always planned to be a tax lawyer, taking every tax class she could find both as an undergraduate and in law school. It wasn't until participating in moot court that she realized how important the litigation component of the legal profession was to her. That led her to family law.
"I didn't expect to feel as passionately about it as I do," Connell says. "It gives me an opportunity to help and have a personal side to what I do. I feel I'm making a contribution by helping families."
Connell has written on the topic of family law for The Huffington Post and was recently appointed by Gov. Nathan Deal to a four-year term on the Georgia Commission on Child Support. She also serves on the finance committee of her church, extending her gifts in the places closely aligned with her education and profession. – PR
Sonji Jacobs Dade, 39
Director of Communications for Mayor Kasim Reed and the City of Atlanta
Atlanta
As director of communications for one of America's largest cities and busiest mayors, Dade doesn't know what it's like to work an eight-hour day. Her workday often begins when the first news reports start coming out around 6 a.m., and she frequently gets her last work-related phone call or text after midnight.
In the hours between, she has responsibility for all of the mayor's communications – from press releases and proclamations to letters and speeches – and for supervising a team of about 40 public affairs managers and officers. Still she finds time to be an active volunteer with organizations including Planned Parenthood and Jack & Jill of America, Inc. She is a divorced mom to a nine-year-old daughter.
Somehow she has managed the schedule since she joined the mayor's office shortly after his election in 2010. "We have a joke in the office that we don't have work/life balance – we have work/life integration," she says. – MAD
Sharah Denton, 32
Community and Parent Relations Specialist
Brooks County Board of Education
Valdosta
Denton relishes the problem-solving opportunities her job presents on a daily basis.
"I enjoy the whole dynamics of public relations, because you really get to solve problems and work with the media," says Denton, who is pursuing a doctorate from Capella Univer-sity. "I like building the image of whatever organization I'm involved in."
Besides handling public and community relations for Brooks County schools, Denton devotes countless hours to her community. Two years ago, Denton founded the Valdosta-Lowndes section of the National Council of Negro Women, and she currently serves as section president. Denton is also a board member of Wiregrass Georgia Technical College and The Haven Battered Women's Shelter. In 2012, she received the Woman of the Year Award from the Valdosta Junior Woman's Club.
"One of my main goals right now is to really bring people together in a positive way," she says. – SB
Austin Dickson, 33
Executive Director
Literacy Action
Atlanta
Since he took charge of Georgia's oldest and largest nonprofit provider of adult basic education last fall, Dickson has increased revenues by 53 percent while helping students age 16 and up learn reading, writing and mathemetics. "These individuals in our program want a second chance and are motivated to work hard," he says. "As a pipeline for universities, technical colleges and the workforce, we're a grassroots nonprofit that drives economic development."
Dickson, who holds master's degrees from Emory, Georgia Tech and The University of Edinburgh, also teaches philosophy at Clayton State, with a practical bent. "Someone who can think critically and logically has the most transferable of all skill sets," he says.
He volunteers for the Atlanta Music Project, Community Farmers Markets and L'Arche Atlanta, and he especially enjoys calling bingo games every month at a low-income senior facility in his East Atlanta neighborhood. – CD
Angela Dotson, 37
Accountant/Partner
Habif, Arogeti and Wynne
Atlanta
Growing up with two community-oriented entrepreneurs left an indelible impression on Dotson.
"My parents both thought it was always important to give back to your community and help others," Dotson says. "Don't always focus on yourself; there's a bigger community that you're a part of."
In addition to working full time for a clock manufacturer in Athens, Dotson's father started several businesses, including two carwashes and a restaurant. Working alongside her parents and sister, Dotson developed a passion for business and later earned an accounting degree from UGA.
Today, Dotson provides financial planning advice for small businesses, and she draws from her own experiences to assist these companies.
A breast cancer survivor, Dotson volunteers with breast cancer patients through Turning Point Women's Healthcare and Elizabeth Baptist Church. She is also a board member of C5 Georgia, which operates a college readiness program for at-risk teen students. – SB
Amir Farokhi, 35
Founding Director
GeorgiaForward
Atlanta
Farokhi, a litigator by training, now engages in bridge building. "At Georgia-Forward, we try to create a platform for big conversations about the state's future in a non-partisan setting," he says. "We don't lobby. We try to pose questions that aren't being asked that need answers and get a cross section of thought leaders and decision-makers to partner, put their heads together and tackle the problems."
He worked at McKenna, Long & Aldridge before leaving in 2009 to run for Atlanta City Council. He lost the election in a runoff, but loved the policy conversations. GeorgiaForward arose from discussions with A.J. Robinson at Central Atlanta Progress, which offered seed funding for the organization. GeorgiaForward also encourages young professionals to bring their talents and experience to bear on Georgia's persistent challenges.
Farokhi, who is now COO of the National College Advising Corps, also serves on the boards of The Galloway School, Drew Charter School and the Atlanta Bicycle Coalition. – PR
Danielle Fields, 31
Owner
Fields Photography and Framing and Harold's Formal Wear
Milledgeville
In 2009, Danielle Fields' family went from being a two-income family to a no-income family. Not long after she left her job at Georgia College to become a stay-at-home mom, her husband was laid off from his job.
To support her family, she turned to what she knew and loved best – photography – and began to turn what was once a hobby into a business. Soon she and her husband added a framing shop, painting classes and tuxedo rental shop.
As her husband has assumed much of the day-to-day responsibilities for running their businesses, Fields is increasingly devoting time to supporting the community that has supported them, helping to implement First Fridays – themed celebrations held the first Friday of each month in downtown Milledgeville – and other programs that bring business and recognition to their town. "Milledgeville has been hit harder than many communities by the recession," she says. "We are both very passionate about seeing our community recover." – MAD
Adam Goldberg, 32
Dentist
Goldberg Dental Group
Augusta
Adam Goldberg has two lifelong interests: music and dentistry. As a child, he often accompanied his father – who himself was a second-generation dentist – to his Augusta dental office. When he wasn't at the office, he was taking classical piano lessons from a Juilliard graduate and participating in competitions throughout the state.
Today, Goldberg practices dentistry himself and continues to be involved in music, serving on the Symphony Orchestra Augusta Board and in other volunteer capacities. Although his work tends to focus on administration and promotion, he says, "When I have the opportunity to play, I take it."
His dentistry career is driven largely by his love for people and his father's example. "I think what is driving my path to success is the relationship that we build in our patients. My dad has patients he has been seeing for 35 years," he says. "I want to be doing the same thing." – MAD
Shane Gottwals, 29
CEO
Gottwals Books/Walls of Books Franchise
Warner Robins
Gottwals saw opportunity with a business concept that few thought could work.
Undaunted by the popularity of electronic reading devices and the struggles of national bookstore chains, Gottwals and his wife, Abbey, opened a used bookstore in Warner Robins in 2007. Within two years, Gottwals Books began to thrive.
"The key for the used bookstore is that everybody has extra books," Gottwals says. "Ninety percent of people who own books do not intend to keep them."
Inventory is acquired by offering customers money and store credit, which leads to repeat business. The store's success has created franchise opportunities, and Walls of Books now has four locations in Middle Georgia and one planned for New Orleans.
Outside of business, Gottwals serves as chairman of the trustees for Central Fellowship Baptist Church and is a board member of Central Fellowship Christian Academy and Covenant Care Services. – SB
Halima Horton, 37
Attorney/Partner
McGuireWoods, LLP
Atlanta
Helping others is a way of life for Horton, both in her professional career and her community service endeavors.
Horton, who specializes in labor and employment law, relishes the opportunity to improve labor relations between companies and their employees.
"These cases are human," says Horton, who earned her J.D. from Vanderbilt. "You know that if you've helped an employer solve an issue, then it's going to have a real impact helping everyday individuals."
In addition to her professional work, Horton has served as the scholarship committee chair for The Leadership Institute for Women of Color Attorneys for the past four years and volunteers as a reading mentor for Everybody Wins! Atlanta.
"I think if I can cultivate a love of reading in a young person," Horton says, "then I can open a door for them to learn anything they want." – SB
Sonya O. Hunte, 35
Homeless Education Liaison
Atlanta Public Schools
Covington
As homeless liaison for Atlanta Public Schools, Sonya Hunte helps ensure that children without permanent homes get what they need to succeed in school – whether that means transportation, referrals to housing services, tutoring or school supplies.
Off the job, she demonstrates the same commitment to children and families through her volunteer work with organizations including My Sister's Keeper – a Georgia-based nonprofit that focuses on assisting women in the community in their educational pursuits and goals, acquisition of life skills and personal and professional development.
Her most recent accomplishment is being elected president of the National Association of Social Workers Georgia Chapter. "We're about 2,700 members strong and growing," says the Brooklyn, N.Y., native, who likes to call herself an apple peach. "We are really committed to promoting social work and the interests of social workers in the communities that we serve." – MAD
April Ingle, 39
Executive Director
Georgia River Network
Athens
The longer she stays "up the creek," the more Ingle enjoys her work restoring and promoting the state's rivers, says the naturalist who has traveled more than 900 miles of the state's waterways.
"I've developed a relationship with these rivers, and I've concluded that, of all the places in the world, Georgia claims the best ones in terms of spectacular beauty, natural resources and biodiversity," she says. "So it's important to protect them for future generations."
She advocates for legislation and policy on water management, coordinates 30 cleanup groups and organizes "Paddle Georgia," an annual field trip of more than 350 people down 100-plus miles of river with stops along the way to discuss historic sites, power generation and farm irrigation. Ingle, who studied natural resources and environmental science at Purdue University, also volunteers for BikeAthens and Canopy Studio, a nonprofit specializing in trapeze-centered arts. – CD
Hesam Lamei, 32
President
Aventis Systems, Inc.
Marietta
While attending Southern Polytechnic State University, La-mei sold computer memory chips that upgraded laptops, desktop computers and servers. But in 2008, at a friend's suggestion, he expanded his product line into selling servers. It was the start of the worst recession since 1929, but Lamei didn't feel it.
"People wanted to save, so they upgraded rather than making new purchases," he says. "We offered lower prices, technical knowledge versus the manufacturer. We were one of the few small businesses that benefitted from the recession."
Aventis Systems now offers a full range of computer/IT products and services. The company did $14.1 million in sales in 2012 and was named No. 897 on the Inc. 5000 List of Fastest Growing Companies. Lamei was named one of Ernst & Young's top entrepreneurs of 2012, and Aventis Systems is actively engaged in the Technology Association of Georgia and the Cobb Chamber of Commerce. – PR
Lisa Liguori, 35
Associate Director
UGA Marine Extension Service (MAREX) and Georgia Sea Grant College Program
Darien
During a two-year study abroad program in Costa Rica, Liguori learned what happened when local people identified a problem but, because of lack of access to re-sources, were unable to address it. "I realized there was a role for someone who stepped between the people who knew what they needed, but were far from the resources to help them," she says. "Extension work is the link."
Liguori conducts and oversees research on Georgia's coast. "The whole point is conducting our research to help people solve problems that matter to them," she says. She's had a hand in developing an affordable hair-testing program to determine mercury levels in women of childbearing age and assisting a local shrimper in field-testing and obtaining national certification for a turtle excluder device, mandatory on U.S. shrimp nets. Liguori helps out on land, too, serving as a Court Appointed Special Advocate (CASA) volunteer in Glynn County. – PR
Brooke Lucas, 33
Chief of Staff to
Secretary Mark Butler
Georgia Department of Labor
Atlanta
Lucas, a veteran economic development professional, does a little bit of everything in her work with the state's secretary of labor. She's had a hand in operations from finance to information technology, helping streamline processes to better serve employers and citizens looking for jobs, especially people who've never interacted with the Department of Labor.
She helped create a Special Workforce Assistance Team, allowing jobseekers to obtain better results by offering résumé help and interview coaching before attending a job expo. "The thing about economic and workforce development is that at the end of the day, the job is really about helping people find work to provide for their families," she says. "You don't have trouble falling asleep at night when you do that. I can't imagine any more satisfying work."
Lucas believes strongly in offering mentoring opportunities to girls and women, contributing her time by volunteering through Girl Scouts. – PR
Jay Markwalter, 39
Tourism Director
Dahlonega-Lumpkin County Chamber of Commerce
Dahlonega
Markwalter had attended an annual professional conference in Dahlonega for seven years straight when he learned a job opened up in the local Chamber of Commerce. He jumped at the chance to serve as tourism director and to have a part in telling the Dahlonega and Lumpkin County story. He's equally passionate about product development, creating partnerships, packages and experiences for tourists to enjoy.
"We consider our wine region as a second gold rush, and right now 'tying-the-knot' tourism is exploding," says Markwalter. "Tourism is all about those adjacent services."
He created a Tourism Day, part of Lumpkin County's Youth Leadership program, giving young people a chance to experience and learn about the economic impact tourism has on their community. Markwalter studied marketing at UGA and previously put his education to use serving as sales and merchandising co-chair of AthFest, a successful arts and music festival in Athens. – PR
James C. McCurry Jr., 39
Senior Director of Administration and Governmental Affairs
Georgia Ports Authority
Savannah
Growing up in Savannah, McCurry al-ways had the goal of working with the Georgia Ports Authority. When he had the rare opportunity after college to work with U.S. Rep. Jack Kingston, he became interested in government affairs.
Today, McCurry is responsible not only for the government affairs activities of the ports authority but also for the property and risk management department, purchasing department, grants administration and navigation programs, including the harbor deepening project in Savannah.
In addition, he is an active volunteer in the city where he grew up, most notably for the school he attended – Savannah Christian Preparatory School.
"For the prosperity of any area, you are counting on a workforce that is educated for the job market and appreciates the job market and the need to give back," he says. "It really all starts with education." – MAD
Todd McDevitt, 38
Associate Professor, Biomedical Engineering
Director of Stem Cell Engineering Center
Georgia Tech
Atlanta
McDevitt decided to major in biomedical engineering almost 20 years ago when he started his undergraduate education. "I wanted to contribute to medicine in some way but I didn't feel the calling to be a doctor, and I foolishly said I didn't want to be in school that long," he says.
Decades later, McDevitt is still "in school," though now as a professor and researcher in the ever-expanding field of stem cell engineering, studying stem cells as a vehicle for therapies or even a diagnostic tool.
As director of Georgia Tech's SCEC, McDevitt oversees a lab receiving more than $12 million in research and National Institutes of Health grant funding, manages the work of 27 graduate students and still makes time to serve as program director for the upcoming Tissue Engineering and Regen-erative Medicine International Society-Americas (TERMIS-AM) Conference, which will be held in Atlanta in Novem-ber. – PR
Aaron Mumford, 38
General Legal Counsel
Glynn County
Brunswick
Mumford began working for the Glynn County government in 2002 and five years later was appointed in-house general counsel, advising commissioners, the police chief and other administrators on matters like zoning and real estate.
"Every day brings diverse challenges and experiences," he says. "I enjoy facilitating a project from start to finish." Whenever an international spotlight shines on the coast, Mumford's duties shift from local to global. He collaborated with the Secret Service and other federal officials when the G8 Summit convened on Sea Island, and his scenic backdrop also necessitates the occasional entertainment law project. He negotiated contracts for the filming of Anchorman II and X Men: First Class.
Mumford also volunteers as a soccer coach at St. Mark's Episcopal Day School, where his triplets are enrolled, and he serves on the board of directors for the southeastern chapter of the American Red Cross. – CD
Eric NeSmith, 33
Vice President of Business Development
Community Newspapers, Inc. (CNI)
Athens
The journalism bug bit NeSmith at an early age.
"I was probably about seven years old when I first started to insert sections of the paper," NeSmith says of his youth working alongside his father Dink, who was then publisher of The Press-Sentinel in Jesup.
After graduating from UGA's Grady College of Journalism, NeSmith worked for nearly a decade as a reporter, sales rep, editor and publisher for CNI's newspapers in Cashiers and Highlands, N.C. He moved to the Athens corporate office in January.
"I believe community newspapers are the fabric that holds the community together," NeSmith says. "There is no buffer between the stories we write and the impact they have."
In addition to serving as vice chair of the Grady Society Alumni Board, NeSmith is the 2013 recipient of the Daniel M. Phillips Leadership Award from the National Newspaper Association and was named as one of Editor & Publisher's "25 under 35." – SB
Byung Jin (B.J.) Pak, 39
Lilburn
Representative for District 108
Georgia House of Representatives
Pak, an attorney and Seoul native who calls himself a "huge Abraham Lincoln buff," was first sworn into the Bar in the only law office that president ever owned, a symbolic beginning for his aspirations.
In 2010, when he was elected to the General Assembly, he became the first American of Korean descent to serve in any state legislature in the Southeast, and he since has worked to bring other Asian Americans into public service.
"There aren't many of us at any level of government in Georgia," he says, "so I speak to different ethnic communities and youth groups to engage them in civic leadership."
Pak, a Republican, serves on several committees in the legislature, where he is working to reform the tax code and lower tuition costs in postsecondary education. He has three daughters and also is active in the Camp Creek Parent Teacher Association. – CD
Dan Peeples, 35
Vice President
Julian Peeples Funeral Homes
Mayor of Varnell
Varnell
As a child, Dan Peeples learned about serving others in the family-owned funeral home where he now serves as vice president. "My family has been in the funeral business my entire life," he says. "I really don't know any different than helping people in their time of need."
For five years now, Peeples has also been serving the city of Varnell (voted in 2010 as the best small town to live and raise a family in Georgia by Bloomberg & BusinessWeek.com) as mayor. One of his greatest accomplishments, however, is a marriage enrichment class he and his wife started from scratch two years ago at Salem Baptist Church in Dalton. The class has grown to more than 40 couples, many of whom were facing divorce, he says.
"It's easy for people to fall in love, but it's harder to stay in love," he says. "We teach people how to stick through the tough times." – MAD
Courtney Reich, 39
Owner, Principal Planner
Ecological Planning Group
Savannah
When local governments need to develop a stormwater plan, create a structure to manage water resources or find funding to accomplish those things, they call on Courtney Reich and her Ecolog-ical Planning Group.
"Stormwater doesn't often rank high amongst priorities that local governments have to fund," says Reich. "We help them secure grants [and] set up user-fee systems, the idea being to effectively manage water resources not just for protection of drinking water resources and the environment but to protect folks from flooding events."
Though based in Savannah, her company works with entities statewide. Reich is also the Georgia coordinator for Confluence, a tri-state conference addressing regional water concerns in Georgia, South Carolina and North Carolina.
Since 2009 she has been a Meals on Wheels driver, delivering food to shut-ins throughout Chatham County. "In some ways it's a big responsibility," Reich says. "In many cases you're the only contact for that person that day." – PR
Jocelyn Rogers, 38
Obstetrician/Gynecologist/Medical Director of Women's Services
Phoebe Sumter Medical Center
Americus
A high school career seminar put Rogers on a path to a medical career with an emphasis on women's health.
"Since 10th grade, I kind of knew I wanted to work in medicine and especially with women's health," says Rogers who enjoyed interacting with doctors through the seminar.
A graduate of UGA and Morehouse School of Medicine, Rogers completed a residency at Tulane University before joining Phoebe Sumter. Helping women learn more about their healthcare needs remains her primary focus.
"I notice that a lot of young female patients are not very knowledgeable about their health," Rogers says. "I just try to educate them on their health and how they can live a longer, healthier life."
Rogers serves on the board of directors at South Georgia Technical College and the Sumter Historic Trust, and she has traveled to Haiti for a medical mission. – SB
Rhonda Sexton, 37
Executive Assistant and Magistrate Judge
Effingham County
Springfield
A few years ago, Sexton became aware of some troubling limitations in her day job.
"There isn't much this court can do for victims of domestic violence, even though they come to us looking for help," she says. So in 2011, she began volunteering for the Effingham County Victim Witness Assistance Program, which provides counseling, childcare and job training as well as relocation assistance – and discretion – for people affected by crime and sexual assault.
"Because confidentiality is so crucial, I can't go into details," she says, "but it's a good feeling to know someone is safe and secure, especially if little ones are involved." The group has helped more than 2,500 clients since 1989.
Sexton also works with American Legion Post 209 to assist military families with living expenses. "I enjoy sending care packages overseas and to VA hospitals in Georgia during the holidays," she says. – CD
Ivan Shammas, 36
General Manager & General Sales Manager
Telemundo Atlanta
Brookhaven
A college internship opened up a new world of career opportunities for Shammas.
While he was interning for an advertising agency, Shammas worked with sales reps from several media outlets, which led to a job selling ads for Spanish-language television stations with Comcast Spotlight in 1999. After 13 years of working directly with local, regional and national clients within Atlanta's Hispanic community, the Georgia State graduate was tapped earlier this year to lead Telemundo Atlanta, a Spanish-language news operation that is part of a national network.
"In Atlanta, I'm pushing to take Telemundo to the next level," Shammas says. "We want to continue to provide Emmy Award-winning local news and local community content and deliver a consistent growing market."
Shammas serves as chairman of the Leadership Council for the Georgia Association of Latino Elected Officials (GALEO), and he is a member of the Georgia Hispanic Chamber of Commerce and the membership committee of the Buckhead Club. – SB
Timothy Sweeney, 36
Director of Health Policy
Georgia Budget and Policy Institute
Atlanta
As head of health policy for the Georgia Budget and Policy Institute – an independent nonprofit nonpartisan or-ganization that rigorously analyzes budget and tax policies and provides education to inspire informed debate and responsible decision-making – Sweeney follows Medicaid and other health policy developments in Georgia closely, documenting the effects various budget and policy proposals have on state healthcare programs.
The author of Using a Medicaid Expansion to Target Georgia's Uninsured Adults in Poverty and co-author of Georgia's Medicaid Program: A Briefing for Community Leaders, Sweeney also served on the Healthcare Georgia Foundation's selection committee for the Joseph D. Greene Community Service Award.
He is a native of Oregon, where he was a member of the marching band at the University of Oregon, but now calls Georgia home with his wife and two-year-old daughter. – MAD
Trey Taylor, 39
CEO
Taylor Insurance Services
Valdosta
Taylor is the third-generation CEO of his family's insurance business, a position he accepted after his father's death in 2005 but intended to leave once the business stabilized.
He stayed and now can't imagine being elsewhere. The company serves small to mid-sized businesses, has agents in five states and offers all types of insurance. The core business is employee benefits.
"The reason we retain our accounts and have grown in double digits every year that we've been in business is because we're there for the sale, but we're also there for the service," Taylor says. The Eddie Taylor Family Foundation, named for Taylor's father, assists local charities and is funded through a percentage of yearly gross revenues.
Taylor is a trustee of Lowndes Associated Ministries to People and was a member of the 2012 cohort of the Conservative Policy Leadership Institute, a think tank formulating conservative responses to policy issues. – PR
Blake Tillery, 29
Chairman
Toombs County Commission
Vidalia
When Tillery was an undergraduate studying international affairs at the University of Georgia, he ran for a seat on the Clarke County Commission. "That was unsuccessful, but I came within 300 votes of unseating my English professor at the time," he says, "and that gave me a taste for politics. I'm one of those extroverts who loves being in a group discussion, whether it involves property taxes or the Braves."
He won his next race back in Toombs County, and now he is guiding his community toward consolidation. "We're working with neighboring counties to be among the first to integrate our services as much as possible to bring the most service to taxpayers for the lowest cost," he says. He practices trial law at Smith & Tillery, teaches at Brewton-Parker College and volunteers for the local Boys and Girls Club, Heart of Georgia Altamaha Workforce Investment Board and Kiwanis Club. – CD
James Thomas "Tripp" Turner III, 34
Chief Operating Officer
J.T. Turner Construction
Savannah
Turner began working for his father when he was 13 and soaked up the values of the company while hammering nails.
"My dad preached that you don't just help your community financially – you spend time, energy and sweat."
So when Extreme Makeover: Home Edition selected the construction company as its featured builder, Turner led a team of 2,000 volunteers to complete a family's home within 106 hours. During that same time period, he organized a fund raiser to pay off the family's mortgage as well as a canned food drive that stocked the food bank, America's Second Harvest of Coastal Georgia, for one year.
Currently he is working with occupational therapists to design and build a playground accessible to special-needs children in Forysth Park, and he also volunteers to stabilize and preserve Cockspur Island Lighthouse, one of the oldest lighthouses on the eastern seaboard. – CD
Melissa Tymchuk, 39
Director of Public Relations & Marketing
Northeast Georgia Health System
Gainesville
As a new University of Georgia graduate, Melissa Tymchuk accepted a PR specialist position with Northeast Georgia Health System in Gainesville, thinking it would be a stepping stone to a bigger job in a bigger city. But along the way something unexpected happened: She discovered she loved it.
"I love the organization. What we do makes such a difference in people's lives," says Tymchuk, who 16 years later is responsible for all of the health system's media relations, advertising promotions and communications.
"Originally I stayed at the hospital longer than I thought I would because I loved what I did," she says, "but over time, Gainesville became the place I wanted to make my home for my family."
Tymchuk is active with the United Way, Greater Hall Chamber of Commerce and other local organizations. "I feel fortunate to not only be active and involved in my job, but also active and involved in such a great community." – MAD
Benjamin Vinson, 36
Attorney, Government Affairs Practice Group
McKenna, Long and Aldridge LLP
Brookhaven
For as long as he can remember, politics and the law have fascinated Vinson.
Vinson has vivid recollections of a childhood spent watching his father Ken, a Paulding County Superior Court Judge, discuss politics and legal issues with fellow attorneys.
"It's kind of the thrill of politics and all of the work that goes into making policy," says Vinson, describing the most rewarding part of his job.
Following graduation from UGA law school, Vinson clerked for a federal district court judge in Alabama. When the GOP took over the Georgia House in 2005, he was named legislative counsel for the majority.
Vinson was appointed to the Immigration Enforcement Review Board (IERB) by Gov. Nathan Deal in 2011. In addition to serving as chairman of the IERB, Vinson is a board member of the Federalist Society and chairman of the Governor's Commission on Brookhaven. – SB
Shannon Wallace, 36
District Attorney
Blue Ridge Judicial Circuit
Woodstock
Elected as district attorney of Cherokee County in 2012, Wallace says being a prosecutor is all she ever wanted to do; it's in her blood. "I know it's a strong statement," she says, "but no matter how difficult the facts are of the cases I'm working, there's the knowledge that this is where I'm supposed to be."
Wallace has worked some gut-wrenching cases, including violent crimes against women and children. "My desire is that the victims know that there's someone there for them who believes them and fights for them," says Wallace. "I want to work a case the best I can to make sure that person receives justice."
In January 2013, she began reorganizing the grand jury process for assistant DAs and law enforcement officers alike, reducing inefficiencies and wasted time. She also started the county's first drug accountability court, a program for medium- to high-risk offenders. – PR
Nikema Williams, 34
Past Interim Chair
Democratic Party of Georgia
Atlanta
With a biology degree from Talladega College, Williams had planned to work in science but became distracted by other, more political life forms.
"I joined the Young Democrats in Fulton County and haven't looked back since," she says.
Previously the vice president for public policy at Planned Parenthood Southeast, she now is focusing on the 2014 roll-out of candidates. "Georgia currently doesn't send any women to Washington, and it would be good not just for Democrats but for all Georgians to elect a woman to congressional office."
An alumna of Leadership Atlanta, she has coordinated "Women in the Halls," a lobbying group, and she serves on the advisory board of the Southern Christian Leadership Conference.
"The highlight of my year is the SCLC's annual pilgrimage to Civil Rights sites for students," she says. "It's life changing, and you can see that in the children's faces at the end." – CD
Chris Woodruff, 34
Commercial Manager
W.C. Bradley Real Estate
Columbus
For a decade, Chris Woodruff has pursued his passion of real estate development and management. At 25, he became president of his late father's real estate holding and development company, F&B Company, which required him to immediately renegotiate a 60-year lease deal.
He continues to own and operate the company today, while serving as commercial manager at W.C. Bradley Real Estate Company and managing another family business, Woodcrest Enterprises.
When he is not negotiating deals or managing projects – such as the award-winning Student Dorms at Fontaine Hall, a renovation of the historic Fon-taine Building – Woodruff is busy with the J.W. and Ethel I. Woodruff Foun-dation, which supports nonprofit organizations, and as chairman of the board for the Greater Columbus Georgia Young Professionals. "We seek to em-power, energize and engage young professionals between 21 and 49," he says. "We also work with a lot of major companies in town to help facilitate a resource for their employees." – MAD
Kiyoshi Yamazaki, 36
Sports Medicine Physician
Phoebe Physician Group, Inc.
Albany
Unbeknownst to him, Yamazaki's childhood served as prep-aration for a career in sports medicine.
The Los Angeles native played nu-merous sports and went on camping outings as a Boy Scout. The combination of sustaining various athletics-related injuries and mastering emergency preparedness skills as a scout inspired Yamazaki to focus on sports medicine.
"I'm trying to educate people on ways they can stay safe and stay active," says Yamazaki, who earned his M.D. from the University of Saint Eustatius School of Medicine.
Since his arrival in Albany for a residency at Phoebe Putney Memorial Hospital in 2008, Yamazaki has im-mersed himself in the community. He has served as team physician for several local high schools and two professional teams. Additionally, Yamazaki won the Southwest Georgia Medicine Residency Program's community service award in 2011, and he regularly mentors students interested in pre-med programs. – SB