Power Players: Facilitator And Communicator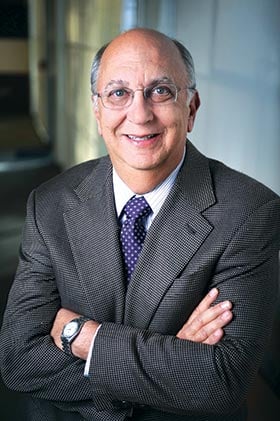 Arnie Silverman grew up in a mid-sized city, Schenectady, N.Y., across the street from a large public park.
"At the time, Schenectady was a very vibrant community," he recalls. "There were close to 50,000 General Electric employees working there, and the park was a center of activity. It had tennis courts, a skating rink, a band shell and lots of activities." To this day, Silverman harbors a love of parks and understands the lasting impact of functional, but beautiful, public spaces.
Silverman is founder and president of Silverman Construction Program Management (Silverman CPM), founded in 1995. The mission is its tagline: "A champion for the owner, a facilitator for the architect and contractors."
Silverman CPM facilitates communications among the entity that hired it, either an owner or developer, and the architect and general contractor. Silverman credits his long career in construction, both as a developer/contractor and as a business owner, with supplying the perspective necessary to oversee complex projects. The key is communication. Something, he says, that's not always easy for an engineer.
"Engineers are typically not good communicators," says Silverman. "I was an electrical engineer with a master's in business administration. That combination of different approaches to problem solving really helped me. My MBA forced me to communicate more effectively. I'm a strong numbers guy, I like numbers, but giving someone a spreadsheet and saying, 'Here's the answer,' is not communicating. I have to make sure that you understand what I'm trying to say when I'm speaking."
Silverman CPM has three areas of focus: governmental, for-profit and what Silverman calls his "first love," community nonprofits. Projects range from working on parks like Piedmont and Freedom Parks to representing the Atlanta Downtown Im-provement District and the City of Atlanta through the Atlanta Streetcar project, to the Monastic Heritage Center and visitors' complex at the Monastery of the Holy Spirit in Rockdale County. The company is working on a Buddhist center in Atlantic Station and a $12-million headquarters and Family Support Center for Atlanta Habitat for Hu-manity.
In 2007, the company had 12 employees and generated about $2.5 million in annual revenue. Silverman was named Atlanta Business Chronicle's Small Business-man of the Year. "We were doing really well and experiencing tremendous growth," says Silverman. "But in 2008, the downturn occurred. We were doing primarily nonprofit community-based construction, and much of that went away. We were fortunate that we just went down and leveled off." Since then, Silverman has added another employee and does close to $3 million in annual revenue. Their kind of work is starting to come out of the doldrums, but they had to make an adjustment, taking on for-profit clients.
Silverman CPM was hired by Jamestown Properties to serve as project manager for the Ponce City Market development, a two-million-square-foot intown redevelopment project on the old City Hall East site that will transform the Ponce corridor. "We were hired because it's a complex, highly intensive Atlanta-based project, but we have good relationships with the city and with Jamestown," says Silver-man. "We have two people on that project full time, helping them and supplementing them."
Silverman modestly says he lacks the creative vision to develop a Ponce-type project.
"I'm able to find those people with creative vision to let them express their gift," he says. "I'm the green eyeshade guy who says, 'Let's find out what it costs and make sure it's worth it.' I can also say to the creative guy, 'You've got to stop. It's not a Mona Lisa. It's a project that needs to be successful.'"
Silverman and his team help the owner define success and align the other players with that definition. "If you want to build the most magnificent structure in the world that becomes an icon, that's one thing; but if you need it to be practical, good, good-looking, but done on time and within a specific budget, that's where we come in," he says.
"When I go by any of these projects that we finish, I feel a great sense of satisfaction, personally and professionally," he says. "I'm proud of what we've accomplished."