Dalton | Whitfield County: Making Good Progress
A boost for manufacturing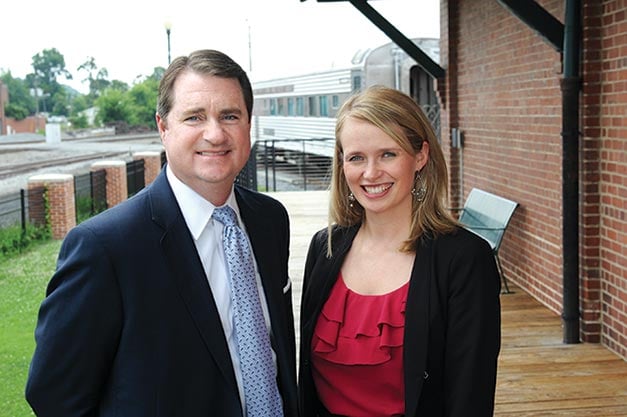 In its ongoing recovery from the recession, Dalton and Whitfield County made all the right and expected moves. Economic development professionals, along with city and county officials, sought advice from state economic developers and got on their radar. They invested in infrastructure, developing the $12-million, 184-acre Carbondale Business Park, a Georgia Ready for Accelerated Development (GRAD) site along I-75 that quickly attracted tenants.
They streamlined procedures, creating a Business Rapid Response Team for developers going through the permit application process. They formed a joint development authority with Murray County in 2012 and are talking about developing a joint industrial site. And they took care of existing industry, doing what was necessary to meet the needs of companies like HeatMax, which this past year announced a $6-million expansion, growing its manufacturing space to 25,000 square feet, and IVC US and Shiroki North America, which added 30 and 85 new jobs, respectively.
This past May, Gov. Nathan Deal was on hand for the announcement that Engineered Floors, a Dalton-based flooring company founded by carpet industry titan Bob Shaw, would make a regional investment of $450 million by building facilities in Whitfield and Murray counties. More than 2,000 jobs are expected over five years. It's the type of announcement civic leaders love making, but the folks in Dalton-Whitfield County aren't taking anything for granted.
"We're taking care of our manufacturing sector; now we need to build around it," says Dalton Mayor David Pennington. "We're already blessed with more manufacturing jobs per capita than any other place in Georgia. We have what everyone else wants. Now we need to rebuild the professional base back around it again. With our assets and an influx of young, educated people and entrepreneurs, Dalton would boom like no other community in Georgia."
Holistic Approach
To that end, Dalton and Whitfield County are also doing the unexpected. By leveraging the resources available to them as an Archway Partnership Community, a development program through the division of Public Service and Outreach at the University of Georgia, the area is taking a holistic approach to economic development, not just looking for ways to create more jobs but investing significant financial and human resources into total community development. They are connecting the dots in the community and creating unique partnerships, combining economic growth with quality of life issues like parks and recreation, healthcare and especially education.
For example, through a series of community conversations facilitated by Archway Professional Melissa Lu, stakeholders identified the links between the critical issues of workforce development, literacy and the education continuum from early childhood education through college.
"Everybody does workforce development a little bit; we're knee deep in it," says Brian Anderson, president and CEO of the Greater Dalton Chamber of Commerce. "This latest [industry] trans-formation was a big leap forward. You can't do the majority of [carpet industry] jobs with a strong back; you have to have an interesting skill set, probably post-secondary, higher education level of training to be successful. We're doing significant workforce development stuff, not just adding a technical course here or there."
An ambitious initiative, Readers 2 Leaders (R2L), began in July 2012 with the stated goal that by 2020, third-grade students in city and county schools would read and comprehend on grade level in all subject areas. Every major community stakeholder, from city and county governments, the business community and both city and county school systems, is represented in the program. R2L includes a comprehensive literacy component, the Literacy Collaborative, currently being implemented in city and county schools. But community leaders decided to drill down even deeper.
"Our takeaway over four years of conversations led us to the conclusion that addressing the dropout/graduation rate meant going back to the start of a child's life," says Anderson. In May 2013, the community backed up that conclusion, financially, by hiring a second Archway Professional, Katy Green, to focus on developing educational programs and activities for children from birth to age five, a move Mayor Pennington calls "the most valuable thing we're doing in the community right now." Programs include the Reach Out and Read initiative, often in conjunction with healthcare professionals.
"When a child comes in for a well-child visit, instead of just going over the physical milestones the child should reach, the physician will go over literacy and brain development milestones they should reach so parents hear it and have something to aspire to," says Lu. Parents receive coaching techniques and an age-appropriate book.
Collaboration runs rampant in Dalton and Whitfield County, and Reach Out and Read is yet another example. The library has taken the lead on implementing the program while the faith-based community will work to fund it.
Lu says another issue closely related to education is that many families with young children struggle with food and nutrition issues.
"We were able to bring in some UGA faculty who administer the Expanded Food and Nutrition Education Program (EFNEP)," she says, referring to the USDA National Institute of Food and Agriculture initiative. "At first they told us they didn't have the funds to put an EFNEP in the community, but our Women, Infants and Children [WIC] program stepped up and said 'We're willing to work with you to put together something innovative to get the program here sooner rather than later because we need it.'"
An EFNEP professional was hired in fall 2012. The program provides a six-class course for low-income families with children about how to provide inexpensive, nutritious, fast meals to their family.
Preparation
Anderson says the goal of all the education and literacy initiatives is to get students prepared to either go to work or continue their education, at Georgia Northwestern Technical College, which has a local campus, Dalton State College or elsewhere. "It's a daunting task, but we have a lot of people and resources targeting the next 15 to 20 years," he says. "We think our approach will deliver an 18 year old with a much better translation rate into the career they want to be in. And we hope they'll be here, in Dalton."
A key component in the workforce/education link is continued growth of Dalton State College (DSC), a four-year, baccalaureate institution of the University System of Geor-gia, and at less than $2,000 per semester, one of its best-kept secrets. Dr. Jodi Johnson, vice president of enrollment and student services, says most, if not all, of their baccalaureate programs grew from community and industry demand.
Programs like chemistry and biology, both vital in manufacturing and healthcare industries, are exploding. "The chem-istry program is just two years old, but we will probably top 100 majors this year," says Johnson. "We have almost 300 biology majors."
Last fall, Dalton State had just over 5,000 students enrolled. To accommodate expanding enrollment and programs, DSC is building a $15-million science building that should be finished and in use by summer 2014, and the privately funded renovation of Bandy Gym will get underway in late summer.
An exciting source of new growth is the introduction of intercollegiate athletics, set to begin in fall 2013. The college will offer men's basketball, wo-men's volleyball, competitive cheer and men's and women's tennis, golf and cross country; it will compete in the National Association of Intercollegiate Athletics (NAIA).
Derek Waugh is Dalton State's enthusiastic athletic director who talks up the direct correlation between the growth of the college and the economic vibrancy of the community. "I want to use athletics to do two things," says Waugh. "One, give us more of a partnership with the community, and, two, bring a lot more residents – and young residents – to this place, which I think is so impressive; have them go to school here, stay here, work here and become leaders in the city. I know that athletics will bring that."
Partnerships
True to Dalton and Whitfield's collaborative nature, facilities for Dalton State's athletic programs are being developed and funded in partnership with the city, county and other private entities. The men's basketball team will play at the Dalton Trade Center on a floor purchased from the 2013 NCAA tournament. The city is funding substantial improvements at Lakeshore Park, adding tennis courts where DSC will play its tournaments. "We're completely redoing the AstroTurf field," says Steve Card, director of Dalton's Parks and Recreation Department. "It will be a full-sized football field and a full-sized collegiate soccer field. The Roadrunners will play [soccer] there, and it gives us a place to have our events, or to use it as cross court soccer fields." The city is also adding lights, a grandstand and new fencing and renovating the track around the field.
Dalton's Parks and Recreation Department delivers a double impact, pumping $7 million into the local economy last year by hosting sporting and recreational events that drew thousands of visitors to the area and by improving quality of life through excellent programming and a growing network of well-maintained parks, passive greenspace and, now, a beautiful trail at Mount Rachel.
The 1.8-mile Mount Rachel trail, which opened in July, was the result of a generous land donation from Shaw Industries as well as approximately $350,000 in funding from a federal Community Development Block Grant (CDBG) and the Georgia Department of Natural Resources. "It's a complete trail for walkers, trail runners and bicycles with a great shaded canopy that is located within the city limits," says Card. The Mount Rachel trail will tie in with a larger greenway project that's under development. "We're trying to incorporate as much greenspace as we can into the city," Card says. "There is an intentional focus on tying together our residential areas into parts of the city with parks and trails. Creating a healthy, livable community is a huge recruiting tool for young professionals."
Card is also in the planning stages with the 1.5-acre Dalton Green Park project located between city hall and the county courthouse. "We look for that to be a central hub with playgrounds, fitness, amphitheater and pavilion," he says. "We want it to be a drawing card for our local community and those outside the community." Card hopes to present plans and costs to the mayor and city council by fall.
Also in the preliminary stages of discussion is development of a multi-faceted aquatic complex. "We've brought city and county governments, the school systems, college and the healthcare industry into the discussion," says Card. The current conversation centers on the types of programming that would be offered and whether or not a sustainable facility can be built; operating costs can run up to $1 million a year.
While most communities help fund capital improvements through the use of Special Purpose Local Option Sales Tax (SPLOST) funds, Dalton and Whitfield County currently fund all their projects through their regular operating budgets. There is a five-year, one penny Education SPLOST currently on the books to raise funds for debt retirement, infrastructure improvements and technology upgrades. Mayor Pennington (who is making a run for the GOP gubernatorial nomination in 2014) is solidly against the use of SPLOST, believing a lower sales tax makes the community more competitive than its neighbors for retail dollars. But County Commission Chairman Mike Babb respectfully disagrees.
"I think people shop based on convenience and product," says Babb. "People go to Chattanooga every day to shop and eat in restaurants that collect nearly 10 percent in sales tax. Some-thing's got to give. The citizens say you can cut more, and that's true. There's not a government operating that doesn't have some waste built into it, but from our viewpoint we're coming to a crunch time where we have to keep addressing the millage rate or we're going to have to have some relief with SPLOST."
He's not ignoring future challenges, but Chamber President and CEO Anderson says he's pleased with how far they've come. "We're a community in transition, but I think we're unique in Georgia with our set of circumstances," he says. "No [other] community in Georgia lost 16,000 jobs in four years. Nobody's had an industry pivot as drastically as [the carpet industry] did in the time it did. Nobody managed a demographic change as vast and as well as we did. Even in the worst of the economy, people looked out for one another. Even in the worst economy in decades, we had investments going into everything from education to economic development to quality of life. That's a social capacity that, if it happened more often, we'd have a lot better communities.
"Dalton for its size and history is pretty good competition right now," he adds. "We would make some companies and families think twice about why they're not here."
Community Snapshot
Local Leaders
Mike Babb
Chairman
Whitfield County Commission
706.275.7500
mbabb@whitfieldcountyga.com
David Pennington
Mayor of Dalton
706.226.0186 x2332
Brian Anderson
President/CEO
Greater Dalton Chamber of Commerce
706.712.0955
anderson@daltonchamber.org
Population
Dalton, 33,313
Whitfield County, 103,359
Median Household Income (2011)
Dalton, $38,231
Whitfield County, $42,379
Unemployment (April 2013)
Dalton, 11.4 percent
Whitfield County, 10.3 percent
Georgia, 7.9 percent
Top Employers
Shaw Industries, Mohawk, Industries, Beaulieu Group, Hamilton Health Care System, Whitfield County Schools
Sources
Greater Dalton Chamber of Commerce, Georgia Department of Labor, U.S. Census