Treasure, Not Trash
How recycling pays big dividends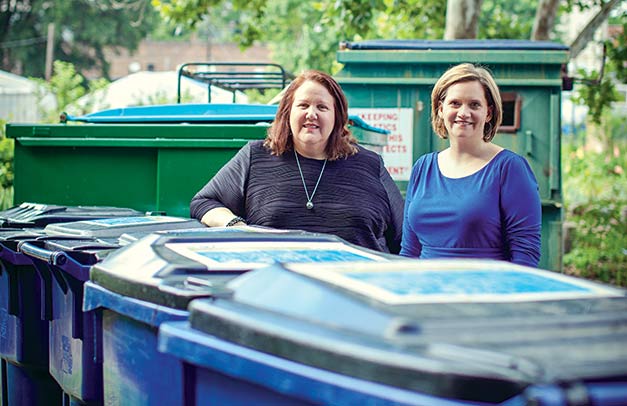 "This is all gold. This is a gold mine," enthuses Costas Simoglou at the Georgia Department of Economic Development (GDEcD) Center of Innovation for Energy. "Think of a landfill not as an eyesore but as a source for new industry – and we can do it. These are untouched territories with big potential."
Simoglou is referring to the mountain of recyclables tossed in the trash instead of the recycle bin. But there are several groups in Georgia tackling the issue. After all, recycling isn't just a noble idea: It's a viable economic concept, one embraced by corporations as well as communities and individuals.
In fact, Georgia now has the second largest infrastructure for end-use recyclable materials (or recyclables) in the nation, says Gloria Hardegree, executive director of the Georgia Recycling Coalition, which is working on a mapping project with the Georgia Department of Natural Resources as part of the state's Made In Georgia campaign.
"We have found 130 businesses who use recycled materials in manufacturing," says Hardegree. "We are in an enviable position, to have 10 paper mills using 100 percent recycled content; glass, plastic and aluminum recycling and manufacturing companies; and with Atlanta seeking to become a zero-waste city through its Sustainable Atlanta and EcoDistrict program, we are becoming a leader in the nation."
In the 14 years Hardegree has led the GRC, it has grown from 50 members to 250, reaching nearly every county in the state. Still, around 40 percent of what we throw away in Georgia is considered recyclable. And even though "tipping fees" (the amount charged to deposit a set quantity of waste into the landfill to offset operation costs) are very low, Georgians are ultimately losing out on a lot of money, spending $100 million a year to landfill $300-million worth of recyclable materials, according to the Georgia Department of Community Affairs.
"Georgia companies are importing billions in materials that they may be able to find here," says Simoglou. "We can process it here and save them money and create jobs. And it's not really costing us anything. We just have to cooperate, coordinate and change the paradigm."
To help encourage more recycling – Atlanta Mayor Kasim Reed wants to reduce waste to landfills by 90 percent by 2020 – the city partnered with the nonprofit Curbside Value Partnership (CVP) for its Cartlanta campaign. More than 65,000 single-family households received a 96-gallon recycling roll cart to replace their existing 18-gallon container. Since the city began dispersing the larger carts in October, recycling has increased from 1,079 tons collected to 1,403 tons – a 55 percent increase that generated $28,000 revenue from diverting recyclables from the landfill.
"We're happy to support programs like that," says Chris Anderson of Novelis, aluminum manufacturer and CVP sponsor.
Novelis employs 400 at its headquarters in Atlanta and 100 at its Greensboro recycling plant; there is a Novelis Global Research and Technology Center in Kennesaw that has created Evercan, a metal product constructed of certified recycled content. The company's goal is 80 percent recycled content by 2020, and it is halfway there.
"I know it's a challenge, and deposit legislation is very controversial, but in Georgia and other states there is growing awareness and interest in recycling," says Anderson. Education is a big component: "Nearly $1.5-billion worth of value goes into landfills in the form of aluminum cans nationally."
First, Education
Keep Georgia Beautiful has been educating Georgians on recycling for 35 years; it is the largest state affiliate of the national organization with 75 community affiliates. "Our role is education," says Sarah Visser, executive director.
"Georgia has a phenomenal recycling and manufacturing infrastructure. Paper of course – including Georgia-Pacific and SP Fiber – and carpet, virtually all the companies – Mohawk, Shaw, Interface – have recycling programs," she says. "Strategic Mater-ials, in College Park, is one of the biggest glass recycling companies in the country. Novelis is one of the world's biggest aluminum manufacturers, and Coca-Cola recycles PET back into new drink containers.
"We work closely with our local affiliates and local governments and the private sector to collect recycling and feed it back into that manufacturing process," says Visser. "Still, we are literally throwing away money and jobs."
During Hardegree's tenure at Georgia Recycling Coalition, which holds its 21st annual conference this month in St. Si-mons, county and municipal curbside collections have in-creased and recycling has become a core part of waste programs at colleges, universities, military installations and trade operations.
"Sometimes, however, it's like we're the red-headed step-child," she says. "People take recycling for granted because it's been around so long."
"We know we're not recovering everything that can be recovered," adds Visser. "There are a lot of communities with bins and curbside service that are still not being used. A lot of misconceptions are still out there." For one thing, there is no one-size-fits-all option. "We'd love it if there was one uniform way for a community to do it, but that's just not realistic," says Visser.
Even as single-stream recycling – meaning paper, plastic, metal and other materials are deposited into a common container then collected and separated at a recycling facility – becomes more common, making it much easier for consumers who no longer have to do the sorting, there is still come confusion.
"Don't make assumptions about recycling," warns Har-degree. "Don't put things into [a single-stream container] if they don't take them." In the long run, improperly sorted items wind up in a landfill, and separating them there is costly.
Plastic bags, for instance, are recyclable, but often not by companies that do curbside collections; but the bags can be taken to Publix, The Home Depot, Kroger, Lowe's or Target for recycling. (Plastic bags that aren't recycled often wind up in the ocean, where they can be ingested by sea creatures; some estimate more than 100,000 marine animal deaths a year are caused by the bags.)
Paper Trails
Among the paper companies that call Georgia home is SP Fiber Technologies, a pioneer in single-stream recycling. "With big mills in Dublin and Forest Park, they have been a leader in saying, 'We will take it and buy it because we're interested in the paper and can sell off the rest,'" says Visser. Digital age notwithstanding, she says, "Paper is the biggest part of waste stream recyclables – it is a big target."
Atlanta-based Georgia-Pacific, which manufactures paper, packaging and building materials, has an entire operation, Harmon Associates, headquartered in New York, devoted to recycling. "While we've clearly seen less customers using recycled paper in the U.S. in the last five years – a result of the manufacturing base shrinking and mergers of companies like IT and Temple Inland – the emergence of offshore markets has grown by leaps and bounds," says Marc Forman, Harmon Associates president.
"At the same time, recycling systems are changing. Paper is harder to get, so we're digging deeper into the supply chain, which is logistically more difficult, and the materials have more contaminants. With less pure paper to sell, how do we adjust to that as a market? That's something the industry is trying to figure out.
"The technology isn't there yet, and neither is the investment, but it will have to come," says Forman. "Paper recycling has been around for 20 years. Based on forecasts, the worldwide demand for more recycled products is going to increase over the next 10 years, and we believe the recovery systems are capable of meeting that demand.
"Still, as there [are] less recyclables consumed in the U.S. and more overseas, it will be a challenge to change the flow to where the demand is, and access to the port will become critical," says Foreman.
The future looks bright for Savannah, however. "Five of the world's 12 largest tissue paper machines are here," says Kelly Wolff, vice president of manufacturing at Georgia-Pacific's Savannah River Mill. "Every year, we divert more than 550,000 tons of wastepaper from the waste stream."
Collections, Costs
On the collection end, communities are becoming more savvy about the cost of waste. "We pay a lot to dispose of valuable commodities, but what's not included in that cost is depressed real estate and lost landfill space," says Visser. "That's really why a lot of communities get involved." One of the most aggressive programs is in Dublin-Laurens County. "Landfills are expensive and hard to site, so they have created a great recycling and compost program there," she says.
Similar economic concerns have driven many corporate efforts: "Anheuser-Busch in Cartersville has achieved 99 percent landfill avoidance, and so have most of the carpet companies," says Hardegree. "Rooms To Go is recycling backhaul wood and polystyrene shrink wrap from furniture operations, through their own system of balers and processors, and made a cool million from resale – not including cost avoidance."
In an effort to take planning out of county budgets, SB 157, from 2011, makes solid waste planning optional for cities and counties, which no longer have to file annual waste reports. Still, waste planning "remains incredibly important to communities even if the state no longer requires it," says Visser. "Our population is growing, and there are fewer empty spaces where we could be comfortable putting waste facilities."
"We want to grow public access to recycling far beyond the home residential scenario," says Hardegree. "We want a recycling receptacle next to every trash receptacle in Georgia – we have a grand vision of access and see things happening in parks, transit stations, sporting venues, college campuses and [on] sidewalks. They need to be well designed, well labeled and well serviced – not overflowing. We're not there yet, but we've expanded exponentially in the last 10 years."
Economics is always part of the picture; but, increasingly, so is quality of life.
"Communities have to weigh that risk – if it's cheaper to throw it away, then it [recycling] becomes an ethical dilemma, not an economic one," says Kanika Greenlee, director of programs and development for Keep Georgia Beautiful.
"It's true that in many communities the tipping fees [for landfills] are low enough that it makes it harder for recycling programs to break even or be profitable," says Visser. "But we've seen a real shift in what communities are talking about, and recycling is increasingly seen as a quality of life issue." Too, technology is catching up, making it easier for consumers to recycle.
"As new technologies emerge and logistics improve, we expect our recycling programs to continue expanding," says Steve Bradley, director of engineering and sustainability for Atlanta-based Cox Enter- prises. Cox, which employs more than 50,000 worldwide, has a broad-ranging Cox Conserves program that includes alternative energy projects, an eco-friendly fleet of vehicles and water conservation measures as well as recycling initiatives.
Since 2007, Cox has recycled 780 tons of material in Georgia and 266 pounds of electronic waste, or e-waste, through employee and customer collection events. (E-waste is a growing field within recycling, focusing on phones and electronic devices, which may contain poisonous lead, nickel, cadmium and mercury as well as recyclable precious metals, copper and engineered plastics.)
"The legacy of Cox Conserves is to do what's right – for the environment and for business. We've found this to be especially true with recycling. Repurposing materials and equipment results in significant efficiencies and cost savings," says Bradley.
Grassroots Efforts
Recycling is not just the province of community and corporate efforts – or even of grown-ups. Two Fayetteville youngsters are already making a difference.
Olivia and Carter Reis, ages 11 and 10, launched a nonprofit in 2010 dedicated to educating people about the plight of endangered species called OMG (One More Generation). But it was on a trip to the Gulf area to help with animal rescue efforts following the BP oil spill that they realized they wanted and needed to expand their mission.
"While helping clean turtles in New Orleans, the kids learned that 75 percent of animals released back into the wild encounter plastic pollution, and the majority of those end up dying," says father Jim Reis. "The children said, 'We have to do something.'"
Upon returning to Georgia, the nonprofit launched a Plastics Awareness Coalition and developed a weeklong Plastics Awareness Week curriculum for elementary students.
"We hired teachers and four different organizations to help us write it, but Olivia and Carter were the catalysts to say how it would look. One of the main things – that we wouldn't be onstage lecturing to elementary students – made us decide we would have to bring something fun in every day for a week, so at week's end, they'd remember it because they enjoyed it."
The Reis family devotes an entire day to telling students about all seven types of plastic, including types 3, 6 and 7, which may go through single-stream recycling and still wind up in a landfill because they are harder to process. "Look on the bottom of the container and tell your parents not to buy these products," they tell students.
When Novelis found out about this program, the company offered to help pay for an aluminum component to the presentation. "We've been doing this kind of grassroots education for years, typically near our nine locations," says Anderson.
To date, 10 Georgia schools have participated. This September, Northwood Elementary in Roswell will become the largest school (750 students) to host the program.
"We want to continue to broaden our reach – in addition to Novelis, we've gotten a grant from Captain Planet and the Turner Foun-dation. We're constantly reaching out," says Reis. In fact, the nonprofit now has more than 70 local, national and international organizations on board, and it plans to expand the program nationwide.
As government and nonprofit efforts grapple with funding after a long recession, the energy of the recycling movement is still high. With action at the grassroots and corporate levels, don't look for that energy to diminish any time soon.
"One thing we believe is that consumers will expect to be provided product that not only meets their needs but is also sustainable," says Novelis's Chris Anderson. "Recycling is a foremost part of our strategy, for good reasons."