Stemming The Dropout Tide
Communities in Schools, with support from the business community, helps students stay in school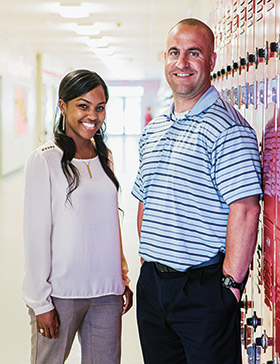 Ninth grade is a critical year for struggling students, a time when school can seem overwhelming. "In general, ninth grad-ers are still immature," says Josh Morreale, principal of Cobb Coun-ty's Osborne High School. "If we can get them to 10th grade, they will graduate."
Osborne High in southwest Cobb is a typically overburdened public school in the suburbs struggling to cope with a highly transient population that contributes to a high dropout rate. One Osborne student has been to 14 different high schools.
It's difficult to keep students in school when they have few ties to the community and come from families with limited resources. Increasingly, leaders are targeting such extracurricular dilemmas.
Communities in Schools (CIS) of Georgia is part of a national network committed to preventing high school dropouts – there are more than 20,000 of them in Georgia each year. Neil Short-house, president and state director, says the organization works directly with schools like Osborne, providing resources and funds and often, additional personnel.
"Often a student's problems have nothing to do with school," he says. "The additional personnel – site coordinators – focus on non-instructional barriers that keep kids from being successful: stress, abuse, loneliness, poverty, gangs, violence, drugs, broken relationships in families, medical problems and negative peer associations. These are all non-instructional problems."
More than a million new Georgians swarmed the suburbs during the housing boom of the '90s. When the boom went bust, education budgets got tighter. Metro school systems like Cobb got shortchanged by declining property values and tax revenues (the source of local public schools' funding) that don't correspond to the exploded student population. The Cobb system recently closed the gap on an $86-million shortfall by cutting 182 teaching positions and requiring five days of unpaid furlough for those left.
And yet Cobb schools are great performers, consistently ranking high in national polls like U.S. News & World Report. The private sector is stepping up to help the schools, through CIS and other efforts.
Last year, AT&T committed $200,000 to Cobb and Marietta schools as part of the national Aspire campaign. The communications giant promises to incorporate technology in "new and effective ways," such as through "interactive gamification, web-based content and social media" to help reduce dropout rates. Cobb is one of just 47 systems chosen nationally for the first $10-million phase of the Aspire program.
"Keeping our teenagers in high school and preparing them for success after graduation benefits our students and our communities," says Sylvia Russell, president of AT&T Georgia. "We are proud to support Communities in Schools by playing a role in helping more students to reach their potential and achieve their dreams."
Shorthouse notes that BellSouth, now a part of AT&T, gave a million dollars to CIS in 1989 – "30 years ago, an enormous amount of money," he says.
The heart of CIS's dropout prevention efforts is providing site coordinators based in individual schools. "These are professionals who are not just good with kids, but know how to manage time and have a wide range of communication skills," says Shorthouse. "They bring external resources into schools."
The site coordinators work with school staff to identify students at risk of dropping out and establishes relationships with local businesses, social service agencies, volunteers and healthcare providers – whoever's needed to help a child deal with life situations that could be holding them back. This could mean anything from providing basic needs like food and clothing to access to tutors, counselors and social workers and even job shadowing and leadership training.
Sometimes the help required is as simple as an alarm clock; other times it's as unwieldy as transportation.
"Transportation is a huge barrier," says Carol Fey, executive director of CIS of Marietta/Cobb, one of 42 CIS affiliates across Georgia. "Our bus service, Cobb Community Transit, is not comprehensive. A lot of areas are not served and are cut off from county resources, so the site coordinator drives them herself."
Adaptability is key to the program's success and enables Communities in Schools to tackle a wide range of social issues. "We find someone to pay the light bills, provide clothing, sometimes beds. Cobb Department of Family and Children's Services is good but overwhelmed and not easy to get in." An advocate, Fey says, "can help get through the red tape."
"We work with Boys and Girls Clubs, Scouts, social workers, provide family counseling, and we find glasses from the Lions' Club. We also work with Alive Ministries for families with nutrition issues – identified by the school – where bags of food are picked up anonymously. They serve many at Osborne and some elementary school families."
Addressing the Bulge
Tenisha Moten, site coordinator at Osborne High, was hired to focus exclusively on freshmen students. Young enough to offer peer appeal to students, she likes the challenge of addressing the "freshman bulge" of repeat students. "They are overwhelmed by high school," she says.
Osborne Principal Josh Morreale agrees. "They have some maturing to do," he says. "When they reach 10th grade, they are a different person. Being a repeater puts them in the position of not moving with their class, and the year failed out is a waste."
Moten handles 85 students – some who grapple with credits and repeated courses and some true freshmen who, after the first semester, show signs of struggling. "We get the new freshmen back on track," she says. "They're coming in from middle school not knowing the importance of staying on top of individual-based work. The repeats, it's often a lack of communication – the parents didn't even know they were struggling."
Gaining trust is the first step, says Moten. "There is no typical student. I have to eliminate judgment – I'm not an administrator, so I have to build trust. We always give them the option to refuse. I have been turned down by one or two, but they come back. We are becoming more familiar to students as peers are sharing more about us with their friends. These students are great kids; they just need extra support."
Some programs like Junior Achievement Day are offered in partnership with the Junior Achievement nonprofit, and at Osborne there is an extra Career Day for freshmen only.
"Usually with schoolwide programs, we try to make sure CIS students are given top priority if at all possible," says Moten. "For my students in particular, I try to create a lot of student empowerment workshops. We have Fresh Talk, where freshman students talk about different topics like attendance, how it affects your success in school, and maintaining positive relationships with teachers so when you graduate, you can have recommendation letters."
Also popular are incentive programs. "We take students to Six Flags on spring break if they have improved attendance, [improved] academics and have had no disciplinary issues," says Moten. "We had about 15 students who worked hard toward that; it's been a great addition to this program."
On monthly Parent Engagement Nights, CIS provides food for parents who come to hear speakers talk about family. "We find that a lot of parents work throughout the day, more than one job, both working lots of hours – it can get hard to actively stay engaged in what the kid is doing, especially when there is more than one child they are also tending to," says Moten.
"Since they're freshmen, as far as doing things after school, that's not likely as there is no transportation home," says Moten. "I've transported some after school if I've met with them or they've had tutoring. Some have to take care of their siblings and have to go home right after school, and I have to work with them throughout the school day."
Expanding Services
In 2003, CIS of Georgia launched an innovative pilot program called Performance Learning Centers (PLC) to address the state's high dropout rate. Private foundations such as the Bill & Melinda Gates Foundation helped fund the concept beyond its initial two PLCs, and today there are 18 PLCs in Georgia.
In February, CIS launched QUEST PLC at Marietta High School for struggling ninth graders. "It's been a real success," says Fey. "Say they did okay at freshman math but failed language arts or social studies. We have a parent-teacher coordinator plus teachers designated by the school system who come in during their planning time or set up extra periods online through our e2020 program. This allows them [students] to make up the one or two courses during their sophomore year and come out as 11th graders.
"These aren't troublemakers," Fey says of the students she and her organization help. "They've just fallen through the cracks. A lot of them will be the first in their family to graduate from high school. I believe parental non-involvement is the No. 1 reason kids aren't successful. Some parents are working three jobs and have no time. Some kids have to be adults before they should be."
Although the QUEST PLC is at Marietta High School, PLCs are often off-site, usually housed at a partnering technical college, and offer a non-traditional learning environment. Students attend morning motivation sessions with mentors from the community. The staff coordinates job shadowing, career development opportunities and college tours for 12th graders who can pursue dual enrollment at colleges like Chattahoochee Technical College through the state's Career Academy.
CIS recently received a grant to develop community school gardens in Atlanta, Douglasville and Marietta that integrate science and math into the gardening lessons. At the Cobb County PLC, 82 high school students participated, with the resulting 130 pounds of produce donated to MUST Ministries.
There is also Reality U, which is "growing like gangbusters," says Fey. "It's essentially a financial literacy course for ninth graders." The program has been a hit, she says. "We hear phenomenal comments. It's very realistic. Mainly, the academic-achievement-to-money connection is made."
The Marietta/Cobb CIS also gets Workforce Investment money from CobbWorks, grants in connection with United Way and works with Partners in Education through Cobb County Chamber of Commerce.
More Sites, Programs
As Shorthouse notes, the site coordinators have driven success in Cobb. In addition to two coordinators at Osborne, there is one at Pebblebrook High, one at the Cobb PLC, three in Marietta (Marietta High, Marietta Middle and the Marietta PLC), and one part-time at Dunleaf Elementary.
"We are also increasing home visitation through our Parents As Teachers [program], a nationally accredited program," says Fey. Three parent educators, two full-time and one part-time, arrange monthly home visits for students through age five.
"In middle school, we are trying to bring in more tutors. As they [students] get older, the barriers are different, maybe bigger. One child was missing class because his alarm clock was broken. His parents gone, he just stayed at home. We replaced it for him, and he's been coming ever since."
Shorthouse notes that "money clouds everything," both at the individual level and systemwide. "School systems have been under substantial duress because of funding reduction," he says. "They can't do different things that might work, because they are too busy making sure core functions are attended to. The level of experimentation and innovation is compromised because of a lack of resources."
It will take a holistic approach, like that afforded through Communities In Schools, to effect necessary change, says Shorthouse. "This whole notion of 'silos' is to blame," he says, citing lack of coordination. "It's not just education. As a parent, I'm director of human services for my family, handling dentistry, TV, food, medical, vacations, clothes – I'm in charge of that. Too often, organizations try to chop these services up, splitting the family into discrete pieces, when reality doesn't work that way. So these partnerships can unify the system to reconnect with the family."
Given the realities of tighter education budgets, Shorthouse is emphatic that we must realign our priorities.
"This is the No. 1 challenge facing America," he says. "Every business leader needs to think about what their company can do, what we must do. Now if every business went into a school with a great idea, the schools would not able be to handle it. But with a middleman router like CIS, you can have an impact."