Rising Up
With a new stadium coming, the Atlanta Falcons set their flight pattern for the future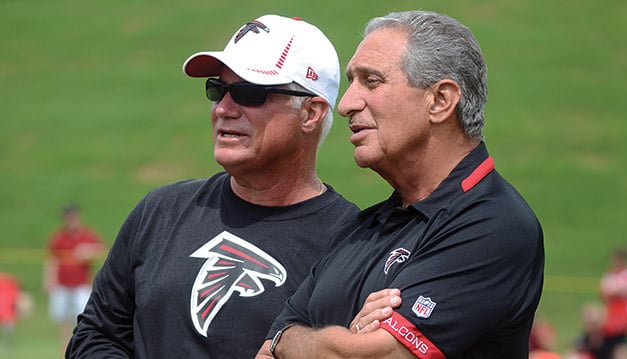 Arthur Blank is living every pro football fan's dream except his, because owning a National Football League franchise was never his dream.
"It wasn't something I'd planned, either," says Blank, who bought the Atlanta Falcons from the Smith family following the 2001 season, mainly because it seemed the right thing to do for a wealthy man with a competitive streak, civic pride and time on his hands.
"I've always loved sports, played football, baseball, and ran track in high school. And I was a Falcons season ticket holder," says Blank, who was surprised (and maybe a little appalled) when he learned that the Falcons had never posted back-to-back winning seasons since entering the NFL in 1966.
Such extended disappointment was intolerable for the guy who, with Bernie Marcus, co-founded Atlanta-based The Home Depot, building it into a multi-billion dollar enterprise.
"My attitude was, I could either sit on the sidelines and complain forever," he says, "or I could try to acquire the team if the opportunity presented itself, and fix it."
Rankin Smith, the team's founding owner, died in 1997. By then, his son, Taylor Smith, was running the team.
"After Rankin passed away, his family considered selling, but they wanted to sell it to somebody living in Atlanta, somebody who would keep the team here," says Blank, who bought the team for $545 million in February 2002.
In the past 11 seasons under Blank (he owns 90 percent of the team, eight limited partners own 10 percent), the Falcons have won 100 regular season games, losing only 75. Last year, they posted a franchise-record fifth consecutive winning season (14-4, including playoffs), all of them under head coach Mike Smith.
Though the season ended with a disappointing 28-24 loss to the San Francisco 49ers at the Georgia Dome in the NFC Championship Game (the first played in Atlanta), the franchise has shed its reputation as one of the league's doormats.
So, even though they are among the NFL's least valuable teams (Forbes ranked them 28th in the 32-team league in 2012, with a total value of $837 million), a fancy new stadium planned for Downtown Atlanta, faster season ticket sales, one of the league's best quarterbacks (Matt Ryan), a three-time Coach of the Year (Smith), a winning record and reputation, and high expectations (that also are realistic) have the Falcons flying among the league's elite franchises.
"We are in a very good place, right where we want to be," says Blank. "We're coming off a great year, but it's very important, it's critical, to point out that the Super Bowl – winning championships – is why we play the games."
Wide receiver Harry Douglas (taken by the Falcons in the third round of the 2008 NFL draft, out of Louisville) was there in Miami, in January 1999, the only time Atlanta played in the Super Bowl, a crushing 34-19 loss to the Denver Broncos that almost felt personal to a 14-year-old kid.
"I was a huge Falcons fan, grew up watching them," says Douglas, who starred in basketball and football at Jonesboro High School. "I see it as a very rare opportunity to be able to play for the team I grew up idolizing."
He's well suited for rare opportunities. Douglas has already beaten long odds to get where he is. There are about 1.1 million high school football players, 68,000 players in college football, but fewer than 1,700 NFL players, all of them vying for the same thing, all of them believing they deserve it.
Douglas needed a ticket to get into Super Bowl XXXIII in 1999. Next time he goes, he expects to be paid for the privilege.
Selling Football
Blank used to be in the business of selling hammers and nails. Now, he's selling "the fan experience." Business is still business. Sort of.
"Sports is really no different from any other business, except that there is more emotion involved," says Jim Smith, the Falcons senior VP of sales and marketing. "What we try to do is put a really good product on the field and capitalize on the emotion of fans, get them engaged with our brand."
There's a lot of talk of product and brand and branding in the NFL these days.
Can you imagine someone like Slingin' Sammy Baugh, the Hall of Fame Redskins quarterback of the 1930s and '40s, branding anything besides the cattle he raised on his Texas ranch? Or George Halas, longtime owner/ coach of the Chicago Bears, referring to his Monsters of the Midway as "the product?"
Falcons President and CEO Rich McKay, who is as fluent in the new sports biz lingo as anyone, has close connections to the old game and the old ways – his father was College Football Hall of Famer John McKay, who coached the University of Southern California to four national titles in 16 years, then be-came the first head coach of the Tampa Bay Buc-caneers (1976-1984).
The Bucs lost their first 26 games (an NFL record for futility), but eventually went to the playoffs three times under John McKay, whose son took the team to the next level.
As general manager (1993-2003), Rich McKay designed six NFC playoff teams, including a Super Bowl champion. A lawyer by training, he also played a key role in the development of Tampa Bay's Raymond James Stadium, an open-air facility that has host-ed two Super Bowls.
Basically, he was brought to Atlanta as general manager and president before the 2004 season to do what he'd done in Tampa – that is, win a Super Bowl, and develop a new stadium.
"The process was a lot different in Tampa with the construction of that stadium," McKay says. "It was a case of out-of-town ownership and very little time left on the lease [in their old stadium]."
Malcolm Glazer had purchased the Bucs in 1995 and immediately began lobbying the city for a new facility.
"He said either build a stadium, or the team was going to move, and it made for an uncomfortable situation, but one that reached a successful conclusion," McKay says. "I think it was good for the community, but it wasn't the partnership solution that we have in Atlanta, where we have a local owner with a big presence who was willing, from day one, to step up and contribute a big share of the cost.
"We've worked much more collaboratively on the new stadium here, creating a public-private partnership that I think will be a model of how these deals will be done in the future."
Since 2010, Falcons folk have talked plenty, in public, about demolishing the Georgia Dome and replacing it with a new open-air (or semi-open air) stadium. Blank wants to host another Su-per Bowl. The Georgia Dome, which has hosted two Super Bowls, 1994 and 2000, is now deemed unsuitable for such an event, and improving the 21-year-old fa-cility isn't a worthwhile option, says McKay.
"If you spend $200 million of public money on a 25-year-old building, get the 10-year lease extension, down the road you'll have a 35-year-old building and we're talking about this all over again," McKay says.
Or, as Blank says, "Domes age quicker than open-air stadiums, and we needed a long-term fix for the franchise, a 30- to 35-year solution."
New Nest
In December, the Georgia World Congress Center Authority (GWCCA, the state agency that owns the Dome) gave the Falcons its blessing to build a $1-billion stadium with a retractable roof. Under their agreement, the GWCCA will own the new stadium and the Falcons will manage it.
In March, the Atlanta City Council approved the terms for a new $1-billion dollar stadium downtown, voting 11-4 in favor of using at least $200 million toward construction costs, through bonds backed by city hotel-motel taxes. The Falcons would be responsible for $800 million. (In May, the team secured $200 million in loans and grants from the NFL.)
The Falcons agreed to spend up to $50 million for additional infrastructure and help retire the remaining debt on the Georgia Dome (which was entirely financed by public money). And the Arthur M. Blank Family Foundation and the city will each spend $15 million on development in the English Avenue and Vine City neighborhoods.
"We think this is a favorable arrangement," says Atlanta Mayor Kasim Reed. "The state will get the asset when it's paid off in 30 years, and the city will get a best-in-class facility."
In January, Blank reportedly let the mayor know that he'd been approached by a group from Los Angeles that was interested in bringing the Falcons to that city, where a new football stadium was being planned. Reed says Atlanta couldn't afford to take any chances.
"I can't take risks like that," Reed says. "My concern as mayor was, we had an NFL owner that wanted to stay in Atlanta, and if we did not treat the Falcons' desire for a new facility to take them into the future in a serious and fair way, then market forces could have intervened."
Blank says he never considered moving the team to L.A.
"This is the birthplace of our company, The Home Depot. We've been here since 1978; this city is part of my life," he says. "The option to move was never one we considered, and we had no reason to consider it, because we got complete cooperation from the Georgia World Congress Center, the mayor, the city, the region and the state."
If anything, Reed was more concerned that such market forces would lead the Falcons out of the city and into the suburbs – they already have one of the league's best practice facilities on 50 acres in Flowery Branch, and Reed cited the example of the San Francisco 49ers, who will begin playing in their new stadium, in Santa Clara, in 2014.
Instead, says Reed, "We're keeping our team, our high-performing, winning team, in Downtown Atlanta for 30 years."
In April, the GWCCA Board, along with Falcons officials like Blank and McKay, selected 360 Architecture to design the new stadium.
At the time, the Kansas City-Mo.-based firm (which will get $35 million for its work on the Atlanta facility) submitted two extravagant designs for retractable roof stadiums, including the Pantheon, which looks like a giant origami spacecraft topped by overlapping panels that open and close in the fashion of a slow camera shutter. In June, the GWCCA approved an expanded version of that design.
Two sites have been considered – one south of the Dome, one to the north. The south site was the top choice, but two historic black churches, Friendship Baptist and Mt. Vernon Baptist, are right where the Falcons want to put the new facility.
The state has been negotiating with Mt. Vernon, while Friendship, across the street, was asking the city for $24.5 million for property valued at $1.2 million. (The city's offer was $15.5 million.) As of early July, both churches' congregants were weighing their spiritual sense of place against dollars and cents.
"More than two-thirds of the people in these congregations will have to support the stadium project," says Reed, "or we will build on the north side. It's really that simple."
Team Building
Falcons season tickets are selling faster than ever, although the team can't really compare itself to places like New York, or Philadelphia, or Pittsburgh, or Denver, or Green Bay, where thousands of people are on waiting lists – waiting for current season ticket holders to die, or grow tired of football.
The Falcons claim to have a waiting list, but it's typically pretty easy to score season tickets in Atlanta. If the team keeps winning, that could change. Either way, Smith expected the Dome to be sold out for the 2013 season by July, with almost 65,000 season ticket holders and about 6,000 single-game buyers.
"This would be the earliest since the Mike Vick heyday that we sold so many tickets so early," says Jim Smith.
TV ratings are up, and the Falcons will appear on the maximum allowable number of nationally televised games this year (five).
"Atlanta gets a bad rap as a transient market, but our team is winning and our fan base is growing," says Smith, referring to reports and rankings from Scarborough Sports Marketing, which show the number of Falcons fans in the Metro Atlanta area growing from 1.7 million to 2.7 million in less than 10 years.
As the economy improves, so does spending on unnecessary items, like game tickets. During the throes of the recession, "we were still selling single game tickets two weeks before a game," he says. "This year, the inventory will be gone before training camp."
The fan emotion that feeds franchise coffers was on full display in mid-May when the team hosted its State of the Franchise event at the Cobb Energy Centre. Season ticket holders were invited to attend, and they showed up wearing team jerseys and hats and gave standing ovations to men wearing suits – McKay, general manager Thomas Dimitroff and head coach Mike Smith.
These are the three brains of the operation that have been most responsible for the Falcons' unprecedented (for them) run of success – four playoff appearances in the past five seasons. The message was all about the new stadium, new draft picks, new free agents and expectations.
"We all believe we have a lot of work to do," Dimitroff told the crowd. "We are acutely focused on what we need, focused on trying to acquire talent and building a championship team."
Dimitroff, who has a Don Shula chin, replaced McKay as GM in 2008 and was an instant hit, drafting quarterback Matt Ryan, directing personnel for a playoff-bound team and winning the first of his two NFL Executive of the Year awards.
That same year, Mike Smith joined the team and won two Coach of the Year awards, one from the Associated Press, one from Sporting News. As Smith's teams, built around a quarterback superstar like Ryan, keep on winning, the expectations grow larger. But he doesn't want to hear about how the Falcons fell 10 yards short of a Super Bowl berth last season (Ryan's fourth-down pass to Roddy White was batted away with 1:13 left, and the 49ers ran out the clock and won the NFC title, then lost to the Baltimore Ravens in Super Bowl XLVII).
"Listen folks, that was 2012. Our only focus right now is on 2013," he told the crowd in Cobb County. "We're not 10 yards from the Super Bowl. We're done talking about 10 yards. We're moving on."
During the team's spring practice in Flowery Branch, Smith talked about this year being the most competitive preseason yet in his time with the team. That's been exactly the case, according to veteran free safety Thomas DeCoud.
"We've got a lot of talent out there, and when the other guys are pushing you to play better, that's always a good thing. That kind of competition breeds excellence. It brings out the best in everyone, and we need that," says DeCoud, who was taken by the Falcons in the third round of the 2008 draft (like Harry Douglas) after playing college ball at Cal-Berkley.
DeCoud and Douglas each earn $2 million a year, well above the average for players at their positions (but far below the multi-year, $100-million contract Ryan was considering in early June). These are men who play a violent game, and they do it for money, and because they love the competition, the camaraderie and the sheer brutal joy of it.
For Douglas, the new stadium is particularly thrilling, even though the chances of him being with the Falcons in 2017, when the facility is supposed to open, are not very good – the average length of an NFL career is less than four years (injuries, fatigue, age or cold business decisions get the best of every player, eventually).
So what? The prospect of playing in an iconic new football palace in his hometown gives him license to dream. Just don't expect him to say the words "Super" and "Bowl" together. It's like a superstition or something.
"When you see the front office making strides toward a new stadium, it lets you know that they believe this team is something special, and it makes you feel like they're doing everything they can to make us successful," Douglas says.
"As a player, when you see that kind of commitment, you want to go even harder in that new stadium. You want to work harder to make everything come together with the one goal being … you know."
What, Harry? You know what?
"You're not gonna make me say it," he says, chuckling.
And it doesn't matter if he says "Super Bowl" or not. The intent is clear. He's a pro football player. He'd rather play the game.