Power Players: Homegrown Leader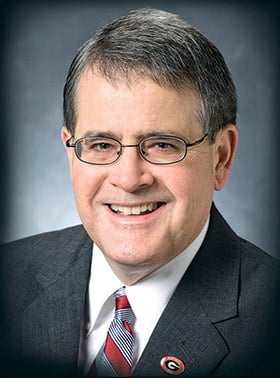 There's a new top Dawg at the University of Georgia. Jere Morehead was officially installed as the 22nd president of the university on July 1, replacing former president Michael Adams.
But Morehead is hardly an unknown quantity. He served as senior vice president for academic affairs and provost for the past three years and, except for one year as a visiting professor at the University of Michigan, spent the majority of his academic career at the flagship university.
Interestingly, the academic world wasn't More-head's first career choice.
As a teenager he was captivated by the Watergate hearings on television. "I wanted to be a federal prosecutor," he recalls. "I thought it would be a great calling in life." He graduated early from high school, at 16, got his undergraduate degree from Georgia State Univer-sity and headed to UGA for law school when he was 20.
Morehead got his wish. He worked with the Justice Department for six years. But in 1986 he had the opportunity to join the UGA faculty teaching business and law. "I jumped at the chance," he says. "I never looked back."
Morehead threw himself, wholeheartedly, into teaching and mentoring students. "My first class was first and second periods in Brooks Auditorium. I remember coming into the auditorium at 7:50 a.m. and seeing a bunch of students who needed to be energized by their professor in order to have a successful class period."
Morehead made himself develop a more animated style in the classroom: walking up and down the classroom aisles, calling out students in the back and asking lots of questions. He be-lieves it helped him as a teacher, and his résumé bears that out. Through the years, Morehead received numerous teaching awards, including the Josiah Meigs Award for Excellence in Teaching in 2001.
After chairing the Task Force on the Quality of the Undergraduate Experience in 1996, Morehead became interested in administration.
"That was probably the first time I began thinking about the fact that the best way to impact what you care about is to step forward and serve," he says. His first administrative position was serving as associate provost and director of the Honors Program in 1999.
He kept climbing the administrative ladder, never imagining he would reach the top spot at the university he calls home. "There's a lot of excitement, because it's the job of a lifetime," says Morehead. "I also feel a lot of responsibility because the faculty, the staff and the students are expecting me to provide quality leadership and move the flagship institution forward in a discernible way."
In one of his first an-nouncements as president-elect, Morehead said the uni-versity would take a greater role in promoting economic development statewide by opening an economic development office in Atlanta.
"We have a lot of great research going on at the university," he says. "We do a lot of public service and outreach to a lot of communities throughout the state. But I thought it was important that we establish a beach-head in Atlanta, where economic development is located, and make sure that we are always available and al-ways focused on how we can link the business activities that are developing for the state with the expertise that we have at the university."
Morehead is committed to raising the academic stature and reputation of UGA, something that won't be achieved by words and "woofs" alone.
"The greatest obstacle to achieving those goals is financial," he says. "The state has been through a very challenging period of economic recession. For this institution to reach its goals, we'll have to depend more and more on our alumni and friends to provide the support necessary to go down the path of national prominence. We want to get a larger percentage of our alumni giving. That's actually one of the ways we will strengthen our ranking."
During the upcoming capital campaign, Morehead plans to look for those "trans-formational gifts" that provide significant, long-term impact for the university by focusing attention and re-sources on specific programs.
"The great thing about being president of UGA is that so many people love this institution," he says. "We have to take their love and get it turned in a discernible way into contributions to make this institution even better."