Buckhead: New Focus On Technology
Young companies, younger workers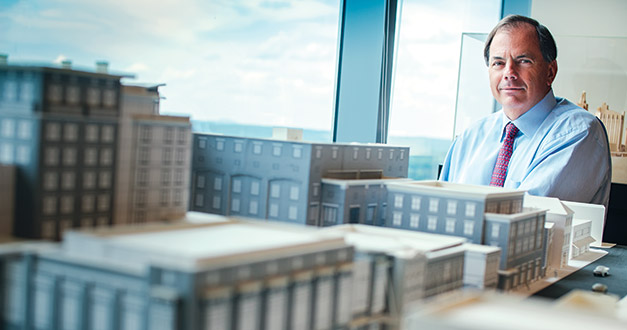 These days it seems that just about everyone wants to be in Buckhead. From trendy retailers to high-flying tech start-ups, business is once again booming in this urban enclave of north Atlanta. While the visions of economic prosperity are a bit more modest these days, it's easy to find signs of a renewed optimism and prosperity.
Consider what's happening in the famous – and sometimes infamous – Buckhead Village at the intersection of West Paces Ferry and Peachtree roads.
When Ben Carter originally unveiled his vision for Streets of Buckhead, it was going to be a stunning $1.5-billion "Rodeo Drive of the South." Where sketchy nightclubs had once dominated, high-end shops and five-star hotels would rise. Although that grand vision fell victim to an unforgiving recession in 2009, never let it be said that Buckhead can't stage a good comeback when it needs one. Work is once more underway on the unfinished site as California developer OliverMcMillian and equity partner The Baupost Group LLC shepherd a still grand, but more modest version of urban development.
Once again cranes are towering above the eight-acre site as construction workers scurry beneath preparing the ground for what is to come. Now dubbed "Buckhead Atlanta," the first handful of retailers is expected to open up before the holidays.
Plans for the 1.5 million-square-foot project, which is scheduled for completion by the end of 2014, call for about 80 retailers and restaurants, ranging from cafes to fine dining, spread across 300,000 square feet of retail space. The design promises an area that is multi-use and pedestrian-friendly. Now estimated to cost roughly $1 billion, the project will eventually include almost 400 apartments and about 100,000 square feet of office space.
"They have reassessed what should be built there and redesigned it to be more appropriate for the current economic environment," says Jim Durrett, executive director of the Buckhead Community Improvement District. "It will be an exemplary walkable urban place that people are going to enjoy shopping, eating and exploring. There is also an office component and high-rise residential all coming out of the ground at the same time."
All that development is making Buckhead more urban than it has ever been in the past.
"Traditionally, Buckhead has been an area with neighborhoods and then pockets of restaurants," says Susannah Kinsey, a broker with Sterling Risk Advisors. "But with the new Buckhead development, they're trying to make it more live-work-play."
The Coalition
If Buckhead were a city, its chief executive would most likely be Sam Massell. Long known as the "unofficial mayor" of this upscale enclave, he serves as president of the Buckhead Coalition – the area's prime booster, now celebrating its 25th anniversary. Massell joined forces with legendary businessman Charlie Loudermilk to found the organization.
"The Coalition is a unique organization," says Massell. "Its mission is to nurture the quality of life of those who live, visit and work in its 24 square miles."
Within its boundaries are more than 78,000 people, along with 24 million square feet of office, 14,000 retail units, 5,000 hotel rooms and 300 restaurants. Not to mention a great deal of the wealth of the city. Among its residents is the governor, whose mansion sits on West Paces Ferry Road.
Over the years, the Coalition has done everything from pressuring MARTA to extend direct service down to Midtown and downtown Atlanta to distributing defibrillators to offices and businesses around town and even offering rewards for finding law breakers.
The coalition's primary funding comes from membership dues of $6,000 annually and the sale of the annual Buckhead Guidebook. Membership is limited to just 100 people, and each year the waiting list usually numbers 30 or more.
"There's always a place for civic leadership to support and supplement government," says Massell.
More High Rises
One of the most notable real estate trends in Buckhead has been an upsurge in residential – especially high-rise apartment – development.
"It's really been the dominant story of development in the last 12, maybe 18 months," says developer David All-man, founder and chairman of Regent Partners LLC. "Obviously, after the bust in the housing boom, a lot of people who were doubling up are now back out in the market. So you've got a combination of renters by choice and renters by necessity."
Almost 4,000 units are already under construction in Metro Atlanta, and at least that many more are being planned for the coming year. Of this crop, the great majority are being built in the urban regions of Buckhead and Midtown, he says.
Developers appear to be in a race to meet the demand for rental units in the Buckhead area in particular. For example, Atlantic Realty Partners is developing a new 10-story, 288-unit luxury high-rise apartment building on the site of Dante's Down the Hatch, one of Buckhead's most iconic restaurants that closes its doors July 31. The company is also redeveloping the 40-year-old Georgian Hills apartment complex at 1185 Collier Road. The aging complex has been demolished and is being replaced with a 288-unit mid-rise apartment development called The Reserve at Collier Hills.
A development of 703 residential units is planned near Piedmont and Lenox roads. Then there's the old office building at 550 Pharr Road set to become 90 to 100 loft units and Circle Terminus, a 355-unit apartment high-rise expected to be completed in spring 2014.
Among the biggest projects now being teed up are two residential towers proposed for Buckhead Atlanta. They are expected to start coming out of the ground soon with the first units delivered around spring of next year.
And more are on the way.
Many of those high-rise apartments are being occupied by young millennials seeking the excitement and convenience of urban living. This trend in turn has helped to draw companies closer into town in search of the creative talent they need.
"They're feeling the tug even if they're not coming all the way into Buckhead," says Allman. "They're coming in so that their young employees are in proximity to the urban market. There's that pull to get closer in with the young people. You see it in a number of office relocations, and Buckhead has been the beneficiary of that."
That influx of young creatives is heralding another change. Buck-head was once considered the epitome of affluence and the natural home of bankers and financiers. In recent years, the buttoned-up set has been joined by a host of tech companies ranging from newer companies such as Pardot and Vendormate to mature giants such as Wipro Ltd. and Sony Ericsson.
"It's diversifying significantly," confirms Durrett.
That diversity is being driven by Buckhead's transformation into a much more walkable and urban environment. The vibrant culture of retail and restaurants appeals to the hip 20-somethings who drive these tech companies. The availability of mass transit – Buckhead claims three MARTA stations – also attracts a group less enamored of long car commutes than their older peers. At the same time, the area's proximity to North Fulton and Cobb, coupled with easy access to major roadways, makes recruiting suburban dwellers easy as well.
Tech Corridor
Those were some of the reasons QGenda, a provider of physician scheduling software, decided to move its entire operation from the Perimeter area to the Tower Place 100 building on Peachtree Road in Buckhead. Another big factor was the number of tech firms that had already preceded it.
"On the other side, from a business perspective, I think there's a lot of really great technology companies in Buckhead," says QGenda CEO Greg Benoit. "We wanted to be closer to some of those, because some of them are peers and mentors for me."
While Midtown is still to many the "Tech Mecca" for startups, Buckhead is increasingly appealing to those who have gained some traction and are ready for bigger and better things.
These companies are becoming part of the Buckhead Tech Corridor. This one-mile stretch of Piedmont Road between Peachtree and Roswell roads in the heart of Buckhead is already home to 1,400 tech workers and their companies.
Another factor was the recent opening of Atlanta Tech Village in the old Ivy Place building. David Cummings, fresh off the sale of Pardot to ExactTarget for $95 million, purchased the structure for $12.5 million late last year. He had the idea of transforming it into a non-traditional workspace for tech firms and the companies that service them.
"After I sold the company last October, I knew I wanted to build a high-tech entrepreneurial center," he explains. "The logical place to work was Buckhead or Midtown, and after looking at those two places, the Buckhead opportunity was head and shoulders above anything that I saw out there."
Cummings renovated the building to suit the needs of the techs rather than the lawyers and bankers who used to work in the building. First off, startups have a hard time predicting how much space they require for their operation over time. A year from now they could double their headcount or be totally out of business. That makes the typical five- to seven-year lease problematic.
"During the life cycle of a tech business, the majority are going to fail, but the ones that don't tend to succeed in a big way," says Cummings. "At Atlanta Tech Village, we're building out a lot of different turnkey, off-the-shelf, wired and ready to go spaces for everything from two entrepreneurs with an idea to a company of 30 to 40 people."
Leases here are shorter. Bigger spaces can be had for three years, while access to a desk or cube can be for just a few months. An entrepreneur can get access to an unreserved desk for as little as $300 a month, while office suites can be had for $3,200 – low by office tower standards.
Putting all those companies and people in close proximity to each other really appeals to techpreneurs. Interactions with peers can lead to ideas and solutions to problems. In addition, as companies come and go, talent more easily finds its way from one operation to the next.
"This type of workforce wants more of an urban environment where they're really able to have different uses near the office," said Josh Hirsch, executive vice president at Jones Lang LaSalle, who specializes in tech real estate. "They want access to public transport, restaurants, amenities, more collaborative spaces, coffee shops, things that years ago were not readily available to office workers."
Flexibility
For tech veteran Lance Weatherby, Buckhead wasn't the first choice when it came time to look for new quarters for his company nCrowd. The daily deal firm had been growing through acquisitions and was ready to leave the Advanced Technology Development Center (ATDC) at Georgia Tech.
After scouting the Midtown area and not finding the right kind of space, the company turned its attention north. They had almost signed on for five years at another building when Atlanta Tech Village came on line.
"I know David, so I called and said we're getting ready to sign a lease," recalls Weatherby. "I told him what he was doing sounded really interesting, and if he had a spot I'd like to talk."
Not only was Cummings able to provide just the right 3,000-square-foot space, but the two negotiated the deal without benefit of attorneys.
"And if we end up growing faster than we anticipated, there's a lot of flexibility in terms of co-working space downstairs or getting some suite space," he says.
Weatherby also likes the serendipity that can occur when a large number of talented folks are constantly crossing paths. That is one factor that makes this location different from other buildings housing tech companies. For the most part, unless they initiate lunch or a meeting, you are not going to run into employees of other companies, notes Cummings.
On the other hand, this part of town is probably the most walkable in the area. Nearby are more than a dozen restaurants, along with six hotels and two shopping malls. Not having to get in a car to drive to lunch can enhance productivity. Employees tend to spend less time out of the office if they can walk down the street, says Weatherby.
And ultimately, more productive workers and greater success is what it's all about.
Community Snapshot
Local Leaders
Jim Durrett
President
Buckhead Community Improvement District
404.842.2683
jdurrett@buckheadcid.com
David Allman
Founder and Chairman Regent Partners LLC
Chairman Buckhead CID
404.995.1515
dallman@regentpartners.com
Sam Massell
President Buckhead Coalition Inc.
404.233.2228
office@thebuckheadcoalition.org
Population (2010)
City of Atlanta, 420,003
Buckhead, 78,676
Per Capita Income (2010)
Atlanta, $35,884
Buckhead, $89,266
Unemployment (March 2013)
City of Atlanta, 9.9 percent
Fulton County, 8.5 percent
Georgia, 8.1 percent
Top Employers
AT&T, Aaron, Inc., IBM, MARTA, PB Americas, Inc., Piedmont Healthcare, Rollins, Inc.
Sources
Buckhead Coalition, Georgia Department of Community Affairs, Georgia Department of Labor