Art Of The Meal: The General Muir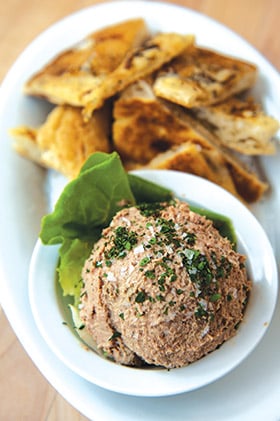 The General Muir
1540 Avenue Place, Atlanta
678.927.9131 or www.thegeneralmuir.com
Hours: Breakfast, lunch and dinner daily.
Parking: On street or in nearby garage (two hours free).
Dress Code: Casual to very casual.
Delicatessens are Jewish inventions, first popular along New York's Lower East Side around the turn of the century. There, kosher meats and delicacies – sour pickles, hot dogs, cheesecake, Cel-Ray soda – became reasons for Jewish immigrants and refugees to celebrate being new Americans. The higher the pile of corned beef on your Reuben, the bigger the joy for many newcomers who'd struggled for food before arriving here.
So when I approached the General Muir, a new deli in Atlanta's Emory Point that celebrates the old ways, I looked forward to slabs of house-cured and hand-cut meats, vats of Russian dressing, flavorless (but obligatory) black-and-white iced cookies. My New York years taught me to seek out real delis in Atlanta, and we're blessed with several. But the General Muir, named for the refugee ship of Holocaust survivors that brought the co-owner's mother and grandparents to America, makes the most of its geographical and temporal distance from delis' Lower East Side roots, coming up with an entirely new standard.
Yes, there are touchstones – the white subway wall tiles, the bakery, the counter, the newspapers, and of course the mainstays: matzoh, pastrami, nova, lox, smoked trout, chopped liver, egg creams. But also: an airy space, with light pouring in from a wall of windows; family photos celebrating the link between old and new; clever cocktails; deviled eggs; chicken salad. And: grilled rainbow trout with fingerling potatoes. A focused menu that does not overwhelm. A head-banging rock soundtrack. (Not so loud that Nana will complain. Unless she wants it turned up.)
Let's backtrack for a moment to that matzoh ball soup (a.k.a. Jewish penicillin): Intensely chicken-y broth, with little blobs of schmaltz (chicken fat), and soft-poached matzoh, with tiny cubes of carrot and onion and flecks of parsley and dill: It's your first hint that this isn't your ordinary deli, where simplicity becomes a symphony. Serious cooks have taken over the family's treasured, stained recipes and im-proved them.
Next, that chicken liver, which I would not waste on anyone who says, "I don't like liver." That person does not deserve this subtle, spreadable form of chicken butter, so don't even offer.
Cocktails? Yes, please, how about my new favorite in town: The cherry-vanilla old-fashioned, equal parts drugstore soda fountain and your favorite dark little bar. Great with housemade, deliciously chewy bagels, some lox or nova, and a schmear. Or the Reuben, a perfect ratio of toasted rye to corned beef to sauerkraut to Thousand Island dressing – meat-centric, but one that doesn't require you to unhinge your jaw to enjoy it. Or, better yet, the pastrami, which a dining companion declared "a landmark in sandwiches." That trout, served over a little raft of roasted asparagus, is as good as you'll find in any of Atlanta's fine dining establishments. Even the black-and-whites dare to break canon rules, with bits of lemon zest; the cheesecake is light and not overly sugary, while still meeting New York standards.
In fact, I wonder if a ground-breaker like the General Muir could make it in New York – the near-worshipful attitude that accompanies traditional delis there has perhaps made them hide-bound. But in Atlanta, the General Muir is all about crossing boundaries and timelines, and beginning something new.