Quantity And Quality Outside The Perimeter
WellStar's five hospitals, serving 1.4 million Georgians, performed more surgeries than any other system last year. Kennestone, the flagship facility, had more than 110,000 emergency room visits.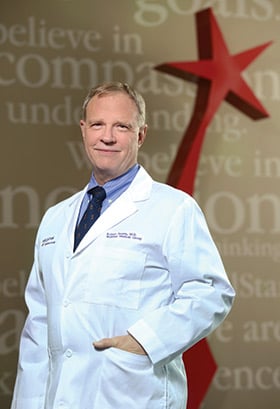 When you think of pioneers in laparoscopy, robotic surgery or cutting-edge technologies, which Georgia health system comes to mind? When you think of Georgia's busiest hospital emergency department or operating rooms, what do you think of? If you didn't think WellStar Health System, think again, says Robert Jansen, M.D., WellStar Medical Group president and chief administrative medical officer.
With five not-for-profit hospitals with a collective 1,321 licensed beds and more than 100 physician practice sites, WellStar, which is celebrating its 20th anniversary this year, provides care for some 1.4 million residents of northwest Georgia counties.
Last year, WellStar's flagship hospital, WellStar Kennestone Regional Medical Center, had 110,009 emergency room visits – more than Grady Memorial Hospital or Atlanta Medical Center, both busy Level I trauma centers in Georgia's biggest city. The WellStar system performed more surgeries – 43,450, to be exact – than any other hospital or health system in the state.
While the system's volume is high, its emphasis is not on volume, but quality, Dr. Jansen says. "I think we are world class at that. We are on the cutting edge of what is being done in medicine in almost every region, but that is quite unknown because it is outside of the 285 perimeter. The type of care that you receive is as good or better at our facilities and in our practices than it is anywhere."
Cutting-Edge Technology
From replacing defective heart valves to removing brain tumors, WellStar is at the forefront of minimally invasive medical technology rarely found outside of academic medical centers.
Big surgeries, small incisions. "We probably have the largest experience with a procedure called VATS, which is video-assisted thoraco-scopy," says Dr. Jansen. VATS in-volves using a small video camera, video screen and special instruments to perform surgery involving the lungs or esophagus through tiny incisions, rather than six- to eight-inch incisions required traditionally for these procedures. For the patient, that means less pain and trauma, less risk for infection and a shorter recovery time.
VATS is performed at WellStar by three thoracic surgeons, who are some of the world leaders in their field, says Dr. Jansen. Procedures that can be performed through VATS include wedge resection to remove a small, wedge-shaped portion of the lung containing cancerous cells; sleeve resection, which is the surgical removal of a cancerous section of the bronchus, or air passage; and esophagectomy, the surgical remov-al of all or part of the esophagus, the tube that carries food from your throat to your stomach.
Brain surgery without the knife. In 2006, WellStar's Kennestone Hos-pital became the first in the state to install a CyberKnife system, a noninvasive alternative to surgery for the treatment of tumors. Rather than a scalpel, CyberKnife uses high-dose radiation, delivered with pinpoint precision, to painlessly destroy tu-mor cells without harming surrounding tissues. Utilizing image guidance software to track and continually adjust treatment for any patient or tumor movement, Cyber-Knife also eliminates the need for rigid head frames or other extreme procedures to hold patients completely still during treatment.
CyberKnife offers hope for patients whose tumors were once considered untreatable because of their proximity to critical structures such as the spine or brain. Although CyberKnife is primarily used for brain tumors, it is also employed to treat tumors of the prostate, lung, spine, liver, pancreas and kidney.
Robotic surgery. A pioneer in robotic surgery, WellStar performed its first surgery using the da Vinci Surgical System in November 2007. Today, surgeons at WellStar Cobb and Kennestone hospitals use the system to assist with a variety of surgical procedures for problems including cancer, kidney disorders, coronary artery disease and heavy menstrual bleeding.
Like other minimally invasive surgeries, da Vinci robotic surgery uses small incisions and tools guided by video monitors. With the da Vinci system, however, the surgeon sits at a console where he or she views the procedure through an optically enhanced eyepiece and endoscope and controls the system's robotic arms, which provide a greater range of motion and precision than traditional minimally invasive surgeries. For patients, the sophisticated technology offers reduced pain and trauma, fewer complications, reduced blood loss, less scarring, shorter hospital stays and quicker total recovery times.
Replacing heart valves without opening the heart. One of the newest procedures available at WellStar is transcatheter aortic valve replacement (TAVR) a minimally invasive way to replace the aortic valve in patients with aortic stenosis – a condition in which the valve does not open fully, thereby decreasing blood flow from the heart – who are not good candidates for open heart surgery. In TAVR, a collapsible replacement valve is placed in the heart by way of a catheter inserted through the femoral artery in the thigh.
"Now they are going through the chest wall to a part of the heart called the apex and replacing the value that way," says Dr. Jansen. The first non-academic center in Georgia to offer TAVR, WellStar is also one of the leading institutions in the state for that procedure with 30 TAVR patients so far, says Dr. Jansen.
The Convenience Factor
Another area of focus for WellStar is in improving access to and convenience of care.
Part of that focus has been directed at developing health parks, which bring together a wide range of services – including urgent care, primary and specialty care offices, an imaging center, pharmacy, laboratory services and even a restaurant – at a single site with convenient free parking.
The first WellStar health park, located on Cobb Parkway in Acworth, opened in July 2012. This spring, WellStar broke ground for its second such park, to be located in East Cobb County, and is finalizing plans for two additional parks – one in Cherokee County and the other in the Vinings area. All will have similar features, with plans eventually to add more services including ambulatory surgery, physical therapy and even community centers and fitness centers.
"Healthcare is something people need to get to as fast as possible," says WellStar President and CEO Reynold Jen-nings. "Even for outpatient services, you have to take time off. In today's world, people are concerned about how much time they take off work. The health park strategy is the best way to get a collection of services out away from the hospital to give quicker health services."
Another new venture of the not-for-profit health system will make access to health records quicker and more convenient. By mid-2014, WellStar plans to have the Epic System Corp.'s electronic medical records (EMR) system up and running. The $170-million system will allow WellStar's hospitals and medical offices to share patient records and billing records, to improve patient care and reduce costs by eliminating duplicate tests and procedures.
"Epic will provide a single patient record, whether they are inpatient or outpatient," says Dr. Jansen. "Right now you have a patient record at each practice and in the hospital. This will become one record so that a doctor seeing a patient – whether a primary care physician or a surgeon in the hospital – will have access to all of the things that have been done, all of the information, all of the lab tests, all of the imaging tests. This is a great way to do things efficiently."
Patients will also have access to their medical records online, says Dr. Jansen. "They can see their test results, so that gets them involved in their own care."
The Future
WellStar's work will always include providing the best possible treatment for trauma and acute medical problems, hospital officials say, but increasingly the system's focus, as well as that of the nation's healthcare system as a whole, will be on prevention and the delivery of services in a cost-effective manner. This will require an increased reliance on primary care, a greater role for nurses and other non-M.D. health providers and more partnerships.
Primary care. As healthcare in recent years has become more focused on specialty care, one of the "biggest challenges of healthcare going forward is returning primary care back to its initial role," says Dr. Jansen. "That is, the physicians and their advanced practitioners assume the overall oversight of the individual's care and help them determine which specialists they should see, addressing needs of the patient full time as opposed to sending them out in to the world to try to find their own. It's really almost a return to the Marcus Welby days, taking care of people in a way that they feel cared for."
Increasing the involvement of primary care providers reduces redundancy, unnecessary specialist visits and tests – and ultimately costs for patients, he says.
Nurses' roles. An increased reliance on primary care also involves additional resources in the primary care offices in the form of advanced practitioners – nurse practitioners or physician assistants – as well as registered nurses and other health professionals to make the most efficient use of skill sets, says Dr. Jansen
While nurses have always played a key role in the inpatient setting, "what is now being explored is the increasing role of the nurse in the outpatient area, because nurses play a big role in assisting the physician but also in helping the patient understand their disease and the care they are receiving and helping coordinate that long-term with the physician," says Dr. Jansen.
"I know it is almost a worn-out phrase now, but team-based care – there is more and more appreciation that no one individual or one person's skill set can meet the needs of a patient," he says. "It takes everyone working towards that."
"It's this new understanding of having healthcare professionals practice at the top of their licensure or competency," says Robin T. Wilson, M.D., WellStar's senior vice president for medical management and chief health innovation officer. "So that if nurses can practice at the top of their licensure, they can be providing more valuable care to the patients."
"There are 30 years of studies that indicate what level of care you need and which person can give that to you," says Jennings. "We have to continue to figure out how to use our skill mix in the most efficient way possible to manage our costs."
Building partnerships. Last Novem-ber, WellStar announced plans to form a collaborative partnership with Piedmont Healthcare called the Georgia Health Collaborative. A month later, the two systems an-nounced they would create a health plan beginning in 2014 that will offer Medicare Advantage and commercial insurance in addition to serving the employees of the two organizations.
The collaboration allows the two systems to retain their autonomy while increasing their leverage with insurance companies. It also allows some advantages not otherwise permitted by law. "When you form an insurance company and you put your doctors into what is called an independent practice association, the federal government allows you to help the doctors with im-provements in office technology, discounts on supplies and even health plans that you can design for your employees," says Jennings.
This benefits both the health system and the physicians, who are independent business people and must survive on the business side as well as making clinical decisions, Jennings says.
As population and healthcare costs grow, Jennings believes partnerships will become increasingly important for containing costs.
Transforming Healthcare
Containing health costs, a goal of the Affordable Care Act, is also a key goal of the Center for Health Transfor-mation (CHT), a healthcare think tank established by former U.S. House of Representatives Speaker Newt Ging-rich in 2003. Last November, WellStar acquired the rights to the trademark, trade name and website address of the center. Originally focusing on healthcare policy reform, CHT is being reformatted with a focus on redesigning the delivery of healthcare to have better value, improved quality and decreased or controlled costs, says Dr. Wilson, who serves as CHT's executive director.
Part of that focus will be finding ways to determine who is at the greatest risk of suffering serious health problems (and thus representing the largest percentage of healthcare costs) and developing strategies to get them help in the outpatient setting before they reach the point of needing more serious and expensive inpatient care. The CHT will have two key tools to assist with that goal, says Jennings.
One is a digital library where Well-Star doctors can collect and comment on the "best of the best ideas" for outpatient innovation from the 60,000 or so articles published on the subject each year, he says.
The second is what Jennings calls a local learning library – where re-searchers can use a new concept called care mapping to help them understand why those people who end up accounting for the majority of healthcare costs get to that point – could they not afford their medication, for example, or were there problems in their home that prevented them from taking it?
"The point is how do you keep those patients from getting real sick and coming into the hospital and being there for one or two weeks or being in intensive care and needing a lot of care and therapy," says Jennings. "If we can solve that on the outpatient side, we are innovating for society's welfare and giving back to the community."
After all, serving the community is a commitment on which WellStar was founded 20 years ago. While the health-care arena is changing, Jennings says, WellStar's mission remains the same: "to improve the health and well-being of the individuals and communities we serve."