Power Players: The Court Of Public Opinion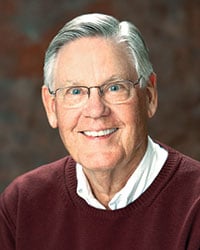 In the spring, the University of Georgia's Grady College of Journalism and Mass Communications announced the creation of the C. Richard Yarbrough Chair of Crisis Communi-cation Leadership.
The resulting program, made possible by a cash pledge and monetary gift from Dick Yarbrough that, combined, will reach or exceed $2 million, is the only one of its type embedded in a college of journalism/mass communications.
The program will prepare students in the crucial field of crisis management and communications. "The irony of it is that I've never taken a PR course in my life," says Yarbrough, a proud Grady College grad.
It never mattered. Yar-brough was a natural at the art of external communications. Instead of book-learning, Yarbrough relied upon something that can't be taught – instinct.
"You could have the best media relations, know every media person in town," he says. "You could have the best political contacts and best management practices. You can have all the good in the world but when something bad happens, which you can't control, you still have to speak to the external court of public opinion. Companies and large or-ganizations are all about control, but there are things outside their control."
Yarbrough learned that truth through a number of events in his career, but none with a higher profile than the 1996 Centennial Olympic Park bombing.
In 1993, Yarbrough retired from a successful career at BellSouth specifically to join the Atlanta Committee for the Olympic Games (ACOG) as managing director of external communications and government relations. When the bomb blast ripped through the park, Yarbrough was the second ACOG official to receive a call.
"We all met and decided that the Games would go on," he recalls. "We wouldn't let terrorism affect us, even though we were dealing with the unknown. The FBI would handle the investigation; we would handle the Games."
They put a communications strategy in place that worked, continually stressing that the Games were proceeding as planned, and they never wavered from that message. "We made the press and public understand it was business as usual," he says.
Yarbrough is less certain the message could be as controlled in these days of social media, pointing to the Boston Marathon bombing as a case in point. "Twitter and Face-book got so out of control," he says. "But they are here to stay." And that's all the more reason for the new Crisis Communications Leadership Program says Yarbrough.
"I want [the Crisis Chair] to raise a generation of external counselors who will be qualified to sit at the table of the decision-makers and give excellent counsel," he says.
"I want the professor, Bryan Reber, to become a subject matter expert with the media. Then I want an outside group of communicators, an advisory board of some sort, to offer their insight and keep it from becoming too insular.
"I hope much of what the program will do is put into management standards all the stuff I've done by gut. I had no training. It was instinctive for me to know [if] 'they're bluffing' or not."
These days, most folks know Yarbrough's name less for his high-profile jobs with BellSouth or ACOG and more for his humorous, candid, sometimes squirm-inducing syndicated columns that reach 600,000 households. (He is a former Georgia Trend columnist.)
Some of his favorite topics are education, ethics and politics. He refuses to be labeled liberal or conservative, infuriating readers on both sides of the aisle.
"People want you to have a certain political persuasion," he says. "I judge every issue on its merits. I have no patience for zombies on gun control or immigration or any of those issues. There's got to be middle ground."
Despite having been on the receiving end of some of his journalistic tweaks, Gov. Nathan Deal recently named Yarbrough to the Georgia Board of Juvenile Justice.
"I fear it will break my heart," Yarbrough says, though he accepted the appointment in the hope of making a difference in the lives of young Georgians who often fall through the cracks.
"My mama was an activist before there were activists. She believed that you didn't stand on the sidelines; you got in there to help make things work," he says. "I have a desire to make things better than when I found them."