Come Together, Right Now
How the University System of Georgia turned eight institutions into four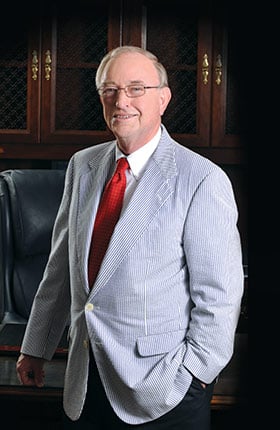 Back when Shirley Strum Kenny was transforming the State University of New York at Stony Brook into one of the nation's top research institutions, she learned a lesson about the virtues of patience from renowned architect John Belle, who was working on one of the many campus improvement projects she was responsible for during her 15 years as president.
Belle had designed a spectacular new academic mall in the heart of the sprawling campus near the north shore of suburban Long Island. But he left one task unfinished, for a while – there were no designated paths crossing the spacious commons area.
Kenny explains that Belle wanted to see where the human traffic naturally strode. Only then could he pave some permanent paths that would meet the needs of the people the campus was supposed to be serving – you know, students, faculty and so forth.
In the six months she spent as interim president of Augusta State University, Kenny pondered Belle's pa-tient design methods while ASU fitfully endured a whirl-wind, ambitious, often contentious consolidation with nearby Georgia Health Sciences University, in an effort to make the resulting Georgia Regents University (GRU) a top research institution, sort of like Stony Brook.
"Of all the consolidations that were done, this is by far the most challenging and complex, but it could have the biggest payoff," says Kenny, hired out of retirement to be, in essence, a temporary caretaker.
"Birthing a research university is not easy," she adds, stating what has become painfully obvious to the University System of Georgia (USG) and the consolidated GRU's President Ricardo Azziz, among others. "It takes a lot of heavy lifting. It's very exciting, but it really takes the commitment of the state if they're going to bring it off.
"That could be tough, because the state government has a slash mentality, and you can't build a research university on the cheap."
When Kenny left her post, as planned, on January 10 of this year, ASU no longer existed, per se. In its place was GRU, one of four reorganized institutions to emerge from the USG's historic plan to consolidate eight colleges and universities, inducing a new era in the state's public higher education scheme.
The other consolidations: Macon State College and Middle Georgia College became Middle Georgia State College (MGSC), Waycross College and South Georgia College became South Georgia State College (SGSC), and Gainesville College merged with North Georgia College & State University (Dahlonega) to create the University of North Georgia (UNG).
It's all part of living in "the new normal," says Azziz, who was president of Georgia Health Sciences University before the merger.
Tax revenues have been down during years of recession, with repercussions. "State support has declined sharply, and increasingly we've seen cuts to other avenues of funding for academia," Azziz says. "The goal of consolidation, as clearly stated, was to free up resources and become more efficient so that those resources could be redirected toward student education.
"We can't just tax and put the cost on the backs of students. It's important to find other, more cost effective ways to improve education," he says. "We know a larger enterprise can be more cost effective – there are synergies related to size."
And there are ramifications when you pave something too quickly, or when the public perceives it that way. Which is what has happened in Augusta, where many who identified with and supported ASU have likened the merger there to a hostile takeover.
"There's been a lot of angst," Azziz says.
USG leadership never said it would be easy. In fact, they didn't say much at all until the decision to merge – and who to merge – was pretty much made.
"The consolidation of colleges and universities is a very tough thing to do, and very few are successful. Most of them crash and burn," says USG Chancellor Hank Huckaby. "So when you do something like this, you do it cautiously."
In other words – in Huckaby's words, in fact – there were about 600 discreet decisions that had to be made concerning this significant reorganization of the state's public university system.
"We didn't consult with the institutions," says Shelley Nickel, associate vice chancellor for planning and implementation. "The Board of Regents approved the eight we recommended for consolidation at their January [2012] meeting. A few days before that, the chancellor notified the presidents, to let them know the board was about to take action."
She says that secrecy was important because, according to Nickel, "In other states, where there was more dialogue and discussion, consolidation didn't go as well."
Shifting Zeroes
Anyone who paid attention saw this coming, so it isn't as if the potential for college and university mergers was a state secret. It's been part of the "what if" discussion under the Gold Dome for years.
"The consolidation idea didn't exactly come out of thin air," Huckaby says.
He was on the job only a few months in September 2011 when he suggested to the regents that consolidation was worth serious consideration, given the economic realities and ongoing budget cuts. Since FY 2009 – because of declining tax revenues combined with the political unwillingness to raise tax rates – the state legislature has cut the USG budget by a cumulative 20 percent (more than $1 billion). The USG had some considering to do.
"The question kept popping up, 'How can we reduce administrative costs and invest more in the education of our students?' Strategic consolidation seemed like a good approach," says Board of Regents Chair Dink NeSmith.
Huckaby and his staff presented their ideas, and the board voted unanimously in favor of the consolidation plan.
"We believe 31 institutions versus 35 will allow us to be better stewards of the resources available," NeSmith says.
There was a precedent for consolidation close at hand that Huckaby admired. By the time the regents began discussing consolidation in earnest, the Technical College System of Georgia (TCSG), facing annual steep budget cuts of its own, had already merged 15 schools into seven (they've since merged two more tech colleges).
"Each of those [first 15] mergers saved us at least $500,000 in administrative overhead, and I know that's true because they took $7.5 million out of my budget for that purpose," says TCSG Commissioner Ron Jackson. "At the end of the day, we saved $7.5 million for the taxpayers of Georgia, and no student went underserved.
"We had some college name changes, which was of great concern in some communities, but we promised we wouldn't be closing campuses, and we haven't. Those communities still have their colleges."
Same with the USG deal; they're not closing campuses. But they did reduce overhead quickly when eight presidents became four. Huckaby estimates initial savings of $6 million to $8 million in administrative costs, money that is already expanding course offerings and degree programs (at UNG's Gainesville campus, for example).
"The first mandate was to reduce overall operating costs to reinvest in academics," Azziz says. "And we've already begun to do that by cutting the cost of administration and administrators. That represented about nine percent of the budget at ASU and five and half percent at GHSU before consolidation. Now, at GRU, it's around four and a half percent."
Huckaby says the money they save from cutting all of those assistant vice dean positions will help meet the academic goals being placed on the higher education system, such as Gov. Nathan Deal's "Complete College Geor-gia" initiative, created to address the state's needs for a well-trained, educated workforce.
The idea is to improve the rate of graduation (get students to earn their certificates or degrees on time) and produce an additional 250,000 graduates (combined, be-tween both systems) by 2020 – doing more without the promise of more resources by robbing Peter to pay Paul or, as Azziz says, "shifting resources."
In the short term, it's tough to shift what you don't have.
When word came to the college presidents from the USG office in January 2012 that the recommended eight institutions would be folded into four, there was a postscript: "We didn't give the institutions any money for consolidation," says Nickel. "They had to support that on their own, with their own resources."
Once the plan was approved, consolidation committees were formed at each college, comprising faculty, staff, students, alumni and community representatives. And there were work groups, lots of them.
"We had 65 groups dealing with every issue you can imag-ine," says Bonita Jacobs, president of UNG, who also says the timing of the regents' vote in January 2012 was planned with a SACS deadline in mind.
"We had a lot of deadlines in order to meet the target date. SACS was the umbrella to everything we were doing. Accreditation is a cornerstone. If we have accreditation problems, we're not doing our students any good."
SACS (the Southern Association of Colleges and Schools, the accreditation agency), signed off on the mergers in December. The eight could become four. And this past January, just one year after the regents approved the mergers, the colleges began operating as consolidated units.
"Twelve months is a quick timeline for something of this magnitude," says Virginia Carson, president of South Geor-gia State College (SGSC). "But my team has been amazingly resilient in the face of considerable demands."
Merging Realities
As a new legislative session began and digressed, a vocal gaggle of politicians was giving an enthusiastic "hell, yeah" to a bill permitting guns on college campuses (it stalled) while four new-named institutions of higher learning grappled with real-world challenges, such as how to keep doing more with less, which has become kind of an unofficial slogan throughout the university system.
"We're doing everything we ordinarily do as faculty and staff, with consolidation as a layer on top of that," says Carson, who is based in Douglas. "Really good people are being asked to stretch considerably beyond their expected roles, and, you know, people get tired."
At the four new combined colleges, faculty and staff are griping about the new email system, or they're assuming new roles, meeting new students from other campuses, trying to plan five years ahead while the ground is moving beneath them. The IT guys are being run ragged while the presidents try to make all the pieces line up the way they're supposed to.
There are new departments that didn't exist before, as new degree programs are phased in across the miles; there are new student tuition and fee structures to implement and salaries and tenured positions to deal with.
"We've created one faculty now, so there's got to be one pay structure, one tenure policy," says Jacobs. "That will mean taking the money we have and trying to bring faculty and staff salaries to an equitable rate."
UNG is now a wide-ranging institution of 15,000 students, the largest enrollment of the four consolidated colleges, with campuses in Cumming, Dahlonega, Oakwood and Watkinsville.
"We're one university now with one mission, but we're four different campuses with four different histories and cultures," says Jacobs, who now helms a college with campuses that are 70 miles apart (Dahlonega to Watkinsville).
The smallest of the combo-colleges is SGSC, with 3,000 students spread over its two campuses, Douglas and Waycross, about 35 miles apart. The two schools that formed SGSC were traditionally two-year colleges. The new combined college will now offer bachelor's degrees.
"You have to appreciate the concerns that some people in the communities have about changing the direction," Carson says. "But in the main, I think almost everyone sees the value of increased educational opportunities."
Over at the new Middle Georgia State College, John Black is balancing his role as interim president with the honey-do list back at his 100-year-old house in Augusta, where he was enjoying retirement when Huckaby came calling last summer.
Now he's presiding as temporary trail boss for a school of 8,800 students on five campuses (Macon, Cochran, Dublin, Eastman and Warner Robins). The consolidation of so many parts has brought plenty of anxiety for employees, Black says, "but we've worked through that. I'm not going to tell you we're all in agreement on every solution, but we're a whole lot farther down the road than we were in July."
The best news he's had since last July might be the peace treaty between the two foundations that once supported two different colleges – they've successfully merged to form the Middle Georgia State College Foundation.
"Now there's one instance of two different groups that not only got together and started walking in the same direction, but they're actually holding hands," says Black, who graduated high school in Macon, taught at Augusta State, and earned a Ph.D. in endocrinology from the Medical College of Georgia, which changed its name to Georgia Health Sciences University, which consolidated with Augusta State to become Georgia Regents University.
Open Letter
In January, just before her last day on the job, Shirley Kenny delivered the letter personally to Ricardo Azziz. She hadn't even shown it to her secretary. It was something from her heart, she says, but straightforward, for his eyes only, confidential, not quite a manifesto, maybe a warning, and filled with her philosophy, advice and firm recommendations culled from decades as a college president and educator, written more in the tone of a considerate mentor than an accuser.
It didn't really become an indictment until everyone else saw it.
"Ricardo accepted it very graciously. He thanked me for it, appreciated my insights and recommendations," Kenny says. "The fact that it became public still astonishes me. That was never my intent. I was trying to be helpful, and I had been so careful."
The Augusta Chronicle obtained the letter through an open records request, published it in print and online, and angry locals got angrier. Among other things, they'd been spitting razor blades over the name change since the previous summer.
According to Nickel, each consolidated institution was asked to submit three names to the regents, who in GRU's case had to choose among University of Augusta, Georgia Arts and Sciences University, and Georgia Regents University (considered the least favorite by members of the name committee).
Azziz, who maybe isn't helping his case with the locals, says, "I do think they picked the best name possible. It reflects the statewide entity that the university is. And it's important to note that the regents removed the city name from every single consolidated school."
Nonetheless, the name has been trouble. Regent University in Virginia has sued the USG over it. Huckaby says, "We don't ever comment on any litigation," then adds, "That's the name the board approved."
Besides, a new name had little to do with the USG's goals in Augusta. Besides the whole "our main goal is to serve students better and more efficiently" stuff, they wanted to create a fourth research university (with Georgia Tech, the University of Georgia and Georgia State), this one focused, mostly, on the health sciences.
But the sudden transition of a medical college filled with grad students and a liberal arts college filled with undergrads into a research university means tuition hikes for the liberal arts crowd. A complex formula of rate increases is happening gradually over the next few years.
This probably isn't the end of it, though. There will likely be more consolidations. Black thinks it's inevitable, Huckaby can't say when and Azziz says it's an idea that's here to stay.
"Georgia's ahead of the curve on this issue," says Azziz, who now presides over a university of 9,500 students, most of them from the former Augusta State. "This is the beginning of a national wave."
A gathering of officials from other institutions from around the country – Minnesota, Oregon, Texas, Virginia, etc. – met with USG leaders and presidents of the consolidated universities to study what's happened here, because maybe they'd like to try it.
And the thing about stuff like this, fidgeting with college names and loyalties and traditions, is that even if the intentions are noble – and even if it works well – it's bound to be a disruption, and it may even hurt in places. It's supposed to. Nothing ventured and all that.
"Consolidation," Azziz says, "can be a painful process."
So maybe Azziz, an obstetrician and gynecologist, should acquaint himself with – and adhere to, with hope – something Freeman Dyson – a venerable big-shot scientist at Princeton, one of those research universities – once said: "The pain of childbirth is not remembered. It's the child that's remembered."