Art Of The Meal: Etienne Brasserie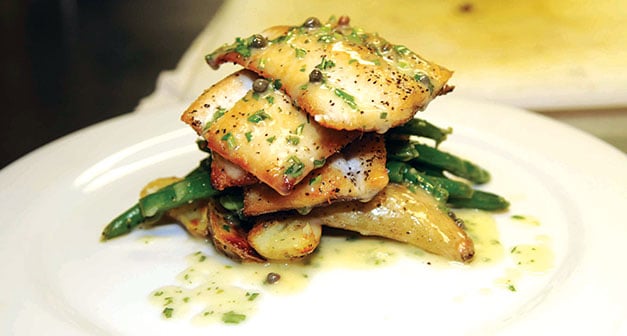 Etienne Brasserie
311 East Broad St., Athens
706.850.8008 or http://etienneathens.com
Mondays-Friday, Lunch 11:30 a.m.-2 p.m.,
Dinner 5 p.m.-10 p.m. Saturday and Sunday extended service from brunch through dinner.
Dinner, Mondays-Saturdays.
Parking: On the street or in nearby lots.
Dress Code: Casual to Parisian chic.
Do Classic City residents know how good they've got it? I can't think of another Georgia town this size – even when clogged with an additional 35,000 UGA students – with a dining scene of this quality, and at such value. Hugh Acheson's destination restaurant Five and Ten (set to move to Milledge Avenue soon) raised the culinary bar for all of Athens, while those students keep price points low.
Back in my UGA days, The Taco Stand represented both the outer edges of ethnic cuisine and the pinnacle of fine dining. (Well, to my untraveled palate and nonexistent budget, anyway.) Today, from established spots like East West Bistro, the Last Resort Grill and Acheson's The National, to funky cafes and pubs like Cine, Clocked and The Globe, farm-to-fork acolytes Farm 255, and even the creative pizza and sides at Ted's Most Best – downtown Athens alone offers several invitations for good food and drink, and maybe to stay a while longer, skipping class. UGA's durable party-school reputation, along with Athens' storied music and bar scene, also make for a formidable array of cocktails.
What I like most about Etienne Brasserie is that it combines downtown Athens' slacker-student vibe with a more mature Parisian ethos of languidly sipping, tasting and sipping a little more. It's a kind of graduate class for people who majored in hanging out here. Maybe Broad Street isn't the Champs-Élysées, but you can easily find a perch for people-watching, either from the sidewalk or in the cool, long space with a pressed-tin ceiling.
The dishes are straightforward French favorites, forgoing the usual student-oriented flavor profiles and reveling in red meats, red wine and house-cured salami. Etienne (French for "Steven," the first name shared by the original co-owners) is no pretentious, beret-wearing mime just going through the motions: It's a hardworking French brasserie, serving lunch, brunch and dinner, focused on honoring traditional dishes and cocktails but with a modern sensibility.
On my first visit to Etienne, I dropped by to meet a friend at the bar and found enthusiastic barkeeps concocting such elixirs as the Bloodless Mary, with clear, housemade tomato water, and Manhattans with wormwood bitters and flamed orange peel. On a more recent visit, we sampled a purple-tinged Aviation, with gin, maraschino liqueur and crème de violette.
Yes, at lunch your favorite sophomore can find a burger and fries, but here the potatoes are hand-cut and served with a variety of dipping sauces, and that burger is prime ground beef with bacon aioli, arugula and a fried egg. You, in the meantime, get to ponder whether you might prefer the grilled lamb burger or the quiche Lorraine (perhaps not named for the B-52's song), escargot or the crepe with butternut squash and eggplant, or the mussels and fries. You won't regret the lamb burger, a hefty mound of lamb with cambazola cheese, heaped with cremini mushrooms and piled with fresh spinach leaves. Served with a haystack of hand-cut fries, it's a steal at $10.
Dinner is more serious, and we kicked it off with a new summery cocktail: the Strawberry Royale, a riff off the Kir Royale, here made with strawberries, champagne, Domaine de Canton (a French ginger liqueur), lemon and fresh-ground pepper.
Delicious, refreshing and biting, all at once. The house selection of cheese and charcuterie is a good match with such sips, with duck confit, bries and blues, house-cured salami, a smear of mustard, and some pickles and olives for good measure.
The trout meunière is a pretty pile of graceful, thin green beans over fingerling potatoes, topped with pan-fried trout and glistening with capers and lemon-butter sauce.
Steak frites demonstrate once again that the kitchen fully understands what to do with a tender cut of prime, aged New York strip. Only the chocolate mousse, with a smear of mango, was a slight disappointment, but by that point … who cares? We still made short work of it, consoling ourselves with a final glass of Hennessy.
Need an excuse to hang out in Athens? Etienne provides cover for grownups who want to relive their salad days … with steak.