The Good Fight
Preserving and protecting the military's $20-billion impact on the state's economy.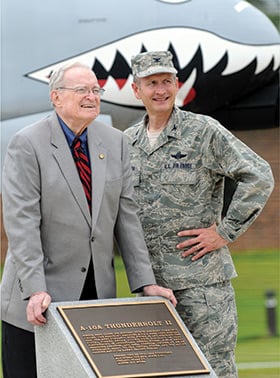 Parker Greene was recruited for a special military operation 40 years ago, and like a dogged, ageless soldier, never deactivated, lost in time behind enemy lines, he's still on the job, working to accomplish a mission that won't end, unless and until all is lost.
"It all started with Senator Sam Nunn," says Greene. "We've been friends a long time – he's my hero. Well, he called me one day, said he had something to talk to me about. He told me, 'I want you to be a force of one.' I asked him what he meant. He said, 'I want you to go to Washington.' I did what he told me, and I've been going in and out of the Pentagon ever since, for 40 years."
Nunn wanted someone in the Valdosta area fully committed to the ongoing existence and health of Moody Air Force Base (home of the 23rd Wing of the Air Combat Command) – one of the nation's critical strategic posts and one of the region's leading economic engines, with an annual economic impact of $458 million – someone to lobby on behalf of the base. That has been Greene's bottom-line, ongoing objective – keep Moody relevant, keep it vibrant enough so that the Air Force, or Department of Defense (DOD), wouldn't consider closing it or diminishing it.
It is connected to a larger, less-defined mission of supporting the military's presence in Georgia, which currently includes three Army bases, two Air Force bases, a Navy base and a Marine base, installations that have a total economic impact of $20 billion.
Or, put another way, "over 10 percent of the population of Georgia is either active or retired military or they are active civilian employees of the military or retirees," according to U.S. Sen. Saxby Chambliss (who is from Moultrie, less than 50 miles from Moody and about 40 miles from the Marine Corps Logistics Base near Albany).
"When you look at the Department of Defense footprint in Georgia, we're fourth in the country behind Texas, Virginia and Florida," Chambliss says. "Of 9.5 million people, over a million are compensated directly because of the military in our state. That is a significant number of Georgians we're talking about."
And the support mission has only grown more critical, what with troop drawdowns in the Middle East and dramatic cuts in funding and manpower underway, or coming soon. In January 2012, the DOD said it would slash its budget by almost 50 percent, by $487 billion, over the next 10 years. That includes a troop reduction of 80,000 in the Army by 2017, and 20,000 in the Marines, the retirement of some equipment, and delays or reductions in the acquisition of some new equipment.
And, as part of the federal Budget Control Act of 2011, there are the sequester cuts. Sequestration was a self-imposed time bomb that Congress created to force itself to agree on $1.2 trillion in budget savings by this year. Congress failed, which means across-the-board reductions in federal spending, including another $500 billion in estimated defense cuts over 10 years (which went into effect on March 1).
Meanwhile, the DOD is still paying for the last round of BRAC (Defense Base Closure and Realignment Commission) closures in 2005, when Georgia lost several installations (Forts Gillem and McPherson in Atlanta, and the Navy Supply Corps School in Athens), and another BRAC could be coming in the next few years. That plus the billions of dollars in military spending cuts adds up to a cloudy future for Georgia's existing military bases.
"We know that DOD budgets are not going to be as robust as a percentage of GDP as in the past. That's just a fact," Chambliss says. "We've got to reduce spending. So you can expect some major changes that will impact our military communities in Georgia in the short and long term."
In November – about 10 months after the DOD announced it was halving itself, and around the same time Congress was trying to ignore the impending budget free-for-all that everyone knew was coming – Georgia leapt into action. With an eye toward future rounds of BRAC, Gov. Nathan Deal announced development of the Governor's Defense Initiative.
"There may or may not be a BRAC in the immediate future, but the issue of federal funding is huge and of immediate concern," says former U.S. Secretary of the Navy William L. Ball, who is chairing the initiative. "I guess you can say it is a clear and present danger."
Fighting Time
Last summer, Maj. Gen. Robert McMahon made the transition to civilian Bob McMahon, retiring after 34 years in the U.S. Air Force and having spent the previous 20 months improving the performance of the Warner Robins Air Logistics Center as its base commander, earning The (Macon) Telegraph's Middle Georgian of the Year honor.
Shortly after retirement, he took a new command as president and CEO of the 21st Century Partnership. He'd spent almost two years turning the base around, and now he's working to keep the base around.
"Robins is the economic engine for middle Georgia, so those of us who live here are tremendously sensitive to the future of the base," he says, fully expecting a round of BRAC eventually. So far, Congress hasn't been keen on approving one (for 2015 or 2017, the two earliest times that have been widely discussed).
"In my estimation, we can't afford, as a nation, not to have another round of BRAC, and we as a state and each of our military communities ought to be preparing for that," McMahon says. "Because even if we don't have a formal round of BRAC, then you can probably expect what I call a 'stealth' BRAC, which means as we continue to reduce the size of the military, the military is going to make those decisions independent of Congress and state and local elected officials.
"So, in my mind, BRAC is an eventuality," he says. "It's coming, and it will be different from the 2005 version."
The 2005 BRAC, resulting in the closure of 25 installations and the retooling of 24 others, cost about $35 billion (about 67 percent above initial estimates), and the projected long-term savings are a fraction of what was expected.
"The main argument against having a BRAC in 2015 or 2017 is there are no upfront funds available to move installations, or close them," says Thom Tuckey, executive director of the CSRA (Central Savannah River Area) Alliance for Fort Gordon (where Tuckey used to be garrison commander).
"I went through 30 years of that. A garrison commander can easily show where a minimum investment would save money, but there's no upfront money to make that minimum investment. I used to do that all the time, say, 'Give me $100,000 and let me do this, and I'll save us $500,000.' But there's never any upfront money."
And yet, military leaders are saying they can't afford not to close some bases. Chambliss says all of the service chiefs who testified before Congress said they have more space than they need. So the next objective is pretty clear.
"The last BRAC was designed to strategically align the forces. Cost savings were an issue, but the primary function in 2005 was to realign and transform our fighting force," says Gary Jones, executive vice president of military affairs for the Greater Columbus Chamber of Com-merce, a retired Army colonel and former garrison commander at Fort Benning, which got about $3.7 billion in new construction as a result of the 2005 BRAC.
"But the next BRAC will be focused entirely on cost reductions, period."
The Air Force alone has indicated that it has about 25 percent excess capacity. And it's already been taking measures. For example, earlier this year, more than 300 civilian workers at Robins were offered payments for early retirement – a small number for a base of some 23,000 people (about 15,000 of them civilian employees), with a regional economic impact of $2.9 billion. But with Georgia only recently beginning its collective defense of the military, McMahon wonders if time is the enemy.
"One has to ask, what is our state doing versus other states," McMahon says. "It would look like, in spite of the Governor's Defense Initiative (GDI), that other states are ahead of us in terms of their preparation for an upcoming round of BRAC. I'm delighted that we've got Secretary Ball working with us – he's a tremendous asset.
"But I think Georgia might have some catching up to do."
Funding for the initiative, says GDI Executive Director T. Rogers Wade, is coming from public and private sources (businesses around the state, think defense contractors – Georgia has many, including the military's largest, Lockheed). Wade says discussions for the initiative began more than a year ago, "before sequestration, before the effects of defense cuts and a troop drawdown were evident."
"What we end up with in Georgia will take a whole lot of study and backroom politics in Washington. As you can well guess, the military bases in Georgia didn't happen because they like the climate. It's because we had the right people in Washington. We had Saxby Chambliss on the right committee, and Sam Nunn before that, and Richard Russell before that.
"Having a governor who spent 18 years in Washington doesn't hurt us, and having a former Secretary of the Navy doesn't either. Will Ball has been through this before, and he has a great Rolodex."
Veteran Expertise
Will Ball has served on a BRAC commission before – in 1991, when a lot of people were still using Rolodexes. The point is, he knows what the commission looks for when deciding whether or not to close a base.
"In 1991 we were at the end of the Cold War. The global situation had changed dramatically, so we made big reductions. That was an entirely different set of circumstances," Ball says. "But the key element of the undertaking remains. When changes are made in the structure of each of the armed services, they discuss how they can most efficiently distribute forces and ships and battalions and squadrons. They look at where they have efficient and effective installations, at which bases are in military-friendly communities. That's where Georgia has a tremendous asset.
"We can build on the success Georgia has had in dealing with issues that any military base faces in a community – housing, education, encroaching real estate issues, air space availability, training. Georgia is in a very strong position compared to other states in each of those areas. Our job is to make sure the value of those assets and the military value of these installations are recognized by the people in Washington."
But, he adds, it doesn't look like there will be a BRAC anytime soon.
"It's clear that Congress doesn't want it to happen, at least not in 2015, and perhaps not in 2017, so the prospect is somewhat cloudy at the moment," Ball says. "The defense cuts already in place and the sequester are immediate concerns. That's creating a great deal of turmoil across the nation's base structure. Right now, the Army has the toughest of the near-term problems to solve."
Around the state, the various support organizations, community leaders and base commanders are girding for the challenges ahead, but in spite of the cuts and the inevitable change of the military landscape, these individuals are mostly bullish.
"Never say never, but I'm not worried about Fort Gordon," Tuckey says. "There may be some realignment, but I expect more coming in than going out."
Gordon has a heavy medical, signal corps and intelligence presence. Tuckey points to the $300-million, 600,000-square-foot National Security Agency building, which officially opened last year.
"That's not going anywhere," he says. "We as a community feel that Fort Gordon is not at risk of closure."
Hinesville and Fort Stewart, the largest base east of the Mississippi and home of the heavily deployed 3rd Infantry Division, are facing a massive population surge in the coming months as troops come home from war – then comes the prospect of an equally massive reduction in force numbers.
"As the army closes down operations in Afghanistan, most soldiers will be home by the end of December, and we don't expect any further deployment; so they'll be here for a long period of time," says Hinesville Mayor Jim Thomas, a retired Army colonel who served at Fort Stewart and expects the population there to grow from about 10,000 to 20,000 by the end of the year.
About 75 percent of Fort Stewart's personnel actually live in Hinesville and not on the base, Thomas says, "so any changes in population at Fort Stewart immediately manifest in our city, and we are fully prepared."
Even with the Army cutting its numbers by 80,000 in the next few years, Thomas thinks Fort Stewart's mission remains vital.
"I like to think its value is great enough that we won't lose a significant number – or any – of our units from Fort Stewart," he says. "As long as we have commitments around the world, we need a base like this one that accommodates the entire East Coast."
Down in Kings Bay, Sheila McNeill firmly believes the Naval Submarine Base stands to gain rather than lose.
"It's because we have excess capacity. We used to have 10 boats here, but some have moved to the West Coast because of our changing focus on the Pacific," says McNeill, president of the Camden Partnership. And she didn't actually have to say "North Korea" to mean it.
With 9,000 employees at the naval base (more than 5,200 are on active duty, the rest are civilians), Kings Bay might be considered small compared to Forts Benning (about 35,000) and Stewart. But it is the region's largest employer, with a total economic impact of almost $700 million.
It is the home port for the U.S. Atlantic Fleet's ballistic missile nuclear submarines (and the only base on the Atlantic coast fitted for and capable of such a mission). Plus, they've got McNeill on their side.
A couple of years ago, when the DOD planned to cut $300 million in funding from the Coast Guard, it would have meant the loss of Kings Bay's Maritime Safety and Security Team (MSST). So McNeill personally visited 210 congressional offices to restore the funding.
"They were going to close five out of the 10 MMSTs that were created in response to 9/11. All of them but one were restored. The one was in Alaska," McNeill says. "See, it's easy for me to lobby, because I truly believe that this base keeps our country safe. It's not a difficult argument to make."
Era of Transition
There is a multi-pronged approach to a new era of military transition in Geor-gia, and the pieces are gradually coming together. The Governor's Defense Ini-tiative is working closely with the Geor-gia Military Affairs Coordinating Com-mittee (Jones, McMahon and McNeill serve on the executive committee of this Georgia Chamber of Commerce affiliate), while the University System of Georgia (USG) develops its strategy for recruiting the thousands of veterans who will be deactivated from service in the coming years.
"The Board of Regents and a lot of our universities recognize that we need to attract those high-quality individuals that have done a great service for our country and figure out how to help get them through our system using all the benefits available to them," says Lee Durham, an attorney who was a brigade commander in Afghanistan before taking on his current gig as interim military outreach coordinator for the USG.
Meanwhile, down in Valdosta, Parker Greene is exemplifying the kind of civilian advocacy worthy of a $10-million salute – that's how much the W. Parker Greene Base Support Center building cost before its unveiling six years ago. He's been on his mission for 40 years, first as the chairman of military affairs for the Lowndes-Valdosta Chamber of Commerce, then as executive director of the Moody Support Committee.
"A lot of sleepless nights," he says. "I'd get up at 2 in the morning and write something down, ideas, notes, trying to figure out what we had to do next. I began to think of things, then more things, and then more things."
One of the things he thought of was a live-fire gunnery range at Moody, so he convinced the Air Force of that. Through the years, he's argued for Moody's precious air space, for Moody's role in the South Georgia community, for Moody as vital to our nation's security. For Moody's relevance. So far, with the help of his allies, he's managed to convince them every time.
But it takes allies. Even a force of one like Greene can't get it done alone, because when it comes to serving the services, it takes a community.
"I always tell everyone that I've never had a bad assignment, and it's because of the communities I've lived in," says Col. Billy Thompson, commander of Moody's 23rd Wing. "But this community is special. This is my second tour here, and there is something about Valdosta, and it's not just because about one in four people here has some sort of tie to Moody.
"I'm talking about airmen and their families. Right now, we've got almost 1,000 people deployed somewhere in the world, and that means a lot of families are left behind. This community does a great job of taking care of them. That makes life easier for those airmen de-ployed around the world, wherever they are. And that makes my job easier."