Power Players: Technology Ambassador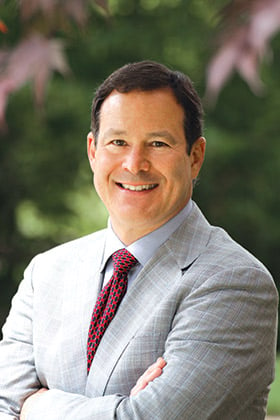 Alan Dabbiere, chairman of AirWatch, an Atlanta-based mobile device management (MDM) software company, is spreading the word that Georgia is a great place to build or relocate a technology company. He speaks with authority because he's done both.
"I think [Atlanta's] an even better place today than when I grew Manhattan Associates from 100 to 1,200 employees in a little over two years," he says.
"I could not have grown AirWatch from 30 to 800 people in three years in many places. There are not many cities where you can find that kind of talent and can afford to get it."
Dabbiere's Manhattan Associates, a distribution and supply chain software company, moved to Atlanta from California in 1995. Three years later, it had 800 em-ployees and went public. To-day it is a global company with close to 2,500 employees.
In 2006, Dabbiere joined forces with John Marshall, a former Manhattan Asso-ciates employee, who founded AirWatch in 2003 with a partner. At the time, the company specialized in setting up commercial Wi-Fi hot spots. Dabbiere bought out Marshall's partner, and the company began moving into the growing field of enterprise network management. From there AirWatch evolved into MDM.
Simply put, when a company deploys mobile de-vices, whether cell phones, tablets, computers or bring-your-own-devices (BYOD), it has to secure the equipment and everything on it. That's where MDM software comes in: securing, managing and supporting devices and applications used by that company.
In 2010, AirWatch was working on a project with The Home Depot with 50,000 devices, all Windows mobile, when the Apple iOS 4 hit the market. It was a transformative moment for AirWatch.
"Apple devices became more manageable, and because we were doing so much MDM at the time, we were one of the few companies that Apple gave the full set of specs on how to manage the new device," says Dabbiere.
"That was the end of 2010. From 2011 until now, we went from 100 to 1,200 employees because of the explosion in devices."
Current AirWatch customers range from Walmart and The Home Depot to the United States Department of Justice, the Supreme Court and the Federal Aviation Administration.
In January, AirWatch an-nounced it would expand its Atlanta headquarters, adding more than 800 jobs and investing more than $4 million in new equipment. The company was named to the 2013 list of Top 40 Inno-vative Technology Com-panies in Georgia by the Technology Association of Georgia (TAG). Privately funded since its start-up, AirWatch just raised its first round of outside capital, a $200-million Series-A investment.
Stories like Dabbiere's are becoming more common in Georgia. According to TAG, technology is the fastest-growing sector in Georgia's economy. There are currently more than 262,000 technology workers statewide.
"The state is a huge hub for financial services, for health information technology, mobile and digital media," says Dabbiere. "There's tremendous tech infrastructure in Atlanta. You wouldn't see a company like AirWatch grow as it did without those resources. There's more here than we've ever been given credit for."
TAG is developing a public awareness campaign letting people know Georgia has what tech companies are looking for.
Dabbiere is using his bully pulpit to help get that message across, rattling off three reasons he chose to locate both his businesses in Atlanta. "I wanted to be in the Eastern time zone," he says. "There was a great pool of talent, especially with Georgia Tech, and the airport and the ability to get people traveling to anywhere." With the infusion of outside capital, AirWatch is poised to grow even more.
"The mobile industry is going to create companies of 10,000 and 20,000 people," says Dabbiere. "We have a great opportunity to be one of those. You talk about putting Atlanta on the map.
"We're an everyday name, like an AT&T. Customers see us on their phone and know we're the underlying technology that's securing, managing and supporting them on the day-to-day basis. That's our mission and our goal here."