Columbus: Completing The Transformation
Success builds on success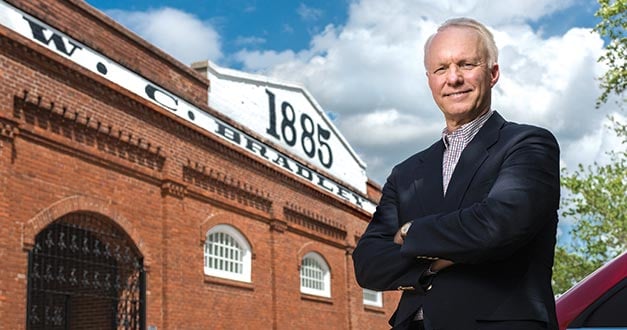 The river has always been the lifeblood of Columbus and Muscogee County. The waters of the Chattahoochee powered its mills for more than a century and turned this small West Georgia city into a major industrial center. Its location on the fall line meant that ships making their way up from the Gulf anchored here to unload passengers and freight.
These days the mills are mostly closed, but the river is still powering an economic resurgence. Just last month, the city officially opened a two-and-a-half mile stretch to whitewater rafting and kayaking. Beginning just north in the old Bibb City area, the course flows through Uptown with a takeout point just behind the Convention & Trade Center.
"This will not only have a tremendous economic impact on the community, but it's a great environmental project as well," says Richard Bishop, president and CEO of Uptown Columbus. "We're going to bring visitors from throughout the Southeast and attract world-class events here at the same time."
For many, the $26 million the city spent to breach the Eagle & Phenix Dam and return quiet waters to their original fast-rushing beauty was well spent. As word spreads of this year-round course, more than 188,000 visitors are expected, which should generate an economic impact of roughly $42 million, according to Bishop.
The river will likely solidify the quarter-century-long transformation of Columbus from dying downtown to hip center of culture and commerce.
Convention and Visitors Bureau official Kimberly Parker Kaup recalls that growing up in Columbus, "We never went downtown." These days, the stretch of renovated mills and historic buildings is the first place she shows people who want a taste of the real Columbus.
Clubs, restaurants, coffee shops and boutiques fill every available storefront. Finding a parking space even on a weekday night is a challenge as throngs of people – mostly young – fill the streets. Many are students and faculty from Columbus State University (CSU), which purchased a number of historic buildings and then moved its music, theater, arts and communications programs here from the main campus.
"It was a vision that began well over a decade ago, and to me it was a great realization of a city-university partnership," explains CSU President Dr. Tim Mescon.
As a generator of nearly $300 million in economic impact to the region, the university joined a cadre of corporate entities that call Uptown home. A few blocks away, the corporate headquarters for Total System Services, Inc. (commonly referred to as TSYS) overlooks the rushing waters of the river.
Describing Success
"I've been in real estate development for 25 years with the Bradley Company, and the best way to describe it is with each successful project, it leveraged another successful project," says Mathews Swift, president and COO of W.C. Bradley Co. Real Estate Division.
After the city raised $100 million in the Columbus Challenge to construct the RiverCenter performing arts facility, CSU undertook its own $100-million fund-raising campaign. That allowed the arts programs to move to Uptown. The university's highly regarded music school now occupies one side of the RiverCenter.
Swift's own company is not only headquartered in one of the renovated mill buildings along Front Street, but it has been a driving force in promoting Uptown as a place to live.
When the Eagle & Phenix building's first phase was converted to condos, they quickly sold out. Offering a commanding view of the river, coupled with easy access to Uptown's shops and restaurants, they represented just the kind of urban living so many young professionals demand.
Apartments are under construction in Mill No. 2 and the old administration building, just a short walk away.
CSU has increased the Uptown population by converting a few of its buildings into housing for some 450 students.
"We're at a point where it's no longer just, 'Can we make downtown a very energetic and exciting place to be?'" says Swift. "Now the question is, 'How can we maximize all of it?'"
Metamorphosis
Some will tell you that Columbus is fast becoming a place where the "cultural creatives" who seem to drive much urban economic development like to hang out.
For the past two decades, developer Buddy Nelms has watched the transformation and helped create venues where it's fostered. College students often frequent his bike shop, Ride On Bikes. Young entrepreneurs have planned new products in the Iron Bank Coffee Shop on Broadway and listened to music in The Loft, which includes not only a music venue, but also a recording studio that has drawn artists from around the world.
He's ridden the ups and downs of the economy here as well, and he sees a resurgence in the march toward revitalization. He says there's been something of a "turning point" in the past year or so. Where there were once three or four calls a month inquiring about space in a building, there are now that many in a day. Once again success is building on success.
"It feels like people are getting their work done here," says Nelms. "We have staff of about 85 downtown, and they're driving. Their eyes are wide open, and they're reaching in and not waiting for people to fix it for them."
Many locals like Nelms think whitewater will be the final piece of the puzzle that tips the scale.
If so, it will be one of a series of good decisions the city has made over the past few decades. Columbus is a city that has never been afraid to create the infrastructure it needed to be successful and has reaped the successes of today, according to Greater Columbus Georgia Chamber of Commerce President & CEO Mike Gaymon.
"Here we believe in change by design, not by default," he says.
In the past three decades, the community has passed SPLOSTs and successfully completed a couple of $100-million fund-raising efforts. The need for a large pipe to handle drain water turned into the scenic RiverWalk that stretches along the entire length of the city's waterfront. The city built stadiums and a softball field to host events during the 1996 Summer Olympic Games.
It also acquired land needed for a business park that helped lure NCR's manufacturing plant here more recently.
"Work done during the '80s and later is serving us well when you look at the diversity of business we now have," says Gaymon.
When most of the rest of Georgia was turning thumbs down to a one-cent sales tax for transportation last summer, the Columbus region said yes. Over the next 10 years, the tax is expected to generate about $600 million to fund transportation improvements. Those funds – most of which will be spent in the city – will enable interchange improvements on I-85 near Fort Benning.
This roadwork will open up access to the new Benning Technology Park for military contractors just inside the fort's main gate. When it's up and running, the park is expected to add almost 2,000 new jobs to the area.
Seeking Parity
For Columbus Mayor Teresa Tomlinson, the big question these days is not just the thriving downtown, but what to do about those parts of the city that have not fared as well. She has been pushing a variety of tax and bonding measures designed to bring new business into some of the city's poorest areas.
"To me, the next big thing for all cities is you have got to find a way to economically redevelop your blighted area, because land is your most precious and finite [resource]," she explains. "If you're going to remain competitive, you have to find a way to reuse that blighted land resource. If you can't do that, you won't be competitive in the future."
With a consolidated city and county government, Columbus has been able to utilize urban service districts – in which the government could lower millage rates for a blighted area, lessening the property tax impact.
"We have just passed an ordinance, which allows council to adjust the millage rate downward significantly, virtually acting as a tax abatement," Tomlin-son says.
The lower rates are available to companies that bring jobs into areas with significant poverty, and they vary depending on the size of the project and number of jobs.
The city also won the right to ask voters to approve tax allocation districts (TADs). Development efforts could then be jumpstarted with funding from municipal bonds that would in turn be paid back with the higher tax revenues generated by the completed projects.
A prime candidate is the city's storied Liberty Theatre District. This historically African American neighborhood is home to the Liberty Theatre, which once showcased music legends like Marian Anderson, Ella Fitzgerald, Lena Horne and Duke Ellington.
Another area on the city's radar is Bibb City, home to the now closed Bibb Manufacturing Company mill. Once a thriving city in its own right, the area fell on hard times after the collapse of the textile industry. It has potential owing to its location on a bluff overlooking the river – one of the best views in the area, according to Tomlinson.
Attracting Visitors
Whitewater will be taking its place among an array of tourist attractions that have made Columbus something of a destination. The convention center has played host to big shows such as the Georgia Republican Convention and the Southern Baptists' state meeting.
All told, about 1.3 million visitors came to town in 2012. They spent some $316 million and created 4,300 jobs. They also produced a savings of $348 million in taxes for local citizens.
"From the leisure side, we've got a little bit of everything," says Peter Bow-den, president and CEO of the Colum-bus Georgia Convention and Visitors Bureau.
The city offers a wealth of museums. There's the school system-owned Col-umbus Museum, with its impressive collection of antique furniture and American art. The Coca-Cola Space Science Center houses an array of components from NASA, including original flight monitor panels along with an engine nozzle and wheels from the shuttle.
With Fort Benning nearby, military reunions are also big business. Many military and a considerable number of non-military visitors are trekking to the National Infantry Museum and Soldier Center. This $100-million facility houses a vast collection of military artifacts, and exhibits represent the timespan from the Revolutionary War to the conflicts in Iraq.
History and the military's role are well represented. Considering that Col-umbus was home to the Confederate Navy Shipyard, it's a natural place for the National Civil War Naval Museum at Port Columbus.
Its exhibits tell the lesser-known story of the water war that was fought on rivers and along coastlines. Among the many mockups of famous ships from both sides, there are the startling remains of the CSS Jackson, one of the largest ironclads built in the South. Sitting dockside when Union cavalry captured the city in 1865, it was burned to the waterline to prevent any later use by Confederates. Consumed in flames, the ship drifted downriver for two weeks before finally sinking 30 miles south of Columbus. The ship was raised in 1961 by local citizens during the Civil War Centennial.
"It's ironic that we have it now, because it was burned and sank," explains museum Executive Director Ken Johnston. "Most ships were disassembled and sold for scrap."
Military Outlook
Amidst all the promise, local leaders have also become a little nervous about how federal budget cuts will affect Fort Benning. Word got out that at least some of the units could be on the chopping block. One study apparently recommended a reduction of 7,100 active duty and civilian personnel. Such a move could take a big chunk of the $4.3 billion a year impact of the base.
"Fort Benning is a huge economic engine," says Gary Jones, the chamber's executive vice president for economic development and military affairs. "That $4.3 billion is just based on salary and contracts."
In past years, the base has profited from closures elsewhere as units were shifted here. The next time, the area may not be quite so lucky.
"We know there will be cuts," says Becca Hardin, executive vice president of The Valley Partnership, a regional economic development agency that is part of the Greater Columbus Chamber. "We don't know how Fort Benning will be impacted. Nothing has been officially announced and confirmed. We will be very focused on keeping soldiers there and keeping civilians employed. If we see large cuts there, it's going to impact housing, retail and everything in our local economy. Fort Benning is something we watch very closely."
Whatever happens, it isn't likely to dampen the optimism that pervades this city. The glory days it once knew are here again.
Community Snapshot
Local Leaders
Mike Gaymon
President & CEO Greater Columbus Georgia Chamber of Commerce
706.327.1566 

mgaymon@columbusgachamber.com
Becca Hardin
Executive Vice President Economic Development
The Valley Partnership
Greater Columbus Georgia Chamber of Commerce
706.257.1190
bhardin@columbusgachamber.com
Teresa Tomlinson
Mayor of Columbus
706.225.3164

ttomlinson@columbusga.org
Population (2012)
198,413
Median Household Income (2011)
County, $41,088
Georgia, $46,007
Unemployment (February 2013)
Columbus, 9.3 percent
Georgia, 8.6 percent
Top Employers
Fort Benning, Muscogee County School District, TSYS, Columbus Regional Healthcare System, Aflac, Kia Motors Manufacturing Georgia
Sources
U.S. Census Bureau, Georgia Department of Labor, Greater Columbus Chamber of Commerce