Art Of The Meal: Miso Izakaya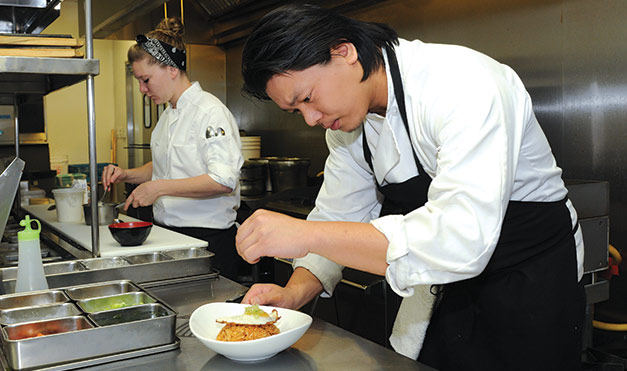 Miso Izakaya
619 Edgewood Ave., Atlanta
678.701.0128
Parking: Free in adjacent lot, but come early if you want an off-street space, especially on weekends.
Reservations: Accepted.
Dress code: Fun, hip, comfortable. Cowboy boots optional.
In the wonderful 1985 Japanese film Tampopo, a truck driver with John Wayne's crinkly squint and macho swagger helps a young woman create the perfect bowl of soup for her ramen shop. His rumpled cowboy hat is a tip to the enterprising, unabashedly American spirit she'll need to muster, and his reverence for tradition an acknowledgement of the rigorous discipline required.
Just as Tampopo's "ramen master" advises an acolyte to study a bowl of noodles and "appreciate its gestalt," a good restaurant comprises much more than just its ingredients. Step into Miso Izakaya's raucous, happy space, and you'll know what I mean.
Occupying a smartly designed room in a frontier neighborhood bridging older hipsters and younger urban pioneers, Miso Izakaya also crosses other barriers: With both sushi and creative cooked dishes (including Chinese steamed buns and, yes, often a specially cooked ramen at lunchtime), it's a perfect place to unite sushi eaters with their non-sushi-loving friends (or parents). That might explain why we saw so many multigenerational families there, from young couples with kids in highchairs to older folks who'd lured the millennials out of their nearby lofts. Just a short cab ride from downtown in the Old Fourth Ward neighborhood, Miso Izakaya is also a great alternative to the staid and sterile dining scene near Atlanta's big hotels, and we saw a few "salary men" who seemed to have found it.
Mostly, however, the crowd is young – at a recent early dinner, we watched young women order with abandon and dip chopsticks with gusto, heads nodding to The Beatles and an early Michael Jackson soundtrack. On the other side, a young couple navigated what sounded like a very promising first Match.com date. ("You look so much better in person," the young man swooned, starry-eyed.) The waitstaff also injects a dose of buoyant enthusiasm, bopping around in black like cheerful cocktail ninjas.
Ah, yes, the cocktails: Perhaps because an izakaya is essentially a tavern with food in Japan, potent potables are taken seriously here, the shakers always rattling. And if you're not driving, they're served in such sane, small sizes that you can try more than one.
The two-sided drinks menu offers old-school classics and originals: Have a whiskey sour, its frothy egg white top sugar-decorated like an expert barrista's flourish, or another recent rye-based favorite, the Unsung Hiro.
Or sip one of the excellent Japanese spirits called shochu – a clear distillation of barley, sweet potato or rice, some tasting whiskey-like, others with faint flavors of their origins.
Izakaya dishes are typically small, like Asian tapas, and here they range from the familiar edamame and gyoza (dumplings) to spicy glazed eggplant with minced pork belly and peppery tobanjan – like love, they leave your sweet lips burning. A pile of emerald, tangled greens is garlic scented, with the fragile tendrils of pea vines. Asian-influenced dishes like pan-roasted hamachi with ponzu sauce; a single, hard-seared diver scallop with maitake and oyster mushrooms over miso corn puree; and soba noodles with hand-picked blue crab were prepared with respect and restraint, delicate flavors balanced with bold.
The sushi is glisteningly fresh and minimally sauced. But how could we resist such American-inspired overindulgences like KFC (Korean Fried Chicken) and the Hamburg? Moments after our orders arrived, we came to, hands stained red from the fiery gloss on the sesame-flecked, buffalo-style wings; our bellies strained from the beef-and-pork patty topped with coddled egg, paired with crisp "kimchi" fries. We could only guiltily accept the smeared plates' plain evidence. Thankfully, desserts here are light – your bill comes with three pretty frozen grapes on toothpicks, lollipop-style.
As delicious as the food is here, Miso Izakaya also succeeds on a higher level of "gestalt," as the ramen master called it. This style of service is labor-intensive, and on several visits, the staff seems downright joyful, clearing dishes quickly and expertly suggesting next steps. Diners seem just as happy, and the energy level in the room is infectious. It's a frontier worth visiting.