Cherokee County: Opportunity And Improvement
Good Planning Pays Off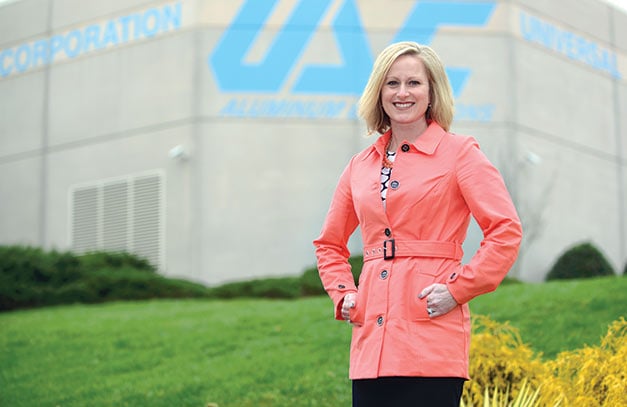 Momentum is a beautiful thing, especially when the topic is economic development, and right now Cherokee County's got it. Since climbing out of the recession, the Cherokee Office of Economic Development has recorded a steady, four-year increase in prospect activity.
"The number of inquiries looking for building space was up 63 percent from 2011 to 2012," says Misti Martin, president of the economic development agency. She ticks off other positive signs, including a new outlet mall, a state-of-the-art county aquatic center, the top average district Scholastic Aptitude Test (SAT) scores in the state, expansions to existing industry and new industry moving in. Those things didn't happen by accident; there was a plan to create momentum.
"We spent a lot of time during the economic downturn asking what we could do better," Martin says. "Prior to the recession, it had been a fire drill up here. With residential [development] exploding, it was hard to keep up. When things slowed down, the county did a good job of looking at the land use plan and asking what's making common sense here. We decided that when the economy turned around, we wanted to make sure we had every possible incentive in place to promote business."
Incentives like the 3,772-acre, multi-jurisdictional Tech-nology Ridge Opportunity Zone (OZ) along the all-important I-575 corridor. Approved in 2012, the Technology Ridge OZ is a joint project of Cherokee County and the cities of Canton and Ball Ground. Another OZ, Southwest Cherokee Corners, is strategically located near I-75 and includes 100 acres of the Cherokee 75 Corporate Park, one of only 27 Georgia Ready for Accelerated Development (GRAD) sites in the state, as well as five buildings in the Cherokee Commerce Center. Opportunity Zones encourage local economic growth by offering $3,500 in tax credits to new and existing businesses for every two jobs created.
FactoryMation, an automated industrial controls supplier, was already lo-cated in The Bluffs, a 700-acre, mixed-use development within the Technology Ridge OZ. Despite the recession, the company has experienced steady growth each year since its startup in 2005. They're moving into a new 62,500-square-foot headquarters this year and expect to add another 38 employees. They aren't alone. According to statistics from the economic development office, 64 percent of prospects were interested in sites or buildings within OZ boundaries and 57 percent of existing industries plan to expand in the next three years.
One-Stop Shop
Fortunately, the county streamlined the permit process for companies looking to relocate. The Cherokee County Development Service Center (DSC) is a one-stop permitting shop where citizens and developers can get business licenses, building and land development permits, planning and zoning, environmental health and fire marshal services: no more running from one building to another to turn in the appropriate paperwork.
"During the downturn, when we didn't have high demands, we were able to improve the processes," says Cherokee County Commission Chairman, L.B. "Buzz" Ahrens Jr. "We did a lot of internal and cross training. It works, and the word spread. The DSC was recognized at the state level; other counties and cities have started calling. It's not perfect, but the feedback is overwhelmingly positive."
Leaders in Cherokee County are justifiably pleased by the economic growth experienced last year. Seven new companies, Trivaco, Crossfire Safety Eyewear, Continental Case, Vanderlande, Prime Global Products, Coregistics and FRN Restoration, located their businesses in Cherokee County in 2012, bringing more than 90 new jobs.
Additionally, 13 Cherokee County industries, including Universal Alloy, Piolax, Chart Industries and International Thermocast, expanded last year, creating 365 new jobs and accounting for more than $22 million in investment. "We knew that the general rule of thumb is that 80 percent of new investment and new jobs comes from existing industry," says Martin. "But we did the math, and ours is over the amount. Like the county, our existing industry got really lean in 2008 and 2009. They've taken off."
Job creation is vital in a county that waves goodbye to 78 percent of the workforce each morning. "The [out-commute] numbers have inched up, so we're doing everything we can to bring opportunities for people to stay here [to work] if they want to," Martin says. "We did a labor force study a few years ago to try to figure out who works outside the county and whether that would change with more opportunities here in the county. There are a certain number of people that wouldn't leave their job even if it meant giving up their commute, but we're focusing our attention on bringing jobs in for those who would love to give up their commute."
One sector those folks might look to is healthcare. Northside Hospital-Cherokee is building a $250-million replacement hospital in Canton off I-575 at exit 20. The new hospital will have 84 beds, a women's center, cancer center and a multi-specialty medical office building. Northside's commitment to Cherokee County extends into Woodstock as well, where the $30-million, 100,000-plus square foot Northside Cherokee Towne Lake Medical Office Building will be open for business later this year.
Enticements
The Cherokee County Regional Airport, located inside the Technology Ridge OZ, expanded its runway to 5,000 feet in 2011. "The county also purchased 100 acres to the south to be able to expand it to 6,000 feet. That would make us competitive with other airports," says Ahrens. The county also built a $1.5-million, 10,000-square-foot terminal. "The airport is getting 600 visits a month," Ahrens continues. "That's huge. And those are fly-bys and drop-ins, not the people parked in there."
Outstanding education is a lure for businesses and families alike. The Cherokee County School District now boasts the highest SAT district average scores in the state, with test scores exceeding national averages in all grade levels. District Superintendent Frank Petruzielo has been on the job in Cherokee County for 15 years, providing the system with stability in leadership and expectations. He believes student performance on SATs is a reflection of a number of factors, including the system's use of a "balanced" school calendar, bold use of technology in the classroom and general philosophical agreement between administrators and classroom teachers.
"We have a unique focus on teaching and learning in our systems," he says. "There is more unanimity of thought and belief among the educators in our system about what works."
What works is the district's emphasis on creating unique learning environments such as its four elementary-level Science Technology Engineering and Math (STEM) Academies and two Fine Arts Academies. "I don't know if I have ever been as excited about what's going on in classrooms as I have been this year," says Petruzielo, talking about the STEM Academies. "Those kids are knocking everyone's socks off, and more than half of them are girls."
Schools housing STEM Academies were selected with care. The schools officials chose were those that would most benefit from additional resources and would have room for transfers. All are geographically diverse Title I schools. Canton Elementary School, one of the STEM Academies, has a high population of children from households where English is not the first language.
STEM and Fine Arts Academies are just the first step. The district plans to expand into middle and high school levels; it will partner with Georgia Tech as it expands into middle school.
"We're also excited about collaboration between the school system and the economic development office," says Barbara Jacoby, director of public information, communications and partnerships for Cherokee County schools. "One of our senior staff represented the district in discussions with prospects looking at the county. We have enough to talk about that we would add something to the conversation." Petruzielo began systemic partnership agreements with major business and industry, government and community organizations.
"We have more than 80 of these, and these are large scale," says Jacoby. "These are with big partners like Northside Hospital-Cherokee. They have allowed a lot of creativity as far as how we work together; the hospital has allowed our students to see robotic surgery. These partnership agreements will be very important as we expand the Cherokee Academies initiative. We also need their input as we plan our technical high school. We want to know what these businesses are looking for so that we can make sure we're preparing our students for those careers here in the community and see our investment realized."
Recreation Upgrades
Quality of life improvements abound. This spring marked the opening of the highly anticipated Cherokee County Aquatic Center, which is centrally located off I-575 at Sixes Road. "It will be very different from a neighborhood pool," says Bryan Reynolds, director of the Cherokee Recreation and Parks Agency (CRPA). "It includes a 50-meter competition pool and a 25-yard instructional pool indoors and a leisure pool outdoors." The outdoor pool has two 30-foot water slides, a 250-foot-long "lazy river," a zero-depth entry and an aquatic playground for children. The county will offer daily, summer and year-round passes to the aquatic center.
"We're doing a lot with our parks from a capital improvements standpoint," says Reynolds. "In November 2008, voters approved a $90-million parks bond, a general obligation bond, which would pay for renovations to existing parks and new parks. The aquatic center is a big part of that." The county also purchased additional land for parks, and the construction phase has begun.
"We started renovating Hobgood Park in the Town Lake community, and we're doing renovation and expansion at Blankets Creek Mountain Bike Trail off Sixes Road by tripling the size of the parking lot, adding a new bathroom and a bike washing station," Reynolds says.
Canton is developing a new park on the Etowah River that will include a playground, event lawn, multipurpose fields, canoe launch and walking loop. It will also feature a footbridge spanning the river and connecting it to another city park.
Retail will get a big shot in the arm this July with the opening of the 375,000-square-foot Outlet Shoppes at Atlanta, at the junction of I-575 and the new Ridgewalk Parkway exit. The outlet center features more than 80 high-end outlet stores, expects to welcome more than four million visitors from the region annually, and is projected to create 2,000-plus jobs.
"By the end of July, Cherokee County is going to be a different place," says county chamber of commerce President and CEO Pam Carnes. "Not just the recreation and athletic component, but the economic development component of shopping. Dollars that were leaving will be staying in this community. The [mall developer] Horizon Group is marketing the development outside the community. So we want to market the rest of the things to do in Cherokee County, whether you come for a day, a weekend or maybe decide to relocate."
Residential
New housing development appears to be on the rise. Residential housing permits in Canton more than doubled in 2012, with significant infrastructure improvements to support them. "We recently completed compilation of a thorough inventory and mapping of our entire water and sewer system," says Scott Wood, Canton city manager. "Earlier this year, we completed construction of Hickory Log Creek Reservoir, which is a joint partnership between the City of Canton and Cobb County-Marietta Wa-ter Authority."
The city has completed two major streetscape projects; one is an entryway into the downtown corridor, and two more road improvement projects are currently underway. "We are completing renovation of the city hall, a former church building dating from the 1920s," says Wood. "And we have almost completed design plans for a multi-million dollar enhancement of our wastewater treatment plant."
Woodstock also saw its housing permits rise in 2012. The city's already vibrant live/work/play downtown scene got a boost when Woodstock West by Walton opened a 300-unit apartment complex. With unique restaurants, shopping and events at the Elm Street Cultural Arts Village, the city bustles with activity. The popular Greenprints Project trail system broke ground on a 1.5-mile extension in downtown Wood-stock. It creates a happy problem for City Planner Brian Stockton. "Downtown is thriving," he says. "I don't have space for businesses that want to locate downtown." He's hoping to find a developer to come up with innovative solutions to meet the demand for space.
Martin says Cherokee County has long been known as a great place to live. "But we want people to know that they can have their business here, too," she says. "I think that perception is starting to shift. We're busier than we've ever been. We're gaining momentum, and I want to make sure that we continue in that direction. You don't always get to have the No. 1 SAT scores in the state, you don't always get to have a new hospital, you don't always have three local governments working together to support business, so let's do it now.
"We have a lot of unique things to offer from across the county," she says. "If we can maintain that character and can still grow in a quality fashion, we'll be in good shape."
"It won't be long," Carnes says, "before you don't need to go anywhere else for what you need. We're not going to lock the gate at the county line and say you can't go anywhere else, but businesses and residents alike will see that what they need is available right here in Cherokee County."
Community Snapshot
Local Leaders
Misti Martin
President
Cherokee Office of Economic Development
770.345.0600
mmartin@cherokeega.org
L.B. "Buzz" Ahrens Jr.
Chairman
Cherokee County Board of Commissioners
678.493.6001
lbahrens@cherokeega.com
Dr. Frank Petruzielo
Superintendent
Cherokee County School District
770.704.4202
Frank.Petruzielo@cherokee.k12.ga.us
Population (2010, 2011)
County, 218,286; Woodstock, 24,346; Canton (county seat), 23,380; Holly Springs, 9,362; Ball Ground, 1,433; Waleska, 644
Median Household Income (2011)
County, $66,717
Georgia, $46,007
Unemployment (January 2013)
County, 7.2 percent
Georgia, 8.7 percent
Top Employers
Cherokee County Government, Cherokee County School District, Northside Hospital-Cherokee, Pilgrim's Pride, Publix Super Markets, Inc.
Sources
Cherokee Office of Economic Development, Georgia Department of Labor, U.S. Census Bureau