Art Of The Meal: Watershed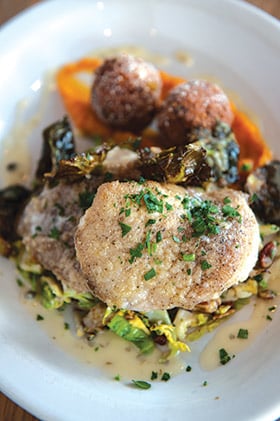 Watershed On Peachtree
1820 Peachtree Road, Atlanta
404.809.3561 or watershedrestaurant.com
Hours: Lunch, Tuesdays-Fridays.
Dinner, Tuesdays-Saturdays.
Brunch, Saturdays-Sundays.
Parking: Complimentary valet in attached garage.
Dress Code: Stylish, classic, rustic – best in black.
Watershed? In Buckhead?
I want to channel Aunt Pittypat and declare, "How did it ever get in?"
Sitting in the restaurant's calm gray environment overlooking Peachtree Street, I can't help but compare the new with the old. The original location so mirrored downtown Decatur's Mayberry-Meets-Berkeley vibe that it was hard to imagine it anywhere else. And now that I'm here … I'm still having a little trouble with it.
In many ways, it seems the new restaurant has just grown up – the old cinderblock building in Decatur, a former gas station, could get raucously loud. The concrete floor, cheerful green color scheme and simple chairs and tables always reminded me a little of elementary school. Here, the industrial art, cushioned banquettes, sustainable woods and valet parking convey a seriousness that the old Watershed could match only in its food and drink.
Watershed's longtime chef, Scott Peacock (aided by his mentor, the legendary Edna Lewis), won a James Beard Award for Best Chef/Southeast in 1997 – one of the first Southern chefs to invest our indigenous foods with the respect of Old World cuisine, modernizing it at the same time. That original intent for contemporary but iconic Southern food continues here. If Watershed's transformation was a "move or die" moment, hiring chef Joe Truex was a brilliant stroke. (Indigo Girl Emily Saliers, Watershed's owner, is due big props.)
At Repast, he made a remarkable kind of fusion menu – Southern and Asian – that drew critical raves. Here, along with some vestiges of Watershed's past – the truffled chicken salad, the veggie plate, Very Good Chocolate Cake, even a version of the fried chicken night – Truex makes his mark with plenty of the Asian citrus yuzu and Tennessee's Benton's country ham, along with more regional and international influences like jambalaya and schintzel. His vision is much more Atlanta-as-it-is now: A city of immigrants and Southerners, all constantly moving, blending and borrowing from one another.
Still, at brunch last summer, not long after its reopening, a group of us who so wanted to love the new Watershed sat disappointed. The valet parking inside the building's garage, the stillness of the atmosphere, the stark art on the gray walls – a friend confessed he found it "charmless." The ham and biscuits were wonderful, but overall, the food was heavy and often too oily – the shrimp burger was an unappealing rubbery texture; the shrimp-and-crab-and-bacon-and-egg grits too much of everything. The pimento cheese on cornbread arrived, curiously, lacking a single speck of red pimento. (Our waitress clearly didn't know it was supposed to actually feature pimento – it took a long explanation to get her to ask the kitchen why it was omitted, and we had to flag her down later to get the answer, which basically came down to a shrug of the shoulders.)
I decided to wait a while before going back for dinner – opening pains can complicate any new enterprise, especially one with such a prominent past. Sure enough, a more recent dinner was, as a friend described it, "like night and day." Evening light warms the gray walls; a soft rain made the indoor valet parking more welcome. The energy level was the complete opposite of our earlier visit – the bar was boisterous, and the dining room filled with happily murmuring diners.
The food was terrific, with ingenious inventions ("caviar pie," with UGA's sustainable sevruga and smoked trout roe over creamy egg salad, with housemade benne wafers), daring combinations (tuna crudo with sesame oil and peanuts), and flamboyant flavor profiles (roast duck with grilled radicchio and Medjool date chutney) along with all-Southern touchstones (pan-roasted grouper with shrimp and tasso ham croquettes, crispy Brussels sprout leaves julienned into a kind of warm slaw, dotted with pecans).
The coconut cake arrived on a little milk-glass pedestal, filled with lemon curd, flecked with toasted flakes, worthy of worship. (Desserts, from our first visit on, were uniformly fantastic, from the hot milk cake with caramel icing to the pecan sandies with maple mascarpone cream, and of course, that chocolate cake, as Very Good as ever.)
It was such a dramatic difference I had to go back once more, this time for lunch, just to see if all Watershed had needed was time. Alas, despite more attentive and knowledgeable service, and a more lively crowd, some problems remained – a tasty but impossible to eat roast pork sandwich, with limp, greasy and too-brown fries; goujonettes of catfish served with black-edged romaine leaves; a veggie plate with one too many root vegetables, including unadorned, undercooked turnips.
That, for me, was the watershed moment. It's no longer the restaurant I loved, and not yet one I can warm to.