Albany/Dougherty County: Ready To Do Business
Location and Workforce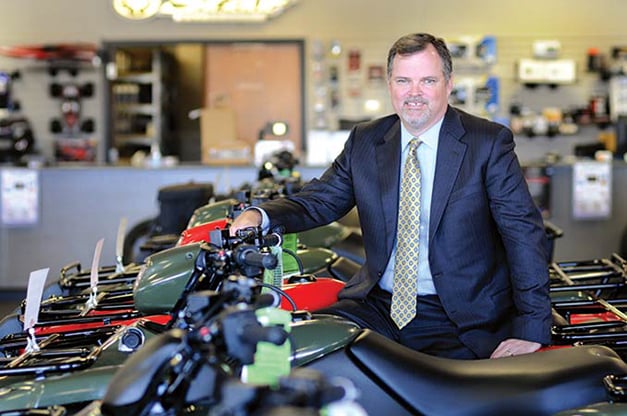 Southwest Georgia has long been a favorite of hunters and outdoorsmen. The quail shooting is among the best you'll find anywhere, and once you visit you often want to stay, say locals.
It was on the annual Georgia Quail Hunt in Albany and Dougherty County that executives with Outdoor Network decided they wanted to move a major distribution center here. The event is one of Georgia's premier economic development efforts, and lately it's been working.
Soon after, the company, one of the largest online suppliers of parts and accessories for marine and power sports enthusiasts, announced it would move its Internet fulfillment center from Lake Placid, Fla., to a 27,000-square-foot facility on Seminole Lane off South Slappey Boulevard. In the process, Outdoor Network will create 112 jobs and invest $3.2 million in the local economy.
Along with a healthy dose of Southern hospitality, officials got a close look at a community that is ready to do business and able to offer some of the prime assets a growing company needs.
"They figured transportation costs would be a lot less with an Albany distribution point," explains Ted Clem, president of the Albany-Dougherty Economic Development Commis-sion. "They can still access the Florida market along with much of the Southeast from here. They were very impressed with what Georgia had to offer – particularly in terms of a lower cost of doing business. The price of real estate was important, and they were very pleased with the labor market they found."
Officials not only have a supply of workers, but they quickly signed with Albany Technical College to provide Georgia Quick Start training.
"Quick Start was quite frankly the deal-clincher," says Dougherty County Commission Chair Jeff Sinyard.
The fulfillment center joins a retail operation in the city called Powersports Plus, which sells motorcycles, all-terrain vehicles and parts and provides maintenance.
The announcement is welcome news for a region where hard times have long been an ever-present specter. First there were several big closings in this industrial town that reverberated through small businesses and drove a poverty rate that was among the worst in the nation.
While many jobs have been lost, the county has held on to a cadre of big name companies such as Procter & Gamble, MillerCoors and Coats & Clark.
"The last four or five years have been very tough on manufacturers in our county and state and community," says Sinyard. "The flip side of that is we're very blessed that we have a manufacturing base that continues to grow and expand, and over the last three years each of these corporate leaders have expanded their operations in Albany."
These large employers have not only stayed put, but continued to thrive when others have not. "Those are things that we see as a sign that we're on the verge of economic growth again," says Clem.
In recent years Coats & Clark, which operates a large yarn and crochet thread factory in Albany, decided to consolidate several of its distribution centers and move their operations here as well.
Procter & Gamble invested nearly $75 million in updating and expanding its operations in the city, says Sinyard.
An abundance of water is a vital part of many operations, but particularly so for the sprawling MillerCoors plant. As the company's third largest brewery, it produces 14 different beers.
"Since what we call the 'new economy' began, those three are slowly but surely coming out and adding jobs and investment," explains Sinyard. "It speaks well of our workforce. Those employees are committed to getting up and going to work and putting money on the bottom line. And I can assure [you], these corporations know how to measure productivity, and they understand the bottom line better than anyone in the world."
Economic Stalwarts
The local economy has benefited from two mainstays that have remained resilient even in the worst of economic times – healthcare and the military.
Phoebe Putney Memorial Hospital has been around for a century and is now expanding rapidly throughout Southwest Georgia. It has expanded its own facilities and acquired others – such as taking over Sumter County's local hospital and rebuilding it after a tornado destroyed the facility.
Today Phoebe's health system boasts 5,000 employees and a $225-million payroll, making it the county's largest employer. It has also continued to seek opportunities to set up operations in other areas.
Those expansion plans hit something of a roadblock earlier this year when the U.S. Supreme Court justices sided with the Federal Trade Commission and ruled that lower courts had improperly dismissed antitrust complaints over Phoebe's acquisition of Palmyra Medical Center. The health system had tried to buy its smaller crosstown rival for $195 million. Despite the setback for Phoebe, healthcare in Albany remains strong and vibrant, locals say.
Growth and stability have been hallmarks of the Marine Corps Logistics Base Albany (MCLB). With a civilian workforce of 2,400 working alongside 600 Marines, the base contributes $1.4 billion to the local economy. It survived review by the Defense Base Closure and Realignment Commission (BRAC) and has even benefitted from the downsizing of other facilities. Last year, the base took over some functions from the Marine depot in Barstow, Calif.
Local leaders know that despite having proved its value to the military and survived when others didn't, the base still could be vulnerable to massive budget cuts being considered in Wash-ington.
The base has long had a close relationship with the local area. Recently the county partnered to build the Navy's first landfill gas cogeneration project. It produces 1.9 megawatts of renewable electric power and steam by burning gas collected from a nearby landfill. Com-bined with retrofits of the base's 82 buildings, the cogeneration project is ex-pected to reduce the base's energy use and carbon emissions by 19,300 tons annually, equivalent to removing 16,000 cars from the road. The county is providing the landfill gas to MCLB from its Fleming/Gaissert Road Landfill.
Airport Facelift
Many of the marines and civilian contractors on their way to MCLB pass through Southwest Georgia Regional Airport. Built in the 1950s, the facility is now getting a major facelift to make it presentable to the flying public.
"We had a building that's over 50 years old that was crumbling around us," says Airport Director Yvette Aehle. "So we needed to figure out a way to try and develop the terminal to attract more businesses to our community."
A new 25,000-square-foot terminal complete with Wi-Fi is the centerpiece of a $16.8-million building effort. Once it is complete, the old terminal is slated to be demolished and replaced with parking.
The airport is an important tool for economic development in the region. Beyond its location in one of the few small Georgia cities to retain passenger services, it regularly generates $54.5 million of economic impact.
Getting approval and funding for the new building was the end of a long effort, says airport commission member Dr. Charles Gillespie.
"I've been on the commission for 12 years, and the planning for changing the configuration of the airport has been ongoing the entire time," he says.
Coming Back
The economy has taken a heavy toll on small businesses as well, but here, too, things are looking up, according to Chris Hardy, the new president and CEO of the Albany Area Chamber of Commerce and Albany CVB.
When large employers cut back or close, that loss of income trickles down to everyone else. Albany has experienced a drop in population as people have left seeking opportunities elsewhere, and that has hurt, he says.
"That's probably one of the main reasons there has been a decline in the economy," says Hardy. "We're seeing some signs of rebound, but when you have a decline in population it's going to take a longer time to rebound from it, rather than just people deciding not to spend as much money as before."
The local business community is clearly in a more upbeat mood. Attendance at the chamber's recent annual meeting was up significantly from the previous year, he notes.
The down economy hasn't dampened the desire of small business entrepreneurs to take the leap. Step out of the chamber's stately marble quarters in the old First State Bank building on Broad, and you don't have to go far to see a revitalizing downtown. Sure, there are a number of empty storefronts, but others are being filled in and old historic structures are undergoing renovation.
Despite what some might have thought, downtown never died, and even in the worst of times small businesses have made it their home, notes Hardy.
Over the past two years, some 24 new businesses have opened here, for a net gain of 20, according to Albany Downtown Manager Aaron Blair.
"We expect to see a continual growth," he says. "Maybe not 20 because of the limited storefronts available. We're really looking at quality of business coming in rather than sheer numbers."
In years past, local governments and nonprofits made a substantial investment in downtown. City and county offices are here, along with the convention center and attractions such as the Flint RiverQuarium. The private sector, though, failed to return the compliment by putting its dollars in as well.
Now that's changing, according to Blair. Over the past two years, the Albany-Dougherty Inner City Authority has spent $600,000 compared to more than $3 million in private investment.
"That's going to be our trend," he adds. "Without the private sector, we're not going to continue to grow."
One local developer opened a Homerun Foods store and restaurant in a site on Oglethorpe. More money has gone into the renovation of buildings. Among these efforts is the Nelson Tift Building, a historic structure at 226 West Broad that has reopened as a special events facility.
Loft Life
Efforts are under way to foster downtown living as well. The city is now working on the conversion of a portion of the historic Albany Theatre into loft apartments. Plans call for renovating the upstairs outside of the old auditorium into three separate units. The theater itself, which once played host to a wide variety of performers from stage and screen, is a wreck since the roof collapsed. A row of individual business spaces leading from the main entrance off Jackson Street to the auditorium – called the arcade – is intact and could also be rehabbed as well.
These efforts are small compared to the demand for urban living from young people who have been arriving to work for some of the area's larger employers. A study by an outside consultant estimated that Albany would need about 50 downtown units a year to keep up with the demand.
Albany's historic district extends beyond downtown into surrounding neighborhoods. One of those called Old Northside is getting its own facelift thanks to the Inner City Authority. Some $470,000 will be going into streetscapes and other place-making enhancements, according to Blair.
There is also growth to report at Albany's nonprofits. Thronateeska Heritage Center is in the midst of building a $2-million, 10,000-square-foot addition to house a document repository. The addition, which is being funded by Special Purpose Local Option Sales Tax (SPLOST) dollars, will not only provide new exhibit space for its large collection of historic artifacts, but also provide a needed source of income.
"We have had a lot of items in our collection, and we're looking for a way to expand both the care and access to the collection for the public," says Tommy Gregors, executive director of the center. "We put together a program to start scanning the city of Albany's permanent records – their minutes, ordinances and resolutions. That has allowed us take care of our collection and generate some income to do the program and hire the staff."
Instead of rummaging through boxes, individuals interested in these historic documents will find them available at computer terminals and eventually online, he adds.
The effort will help to preserve some valuable and often unappreciated aspects of history.
Gregors notes that the city council minutes of discussions surrounding Dr. Martin Luther King Jr.'s visit in 1961, when he was arrested during protest marches, provide a little-noticed record of the event that sometimes differs from media accounts.
Thronateeska is just one of Albany's numerous attractions that draws visitors from throughout the region. For many, the city is a gateway to Florida. For others it is becoming a destination, says Rashelle Beasley, manager of the Albany Convention and Visitors Bureau.
Visitors to the welcome center in the old bridge house overlooking the Flint River are up significantly. The number from outside the U.S. is up almost 10 percent.
Albany's status as a Camera Ready Community is paying dividends in both movies shot here and tourists who want to see the actual locations. Sherwood Pictures has become one of the most visited sites in town. This Christian film production company is a ministry of Sherwood Baptist Church. Using mostly volunteers and Albany locales, the company has churned out four popular films that are staples of church movie nights. The 2008 production Fireproof was the highest-grossing independent film of the year.
"Many visitors go directly to the church, so we have a supply of our brochures there," says Beasley.
Many of the scenes in last year's The Odd Life of Timothy Green starring Jen-nifer Garner and Dianne Wiest were shot in and around the city.
Another good indication that folks like this town can be found in two new hotels under construction – something you didn't see during the long recession.
It's just another sign that things are finally looking up.
Community Snapshot
Local Leaders
Jeff Sinyard
Chairman
Dougherty County Commission
229.347.4233
sinyardbugman@aol.com
Ted Clem
President
Albany-Dougherty Economic Development Commission
229.434.0044
tclem@choosealbany.com
Chris Hardy
President and CEO
Albany Area Chamber of Commerce
229.317.7172
chardy@albanyga.com
Population (2011)
County, 94,788
Albany (county seat), 77,683
Median Household Income (2010)
County, $32,953
Georgia, $47,469
Unemployment (December 2012)
County, 10.6 percent
Georgia, 8.8 percent
Top Employers
Marine Corps Logistics Base Albany, Phoebe Putney Memorial Hospital, Procter & Gamble, MillerCoors, Teleperformance
Sources
Albany-Dougherty Economic Development Commission, Georgia Department of Labor, U.S. Census Bureau