Four For The Future
A quartet of Georgia communities finds partners and tackles the environment, education, healthcare and economic development.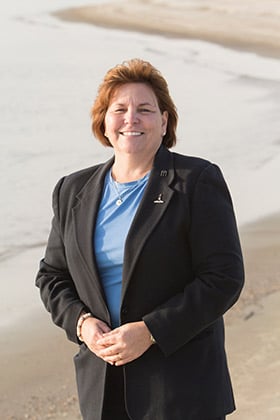 Collaboration is more than just a business buzzword; it's an essential element in sustainable economic development. Communities are learning the power that comes from something we all learned back in kindergarten. It's good to work well with others.
As part of its mission as a land grant university, the University of Georgia's Public Service and Outreach (PSO) and the nine units that make up the division are tasked with taking the resources of the university to communities that need them.
This year, the PSO and Georgia Trend magazine are recognizing four communities and regions from around the state with the Four for the Future award. The recipients are demonstrating collaboration, leadership and innovation in projects ranging from protection of the coast to literacy, from economic development to quality healthcare.
"The communities we are recognizing are showing great foresight in investing their time and energy in a way that will have a payoff in the long term," says Jennifer Frum, vice president of the PSO. "In some cases, this has meant making some fairly tough decisions in the present. It's great to see, because it's going to benefit all of Georgia."
Tybee Island and Chatham County
Preservation and Protection
Tourism remains one of the most important economic engines in Savannah and the surrounding area, including the coastal city of Tybee Island. In 2011, visitors to the region spent more than $1.9 billion, raising the stakes for preservation of Tybee as an economic resource as well as an environmental one. Enter the National Oceanic and Atmospheric Association (NOAA) and Georgia's Sea Grant program with an offer Tybee Island couldn't refuse.
The Sea Grant program offered to fund a two-year study through UGA's Carl Vinson Institute of Government, a unit of the university's Public Service and Outreach division, to help Tybee Island develop a plan addressing the long-term impacts of rising sea levels to learn which infrastructure assets are most vulnerable and which can be protected most cost effectively.
That sea levels are rising isn't a theory, it's a fact, says Dr. Jason Evans, the Vinson Institute environmental sustainability analyst working on the project. "The people [on Tybee] see the flooding has increased," he adds. "The tide gauge goes back to 1935, and we've seen the rise. You can't argue with the tide gauge."
The grant offer was gratefully accepted by Tybee Island officials, including City Manager Diane Schleicher. "As good stewards and planners, we ought to be evaluating and looking at our municipal assets to see if we're prepared for that," she says. "Some things are worth going ahead and doing the upgrades, other things you can put off until later; but doing that inventory is important."
Evans presented at two public meetings with the city council in August 2012, first going through the scientific overview of sea level rise. "The next round of meetings took us into detailed options they might want to consider for planning purposes for the next 40 to 50 years," says Evans. They walked through the options, projecting them out and creating computer-based models detailing the cost of potential losses as well as the nitty-gritty of the costs and benefits of taking a variety of actions.
Specific items being considered include renourishment of the beaches, raising U.S. 80 – the road connecting Tybee to the mainland – another three to four feet, raising the wells for the city's water out of the flood zone, stormwater retrofits and hardening of the shorelines, and adding things like sea walls. "The caveat to all this is that this is just the first round," says Evans. "Once we have the model results, the ideas will be vetted by the community again, and we are not recommending anything. These are ideas they can use for planning."
Other collaborators in the project include officials from Chatham County government and Georgia's Department of Natural Resources. Schleicher says the county and city have worked well together in the past, and this Sea Grant project is no different. "There's a tremendous amount of respect and cooperation between the entities," she says. "I enjoy working with them; they recognize the uniqueness of our situation. Everyone is thinking and encouraging their people to think."
The process has been great for Tybee citizens as well, Schleicher says, opening eyes to the importance of long-term preparation for storm surges, rising seas or whatever comes their way. "Many of us working on this won't see the benefit of it," she says, "But we don't want future leaders to have to deal with messes later because we didn't deal with them today. We want to do our planning right, correctly, now."
Dalton-Whitfield County
Leaders and Readers
In June 2012, civic leaders in Whitfield County and Dalton announced a major commitment to public education through an initiative called Readers to Leaders (R2L) with the goal of getting every student reading at grade level by the third grade. Equally impressive was the fact that leaders from every major community stakeholder, the City of Dalton, Whitfield County, Dalton Public Schools (DPS), Whitfield County Public Schools (WCPS) and the chamber of commerce had skin in the game.
The R2L initiative is an outgrowth of community conversations guided by professionals from the Archway Partnership, a unit of UGA's Public Service and Outreach division. The Archway Partnership was introduced to Dalton-Whitfield County in 2009. "An Archway professional, Melissa Lu, moved here and got up to speed on the area," says Rick Hooper, chairman of the Archway Partnership Executive Committee. "We put a committee together and spent a year doing some visioning, trying to identify the key issues. We categorized them into the environment [quality of life], the economy and education."
The group focused their attention on early literacy. "Dropout rates and one negative statistic after another are associated with [an] inability to read at grade level by third grade," Lu says. "Creating Readers to Leaders is our community saying we're not going to let that happen to us. We're going to make sure we stay out in front of that and are doing everything we can to get our students on grade level at an early age."
One of the key elements of the R2L program is a comprehensive, nationally recognized literacy program, the Literacy Collaborative, which was already in place in Dalton city schools. But in an unusual move, and with the backing of the city and county governments and local chamber of commerce, the city and county school systems decided to partner, sharing resources and implementing the Literacy Collaborative in county schools as well.
"Our community asked, 'What can we do to make sure every child in our community has the same opportunity, whether they're in a county or a city school?'" says Lu. "This was an important discussion and decision because we have a transient population; we wanted to make sure students moving from one system to another weren't lost."
The Literacy Collaborative program isn't cheap. Whitfield County Schools committed $800,000 in 2012 and plans to invest an additional $700,000 during the 2013-2014 school year to implement the program. In another bold step, the city, chamber of commerce, UGA's College of Education and the Archway Partnership are funding a Birth-to-Age-Five Education professional for Dalton-Whitfield County. This new position will help fill in the gaps, addressing community needs related to school readiness in preschool-aged children. The community also passed a five-year Education Special Purpose Local Option Sales Tax (E-SPLOST) in July 2012. E-SPLOST funds will go toward infrastructure improvements, technology upgrades and debt retirement.
The public responded to the initiative with enthusiasm and, importantly, participation. "For our first Community Literacy Celebration, the goal was to have 200 people show up," Lu says. "Over 2,000 people came. We saw parents hungry for ways to teach their children. We knew we were on to something. Families wanted this support and would come to events if we provided them."
Hooper believes outcomes from the R2L initiative will influence whether collaborative efforts of this type become the norm. "Archway is currently in the process of surveying stakeholders' perception of our local school system," he says. "Do our citizens believe we've made improvements? If we can demonstrate that this literacy initiative has brought forth fruit, it will encourage further collaboration."
Ty Cobb Regional Medical Center
Collaboration in Action
Using baseball metaphors is only natural when describing the process it took to build the Ty Cobb Regional Medical Center (TCRMC). After all, the hospital's namesake is baseball's immortal "Georgia Peach," a native of nearby Royston, and the medical center wouldn't have come about without players, in this case state and local governments and entities in two counties, willing to sacrifice their own desires for the good of the team.
The result is a grand slam for everyone in the region: a state-of-the-art healthcare campus, a 56-bed hospital and medical park built on 40 acres off I-85 in Lavonia.
Ty Cobb Healthcare System (TCHS), which runs the new hospital, previously operated two acute care hospitals, one in Royston in Franklin County and the other in Hartwell located in Hart County. "Both hospitals were losing money, and we saw that we were going to have to do something," says Jack Edmunds, former chairman of the board of the healthcare system. "We had to consolidate the hospitals for efficiency purposes."
With funding from a state grant, studies were done to determine a site for a new hospital, and they identified the one that was eventually chosen. "Neither of the communities we left, Royston or Hartwell, were happy about the hospital being closed," says Edmunds. "But we did our best to make them understand that it was a matter of survival. If we didn't do something, we weren't going to have a hospital in either place."
The next step was getting all the players on the same page. "Just trying to get cooperation from the governmental entities in the two counties was a challenge," says Edmunds. "We had to point out to them the advantage to them."
But everyone stepped up. The city council in Lavonia took the progressive measure of creating a medical campus district. "They zoned 200 acres as a medical Planned Unit Development," says Fort Oglesby, current chairman of the Ty Cobb Healthcare System. "That put all the property around the hospital in a nicely planned medical area. With small rural counties, that's unusual."
Funding was another challenge, and the solution added further layers of collaboration. A discussion with a group of cardiologists from the Gainesville area led to formation of an investment group, North Georgia Ty Cobb (NGTC) Health Properties. "Their company owns the land and the building," says Greg Hearn, CEO of the healthcare system and the medical center. "They lease it to TCHS to operate the hospital." Multiple entities and municipalities contributed funding through a variety of means including tax incentives, facilitating bonds and SPLOST dollars.
Citizens in both counties were kept abreast of all the changes through town hall meetings, and once the hospital was constructed, the community was invited to take part in decorating the hospital interior by sending in photos that would hang throughout the building. "We received over 10,000 photos from several hundred people," says Lauren Papka, vice president of corporate services for TCHS. "Over 400 were chosen to be displayed in the hospital."
Development around the hospital continues; a restaurant and hotels are under construction, and the already-full medical office building is expanding. But an equally valuable benefit is the collaborative model used to complete the project.
"Each community is going to have to think outside the box and come up with their own ways to address the challenges of rural healthcare," says Hearn. "But collaboration has to be part of that conversation."
Polk County and Surrounding Cities
Laying Groundwork
Sometimes it takes outsiders to give a community the truest perspective. Thanks to a Janus Economics community assessment commissioned by Georgia Power, Polk County leaders learned they needed to step up their economic development game.
"Polk County was one of 12 counties in Georgia we identified who could use this type of assistance," says Chuck Scragg, region community and economic development manager for Georgia Power. "They have an energetic leadership base, a good economic development director and a lot of potential. We believed they were ready to go to the next step."
Georgia Power chose wisely. "Communities either do or don't act on the information," Scragg says. "Probably 60 percent of communities put their assessments on the shelf. That's why Polk County's choice to move forward is significant. They brought together all their partners and decided to self-fund the strategic plan portion of the project. That's unusual."
The Janus Economics report opened the eyes of local elected officials and the community, says Eric McDonald, president of the Polk County Chamber of Commerce and Development Authority. They opted to take the next step, developing a strategic plan, and formed a group of individuals from the two municipalities, Cedartown and Rockmart, the county commission, Polk County schools, the development authority and the chamber of commerce. "That group pulled in other people from the community," says McDonald. "In order to 'play,' they had to put $5,000 toward the strategic plan."
Each participant got two seats on the strategic planning committee. The committee searched for a consultant to help guide the planning process, and in August 2012 settled on the J.W. Fanning Institute for Leadership Development, a division of UGA's Public Service and Outreach division.
"The Fanning Institute came in and went to churches, held community meetings, had one-on-one meetings; they spent a ton of time here talking to folks, trying to figure out what they wanted," McDonald says. One unique strategy was surveying high school students about what they wanted to see Polk County do and become.
"That was amazing," says McDon-ald. "Many of our kids were voting with their feet; they're leaving our community. Certainly we want them to go out and experience the world but when it's time to open a business or raise a family, we want them to come home. We spent a lot of time looking at what the kids had to say."
The committee relied heavily on the resources of the Fanning Institute in reaching out to the cautious Hispanic community, bringing in native Spanish speakers to conduct those surveys. Disposable cameras were given to anyone who requested one. Citizens were urged to take pictures of what they liked and didn't like. The findings were presented to the steering committee, which in turn spent hundreds of hours compiling the data into their strategic plan: Blueprint Polk.
Of course the hardest part comes next, determining which priorities – because they're all priorities – are addressed first. Their list includes projects in public safety, economic development, leadership and beautification of community corridors and gateways. Different community organizations stepped up to claim their projects, planning and prioritizing their action steps.
The end result will be a community that's better prepared to actively pursue business and industry. McDonald says collaboration was essential. "You have to work together. Companies don't see boundaries," he says. "It's too expensive to duplicate services and fight over things that we agree on. Everyone wants kids to graduate, they want industry to move in and they want their toilet to flush."