Art Of The Meal: Graft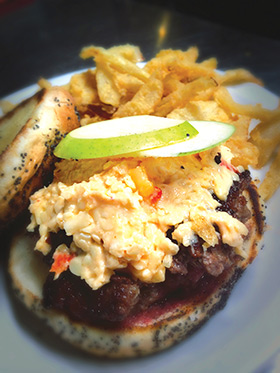 Graft
516 Grayson Parkway, Grayson
770.338.9001 or www.graftrestaurant.com
Hours: Lunch, Wednesdays-Fridays. Dinner nightly.
Brunch, Saturdays-Sundays.
Parking: Free in attached lot.
Dress Code: Anything from bill caps and camo to cashmere and crepe.
I'm sitting in the parlor of an old house in Grayson, with a Baptist, drinking bourbon. We're having such a good time, I might just have another – this time with a smoke. If I don't watch out, this could lead to something far worse: Dancing.
Welcome to Graft, Gwinnett County's new farm-to-table restaurant with such innocent charm the proprietors likely never even thought of the name's more nefarious meaning. This kind of graft refers to the horticultural process of conjoining two or more different plants and coming up with something new, from solid roots.
That fits this little place perfectly. I also hope it will turn out to be a harbinger of what's to come in Georgia's fertile farm communities. For too long, their best products have been hardest to find in the restaurants closest to them. Grayson's head bartender Jeff Banks (inventor of both the Baptist and Smoking Baptist cocktails) points out that Graft's produce comes from two miles away, at Dillwood Farms – which usually ships its harvests much farther, to such highly regarded Atlanta restaurants as 4th & Swift.
Owners Seth and Ashley Clemence (who cooks, along with chef Blake Hargroder) renovated this century-old house, keeping its rustic, Mickey-and-Judy-put-on-a-restaurant-in-the-barn feel, while introducing some sophisticated food and drink. The menu is small and changes often, but it's simple and creative: A brisket burger with Danish blue and sweet potato fries. Coffee-crusted ribeye with purple mashed potatoes. Gulf red drum with red beans and rice.
Back to those cocktails: Banks makes the Baptist with Elijah Craig bourbon – named for a Baptist minister who may have been the first to age his elixir in charred oak casks. The drink is a lot like a newfangled old-fashioned, with a bit of simple syrup, a flamed orange peel, Pierre Ferrand, Dry Curaçao and bitters, served over one of those ice cannonballs that just fits the glass. "Wow," I said, impressed. "Do you have one of those fancy Japanese iceball machines?" No, he confesses – his method is simpler. He makes water balloons and freezes them. His cocktail's variation, the Smoking Baptist, employs smoked sugar.
For starters, you may choose among a variety of smaller plates, salads or tapas. The best among these on our visit was a creamy carrot soup, each bite revealing a new dimension of root vegetable, cream, prickly red curry and deeply delicious stock. A salad, split for us, with little globes of pomegranate and flecks of feta, is another bright spot, as was the creamy onion dip and pita chips – all the elements you loved about the Lipton mix version, made from scratch. The shrimp fritters are garlic-scented, the small shrimp still tender and moist inside. Some of the tapas don't work quite as well – like the gouda grit cakes. While beautifully crisped, the cakes themselves were bland, with little gouda (or other) counterpoint. The white bean dip with bacon is tasty, but off-puttingly cold. Every main course we tried – pork shoulder with I-can't-stop-eating-this-kimchi and coconut rice; grilled garlic shrimp and squash over grits, with beurre blanc – was right-sized, well-cooked and worth ordering again. My favorite, however, was the roast Cornish hen with a bacon-fontina potato cake and creamed collards, with all the flavors of a small-town courthouse square meat-and-three – back when those, too, bought from nearby farms.
When Graft is crowded, as it was on a recent weekday, courses can arrive at a stately pace. But even then, the service is cheerful and enthusiastic, and when they have time, as they did on another visit, the young staff love to chat with you about your food, your drink and the fun they're having as their little community's new hit. Finish off with a little of that Irish cream crème brûlée – you won't really need it, but it will give you a little longer to linger.