Work In Progress
Logistics is a $15-billion industry in Georgia, and it's still growing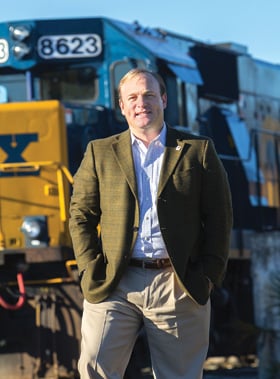 Logistics doesn't exactly get a bad rap, but you won't hear it discussed often at parties. In its broadest sense, the term means "the handling of the details of an operation." Once applied specifically to the military, it has come to be most associated with transport: imports and exports, switchyards, trucks and trains, last-mile connections, inventory and supply coordination, truckers and loading docks – all the components of moving goods from one place to another.
Frankly, to a supplier, logistics can represent headaches, especially as the rise in online or "omni-channel" commerce makes it more challenging than ever to meet consumer needs.
"In 2010, 5.5 million people shopped online for the first time, which is staggering when you think of the huge growth of people just now figuring it out," says Page Siplon, executive director, Georgia Department of Economic Development (GDEcD) Center of Innovation for Logistics. "The growth of e-commerce is about 26 percent per year compared to annual retail growth of 5 percent – a five fold difference."
"Now there's a whole new world of creating demand through social networks," says Sandy Lake, associate director at the logistics center. "Companies are just touching the tip of the iceberg."
The revolution in supply and demand represents vast opportunities, and in Georgia, the logistics industry – which already represents more than $15 billion annually and a million-plus jobs, according to GDEcD figures from 2009 – could snowball into one of the state's biggest employers.
Gov. Nathan Deal has noted that logistics is "a solid cornerstone of Georgia's competitiveness."
"The landscape is changing," says Siplon. "Online and storefront retail are almost different companies, so omni-channel commerce represents a merging into one." How much to invest in such new technologies is "the million dollar question – or more," says Siplon. "At the end of the day, all companies have to step up their game with technology. Logistics is an old industry. It has not evolved much in terms of what we ship through the years, and now it's changing very rapidly."
On March 19-20, the Center of Innovation for Logistics will hold its fifth annual Georgia Logistics Summit at the Georgia World Congress Center in Atlanta. (Georgia Trend is a media partner.) Last year's event drew 1,600 attendees, and this year looks to be even bigger. Companies like The Home Depot, Carter's Inc. and UPS will sit down with the Georgia Motor Trucking Association, Georgia Ports Authority and others to celebrate, commiserate and strategize.
Endless Challenge
Amazon now has a new category on its site called "Endless Inventory." The Internet giant and other companies want to make sure that if a product isn't available on the shelf or in the warehouse, they can get it from another part of the world. Of course there is no "endless inventory" – but companies move as much as they can.
"Given the new challenges and promise of interconnected retail, we don't think of our supply chain transformation as done. We think of it as still a work in progress," says Mark Holifield, senior vice president, supply chain for The Home Depot. "We have now extended the aisles of our stores to include more than 500,000 products available on homedepot.com, while the typical brick and mortar store carries an average of 35,000 products."
Locally, Holifield says The Home Depot plans a new $50-million direct fulfillment center in Mc-Donough to support online business, spanning more than a million square feet and employing more than 300. In October, The Home Depot opened a customer contact center in Kennesaw, which will eventually create 700 jobs.
"The expansion of our online business and interconnected retail strategy has increased our presence and job growth in Georgia," says Holifield. "To deliver on the promise of interconnected retail, we must build our direct fulfillment capability to improve our ability to deliver directly to our customers, with speed and great value, whatever, whenever, wherever, and however they want."
Carter's, Inc., the apparel manufacturer, is paying more attention to online operations as well. "Due to the strength of consumer demand online, we've had to accelerate our plans to insource our e-commerce fulfillment capabilities to a multichannel distribution center, which we believe will improve customer service levels and reduce costs," says Greg Foglesong, senior vice president, marketing and e-commerce.
Serving companies like The Home Depot are a cluster of 11,000-plus logistics companies in Georgia. Manhattan Associates, which facilitates company-consumer transactions, has been in the business since 1979, when it started in California. In 1995, the company moved its headquarters to Atlanta, where it employs 1,000, and has since expanded to 2,500 employees worldwide. Senior Vice President and Chief Marketing Officer Jonathan Colehower says omni-channel is fueling continued double-digit growth.
"Imagine a customer goes into a Best Buy, and they don't have what they want. That customer can look on their iPhone and find it on Amazon. How does Best Buy compete with that?" says Colehower. "The retailer now has an obligation to compete with other channels that three years ago didn't exist. It's forcing anyone in the industry to say, how do I become more agile?"
Companies now need 24-hour logistics capabilities, says Colehower. "It used to be, the customer left the store, they left my environment. Now, you've got them on their smart-phone or iPad. Stores need a consistently positive brand."
To keep up with omni-channel competitors like Amazon, customer service is critical, says Manhattan Associates President and CEO Eddie Capel. "It's all about reducing miles and error and getting the optimal use of your [cargo] drivers. You can't increase the capacity of the driver pool, but our software enables customers and shippers to get the very best use out of human capital."
The reduced risk of delays and interference keeps the company lean as it absorbs the cost of more orders, says Capel. "We help companies integrate with all the major telematic OBCs [onboard computer devices], which is very advantageous for companies' customers," says Capel. "It tells them where the vehicles are, reveals exceptions and emergencies and allows for redirecting with maximum efficiency and real-time information."
Inventory
Omni-channel challenges also exist on the inventory end. Numerex, which has been in Atlanta since 1996, specializes in machine-to-machine (M2M) communications and is in the midst of double-digit growth due to demand for its inventory-monitoring software.
"Numerex is an exceptionally fast-growing company – 1.7 million subscribers on our network, growing at a rate that has been at 20 to 30 percent annually," says Mike Boyle, executive vice president of operations. "For the next three to five years, we expect the acceleration and update will only increase."
"We've sort of been the incubator of how technology moves into other kinds of logistics segments – expanding in a horizontal way, using technologies and applying them against other kinds of business problems. In the last 18 to 24 months, the adoption level of Numerex technology has shifted beyond the traditional logistics segment into horizontal things like shelf and asset monitoring – everybody sees it."
Boyle references the beverage industry as an example. "Histori-cally, most beverage providers have difficult delivery routes. The driver comes into the distribution center and has a fixed number of route stops, not all of which are the most productive, and not all of which need refills. So that [software-generated] data gives him the opportunity to go to high-value customers first, where demand doesn't exceed expectation. That kind of productivity, for a route driver, allows them to cover one and a half times larger territory than last year."
Boyle says the impact of such efficiencies on the bottom line can be big. "In simple terms, we see it as a huge opportunity – billions of dollars annually that retailers and suppliers are missing."
The same software can work for companies large and small, he says. "Some of our expertise is reuseable, but none of it is cookie-cutter. We have a large base of customers in the Fortune 500, as well as smaller enterprise organizations with fewer than 50 employees. That's the nature of technology. Once you've created a solution, an organization can optimize it based on individual requirements."
There is a beauty to the inclusive nature of the logistics sector, says Siplon. "The industry is demanding to keep up with The Home Depot and Starbucks companies, but 81 percent of trucking companies in Georgia have less than five employees. We hope Georgia can be a role model for small companies acting like big companies and offering quality solutions. The more we can get online and help step it up, the easier it is for us to attract and grow new business."
The Federal Level
Siplon was appointed by Acting U.S. Secretary of Com-merce Rebecca M. Blank to the newly formed U.S. Advisory Committee on Supply Chain Competitiveness. One of its duties is to promote and im-plement the National Export Initiative, which aims to double exports by the end of 2014.
"The question is, what resources can the federal government provide?" Siplon says. "Sometimes it takes a step back and gets out of the way, if that improves policies to make it more efficient to do business. Then again, public-private partnership (PPP) is an overly said but not used term that has become more important than in years past."
While 80 percent of product moves by trucks, there will likely be a shift to rail as more coal plants close, freeing up a vast amount of rail traffic. "Rail is a great example [of the potential of PPP]," says Siplon. "It's owned by private companies, but it impacts huge amounts on the public side, so what role can the government play other than putting money on the table to pay for infrastructure?"
In terms of incentives, "Georgia has more going on [to promote logistics] than a lot of states, and that needs to happen on the federal level to drive exports and make supply chains more competitive," says Siplon. Similarly, "Georgia Department of Transpor-tation is setting up a statewide freight plan we've never had before, and while that helps as a business plan in terms of where to invest, it doesn't stop here. We need national leadership – a national freight strategy and a national port strategy."
Paying For Transportation
Funding for the state's transportation network is still an issue, as only three of Georgia's 12 regions passed the transportation sales tax, or T-SPLOST, last year. The failure of the tax cost those nine regions some $15 billion in transportation funding, but the T-SPLOST isn't dead, says Siplon.
"There is policy we can explore to make rail a better part of the puzzle," says Siplon, "In the meantime, I hope Georgia regions will pay attention to freight routes and that communities that passed the T-SPLOST will scream from the rooftops, 'Look at these successes!'"
Regions can consider another T-SPLOST in 2014 or later, according to state law. But that will take a unified political front, Metro Atlanta Chamber President Sam Williams told a panel at the Georgia Chamber of Commerce State of the Ports luncheon several months after the Atlanta region rejected the tax.
"We see that the project selection needs more robust inclusion," says Williams. "But the legislature needs to back it. The people who created the bill campaigned against it to voters. The problem of transportation is not going away, and the business community still sees it as the No. 1 economic challenge."
Workforce
There's an even bigger problem looming: By 2016, the U.S. will need a million more logistics workers but will be 800,000 short, according to the U.S. Department of Labor. In Georgia, where logistics growth is expected to outpace the national average by five percent and triple the southeast average, the gears could be grinding.
Half of that demand consists of warehouse/distribution, industrial engineers, logistics and transportation managers and freight rail and air cargo agents. The other half are drivers. Who will be the truckers of the future?
"As the old concrete cowboys retire, it's hard to turn the Facebook generation on to the profession," says Michael Lonergan, managing director and CIO at Georgia Oak Partners. "Finding safe and quality drivers is a big issue."
"Maybe the biggest issue for the next 10 years," adds A.D. Frazier, Georgia Oak Partners president.
If Frazier's name sounds familiar, that's because he has been an active force in the business community for decades. He was second in command for the Atlanta Committee for the Olympic Games and has served as CEO for Invesco, Inc., Danka Business Systems and the Chicago Stock Exchange. He formed Georgia Oak Partners in 2010 with Lonergan, who previously worked with Florida investment firm Sun Capital Partners.
Georgia Oak plans to invest heavily in logistics companies and recently partnered with TeamOne Logistics, which provides driver-related human resources capability as well as staffing and training for companies.
"Drivers are 20 percent of a company's workforce, but 90 percent of the headaches," says Lonergan. "Regulation compliance, workers comp, insurance. Companies outsource most of it, but a lot of private companies like to manage themselves and maintain operational control. They can let TeamOne handle it – the Affordable Care Act, higher regulations, higher costs. They offer a lot of value also as a staffing service. With trends continuing and CSA regulating hours of service, it further exacerbates the anticipated driver shortage."
"No doubt ports will continue to be leading the flow of freight on the southeast coast," says Frazier, "and that will grow the need to haul goods away. Since what we now take for granted is that we started as a transportation hub, we are disappointed the T-SPLOST failed. But we're focusing instead on workforce needs," says Frazier.
The state needs to create more training centers for truck drivers such as those at Sandersville Technical College and Oconee Fall Line Technical College, says Frazier. But there is also the need for trucking firms to integrate technology, says Siplon.
The Summit
Logistics industry representatives, trucking companies and others need to be able to talk shop, says Siplon, so they have the tech tools to keep up with demand. "The summit should create a year-round conversation that helps companies learn just how much money to put into it to keep up with demand."
Siplon and Lake have made the Georgia Logistics Summit more interactive, hoping to uncover new topics that will promote solutions for the state's logistics network. "We coordinate it, but we really created this for the participants, to see what they will ask," says Lake. "It has become more interactive this year than last, and the year before that, in order to get conversations going."
Georgia leaders seem to like the big-box meets mom-and-pop format. "The Georgia Logistics Summit brings together representatives from many sectors of our industry to both raise awareness about the importance of transportation and logistics to the economy of our state and address challenges and opportunities moving forward," said Curtis Foltz, executive director of the Georgia Ports Authority.
"We've devoted breakout sessions to food, retail and manufacturing," says Siplon. "We picked three large buckets, because they are the big freight generators, and they all sort of fit together. We let companies tell us their challenges. Those challenges affect everyone in the community, even if ocean freight plays the dominant role.
"With 90 percent of all we buy coming through the ports, that won't change. All this technology won't change the fundamentals of what we're talking about. Our critical nodes will look the same, but behind the scenes, just like the mom and pops, the Ports Authority has to step up to keep up with bigger cranes and deeper water."
As always, underlying the summit's focus on networking is the broad educational platform: the need for more funding – whether on the state or federal level, for deepening the Savannah Harbor, training truckers of the future and improving Georgia's roads and railroads for handling the new traffic. It's a tall order.