Power Players: Transforming Healthcare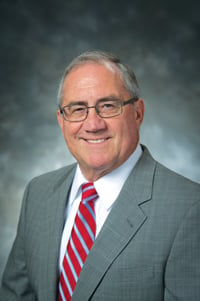 Throughout 2010 and early 2011, Reynold Jen-nings, president and CEO of WellStar Health System, attended one forum after another about how healthcare providers should respond to pieces of the federal Affordable Care Act. To his chagrin he discovered that while the moderators and facilitators were experts in what healthcare providers are supposed to do, no one seemed to know how to actually do it.
"I kept thinking," re-called Jennings, "How do you bring a group of hospitals together with a focused agenda to get in there and find real solutions?"
Around the same time those thoughts were percolating, Jennings learned that the Center for Health Transformation (CHT), a think tank started by Newt Gingrich with the mission of developing ideas for 21st century healthcare solutions, had gone into Chapter 7 bankruptcy.
"About two weeks later, I woke up at 2 a.m. wondering if I could buy [the CHT] out of bankruptcy," he says. "I was so excited that I couldn't wait until 7 a.m. when I could call my general counsel, Leo Reichert, and find out which judge had this [case] and whether an inquiry could be made."
The answer was yes, and within several weeks, Well-Star was able to pick up the rights to the name and intellectual property belonging to the CHT for $20,000. Jennings was delighted for two reasons. WellStar's initial investment was a fraction of what it would have cost to market and advertise an organization. "I had a theme, a message and a title that easily explained what I was trying to do," he says. "The CHT had created over 50 white papers on subjects of healthcare delivery and reform; they became the property of our organization."
The newly rebooted CHT is strictly nonprofit and nonpartisan and has an entirely different mission. "Our goal is to make [the CHT] a learning laboratory on the local level to find the real solutions for home medical management and clinical care integration," says Jennings. He wants to create a systemic approach to patient care that includes wellness and prevention, from primary care to emergency room to home health management, rather than tackling chronic illnesses from one crisis to the next.
The center will eventually include no more than 20 non-competing healthcare systems from across the southeast, Texas to South Carolina, Missouri to Florida. To obtain research data from relatively uniform samples, the center identified systems with similar demographics to WellStar: more than two hospitals, similar numbers of employed and private physicians and percentages of Medicaid, Medicare and private insurance patients, and geographic proximity.
Six systems, including Piedmont Healthcare, responded to the invitation to meet for more information.
"I imagine there will be a couple meetings with that core group to outline strategy and approach," says Jennings. "We're probably better off if we ramp up slowly; with seven to 10 [systems], we'll have everything we need to have good research studies done. We'll start out by assessing teams and team leaders from all the hospitals, once we've set the priorities. For example, one group will deal with obesity, another with congestive heart failure, another with hypertension; there are five major disease categories which consume most of healthcare."
Dr. Robin T. Wilson, WellStar's senior vice president for medical management and chief health innovation officer, will serve as the center's executive director.
Jennings says he received plenty of positive feedback before the first meeting was held. "I'm hearing a lot of excitement from other CEOs because they're struggling to find the 'how,'" he says. "That's why I need their partnership. We'll come up with the how. I've found if you paint the right vision and have a sense of practicality, it's easy to get people on board. This is a journey; there are no quick solutions.
"The state of Georgia is already facing a multi-million dollar shortfall on its Medicaid budget for the next fiscal year. We don't know how many people will be able to afford insurance even if they get it on an exchange. There are a lot of questions, and only about four years from now will we know how it's going. In the meantime, people get sick and injured. They need to have good care at the best possible cost you can provide it."