Macon | Bibb County: Consolidation And Diversity
Speaking with one voice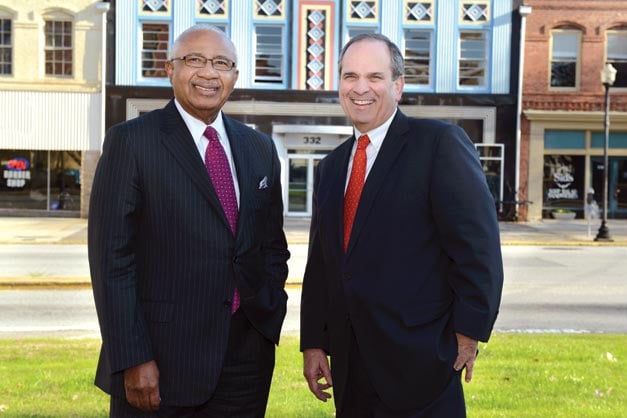 Leaders in the middle Georgia city of Macon and Bibb County learned that diversity is a key to economic development and the vibrancy of a community. Nine years ago, the departure of tobacco giant Brown & Williamson left a gaping hole in the economic fabric of the region. In response, civic leaders focused on economic diversity, strengthening remaining companies while building up the healthcare, education and distribution sectors of the economy.
But another type of diversity is being realized – the type that requires inclusion of different voices and different points of view and is much more difficult to cultivate. In July 2012, voters decided, at long last, to consolidate Macon and Bibb County governments by January 2014.
Now, between passage of a $190-million Special Purpose Local Option Sales Tax (SPLOST) in 2011, cooperation on Service Delivery Strategy – combining county and city services in animal control, engineering, inspections and fees, traffic engineering and the recreation portion of the Parks and Recreation department – and the voters' overwhelming thumbs-up on consolidation, Macon-Bibb County is on a roll.
"Consolidation should move us beyond the 'us' versus 'them' mentality that has been holding us back," says Macon Mayor Robert Reichert. "'Us' versus 'them' has appeared in so many different contexts: 'us' inside the city limits of Macon versus 'them' in the unincorporated areas; 'us' in north Macon versus 'them' in south Macon; 'us' in the white community versus 'them' in the African-American community. More and more we have come to recognize that if we don't all work together and if we sit here and squabble, nobody is well served. We don't grow."
A vocal consolidation proponent, Reichert tipped his cap to the equally outspoken leadership of Sam Hart, chairman of the Bibb County Board of Commis-sioners, in the consolidation debate. Reichert says Hart set the tone with his "Think Community" motto. "It resonated with people: black, white, in town, out of town," he adds. "In that regard, [Hart's] advocacy changed a lot of minds and knee jerk reactions."
Hart believes the time for consolidation was ripe. "I think people thought that, in terms of economic development, the positives outweighed the negatives," he says. "The tipping point this time was that we had more diversity of support than we had in the past; we had time to educate folk."
State Rep. Nikki Randall, named the Citizen of the Year by the Greater Macon Chamber of Commerce for her leadership of the Bibb County legislative delegation during the consolidation process, is the co-chair of the 15-member Macon-Bibb County Consoli-dation Task Force, working out the details of the new consolidated government. She's excited about what consolidation will mean for citizens.
"Talking to people in other communities where consolidation has taken place, they say it's just easier to deal with their local government," she says. "Chambers of commerce tell us it's easier to sell the community. I'm looking forward to that same success in our community."
Up To Speed
Over and over the phrase "speaking with one voice," a hoped-for by-product of consolidation, crops up in conversations with local political, business and economic development leaders. Pat Topping is the senior vice president of the Macon Economic Development Commission (MEDC), the economic development arm of the Greater Macon Chamber of Commerce. In December 2012, he was named the point of contact for the MEDC and the Macon-Bibb County Industrial Authority (MBCIA).
His appointment streamlines the economic development process and his ability to move quickly in answering prospects' questions. "The sales cycle has shortened, and with MEDC becoming the project management team from start to finish, it allows us to operate at the speed of business," Topping says. "That's what companies expect. They don't have the luxury of waiting for cycles and meetings to happen. That's why you have to have an empowered single point of contact who can gather the decision makers without the constraint of waiting for the next board meeting."
That sort of teamwork was already in place in June 2012 when the MBCIA and Macon-Bibb County Water Au-thority announced Tractor Supply Company was building a 650,000-square-foot regional distribution center in the I-75 Business Park in south Bibb County, right off the brand new Sardis Church Road interchange at I-75. The total investment into the community is $50 million and brings 200 jobs. It was the culmination of years of development, teamwork and patience.
"The fact that the Macon-Bibb County Water Authority purchased and developed that property years ago presented a product that Tractor Supply needed," says Topping. "When the community passed the [2011] SPLOST, it provided funds to use for economic development. We used some of those funds in the incentive package for Tractor Supply. Consolidation is certainly a plus, but the big factor was the work done in the past."
Other deals are waiting in the wings, and it's believed that consolidation will help encourage prospects to look at Macon-Bibb County with fresh eyes. "Our project activity is extremely good," he says. "The past six months of 2012 have been very busy. We're in a numbers business. The activity has picked up – around the state, too."
Topping says a significant number of existing industries have indicated plans for expansion in 2013. GEICO, the insurance company, has its South-east regional office in Macon and handles the Midwest region from the same office. The company intends to add 1,300 new jobs in 2013, all from new growth. Lintech International, a consultative technical sales and distribution business, got a head start, completing a $1.1-million expansion of its Macon headquarters in the Airport Industrial Park in November 2012 and adding 11 new jobs.
Healthcare and education remain two key economic drivers in Macon-Bibb County, and both are expanding their footprints.
Mercer University, the prestigious private university located near the heart of downtown, has invested hundreds of millions of dollars into downtown revitalization and community development efforts through the College Hill Corridor, Promise Neighborhoods and other initiatives. In June 2012, the university purchased the vacant 42,000-square-foot building on Cherry Street in downtown Macon that had housed the now-defunct Georgia Music Hall of Fame. Officials plan to use the space for expansion of the medical school.
In January of this year, Macon State College and Middle Georgia College combined to form Middle Georgia State College; in July 2013, two technical schools, Central Georgia Technical College in Macon and Middle Georgia Technical College in Warner Robins, will combine to form Central Georgia Technical College.
Meanwhile, the Medical Center of Central Georgia (MCCG), a Level 1 Trauma Center and the second largest hospital in the state, remains the premier healthcare facility for the region. In September 2012, the hospital unveiled a proposal for an $86-million, seven-story, 290,000-square-foot medical office building that would house the hospital's cancer services. The new building would be located downtown, further cementing the hospital's economic impact in the county and the region.
Moving Along
Plans for Macon's downtown continue to solidify – specifically, the Second Street Corridor, an extensive redevelopment project running from I-75 and Little Richard Penniman Boulevard near Mercer through the heart of downtown, over the Ocmulgee River and I-16 to Gray Highway. The 2011 SPLOST in-cluded $8 million to pay for the first phase of the redevelopment plan that will create a pedestrian-friendly, green corridor. Three tax allocation districts (TADs) are included in the project and will help pay for other infrastructure improvements.
"With the additional revenues from the TADs, the project overall is a complete street program to include – we hope – a transit aspect to it, some kind of fixed rail that would go from east Ma-con out to Mercer Uni-versity and eventually extending out to Macon State College and be-yond," says Clay Mur-phey, project coordinator for the Second Street redevelopment plan. "The idea is to make this a regional concept. It would be real easy to take this transit to Warner Robins, to Milledgeville. Downtown Macon has always been a regional hub, and we're doing what we can to revitalize that and cause that growth to occur."
Another downtown TAD project includes redevelopment of an 11-acre parcel of land owned by the Macon-Bibb County Urban Development Authority (MBCUDA). "The plan, Renaissance on the River, calls for a hotel, condo, office tower with parking decks and street-level retail and above that some loft apartments with traditional apartment units along the river, with an interior corridor," says Alex Morrison, executive director of the MBCUDA. "It's easily the most ambitious project that downtown Macon has seen for a generation, since we built what Macon would call their skyscrapers. The fact that it's on the river, highlighting that asset we have, makes it even more significant."
People are definitely interested in downtown living. According to Mechel McKinley, director of Macon's Main Street program, 200 loft apartments are at 98 percent occupancy. The Dannenberg Building redevelopment project will soon add 70 more lofts with retail space on the street level. "Leasing will begin between March and May 2013," says McKinley. "The project will be a huge catalyst for the next phase of downtown redevelopment."
Enhancements aren't just downtown. The SPLOST package provides funds for infrastructure improvements throughout the county, many of which are well under way. They include three new fire stations, a state-of-the-art animal shelter to be located on Fulton Mill Road in south Bibb County, upgrades to parks and recreation and a new $6-million juvenile justice center on Oglethorpe Street downtown.
Green, Growing
In a highly progressive move, the county introduced a successful Green Team initiative, saving tens of thousands of dollars each month just by replacing inefficient light bulbs in county buildings. They've replaced gas guzzlers with hybrid vehicles, introduced a fleet of electric utility vehicles for use in downtown Macon, and installed an electric vehicle charging station in front of the Bibb County Courthouse, the only one of its kind between Atlanta and Savannah.
Given its geographic location and proximity to interstates and the port of Savannah, freight transportation and logistics is a natural growth industry. Seven industrial parks are located near the Middle Georgia Regional Airport (MGRA), and there's talk of lengthening the runway to accommodate larger planes. "Right now we're working on our master plan update," says Doug Faour, manager of MGRA and Macon Downtown Airport. "We're taking an inventory of the entire airport and facilities." The complete master plan process will take a year, but with a current economic impact of more than $200 million and 1,000 jobs, expanding the airport is a tantalizing development prospect.
Of course challenges remain, among them Bibb County's education system. "The perception is that we're worse than the surrounding counties, so there's a perception issue," says Chair-man Hart. "But we also have some real issues that need to be addressed." According to the school system's own statistics, only 24 of the district's 41 schools attained Adequate Yearly Prog-ress (AYP) for 2010-2011.
The superintendent, Dr. Ro-main Dallemand, unveiled his strategic plan, called "The Ma-con Miracle," in February 2012. The comprehensive plan was met with some controversy. It includes instruction in Man-darin Chinese for students from pre-K to third grade, the potential for year-round school, and more integration of technology in the classroom. It will be years before all elements are fully implemented. Partnerships abound between the school system and the civic and business communities and institutions like Mercer, but it may be a while before results are seen.
"Everybody is just really hopeful," says Rep. Randall. "By being hopeful, the stakeholders will embrace whatever will enhance and support the system. We want to see change; because we're humans we want to see it quickly. In the meantime I think everyone is committed to being the support system."
While "consolidation" was the word for 2012, "regionalism" is the word for 2013. Both Bibb and Houston counties put money in their respective SPLOST initiatives to pay for encroachments around Robins Air Force Base. "We will be focused not just on Macon or Warner Robins but on the region," says Starr Purdue, chair of the Greater Macon Chamber of Commerce. "We want to strengthen the ties with the counties that surround us. Regionalism makes us a lot more attractive to companies that want to expand, want to move here."
Optimism runs high. "I've been hearing about Macon having potential for 40 years," says Chairman Hart. "I think finally I'm beginning to see it and touch it. We've seen what this place could be, and for the first time I think it could happen soon."
Local Flavor
The Rookery & Dovetail: "If you take a broad look at history, a strip mall is more of a fad than a vibrant city center," says Wes Griffith, co-owner of the Rookery, a restaurant in downtown Macon. A city, he says, "has everything you need in terms of living space, shopping, community, and to me that's what humans will always go back to."
That's what Griffith and his business partner, Chad Evans, were banking on in 2009 when they purchased the fading Rookery. The Rookery has been a mainstay in downtown Macon for nearly 40 years, but with a new generation of people living and working downtown, it needed some updating.
"The first thing we did was to get rid of the smoking and pretty quickly started getting the business crowd back for lunch," says Griffith. "We put a little more finesse into the food, using top-quality, local ingredients. People started flooding in here whenever events were held downtown. We've become a destination place, staying pretty busy most of the time."
The space hosts local and regional musicians and is the home of the annual Bragg Jam music festival.
The success of the Rookery led the partners to use their upstairs space to open Dovetail, Macon's first farm-to-table restaurant, in October 2012. Response to the creative cuisine has been positive and strong. "It's a sophisticated take on Southern cuisine," Griffith says. "People seem to be blown away by the food and say it's a good addition to the dining scene in Macon." – Patty Rasmussen
Community Snapshot
Local Leaders
Robert Reichert
Mayor
City of Macon
478.751.7170
r.reichert@macon.ga.us
Sam Hart
Chairman
Bibb County Commission
478.621.6400
shart@co.bibb.ga.us
Pat Topping
Senior Vice President
Macon Economic Development Commission
478.621.2030
ptopping@maconworks.com
Population (2010)
Bibb County, 155,547, Macon, 91,351
Median Household Income (2010)
Bibb County, $37,975, Macon, $49,672 , Georgia, $47,469
Unemployment (November 2012)
Bibb County, 9.3 percent
Macon, 8.7 percent
Georgia, 8.5 percent
Top Employers
Medical Center of Central Georgia, GEICO, Bibb County Board of Education, Coliseum Health Systems, City of Macon
Sources
U.S. Census Bureau, Macon Economic Development Commission, U.S. and Georgia Departments of Labor