La Grotta: Underground Power Grid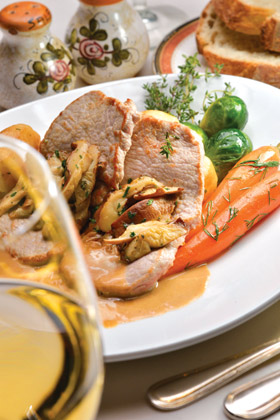 La Grotta
2637 Peachtree Road NE, Atlanta
404.231.1368 or www.lagrottaatlanta.com
Hours: Dinner, Mondays-Saturdays.
Parking: Complimentary valet.
Dress Code: Smart suits, Italian leather, good watches, cashmere, pearls, diamonds. Or Dockers.
For some reason, I always think of the 1980s computer game Zork when I visit Atlanta's venerable Italian mainstay, La Grotta. Just as in the vintage all-text game, you have to learn the secret pathway to navigate the underground maze – if you look like a resident of the upscale condos where La Grotta is housed, no one will tell you to take a right through the double doors, press the "down" button on the elevator, turn right, open the unmarked door, go down the long hall past the coat check, and on to the maitre d'. The hall is so dimly lit, I keep thinking of the Zork warning against going anywhere without a lantern: "You are likely to be eaten by a grue."
Just as in the game, this cavernous underground space holds many potential treasures, depending on your ability to unlock certain codes (always ask for a booth) or the simple ability to appreciate them (e.g., the vitello tonnato, a classic dish of tuna and veal that is so much more than the sum of its parts). Perhaps most importantly, you'll be sitting in this room, where so many movers and shakers have broken bread since La Grotta's 1978 opening and where, somewhat remarkably, they still return, for the restaurant's contemporary reading of classic Italian dishes, for the old-boy, Old World waiters and for the relaxed, yet dynamic charm of the place itself.
Over the holidays, the place shone with a bejeweled cadre of regulars who hugged and back-slapped the waitstaff like extended family. In early January, the dining room was as full as ever, and on both visits I was struck by the diversity of the crowd – young couples, older foursomes, families and friends of all hues; the longtime Buckhead residents with their unmistakable Old Georgia accents and the power diners with their eye-popping watches and sleek suits. For some reason I always spot a priest at a table there, perhaps from nearby Christ the King, with a patron. A few diners turn up in Dockers or even jeans, but most seem to enjoy one of the few places where almost everyone still dresses up. Despite such recent innovations as the three-course, low-cost "Stimulus special," and even a Groupon discount, this is still an old-fashioned way to dine.
The experience begins with a jovial, expert waiter (no waitresses in this patrician environment!), who will tempt you with a cocktail and serve warm olive bread and thin breadsticks with chicken liver pate, butter and oil and balsamic vinegar. You will never be rushed; you will be invited to question and joke with the waiter to your heart's content; the courses will arrive in a timely, but conversation-inducing sequence. And the food will be uniformly divine: That vitello tonnato, in a creamy sauce piqued by bits of celery and capers; a salad of baby artichokes, thinly sliced with thick Parmesan shavings; and in a daily special, Serrano ham with white asparagus and a shallot vinaigrette. Old favorites were as good as ever: the black, squid-ink linguini with calamari, zucchini and cherry tomatoes in a white wine cream sauce; Dover sole meunière in a lemon-butter sauce and herbed mashed potatoes; and of course, the veal. You won't ever go wrong with veal at La Grotta, and the Scaloppine Di Vitello alla Grotta (veal loin with shiitakes in a creamy Marsala sauce). Next time we will try the impressively charred veal chop, which landed so authoritatively on our neighbor's table.
Desserts are beautiful deal-closers – never overwhelming. Grand Marnier panna cotta is deceptively homey, with a thin coverlet of ground pistachio. The crème brûleé is good if undistinguished, but the chocolate hazlenut mousse cake is up to the task if you need to end with a "Wow." The wine list is prizewinning, and although the by-the-glass choices are limited, they are great matches to the food. As the evening wears on, you may spot co-owner and Chef Antonio Abizanda roaming the dining room, his brows knit as he hovers over tables, checking to see if his brand of magic still holds sway in his underground kingdom.
It does. Go see for yourself. Just remember the secret codes.