The Essential Economy
A Georgia-based group is redefining the immigration labor issue.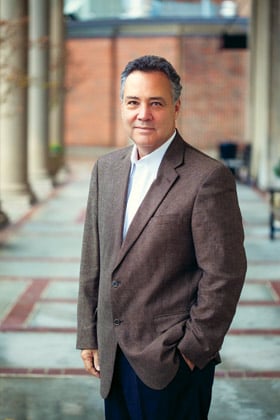 Simona frequently is the first or last person you see upon entering or leaving Children's Healthcare of Atlanta at Scottish Rite. She's got short, black hair and large, dusky eyes, speaks broken English with a dense Eastern European accent, and when you notice her at all, she's never more than a few paces from a cart loaded down with cleaning supplies.
"I can't get much different work right now, so this is what I do," she says while sweeping the lobby area near the parking lot elevators, just outside the Emergency Room waiting area. "Maybe later, when I have time to go for English class."
She had a clerical job at an accounting firm back in her native Romania, but says her educational credentials don't match up with the requirements of an American firm. So for the past five years, she's helped support her growing family by working in CHOA's environmental services department. It's not the kind of work she and her husband dreamt of when they came to the U.S., but it'll do for the time being, she says.
"It was old story. Everybody was talking about America because, you know, America is … America is energy. That's why we came," she says. "For right now, work is OK."
Simona's work, tedious as it may seem, is a critical component on the universal job ladder – the low rung, a small but foundational element in the overall American economic machine. She and her husband (he installs kitchen tile), and about one quarter of the Georgia workforce – nearly one million workers – are the focus of new research by The Essential Economy Council (TEEC), a nonprofit organization aiming to reframe the state and national immigration policy debate by broadening the focus.
Former state senator Sam Zamarripa, who co-founded TEEC and serves as its co-president with another former state senator, Dan Moody, coined the term The Essential Economy (TEE) to describe an occupational cluster that includes cooks, crop pickers, dishwashers, housekeepers, janitors, landscape crews, nursing home aides, poultry workers, stock clerks and so forth – low-wage, low-skilled, labor-intensive jobs that often are held by immigrant workers.
"This is a big, big part of our overall workforce. These jobs don't go offshore, and there's only so much you can do with technology. You can't outsource these jobs," says Zamarripa, who served in the state senate from 2003 to 2006 and runs his own private equity firm, Zamarripa Capital Inc.
Now he and the council want to use their ongoing research to enlighten elected officials and business leaders on the impact of TEE.
"Lawmakers should be thinking about this as hard as they do the Knowledge Economy," Zamarripa says. "We're talking about a structural part of our economy that has never been understood in a useful way."
Zamarripa, a Democrat, was the first Hispanic person elected to the state senate. He co-founded and chaired the Georgia Association of Latino Elected Officials (GALEO) and has been an outspoken advocate for immigrants in Georgia. But he says the work of TEEC isn't really about immigration. When he says it, you can almost see him winking.
"There's not a discussion in America that doesn't come back to immigration. Education comes back to it. Healthcare comes back to it. Transportation, driver's license, security," he says. "So, is this discussion about immigration? No more than those other discussions."
Zamarripa says he isn't being sly or ironic.
"No, I've bent over backwards trying to think this through," he says, "because I'm not interested in debating immigration."
Basically, TEEC is changing the discussion without really changing the subject.
"The elephant in the room is the immigration question," says Moody, a Repub-lican. "But immigration is going to affect all sorts of sectors in our economy, from top to bottom.
"We're a bipartisan research organization. We don't have a policy agenda. We don't have legislation that we've drafted. What we want to do is provide good information about an important sector of our economy that has been largely overlooked and not really understood."
Moody and Zamarripa insist that they're not out to change or repeal current immigration policies – they just want lawmakers to think a little deeper before leaping into something like HB 87 again.
Demand and Supply
Karen Bremer spent 35 years owning or operating restaurants and knew the lay of the land well enough so that she could hit full stride, with clear intent, when she became executive director of the Georgia Restaurant Association (GRA) in the summer of 2010.
"The whole immigration issue is the first thing I had to deal with when I started as executive director," says Bremer, a founding member of GRA who serves on the TEEC board. "We were the first organization to speak out against the proposed legislation. I definitely feel like I have battle scars."
In the spring of 2011, her fight clearly lost as the Georgia legislature was giving HB 87 an enthusiastic thumb's up, Bremer wanted to understand the possible impacts on the restaurant workforce and long-term growth prospects.
She asked for counsel from someone she knew, Zamar-ripa, who came to realize that the workforce supply issues facing the restaurant industry went beyond immigration policy, went beyond restaurants into widespread realms, like agriculture and healthcare, for example. These issues include, among others, an aging workforce, the cost and time associated with increasing government regulations, changing aspirations of the available workforce, and the difficulty of the work itself.
Zamarripa says the aging population is the No. 1 threat to maintaining the Essential Economy, because younger generations aren't coming forward to do the work. He lists immigration no higher than fourth.
But one of the council's economic advisors, Tom Cunningham (vice president, senior economist and regional executive for the Federal Reserve Bank of Atlanta), says, "Immigration is central in all of this. That's kind of what it comes down to."
And for the business and industry leaders who make up most of TEEC's board, immigration is the reason they are involved.
"I'm interested [in the Essential Economy] because of the immigration topic, and specifically because HB 87 was put in place," says Steve Simon, TEEC board member and a partner in Atlanta-based Fifth Group Restaurants. "There was already a workforce shortage before HB 87. In my opinion, the laws currently in place do more harm than good."
There's always a labor shortage in the restaurant industry. High turnover has been a chronic condition for decades. Apparently, low wages, meager benefits and long hours aren't all they're cracked up to be. Still, about 10 percent of the total workforce (in Georgia and the U.S.) toils in the restaurant industry (374,000 people in Georgia, 12.9 million nationally). Nearly 30 percent of all workers in the $632-billion national restaurant industry are immigrants, according to the Bureau of Labor and Statistics.
"We can't outsource washing dishes to China, we can't outsource the hostess to India," Bremer says.
One of the fastest-growing segments in the restaurant industry is contract feeding for medical facilities, retirement communities, assisted living facilities and other institutional settings – essential work for an aging population that is living longer.
"The restaurant industry is one of the most labor-intensive industries. There are many hands that go into putting that plate down in front of you," Bremer says. "And the pool of workers is declining."
Her fellow TEEC board member, Charles Hall, is seeing the same workforce issues affect his membership at the Georgia Fruit and Vegetable Growers Association, where he is the executive director. That's why he's thrown his hat in with the council.
"We've got to know how we're going to fill these harvest worker jobs if U.S. citizens won't fill them," says Hall. "There aren't many Georgians raising their kids to be cucumber pickers.
"So, if we're not raising our kids to do this kind of work, whether it's washing dishes, housekeeping in a nursing home or picking cucumbers in a field, we've got to figure out how to create policies that support growing [the Essential Economy]. The U.S. economy depends on it."
Low Rung, High Impact
It's a recurring theme, says Cunningham, the scramble to find workers to do the basic stuff that holds everything together.
"A lot of businesses just can't find the workers they say they need, especially in the hospitality industry. If they can't find the workers to support these hotels and resorts and restaurants, you've got a problem," Cunningham says.
Cunningham, who travels the state visiting different groups and businesses on behalf of the Federal Reserve Bank, was struck by a recent conversation with a businessman in Brunswick.
"He told me that increasing the wage rate doesn't even change their pool of applicants, a pool that shrank considerably with Georgia's new immigration reform law," Cunningham says.
"How we think about immigration and the economy in a deeper sense really matters," he adds. "We're not talking about high-skilled, high-wage stuff. It's straightforward stuff, but if you don't do these jobs, you're really stuck. You can screw up the whole economy."
The council claims the Essential Economy is exactly that – essential, to everything above it, like the Knowledge Economy (scientists, researchers, technicians and teachers), or skilled trade workers, specialized manufacturing workers and office workers. The agricultural, hospitality, construction, personal care and other workers in the Essential Economy are foundational to economic development, because no high-wage executive in the Knowledge Economy wants to move to a place where the hotels aren't clean, the coffee is cold, hospital floors aren't swept and the fruit rots on trees.
"The Essential Economy feeds our lifestyle. So if you don't have it, you don't have the amenities of the modern world," Zamarripa says. "And the expectations around the Essential Economy worker are the same ones you have with your doctor.
"You want your coffee when you want it, you want the best treatment you can get, and you want it on time. You hold them all to the same standards. You don't distinguish between the hourly wage earner and the person who has a degree from Johns Hopkins."
That timely, hot cup of coffee, or that woman sweeping the hospital floor, or the guy washing dishes at the Olive Garden are all elements in an economic development campaign designed to grow something else.
"We often focus on the promise of the high-tech economy and focus our efforts on that singular goal without remembering that building a high-tech economy is a process," says Jennifer Clark, associate professor in Georgia Tech's School of Public Policy and an economic advisor to the council, whose work "underscores the importance of analyzing and understanding the labor market as a whole."
Clark, whose field is regional economic development policy, says policymakers often fail to appreciate the contributions of the Essential Economy when trying to attract "the creative class." She thinks in terms of pathways composed of "ladders that provide opportunities for people to pull themselves from the bottom rungs to the top."
Strictly Business
The data compiled for The Essential Economy Council by Clark's Georgia Tech colleague, economist Alfie Meek, as well as early data pulled together by Boston Consulting Group, defines the substantive bottom rung jobs. Those numbers were given to Juice Analytics, who went to work making the data presentation user-friendly.
Now, Joe Legislator will be able to log into the council's research and see how many people work in The Essential Economy in his district and compare it with other counties and regions, based on job numbers and wages and occupational clusters.
It's a massive amount of information, much of it assembled together for the first time, and it's anybody's guess how or if Joe Legislator will use it, but according to Meek's data, about 25 percent of the workers in Georgia – almost one million people – work in these bottom-rung occupations.
"In other words," Clark says, "this is a considerable employment sector and one that passes largely under the radar when policymakers propose economic development strategies intended to serve the state as a whole."
Zamarripa and Moody have taken their message on the road, to Lt. Gov. Casey Cagle and Speaker of the House David Ralston, among others.
"The first order of business is just laying out the fact that there is this cluster of job sectors that have these characteristics, and it's very big and it produces a lot of jobs, contributes a lot in wages and sales tax and GDP," Zamarripa says.
When they visited Ralston, his reaction to their initial spiel was, "so what."
Zamarripa explained further, showed off Juice Analytics' work, the easily digested and organized information the council hopes legislators will use as a new tool for making constructive policy decisions.
He explained to Ralston that TEE work wasn't going anywhere, that these jobs have to be done by people, and having enough people to do the work was both a challenge and also critical to maintaining an established American way of life. It sunk in.
"I'm very impressed with their research," Ralston says. "They've looked in a comprehensive way at an important segment of our economy in Georgia, studied its characteristics and needs. I think it's something that was long overdue.
"Any information that helps us understand the total economic landscape is useful and important, and I think it'll be very helpful to the General Assembly."
But Zamarripa does not believe the Gold Dome is a large enough toolbox. From the start, he's had his mind on something bigger.
"I've always had national ambition with this work," he says. "I think it's creative, constructive, and I think it will help people make better decisions."
The council raised about $800,000 through December, and the research so far has looked at the past and the present. Work continues on the Essential Economy forecast. Meanwhile, Zamarripa has pitched the Knight Foundation for support of a national study, and he hopes the council's work will evolve into an ongoing research program with a permanent home at a university, maybe Georgia Tech.
Whatever becomes of this thing he started, Zamarripa still insists it's not about immigrant people working on American soil – it's economics, strictly business.
"The outcome of this work is not immigration reform," he says. "The outcome of this work is an understanding of an economy that's going to be with us for the foreseeable future."
The Essential Economy
(2011 figures)
Georgia TEE workforce: 966,046
Percent of total employment: 25.47 percent
TEE average wage: $23,554
TEE sales tax: $114,806,383
Source: The Essential Economy Council