Power Players: Betting On Education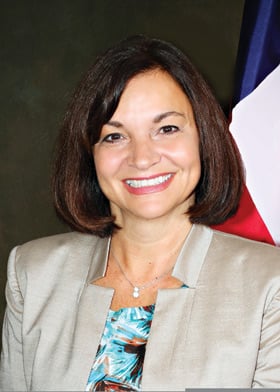 The Georgia Lottery, which sold its first ticket June 29, 1993, turns 20 this year, and Debbie Alford gets to preside over the celebration.
"We'll be doing special promotions throughout the year to commemorate the anniversary," says Alford, who was named president and CEO of the Georgia Lottery Corporation (GLC) last October. "It's safe to say you'll probably see us launch some anniversary games. We'll spend some time looking back to see how much the GLC has contributed to our state, thanking and recognizing our players, business partners, employees and all the people who have made the Georgia Lottery happen."
Since its inception, the Georgia Lottery has played a vital role in education funding, raising more than $13.8 billion for education initiatives. Georgia Lottery ticket sales for the fiscal year ending June 30 were more than $3.8 billion, which netted a deposit of more than $900 million into the State Treasury's Lottery for Education Account, both record-setting figures.
Lottery funds pay for Georgia's HOPE Scholar-ship and Pre-K programs, affecting millions of children and students as well as impacting economic development in the state. For those reasons, among others, Alford was intensely interested in the job when former lottery president and CEO Margaret DeFrancisco announced her intention to retire in August 2012.
"There's nothing more important to our state to ensure its long-term global competitive position than having an educated citizenry," Alford says. "It's kind of scary to think what Georgia would be like without the benefit of the lottery funds. To have the opportunity to lead an organization like the Georgia Lottery that makes such a difference to so many people and contributes to the long-term vitality of the state, well, it's a dream job."
It's hardly a job Alford imagined for herself growing up. "I always loved taking things apart and putting them back together," she says. "I thought I would be an engineer." With degrees in accounting and computer science, Alford spent her early career as a systems analyst in the technology sector. After her children were born she taught, both in a K-12 and a university system, becoming increasingly engaged in the education conversation. "Fifteen years ago I got to merge technology and education by creating an online college here in Georgia," says Alford. "That was a connecting of the dots of my professional training, education and work experience."
Unlike previous GLC presidents, Alford doesn't come with direct experience leading a lottery, but she does possess a unique skill set combining finance, management, education and technology at the micro and macro levels.
Alford worked in the state's budget office as deputy director before becoming the chief financial officer and director of the Office of Planning and Budget (OPB) in 2010. She has a good working relationship with the governor, one of her key supporters for the lottery job. "I think that's a strength I bring to the table," Alford says. "I know how business is done in Georgia."
Having served on the lottery board for the past three years, Alford was able to hit the ground running. "It allowed me to come in and get right to work," she says. "I knew all the senior leadership and the key vendors and was very engaged in the development and approval of the business plan."
Alford is working to complete a progress assessment of the current 18-month business plan. "We're about halfway into the plan," she says. "We're also knee deep in discussions for the anniversary commemoration."
The GLC rolled out online ticket sales and the iHOPE debit card in late November, two weeks after Alford took over. Georgia is just the second state lottery to offer online games. The rollout didn't go as smoothly as she would have desired due to technical glitches, but the hope is that online sales will present another sustainable revenue stream for the lottery – and education.
"Working at the technical colleges and the OPB, I witnessed first-hand the phenomenal impact HOPE and Pre-K have on the lives of young people," says Alford. "It gave me a passion for those programs and a keen interest in the revenue side of the equation. I'll be head's down looking at how to grow the lottery in order to meet the needs of the programs."