Hart County: Fighting Back
Diversification and expansion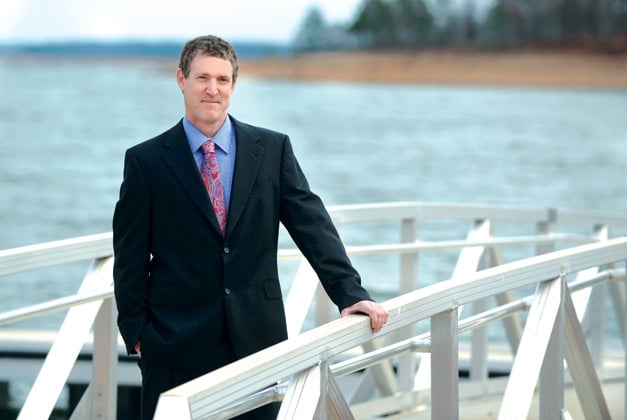 After losing 10 percent of its employment base in one fell swoop back in 2006, folks in Hart County had a hard preview of what the Great Recession could bring. That was the year Springs Global – the last of the county's textile plants – laid off 1,200 workers and contractors.
Those body blows put the county down and drove unemployment up into the double digits, but the county has fought hard to get back up. In the years since, local officials and citizens have worked to create a new kind of economy – one that isn't dependent on a single industry.
These days, a warning about "not putting all your eggs in one basket" is likely to come up in any conversation about economic development. The primary focus has been on doing whatever it takes to create a diverse economy that might better weather future economic storms. The results have been companies representing a variety of sectors from manufacturing to agriculture, as well as a strong effort to use the natural resources to bolster tourism.
Locals in this largely rural community on the South Carolina border now know as well as any big city residents that they are part of a global economy. A steady stream of company officials has been arriving in the main community of Hartwell to look and listen, and most are not just from out of state, but from out of the country.
"The inquiry activity has been real good, and it's been primarily out of the European sector," says Doug Cleveland, chairman of the Hart County Industrial Building Authority. "We've had a number of German companies making inquiries. Unfortunately we haven't been able to sign any of them yet."
There has also been interest from Asian firms, but there's also the ever-present – and brutal – competition from neighboring states. Just across the line, South Carolina has been laying out substantial incentives to lure companies. Hartwell even lost a prospect to Kentucky in recent months.
But that loss has been largely overshadowed by some thrilling wins. The county recently convinced Tenneco Automotive, a bedrock of the local economy for more than 50 years, to stay put after the company began talking about consolidating and perhaps moving its facilities elsewhere.
"That became our most significant win," says Dwayne Dye, director of economic development and an officer with the Industrial Building Authority. "That was a huge consolidation project that the company did on an international basis."
Not only did it stay, but the company decided to expand its existing production facilities, adding new equipment and increasing its workforce by 350 additional employees.
"That [project] wasn't just a matter of gaining employment, this plant was in the mix to be closed," confides Cleveland. "So not only did we gain the consolidation of the other two plants, we saved what was here."
That particular victory came be-cause the company was convinced that Hart County had the trained workforce its production lines needed and locating here was the most cost-effective move they could make, according to Cleveland.
Workforce Increase
More recently, Germany-based Ritz Instrument Transformers expanded its product line, creating 50 new full-time positions, doubling its current workforce. Along with investing $1 million to install new medium-voltage instrument transformer production and an epoxy resin mixing plant in its local factory, the company maintains its North American corporate and sales headquarters in town.
"We've had a continuous drum beat of good news even during the economic downturn," Dye says. "It's not where we want it to be, but the good news is that even since 2007 we've continued to add and expand our industry."
Rebuilding Hart County's job base is not something that is going to happen overnight, but the county has been busy making investments and changes designed to improve chances of winning new business and industry.
"The first thing was workforce development," Dye says. "People were put out of work in the textile industry even as you had younger folks coming up through the school system. We wanted to provide employment for those people, but the jobs that you want to backfill are not textile jobs. You can't compete in a global economy on [unskilled] labor. You can't do it. So you have to compete on things that are technically based, and to do that you have to have a trained workforce."
Hart became one of the first counties in Georgia to become Work Ready certified in 2009. Economic developers, local officials and businesses have also worked to improve the lagging graduation rate. Within just 18 months, they had not only gained the coveted state certification, but also upped the percentage of students leaving high school with a diploma from 64.5 to 85 percent.
"We started preparing the workforce and then recruiting the technically based industries that we wanted," says Dye. "Those are the more technically skilled jobs that are going to have good pay rates and will be around for the long haul. That's a slow growth model. It won't happen overnight, but the jobs that we have brought in have been good quality jobs."
Along with good local workers, Hart County touts its location right along Interstate 85. In recent years the community has invested in beefing up its physical infrastructure as well.
Agriculture Boost
Hart County has also looked back to its roots – farming – as a source of both jobs and development. The county produces $282 million in agricultural products a year. A big local crop is canola seeds used in producing the oil for various margarines and cooking oils. The local fields led to the expansion of AgStrong, a company that extracts oil from both canola and sunflower seeds. It decided to set up a factory along the Harts-ville Shortline, a railroad spur running from Hartsville to Bow-ersville, where cargo can be transferred to Norfolk Southern and CSX.
Locals have been quick to seize on any sources of help in developing the local community. It was among the first to acquire an Archway Partnership office from the University of Georgia. This program places a staffer in the local community who then assists community leaders in making use of University resources for specific projects.
Hart started with a committee of local leaders drawn from the city, county government, the chamber and development authority. These members also chipped in about $50,000 to get the program up and running.
"That $50,000 is our equity in the project," says Jack Edmunds, chairman of the Hart County Archway Partner-ship. "We feel that probably we get benefits three times that amount."
The local community decided on its own priorities. For Hart County, that included education, leadership, economic development and tourism. Most of the Archway program stems from those goals in one way or another.
"One thing we try to do is connect local leaders with University resources," says Ilka McConnell, Archway's local director. They may want someone to talk to or need expertise, so we can set up meetings for them on campus."
Those connections led to a graduate student from the University's Land-scape Architecture program creating a plan to turn the Gateway Industrial Parks into "eco-industrial campuses."
"They wanted a student to be able to work on it and look at developing land that might otherwise be unusable due to its topography [and transform it] into walking trails and natural environment," says McConnell. "The idea is to develop a beautiful industrial park."
Hart County's public school system got help in fostering its own STEM (science, technology, engineering and math) curriculum through conversations with faculty in the University's College of Education.
Hopeful Signs
There have been other signs that the economy is starting to improve. Building projects that had largely vanished during the recession are starting to reappear, indicating that companies see the opportunity for growth.
The concept of mixed-use development may be getting a new lease on life at a fledgling development called Oakview Crossing. Last September, officials with Anderson, S.C.-based AnMed Health and Transitions Development Part-ners-Hartwell LLC joined local officials to break ground on what is projected to be a $40-million dollar mixed-use project on U.S. 29 in Hartwell.
The new development will include physician offices as well as a diagnostic center offering a wide variety of testing and services previously not available in a community that lost its own hospital last year. Hart County Hospital closed its doors in May to make way for the opening of the new Ty Cobb Regional Medical Center in neighboring Lavonia.
"Hartwell has had, like everyone else, a hard time in the last five years or so because of the recession," says Tina Howard, a Hartwell real estate agent who is marketing the Oakview Crossing commercial property. "Having lost our medical hospital and a lot of our doctors to Lavonia, we're underserved. And to have somebody like AnMed come in and bring with them their doctors and expertise and their commitment to the area – that's a really big positive thing for us after having such a hard time over the last few years."
There are also plans for a senior living community, The Woodlands at Oak-view Crossing. It will include a full-service senior and assisted living community with 68 independent units and 32 assisted living units, along with retail space, restaurants and offices on property that was once a family farm.
The sounds of building are a welcome sign of a return to normalcy here. Hart County never experienced the massive overbuilding of the residential market that preceded the residential collapse. Much of the development happened along the county's portion of the Lake Hartwell shoreline.
"There was a big buildup on the lake that really started taking off before the recession," says County Administrator Jon Caime. "Lake lots were doubling in price, and developers were finding pieces of property everywhere they could. Anything that was close to the lake was being sold for ridiculous prices."
When the bottom fell out, most of those lots were left unsold and undeveloped. Yet the actual number of foreclosures was small compared to other areas, he says.
Despite the sagging home market, the lake has remained a prime attraction for fishing enthusiasts, thanks to the development of a new fishing pier and mega-ramp. Funds for these projects came from a PCB contamination settlement for harmful chemical releases by a plant across the border in South Carolina.
As the private economy faltered in recent years, government has also suffered. Tax revenues have gone down and the county has tightened its belt, according to Caime.
"Local government follows behind the general economy by six to 12 months," he explains. "So when the recession hit, it didn't affect us immediately. When things stabilize, in general its takes a little while for that stabilization to hit. When the economy starts back up, it will be a six to 12 months before we start seeing those positive results."
Community Snapshot
Local Leaders
Doug Cleveland
Chairman
Hart County Industrial Building Authority
706.376.2265
hartchamber@hartcom.net
Dwayne Dye
Hart County Economic
Development Director
706.856.2452
iba@hartcom.net
Jon Caime
Hart County Administrator
706.376.2024
pwdirector@hartcom.net
Population (2011)
County, 25,213
Hartwell, 4,298
Median Household Income (2010)
County, $36,109
Georgia, $47,469
Unemployment (October 2012)
County, 10.3 percent
Georgia, 8.7 percent
Top Private Employers
Tenneco, Royston LLC, Pharma Tech Industries, Fenner Dunlop Americas
Sources: U.S. Census Bureau, Georgia Department of Labor, Hart County Industrial Building Authority