Georgia's Renaissance Cities
These eight downtowns are bustling with shops, restaurants, art and activity.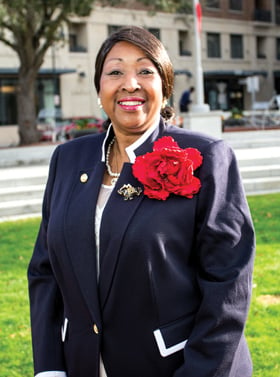 Who doesn't love a lively, thriving downtown area, especially one with some small-town charm and big-time buzz? Making and keeping a downtown healthy and inviting takes a lot of work – sometimes cities have to re-invent themselves.
Georgia Trend asked the Georgia Municipal Association to help us identify some of the state's most successful downtown revitalizations. From their initial list, we selected eight cities to highlight: Blue Ridge, Columbus, Dahlonega, Decatur, Hinesville, Roswell, Savannah and Statesboro.
Savannah: Preservation And Revitalization
Savannah boasts a well-documented and zealous culture of historic preservation, but one sector in particular nagged at the conscience of civic leaders for decades: Ellis Square.
The square is part of the four original squares of Georgia's oldest city and site of the City Market, which was razed in 1954 to build an unsightly parking garage. Fifty years later, leaders began re-imagining the space.
"We sought community engagement on how to restore it and make it as interactive and appealing as possible for residents and visitors alike," says Mayor Edna Jackson, the city's first African-American woman elected to that position. "We also had to keep in mind the need for parking, so we really needed creativity and collaboration between government and businesses."
In a public-private collaboration, the city, with logistical and financial support from local businesses, tore down the garage and dug into its underlying clay deposits to construct a four-story, 1,100-space underground parking facility. The square was converted into a LEED-Gold certified plaza, featuring a visitors center, bandstand, fountain, statue of native son Johnny Mercer and nine transplanted live oaks – a hospitable spot that is quintessential Savannah, in other words.
"Everything is made from recycled and sustainable materials," Jackson says of the $100-million project. "It restores the lines of sight and view of ships passing down the river and facilitates the progression through the densest part of downtown, where four districts converge. One thing I especially like is that the fountain is open to children if they want to splash around."
"It also served as the catalyst for revitalization in the surrounding area," says MarRonde Lumpkin-Lotson, economic development director for the city of Savannah and city liasion with the Savannah Development and Renewal Authority, noting a new federal building and the "News Place," a complex of condominiums and retailers in the old headquarters of the Savannah Morning News.
Savannah plans to deepen its harbor in a $600-million port expansion, and it is developing two affordable housing initiatives on the east and west sides, with the goals of cleaning up crime, using solar energy and offering more fresh groceries and other resources within walking distance.
"We are redeveloping those dilapidated housing projects to create a more mixed environment where people can both buy and rent affordably, and the people who were living there before get top priority," Jackson says. "We want a healthy city where everyone lives in a safe neighborhood with well-kept lawns and access to gardens, biking and walking trails and community services."
And oaks garlanded in Spanish moss. – Candice Dyer
Blue Ridge: Arts And Leisure
It typically starts with a long weekend.
"People stay at a cabin with friends and then come back for a week in summer, and then they get the bug," says real estate agent Michael Lacy of the mass migration to Blue Ridge, seat of Fannin County, which boasts more than 1,000 rental cabins and 4,000 vacation homes. "Quickly enough, they're buying second homes and then finding ways to live here full time. It's a cycle that repeats itself countless times here, so we are a community with a lot of happy, like-minded transplants."
Lacy's story is typical. He retired early from AT&T and left his Atlanta high-rise for a slower-paced life 90 minutes away. He and his partner, David Alfrey, opened the city's second art gallery, Multitudes Gallery, and soon other artisanal entrepreneurs followed, eventually lining Main Street with more than a dozen galleries and antiques and specialty shops, forming a sort of "Mayberry" for the bohemian-bourgeoisie.
"Our town is only one-by-two miles in size, but we have more than 430 businesses in that space," says Mayor Don-na Whitener, who also owns Town & Country Furniture. "We're an authentic small town where you feel as if you're stepping back in time, but we have the amenities of the city with fine dining and arts."
When the textile industry collapsed – 1,000 workers lost jobs when Levi-Strauss closed in 2002 – civic leaders regrouped and began promoting the outdoors, especially the Blue Ridge Scenic Railway.
"We're the trout-fishing capital and have Mercier Orchards, one of the South's largest apple orchards," says Jan Hackett, president of the Fannin County Chamber of Commerce. "The busy time used to be confined from June to December, but now we go strong year-round. People in their 40s or older move to Blue Ridge to pursue a dream and reinvent themselves."
The population grew by about 20 percent from 2000 to 2010. Upper-income settlers poured in and voted, four years ago, to legalize the sale of beer and wine, which invigorated restaurants. Grants from the Department of Transportation have supported streetscape beautification, renovation of the downtown children's playground and restoration of the historic train depot, and locals are establishing a Downtown Development Authority to manage this growth. This winter families can chill out at a new ice-skating rink.
"I thought we would slow down here," Lacy says, "but our lives are much fuller than they were in Atlanta – but without the stress that makes you insane." – Candice Dyer
Columbus: Paddle To Pedal
When Superstorm Sandy scuttled the New York City Marathon in November, Columbus officials invited runners to transfer their registration, at no charge, to the annual Soldier Marathon, which winds through Fort Benning and the Riverwalk along the Chattahoochee. About 50 athletes took them up on the offer and sampled the hospitality of a city enjoying a well-fed and well-watered growth spurt.
"We're experiencing a renaissance in business growth and quality of life," says Mayor Teresa Tomlinson.
The city has added to its beloved 15-mile Riverwalk, welcoming cyclists and pedicabs. The big news, though, is that Columbus is developing the world's largest urban whitewater course by opening dams to create a 2.4-mile stretch of rapids – some roiling at Class 4 – to give rafters and kayakers an adrenaline rush. The restoration of more aquatic wildlife, including bass, is expected to lure anglers, too.
Civic leaders call this approach "paddle to pedal" tourism.
"Columbus has become this outdoorsy, hip place with sophisticated cultural attractions," Tomlinson says, including The Colum-bus Museum, The National Infantry Mu-seum and the meticulously restored former homes of author Carson McCullers and blues legend "Ma" Rainey.
"There have been so many pipe dreams, mostly about bringing big retailers back to downtown, which wasn't going to happen, and one proposal to redirect the river through Main Street as a canal with gondolas, like Venice," says Richard Hyatt, author of Richard Hyatt's Columbus: Remembering 40 Years of Daily Journalism. "Finally everyone decided to forget about getting Dillard's on Main Street and instead transform downtown into an entertainment district. That can-do spirit carries over to this day."
He salutes Columbus State University, which houses its school of music in the RiverCenter for the Performing Arts, for much of the revitalization. "Now there are lofts where students live side by side with military people, and they do the eating and the drinking – emphasis on drinking – that supports a lively downtown and good restaurants."
In addition to Fort Benning, job opportunities include Total System Services Inc. (TSYS), which provides payment services to most of the top-20 global banks; the American Family Life Assurance Company of Columbus (AFLAC), the largest provider of supplemental insurance in the United States and the major provider of life insurance in Japan; and Synovus, one of the biggest and oldest financial institutions in the Southeast.
"Columbus has gone from being a manufacturing and military town to a city that also has an international impact and tourism appeal," Tomlinson says. "These changes might surprise some people." – Candice Dyer
Dahlonega: History With A Plan
There's a reason the Dahlonega Visitors Center logs 250,000-plus visitors each year, and it goes back to a decision made more than 40 years ago. "There was a group of people in 1971 called the Dahlonega Downtown Re-vitalization Committee [now the Downtown Development Authority, or DDA] that had a vision of how to make Dahlonega more attractive in order to bring in tourism," says the city's mayor, Gary McCullough. "Before that, the only reason people came up here was to eat at The Smith House."
Visitors to Dahlonega still eat at the famous restaurant, but there's much more to enjoy than a good meal. The Gold Museum in the center of the square anchors the historic downtown district. The square bustles with activity from tourists but also locals and students from the University of North Georgia – formerly North Georgia College and State University. Retail shops, restaurants and residences are connected by tree-lined brick sidewalks, on the square and within easy walking distance. It's exactly what the original planners had in mind.
Business and property owners were presented with a comprehensive master plan for downtown revitalization and preservation drawn by the University of Georgia College of Environment and Design. Community buy-in was key; so was investment from the local municipal governments, city and county.
"Property owners took [the plan] and repaired, repainted and built," says DDA Executive Director Joel Cordle. "Then the city, county and civic groups took on the public pieces, things like the streetscape work. A marketing campaign was launched touting Dahlonega as a tourist destination. All those happened within a 10-year period after the plan was developed." The city was so aggressive and successful in implementing the original plan that five years ago, the mayor, city council and DDA launched a second master plan – again, with significant community support.
Downtown revitalization has made a substantial impact beyond the aesthetic. "It's an economic engine," says Cordle. "It's expanded the tax base in sales tax revenue; we have over $300 million in revenue – in sales – just in the central business district every year."
The process is ongoing. "You never arrive," McCullough says. "It's ever-changing, as small as it is. I looked at old video and was amazed to see the changes that have taken place just in the last 10 years. Our city and county have been diligent about taking care of their assets, and that shows over 30 to 40 years." – Patty Rasmussen
Decatur: Thriving And Diverse
The city of Decatur could give a clinic on downtown revitalization. Since the early 1980s, the city's leaders, business owners and citizens have worked diligently to create Decatur's small-town atmosphere with a big-city buzz. "We did a town center plan around 1982," says Bill Floyd a longtime mayor and city commissioner. "That's when the vision of this community started. If you go back and look at that plan, you'll see that what's happened in Decatur is basically what's in the plan."
The plan included goals to incentivize business and infill development, encourage housing development, conserve the "feel" of Decatur and create an image. Citizen input was encouraged, listened to and implemented. The result is a thriving, diverse community where residential and business development exist side by side, sometimes in the same building. "Downtown residential development is probably the key component to our success," says Floyd. "We have a constant stream of activity going on in our downtown, night or day, whether it's a weekend or a weekday."
Considered Georgia's "most walkable city," Decatur has managed to avoid gridlock because it's easy to get there; the MARTA rail station is located under the city center. For those who drive, parking is available but walking is encouraged. "Our downtown invites people to get out of their cars and walk," Floyd says. "People drive somewhere and park, then walk the rest of their day. Many residents walk from their homes. It's not unusual for people in Decatur to walk a half mile or even a mile from their house."
Decatur values the notion that a community is best when there is true diversity –not all single-family homes or apartments, business or residential. "We are a little unique here," Floyd says. "We have people who care about issues and their neighbors. It doesn't have just to do with color or lifestyle; it has to do with economic diversity, too. We have prided ourselves on having a community where a doctor can buy a house, and a block away his nurse can afford a house."
The future remains bright for downtown Decatur, according to Floyd. "We feel we're just getting started," he says. "Success breeds on itself. We continue to plan – re-look at the vision, draw more and more people into the vision. And once people get involved in the process they buy into the product, which is our city." – Patty Rasmussen
Hinesville: Successful Partnerships
For a city that's actively pursued downtown revitalization for little more than eight years, Hinesville is proving an apt pupil. In 2004, the city created the Hinesville Downtown Development Authority as part of a comprehensive plan for the city. Vicki Davis serves as executive director. She says a recommendation made by two county commissioners serving on the board in its early years, locating a new county government building in the downtown historic district, laid the groundwork for successful downtown revitalization.
"Keeping that building in the walkable district, the historic core, was the greatest thing they could have done," Davis says. "Our government services, police station, fire department, city hall, justice center and historic courthouse serve as the anchor there." The historic core, complete with retail shops and restaurants, greenspace and sidewalks, has become an attraction and a meeting place for people in Hinesville and nearby Fort Stewart, an integral part of the Hinesville community.
Because of Hinesville's proximity to Fort Stewart, the city wisely takes advantage of the Georgia Department of Community Affairs (DCA) Military Zone Tax Credit, a boon to small business development in the downtown district. "If new jobs are created (within designated boundaries), it's $3,500 dollars per year the business can take for five years, with just a minimum of two jobs," says Davis. "That's a huge incentive for a small business owner."
Hinesville also had a formal relationship with Fort Stewart from 2007 until 2010, through the Army-Community Heritage Partnership Program developed in part by the National Trust for Historic Preservation. "The partnership was specifically put in place to develop the downtown area for the betterment of the military family and the community as a whole," Davis says. "As a result we routinely have receptions, activities and events for the leadership of the military and civilian communities throughout the year. Attendance at all our events by our military has increased significantly."
Events like the Small World Festival, seasonal and holiday events and a weekly farmers market draw participants from both communities, military and civilian. And it's having the desired effect. "Bringing people to downtown for our events has made them more aware of the small businesses in that walkable district," Davis says. "It has a snowball effect. They come for the events, they see the businesses and they want to know what other businesses are there. They begin to shop local." – Patty Rasmussen
Roswell: "Foodie" Destination
Roswell Mayor Jere Wood quickly points to the ongoing renovation of Canton Street as the city's major revitalization success story.
"It's really taken off the last couple of years," Wood says. "There has been a tremendous growth of restaurants on Canton. That is energizing development on Highway 9."
Steve Stroud, executive director of the Roswell Business Alliance, says Canton Street has exploded with foot traffic the past few years and has fast become known in Metro Atlanta as a "foodie" area.
"There is lots of variety in the cultural arts to experience in Roswell," Stroud says. "Every night on Canton Street is alive with dining and shopping. It's one of the key reasons people move to and want to stay in Roswell."
Wood and Stroud also give much credit to the city's participation in the state's Opportunity Zone program. Roswell has the largest such district in the state, which offers a $3,500 per job tax credit for qualifying redevelopment projects.
"The Opportunity Zone has been expanded throughout the city and has given us a way to revitalize and attract new jobs," Stroud says.
Roswell has worked for many years to develop interconnecting bike paths and is now considered one of the most bike-friendly cities in the country, Stroud says. The League of American Bicyclists has recognized Roswell as a Bronze Level Bicycle Friendly Community.
"We are one of the few bike-friendly cities in Georgia. Every city transportation plan includes pedestrian and bike paths. Our ultimate goal is to go from one side of the city to the other with bike paths, east to west, and connect to Cobb County and eventually the Silver Comet Trail."
Wood says planning for redevelopment requires a lot of brainstorming and includes looks at what other cities have accomplished. Last spring, about 50 of Roswell's government and business leaders boarded a bus and headed to Greenville, S.C., on a fact-finding mission to collect new ideas for downtown redevelopment. Wood describes the trip as "transformational" and says it inspired a lot of participants.
The city's attitude toward redevelopment has also transformed over the past decade, Wood says. Roswell was overdeveloped in retail and had too many old apartment complexes and retail centers that were half empty, he says. Successful revitalization requires a shared vision and anchor projects where the city contributes infrastructure and private developers provide funding.
"We went from a city that in 2000 was shunning development," Wood says. "We now have a new recognition that we need to promote redevelopment." – John W. McCurry
Statesboro: Ongoing Redevelopment
An arts center and theater and a city campus for Georgia Southern University have served as the most recent catalysts in an ongoing redevelopment of Statesboro, a city of more than 29,000.
"We're trying to get people downtown as much as we can," says Statesboro Mayor Joe Brannen.
Earlier redevelopment included the transformation of the old Jaeckel Hotel into a new city hall in 1997 and the restoration of the Bulloch County courthouse, which was completed in 2000.
"Downtowns are a city's identity, a bay window into the community," says Allen Muldrew, executive director of the Down-town Statesboro Development Authority.
Statesboro's downtown is also a major economic engine with more than 200 businesses that employ more than 1,700 people.
The Averitt Center for the Arts, named for former mayor Hal Averitt, is housed in the former Bank of Statesboro building. The adjoining 360-seat Emma Kelly Theater, named after a local musical legend, is located in the former Georgia Theater, a movie theater that opened in 1936 and closed in the mid 1980s. Both have been big draws for downtown, bringing in nearly 50,000 people annually through their doors.
Muldrew says the arts center and theater have become anchor tenants for downtown and have become regional draws. The theater was on its last legs as a dollar theater, he says, and now is home to shows and plays that draw a regional crowd.
"The arts center is doing very well," Brannen says. "We are also trying to do what we can to bring Georgia Southern University more into downtown. We have a city campus and have partnered with the university to develop a bookstore and a business incubator. There's office space and classrooms with educational resources for Georgia Southern and the community."
The incubator is formally known as the Georgia Southern Entrepreneur Zone or E-Zone. It currently is home to several web-based startup companies.
"The concept was to create an incubator system for knowledge-based businesses, and hopefully these businesses will graduate from the incubator and stay in downtown," Muldrew says.
What's next for Statesboro's downtown? One needed addition, Brannen and Muldrew say, is a permanent home for the city's thriving farmers market. The Statesboro Mainstreet Farmers Market is currently held every Saturday in the parking lot of Sea Island Bank.
"It's as fine a market as there is in the state," Muldrew says. "We just need a home for it."
Brannen says the city could also use a multi-purpose building to house community events. – John W. McCurry