Georgia's New Trustees
Construction industry entrepreneur Herman Russell and Chick-fil-A founder Truett Cathy are 2013 recipients of the state's highest honor.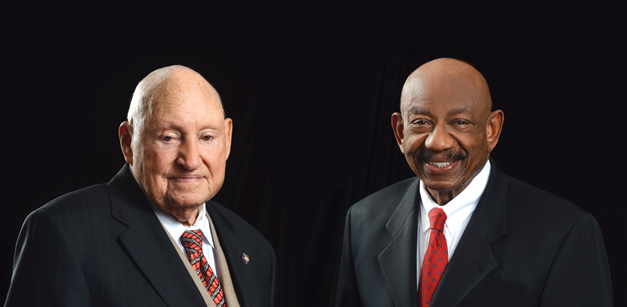 A fast-food pioneer and a construction industry entrepreneur, both known for their philanthropy, are the new Georgia Trustees for 2013. Truett Cathy, founder of the Chick-fil-A chain of restaurants, and Herman Russell, founder of H.J. Russell & Company and a key behind-the-scenes player in the Civil Rights Movement, are this year's recipients of the highest honor the State of Georgia confers on a citizen.
They were selected by the Georgia Historical Society and the Office of the Governor and will be honored Saturday, Feb. 16, at the historical society's gala in Savannah, a part of its annual commemoration of Georgia history.
The original trustees were chartered by England's King George II in 1732 and charged with establishing the new colony but disbanded in 1752; the state re-established the honor in 2009 to honor contemporary Georgians.
The original motto, Non Sibi Sed Aliis, meaning "not for self but for others," guides the selection of new trustees, individuals whose lives and accomplishments have made the state a better place.
This year's trustees join a roster of distinguished contemporary Georgians that includes former Ambassador and former Mayor Andrew Young, developer Tom Cousins, former Senator Sam Nunn, former University of Georgia Athletics Director Vince Dooley, businessman and philanthropist Ted Turner, baseball legend Hank Aaron, The Home Depot co-founder Bernie Marcus and the late Marguerite Neel Williams, a founding trustee of The Georgia Trust for Historic Preservation.
Todd Groce, president of the historical society, sees a similarity in this year's honorees. "They both have a Horatio Alger quality," he says. "They come from humble, modest beginnings. They each have tremendous drive. They worked hard. Faith and family are cornerstones, pillars of their service. They understood they had a responsibility to do something with what they had accomplished." – Susan Percy