Big Dreams, Big Achievements
Herman Russell is an entrepreneur and philanthropist who has made an indelible mark on Atlanta and its skyline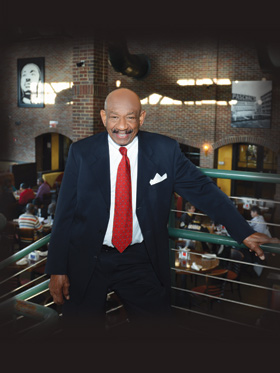 Herman Russell's Castleberry Hill office is close – but not too close – to the offices of H.J. Russell & Company, the mega-construction firm he started years ago that is now run by his son, Michael. It's a quick sprint to Paschal's, the landmark Atlanta restaurant and informal headquarters of the Civil Rights Movement that Russell rebuilt and resuscitated. And it commands a fine view of the city he helped shape – including the nearby Georgia Dome that his company built.
"I've been in construction all my life," he says, summing up a career that began when he went to work with his father in a very different Atlanta and blossomed as he built his own company into a major player in a changing city, with projects that include Hartsfield-Jackson Atlanta International Airport, Philips Arena and Turner Field.
Russell, one of the new Georgia Trustees for 2013, is an entrepreneur, a philanthropist and one of the behind-the-scenes architects of the Civil Rights Movement. Hard work has been the hallmark of his life and career.
"My father had me out on the job working," Russell says. "I began working at age 8. He used to take me out, and I used to carry water to the workers. As I got older, 10 or 12 years old, he had me mixing mortar with a hoe. We didn't have a machine."
Russell bought his first real estate when he was a junior in high school. "I saved up some money for this lot at the age of 16. In my senior year, I built a duplex for myself with my friend helping me. I was able to finish that duplex, and that helped my tuition when I was at Tuskegee University. After I graduated in 1953 I came back to Atlanta, and my daddy's health was in pretty bad shape. I took over his operation, and I named my company H.J. Russell and Co. It's been around now for more than 60 years. From subcontracting, I went into general contracting and started building apartments for myself – eight units, 12 units, 24 units, 50 units, 100 units. Over the years, I built over 3,000 apartments for myself all over Georgia. That was my beginning. Now my son is chief executive officer. I have semi-retired."
He retains his position as chairman of the board.
Russell, 82, began his business when the city was still in the grip of a racial divide. "I was raised under segregation," he says. "It wasn't easy to get work, but I was very fortunate. My daddy taught me how to do work right and satisfy the customer. Word got out that I was a nice kid. My word was my bond. I had work building and working on big homes in Buckhead. I had lots of good white supporters. Some of them took me on as an adopted son to give me advice. It was just unbelievable support I got, because I wanted to do everything right in life and I worked hard, too. You had to, back in those days. So it wasn't easy, but once I proved myself, I had lots of support."
The Next Level
He added some high-level networking to his hard work and good reputation to land the biggest project he had yet tackled. He had worked as a subcontractor on some significant projects, including the Equitable Building, but his big break was winning a bid to become a general contractor.
His work on the Georgia-Pacific Tower, completed in 1982, elevated his firm from a successful local contractor to its place as one of the top minority-owned construction companies in the country.
Russell was the first black member of the Atlanta Chamber of Commerce (now the Metro Atlanta Chamber). A fellow board member was the chief executive in the region for Arthur Andersen, the now-defunct accounting firm, who also served on the board of Georgia-Pacific, still headquartered in Oregon.
"He mentioned to me that Georgia-Pacific was going to move its headquarters to Atlanta and going to build a new building," Russell recalls. "I asked him would he be kind enough to get me a connection with the right person I could talk to, to have the opportunity to bid on the building. He got me in touch with the right person. That right person said, 'This job is too large – 52 stories. You've probably got to get someone to joint venture with you.' I said of course I would."
He had worked with J.A. Jones Construction in North Carolina so he contacted them, and the firms joined forces to win the bid to build the Georgia-Pacific headquarters downtown.
"We brought that building in under budget and ahead of schedule" Russell says. "That will always be my pride and joy. It was the biggest in the Southeast." A plaque he was presented at a special dinner celebrating the building's successful completion is still on display in the building lobby.
Personal satisfaction came in many different forms. "Probably what moved me most of all was when I built affordable homes all over Georgia. I will never forget I was building senior apartments in Milledgeville, and I went to a ribbon cutting. There was a lady in her 70s with tears on her cheeks. She said, 'I never dreamed I would have a refrigerator, heat and air conditioning, kitchen cabinets and gas range.' Just those little things we take for granted. She was so happy she couldn't hold it in. That really moved me," he says. "I kept building more and more HUD projects, and I was the largest HUD developer in Georgia. That gave me more than money – that kind of satisfaction, that you could make a difference in someone's life."
The Movement
A photo on his office wall, taken in the den of his home many years ago, shows Russell with Dr. Martin Luther King Jr., Rev. Ralph David Abernathy and Ambassador Andrew Young. "Look at how young Andy looks," he smiles and gestures toward the photo.
"I used to have lots of meetings in my home, strategy meetings when the kids were sitting in. My role was not to participate but to bond kids out of jail when they got arrested, because I owned real estate. At one time or another I bonded hundreds of people out of jail."
Once, he recalls, "Judge [Durwood] Pye had an open court hearing. I had to prove to him that I had the means to bond people out of jail. I think he was a little shocked [that I could]."
In the tradition of those who dream big – and achieve big – Russell believed from the beginning that the Civil Rights Movement would be successful.
"I had no doubt about it, that the Civil Rights Movement would cut through the barriers. They would be let down. It was hard. People gave their lives, made bigger sacrifices than I did. Some lost their lives. Some were damaged for life. But I believed that all God's children would be free, and I lived to see that. There's still prejudice, but not like it was. We have to work some more."
He gestures toward another wall, another photo, one of several showing him with President Barack Obama. "Look at Obama here. Who would have ever dreamed I would live to see a black president and [then see him] get re-elected? "I believe in this country. I think we have the greatest country in the world. We're going to show the world how to do it."
Giving
Russell's philanthropy is legendary, reflecting causes or institutions that have meaning for him. "You have to give to things that are going to improve people's quality of life," he says.
"What I really love, I love to see young people who want to be entrepreneurs. I gave some money to Georgia State University to start an entrepreneurial program." The Herman J. Russell Sr. International Center for Entrepreneurship is the result. "That's one of my favorites. I give to my own Tuskegee and to Morehouse."
He is particularly proud of the role he played in securing Dr. King's papers for the city of Atlanta. "The mayor called me, Shirley Franklin, concerned that the King Civil Rights papers be saved. She had to raise $32 million in less than a week. She knocked me out of my chair, asked me to go on line for $4 million. I thought about it and I said, 'Madam Mayor, I will do it.' I gave a million dollars and signed a note at SunTrust bank for $3.5 million more. I knew I had to raise money to pay off that note, so I called my good friend Charlie Loudermilk and said I'd like for him to give a million. He didn't have to hesitate. He said, 'Herman, I will do it.'"
He made other calls, as did Franklin, and they were able to raise the necessary funds. "I was proud of the fact that the King papers were going to stay in Georgia," he says.
When Russell's wife of 50 years, Otelia, died in 2006, he wanted to memorialize her, "to do something that I thought she would like to be remembered for." He gave a million dollars to Children's Healthcare of Atlanta. The lobby at Hughes Spalding bears their names.
Russell is now married to Sylvia Anderson Russell, president of AT&T Georgia.
"My daddy was my hero and my mom was my 'she-ro,'" he says. He names the late educator Dr. Benjamin E. Mays and Walter H. "Chief" Aiken, an architect and engineer Rus-sell admired when he was growing up, as mentors. And, of course, Dr. King. "We were the same generation, but he encouraged me to be a strong entrepreneur. If he wasn't a preacher, he could have been an entrepreneur. He realized the value of the dollar in the political process."
Russell sums up his remarkable life quite simply: "I've been so blessed. God has been so nice."