Art Of The Meal: The Pinewood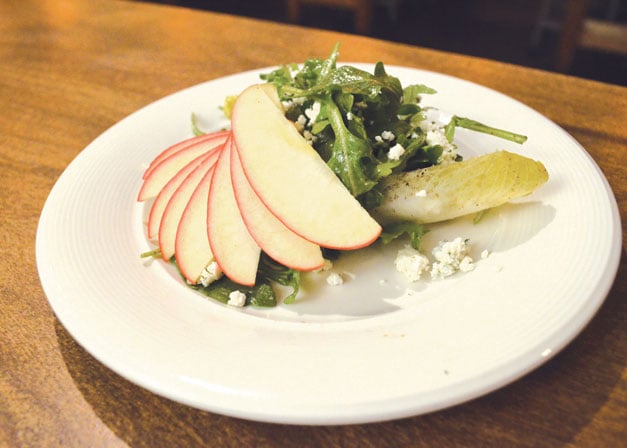 The Pinewood
254 W. Ponce de Leon Ave., Decatur
404.373.5507 or www.pinewoodtr.com
Hours: Dinner nightly, Sunday brunch.
Parking: Street or nearby garages.
Dress Code: Hipster scruffy.
Diners of the most refined tastes have a motley crew to thank for some of food's best inventions. Gamblers and drinkers are credited with developing such epicurean delights as sushi (a food designed to go with sake, a potent rice wine) and the sandwich (namesake of reprobate royal the Earl of Sandwich). In both cases, entire meals – protein, starch, even a bit of vegetable – were compressed into a few bites, easily held in one hand. That, of course, kept the other hand free for the critical chores of drinking and playing cards.
Decatur's new bar/restaurant, The Pinewood Tippling Room, pays honor to those who consider cocktails and wine the main course, with the food designed to match – often in tasty, hand-held tidbits. The cocktails here outshine the food – but if you're in a tippling mood, you'll be glad you went.
The crew in the kitchen and behind the bar are part of a young generation of restaurateurs who are zealous about making things from scratch, with a reverent nod to old-school methods. The ice is hand-cut from a huge block; bitters, liqueurs and mixers are often house-made. Orange peels are flamed to release essential oils into each Sazerac, and the old-fashioneds are so popular the Pinewood keeps them on draft. Nevertheless, they, too, comprise the bartenders' handicrafts – small-batch bourbon, bitters, orange and a sugary-oily-lemon elixir often found in 19th-century punches called oleo-saccharum. The short, but interesting, list of wines and beers includes Brooklyn Lager, Château Routas "Rouvière" rosé and Riff "Terra Alpina" pinot grigio from the Dolomites.
The space (Cakes & Ales' old corner spot on Ponce) is pleasant and airy; the waitstaff unfailingly pleasant and polite. The cocktail-shaker maracas counterpoint the laid-back background music.
The food is as ambitious as the drink menu, but alas, the kitchen's reach at times exceeds its grasp. On our first visit, the $40 "chef's tasting menu" included so much deep-fried food we almost thought we'd wandered in from a midway. That included such utterly redundant fattiness as "crispy" pork belly with peach preserves (who would have thought it was deep-fried?) and dry "chicken-fried" meat loaf over oily pesto mac and cheese. Carolina trout was overcooked, over an odd and unevenly cooked succotash.
Still, there were a few highlights – a delicious bite of shrimp and stone-ground grits as the amuse-bouche, a bright salad of Gala apple, arugula, endive and herbed goat cheese, and perhaps our favorite, chicken-andouille gumbo. Someone here knows how to make a real roux – smoky, dark and deeply delicious. Despite the bland, dry bread pudding, we pledged to return for Monday's New Orleans specials – $7 Sazeracs and an intriguing $10 NOLA trio of the gumbo, red beans and rice and jambalaya.
The drinks we explored were as festive and inventive as ever – a "Brooklyn" (as opposed to Manhattan) of rye, dry vermouth, house-made Amer Picon bitters and maraschino liqueur, and a frothily delectable "Day That I Die" – Riverboat Rye, lemon, buckwheat honey, roasted Georgia pecan tincture, with a large slice of fresh ginger lining the side of the glass. That Sazerac is mighty fine.
We found more to like on the menu – we couldn't resist the toothpicked "grit tots" enclosing cheesy-grit goodness. The little fried oyster roll ($9), doused with remoulade, flecked with basil leaves and served in a small split white bun often used for lobster rolls, would have been good even without the thick slice of bacon.
The NOLA trio's gumbo was a little different – not quite as spicy, but still very good – and the red beans and rice were tasty if a bit salty, especially with the thick slice of andouille. But the jambalaya was a no-go, with a dry plank of chicken perched over a strange kind of rice dish – less jambalaya than too-salty Chinese fried rice, with the extra weirdness of added sage. With rice in all three dishes, it was a pretty starchy affair.
With some redirection and simplification, the Pinewood's food could equal its stellar drinks. (Management could start by asking servers for feedback when diners return half-empty plates.) Still, I could imagine a boisterous table of samurai, with the Earl of Sandwich at its head, throwing dice, quaffing cocktails and yelling for another round of grit tots.