Working Smarter
Technology is powering jobs with a future.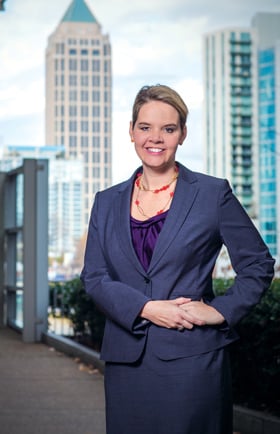 Finding Georgia's jobs of the future isn't as simple as downloading an app. At least not yet. Georgia Labor Commissioner Mark Butler says the state is seeing a resurgence in programming jobs, with the future particularly bright in smartphone application design.
"A young person just needs to understand this one thing," Butler says, citing a conversation with a Microsoft Corporation executive.
"If you develop a smartphone application, and say that only one percent of the world's smartphone users buy it and you're only selling it for 99 cents," with one billion smartphone users around the globe, that's $10 million.
A study by CTIA, the International Asso-ciation for the Wireless Telecommunications Industry, ranked Georgia seventh nationally in economic impact provided by mobile app revenue, with $1.062 billion a year.
But if inventing the next "Angry Birds" doesn't quite work out, job seekers can look to some of the other opportunities in technology – and there are plenty of them. Even Georgia's tried-and-true growth sectors of healthcare,a advanced manufacturing and supply-chain logistics are becoming in-creasingly high tech.
Georgia Trend spoke to workforce development authorities and other experts to determine which jobs and job sectors look most promising for the future, where hotbeds of occupational activity can be found and how the state ensures its workforce has the proper training.
The Georgia Department of Labor says the state gained 37,300 jobs from September 2011 to September 2012. That marked the first time since 2007 that Georgia has experienced annual job growth, leading to a ranking of second in the South behind Florida and seventh in the nation.
"We're on pace to beat that number this year," Butler says.
He attributes this success to the state "providing the right kind of atmosphere for businesses to grow," its geographic location as a transportation hub and its flexible educational system.
Butler says Georgia's technical colleges, including the Quick Start program, "adapt to what local employers need, which I think is probably one of Georgia's best-kept secrets when it comes to our arsenal for economic development."
The Global Commerce Division of the Georgia Department of Economic Devel-opment assisted with 403 company expansions or locations during the last fiscal year, creating 28,776 jobs (an increase of 29 percent) and $5.97 billion in investment (an increase of 32 percent).
The recruitment of pharmaceutical giant Baxter International made the biggest splash in 2012, and the project also has the most potential for ripple effects. Baxter will bring 1,500 high-paying jobs to its manufacturing facility at Stanton Springs near Covington and another 300 to several plasma centers around the state. The company's total investment will be $1.3 billion.
Although Georgia already had some smaller pharmaceutical and bioscience companies, Butler says the state has been trying to bring in a manufacturer of Baxter's size for 20 or 25 years.
"It's going to have a tremendous impact down the road," he says.
Supplying Momentum
Gretchen Corbin, deputy commissioner for global commerce at the Georgia De-partment of Economic Development, says Baxter "has provided us with the large piece of momentum that we had needed to attract larger life science companies."
As part of the state's sales pitch, Ron Jackson, commissioner of the Technical College System of Georgia, and Hank M. Huckaby, chancellor of the University System of Georgia, promised that their institutions could deliver the proper workforce – for start-up purposes and also 10 years down the road. A training center built on the Baxter site will resemble the company's factory floor and will be run by Quick Start, which also provided initial training for Kia's manufacturing plant in West Georgia.
"Everybody will be working in concert together to train up that bioscience industry workforce," Jackson says.
The Baxter training center will be available for other potential bioscience companies that want to locate in Georgia "as a demonstration of what we can do," Jackson says.
Many of the first hires to be trained will probably have some bioscience background, Jackson says, which is one reason the schools are ramping up their technical science programs. At the technical colleges, 40 percent of the curriculum covers healthcare, bioscience or health science. "That's where jobs are today," he says, "from medical assisting and radiology to nursing, and every type of person that works in a doctor's office or a hospital in the entire healthcare arena."
Jackson says employers are hiring for those jobs now. With an aging workforce in those fields, training a new, highly skilled workforce takes on even more urgency.
Moving Up
At the higher end of the job spectrum – with salaries of at least $300,000 a year – there's still a "huge demand" for experienced leaders and executives in healthcare, says Robert Baxter, senior client partner and the Atlanta office managing director of executive recruiting firm Korn/Ferry International.
These executives are needed to "run hospital systems and help provide any kind of insight to where costs can be saved, down to the actual onsite providers such as home health-care," Baxter says.
As the industry moves toward electronic medical records, health information technology (HIT) is another growing field, says Sam Williams, president of the Metro Atlanta Chamber of Commerce.
"Atlanta has more HIT companies than any city in America," Williams says. "Everybody's heard of McKesson, but there are 200 others. I think it's the intersection of technology and medicine. Those two disciplines have particularly thrived in Metro Atlanta, and Emory and Georgia Tech are a very common denominator across both of those."
Williams says the chamber calls health information technology a "sub-cluster of innovation" that depends on creativity and value added. Another is wireless mobility management, which includes Atlanta-based companies like CNN, The Weather Channel and Delta Air Lines that use Internet wireless platforms for their brands.
"Of course, a lot of the research that's going on in that area is coming right out of Georgia Tech, too," Williams says. "There's sort of a symbiotic relationship between higher education and research and these businesses that are exploding."
Baxter says his corporate clients are looking for leaders with the ability to integrate technology and business skills by working with sales, manufacturing, distribution and finance.
"In almost any industry today, if you speak with any hiring people they will tell you that we are short of engineers," he says. "We are short of people who understand technology. If you look at the Internet and social media, how are we going to reach our customers, particularly that younger generation?"
Job Openings
Butler says another shortage is hampering the field of computer programming, which also includes network architects. Companies, he says, "have a hard time finding talent because there's a lot more job openings than there are applicants in that area right now."
Butler says a lot of those jobs had left the United States a decade or so ago for eastern Europe, Asia and India; but companies have started bringing specialized programming jobs back to Georgia, where they can be competitive with their overseas counterparts.
"It's almost kind of a relief" that those jobs are back, Butler says. "Those are well-paying jobs, and one of the ways they do that is they locate in more rural areas to keep their costs down."
In a big win for Metro Atlanta, The Home Depot announced it would open a call center in Cobb County, bringing 700 jobs by 2015. The customer service representatives will provide support for the company's online retail operations.
When it comes to bricks and mortar, manufacturing is also gaining ground in the state. "We're seeing a fairly good job growth back in manufacturing right now," Butler says. "We visit everything from yarn plants to car manufacturers to candy makers, and it seems most if not all manufacturers that we visited recently are in a hiring mode."
Butler says companies in sectors that have seen hard times, for example the textile industry, have invested in updating their equipment to include robotics and pneumatics. This requires a workforce with different skills, such as electricians and mechanics.
"There may be less people employed in that area, but the jobs require a lot higher technical expertise," Butler says, noting that these jobs also pay a higher wage.
A new Caterpillar plant announced in 2012 will bring 1,400 jobs and an investment of $200 million to Oconee and Clarke counties, with the technical college system and Quick Start again playing pivotal roles in providing its initial workforce. A training center will be built to Caterpillar's specifications in an existing building at Athens Tech.
"It takes highly skilled technicians to make those advanced manufacturing plants work," Jackson says.
The state is seeing continued growth by existing manufacturers, with the largest expansions at Kia Motors Manufacturing Georgia ($100 million and 1,000 jobs in Troup County) and Mohawk Industries (470 jobs in Chattooga County). Kia also continues to draw suppliers such as Mando Corp. and Daewon America, adding hundreds of new jobs in its vicinity.
"You can really look at every corner of the state and see great potential within our manufacturing field," Corbin says. "And it's always important for our communities to make sure that we are continuing our existing industry growth."
Logistics
Hand-in-hand with manufacturing comes distribution, and Georgia's supply-chain capabilities are its "unsung strength," Baxter says.
Bed, Bath & Beyond will open an e-commerce fulfillment center in Jackson County, bringing 900 jobs, while Lowe's will hire 600 workers for a distribution center in Floyd County.
"We always talk about advanced manufacturing, but I almost think we should coin a new term – and that's advanced logistics," Corbin says, "because the logistics and distribution network throughout Georgia, whether it's at the port in Savannah or at Hartsfield-Jackson Atlanta International Airport, that's about as advanced as advanced can be."
Corbin adds that new programming and new operational skills are invented on a daily basis within the logistics systems and network. The technical colleges respond to those needs with customized job training.
"It's a very synergistic marriage of infrastructure that Georgia has," Jackson says.
Coursework for truck drivers nowadays includes more than learning how to handle the big rig. Delivery times and loads are now computerized. "A truck driver has got to be pretty smart to be able to run the equipment on the truck," Jackson says, noting that his program has "virtually a 100 percent placement rate for our truck drivers."
The Metro Atlanta Cham-ber's Williams adds that the supply-chain logistics industry "has really come back very strong. Air cargo, for example, has really picked up at Hartsfield."
Maintenance and other aviation industries are integral to the world's busiest airport, and Georgia's technical colleges again provide training. Another aerospace hub surrounds Robins Air Force Base, where Middle Georgia Technical College has contracts for training mechanics on civilian as well as military aircraft.
Jackson says there is also a "pretty robust aviation industry down on the coast," and a new aviation training center near the Gulfstream plant in Savannah will open in the next few months.
"We even help train some of the cabinet makers that put those expensive cabinets in those Gulfstream airplanes," Jackson says, "so it's an industry that we want to keep happy and keep here in Georgia and grow it even more."
Sales And Trades
Some professions continue to stand the test of time and remain in demand by headhunters.
"People who have demonstrated success in sales areas almost always can find an opportunity," Korn/Ferry's Baxter says, "particularly if you have an expertise in a product or market."
And there continues to be a need for tradesmen such as welders and machinists.
"We had Louisiana call us not too long ago asking us to help them recruit some welders to come to their state," Butler says, "and I informed them we're actually trying to recruit out of their state."
Georgia is also fielding calls from international firms that want to see what the state has to offer. In the last year, international companies made up almost a third of those opening offices in Georgia.
"They may come here and open an office with five or 10 or 15 jobs, but they're the ones that are giving us the market branding awareness around the world," Williams says, referring to a "steady stream" of European and Central American companies, as well as firms from China, Brazil and India.
"Atlanta has 64 consulates, and that's just begun to be a real hotbed of opportunities," he says.
State economic developers say they will keep recruiting on top of their existing strengths. "Because that's where the future job growth is so strong and that's where Atlanta has a very big competitive edge," Williams says.
That advantage will continue to include the technical colleges, whose graduates come with a guarantee. "If they're trained in a program area," Jackson says, "and they go to work in that field and they can't do the job, or the student doesn't feel like they're capable of doing the work the company requires, then we will retrain them for free."
Out of 35,000 graduates in the 2011 calendar year, 33 were referred back. "I hate that the 33 had to be retrained," Jackson says, "but at the end of the day I think it speaks well for the quality of the training that we provide."