Keeping The Lights On
How some Georgia cities control the flow of electricity and other services to their homes and businesses.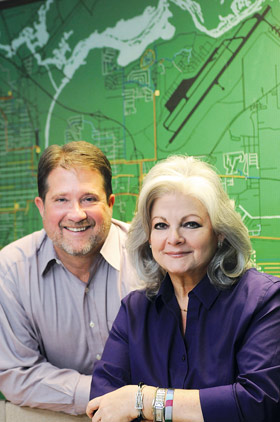 In 1975, the Georgia General As-sembly was under the control of largely rural and almost completely Democratic lawmakers, many of whom proudly labeled their chambers "The Home of Home Rule." It was in such an atmosphere that enabling legislation was passed creating the Municipal Electric Authority of Georgia (MEAG), giving even the smallest city or town the opportunity to control the flow of electricity to its homes and businesses, and in the process gather the revenues from that power.
Almost immediately 47 cities signed up for membership in MEAG, most them from rural areas. The count is up to 49 now, including one county, with all entities meeting a major requirement: They own their electric works. In many cases, the member cities also control the flow of water or gas or both, with Albany forming its Water, Gas & Light Commission (WG&L) in 1912 and celebrating the 100th anniversary of the utility last year.
"There are fewer than 2,000 public utilities in the country, and there are many fewer than that offering all three services," says Lorie Farkas, assistant general manager of WG&L's customer relations and marketing and the utility's resident historian. But today's MEAG members are also selling services that might include cable TV, telephone, fiber optics and Internet access and just about anything else that might fit into the modern definition of a utility.
Menu Of Choices
David Myers is director of the Cartersville Electric System, an early entrant in the electric utility rush of '75 and a city with a full menu of choices for its citizens and for some of those living in nearby communities.
"The City of Cartersville includes electric, gas, water, sewer and fiber optics," Myers says, acknowledging that he sometimes has to become an economic development partner when alerted that an interested large business or industry prospect is eyeing his city as a possible site for development.
"The State of Georgia has a law that allows a large [power] user over a certain threshold the ability to choose their electric supplier," Meyers says. "They can choose from a municipal system; they can choose from an investor-owned system, such as Georgia Power; or they can choose from an electric membership cooperative, known around the state as EMCs." Once they make their choice of power provider, they are unable to change that provider, Meyers says. When dealing with such a prospect, the utilities get to make a presentation to the prospect, something Myers seems to relish. "That's when we highlight our positives, such as local service and response times, our local control, local government, local decisions, as opposed to a large corporate utility."
For municipal utilities, the glow of home rule is undimmed by time. "Of course, a lot of times it boils down to price," Myers says. "And we do offer incentive pricing for new, large commercial and industrial customers, as do the other utilities as well."
MEAG member Lawrenceville finds a number of ways to fill electricity demands, on some occasions partnering with another power provider to meet customer needs. "We have about 8,000 electric customers, with a total population of 28,546," says Bob Baroni, Lawrenceville's city manager. "Our consumption this year is expected to have a moderate increase. We have a contract with the Southeastern Power Administration, that's the Corps of Engineers dams. But it's all handled through MEAG, and it's a very minor part of our load."
Lawrenceville's utility customer base is somewhat restricted by another important condition among MEAG members. "We're sort of limited by the Territorial Act. We can only go into certain areas, and we've pretty much built out those areas," Baroni says. "Several years back the state decided to have certificated areas that were where your lines were and [set] what area you served. Territories were established, and then the utilities work within those areas. For the most part, our assigned area is the major part of the Lawrenceville area."
But Baroni is free to negotiate contracts with other utilities and has done so with Georgia Power and Jackson Electric Membership Corporation. He has explored adding other services to his city's electricity utility. "We recently looked at wireless Internet, but it was a joint effort we were looking at with Gwinnett County," he says. "Then we all sort of backed off it. In the past, we've looked at cable, but at the time it wasn't feasible." The city does deliver water and gas services and is always on the lookout for other opportunities. "We're very open to anything that will help our city's residents. When something looks promising, we do explore it," he says.
MEAG members include: Acworth, Adel, Albany, Barnes-ville, Blakely, Brinson, Buford, Cairo, Calhoun, Camilla, Car-tersville, College Park, Commerce, Covington, Crisp County, Doerun, Douglas, East Point, Elberton, Ellaville, Fairburn, Fitzgerald, Forsyth, Fort Valley, Grantville, Griffin, Hogans-ville, Jackson, LaFayette, LaGrange, Lawrenceville, Mans-field, Marietta, Monroe, Monticello, Moultrie, Newnan, Norcross, Oxford, Palmetto, Quitman, Sandersville, Sylvania, Sylvester, Thomaston, Thomasville, Washington, West Point and Whigham.
More Power
Among MEAG members, no event is more anticipated than the completion of two nuclear power generators now under construction at Plant Vogtle, a Georgia Power facility in Burke County (Waynesboro) in the eastern part of the state. MEAG is a 22.7 percent partner in the $14-billion project, which is expected to more than cover the needs of the member municipalities far into the future.
"That ownership means just what it sounds like," says Scott Jones, MEAG's chief administrative officer. "We own our share, and we pay for our share. We have gone out into the market and borrowed billions of dollars in order to secure financing for our share, and our members will reap the benefits of those two units when they come on line."
Projections are units three and four will be on line by 2016 or 2017. Other owners in the development are Southern Company and Oglethorpe Power, provider of electricity to the state's EMCs, and the City of Dalton. For Jones, the nuclear partnership offers a lesson in the value of MEAG to communities that might have been left behind. "If you can imagine the City of Brinson, which I think has a population of 500 people, and they have owned and run their own electric system for probably a hundred years," Jones says. "Imagine the leverage they would be able to exercise with a Georgia Power or any other big utility as they are trying to get their supply [of electricity] secured."
The newest MEAG member, Acworth, signed on 10 years ago. Jones sees the member municipalities as a good variety of cities and towns, even villages. "We did get a good mix." Jones says. "Larger cities, metro area cities and a lot of rural and South Georgia cities. And just by sheer luck and the way the system works, there are no MEAG cities on the coast, with Sylvania the closest city to the Atlantic Ocean. But in MEAG cities, there is typically some kind of link between the utility commission and the city council."
One of the largest MEAG member partners with an ownership share in the Plant Vogtle addition of the two nuclear reactors is Albany's WG&L, a utility that has already agreed to sell its first 20 years of the plant's output to another utility, one that pays for that right. "We were to get 25 megawatts of electricity annually out of the plan, but we just didn't think we would need 25 megawatts up front," says John Vansant, director of fiscal affairs for the Albany utility. "We sold the first 20 years of output, so our debt service will kick in in 2037, with the bonds to be paid back over a 40-year period. We'll get 40 years of electricity, or for the useful life of the plant."
Vansant sees a future energy landscape littered with uncertainties, making forecasts for electricity needs far less than a science. "Who knows in 2037 what we're going to need in Albany, Georgia?" he asks. "It could be that everybody has an electric car and everybody is charging their electric batteries all the time, and suddenly we don't have enough electricity." That is a question with which Vansant is familiar.
From the 1900s to the 1950s, Albany generated natural gas by burning coal at a city plant. The coal sludge from that plant was simply buried on a back lot, a common practice of the time, long be-fore anyone ever heard of the Environ-mental Protection Agency. Last year Georgia's Environmental Protection Di-vision ordered the WG&L to clean up the sludge deposit site, a procedure that could cost up to $10 million. "It's no kind of financial catastrophe at all," Vansant says, explaining EPD is giving the utility five years to clean the site, at a cost he estimates to be more like $4 million. "Such an additional cost against $122 million in annual revenues will not break the WG&L."
Legalities
An event of wider interest became public at the end of last year when a $900-million lawsuit was filed by the Plant Vogtle contractor against the partners in the addition of the two reactors. At issue in the federal suit were claims by contractors Westinghouse Electric Co. and The Shaw Group that they are due more compensation for additional work required by the Nuclear Regu-latory Commission. It is the third lawsuit that has erupted among the builders and owners groups. A source close to the ongoing project says the most recent suit should be quickly resolved without significantly altering the projected completion date.
MEAG's Jones says lawsuits seem to have become a natural part of doing business now. "This issue has been going on for a while, and the legal steps that we're taking are just a natural progression in the process," Jones says. "In the end, the contract calls for steps, including meetings, mediation or arbitration, leading up to lawsuits if necessary, and we're just at that step. We're still, as Southern [Company] is as well, talking about the units coming on line in 2016 and 2017. At this point we have no reason to believe that it is not going to happen."