Georgian Of The Year: All Business
In a state ready for strong leadership at the top, Gov. Nathan Deal was the right man at the right time. He's already looking ahead to a second term.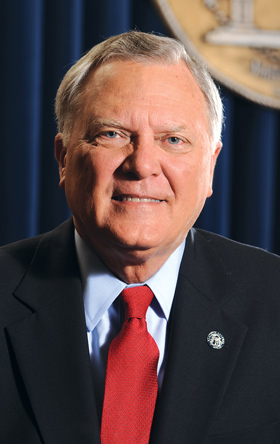 Nathan Deal wants to make Georgia the No. 1 place in the country to do business. He is crystal clear on that.
As governor, he can already claim a pair of big successes: Last year Caterpillar, the construction equipment manufacturer, announced it is moving some production from Japan to Georgia; it will bring 1,400 jobs to the Athens area. Baxter International, the pharmaceutical supplier, announced a new manufacturing facility east of Metro Atlanta that will ultimately provide 1,800 jobs.
"The immediate need our state has is jobs for our citizens," Deal says. "What we think the state should do is provide fertile ground for private enterprise and private business to expand – for those that are already here and for those that are looking for places to come."
The business and economic development communities give Deal high marks for his openness and willingness to listen to and entertain ideas – whether or not he actually embraces them. The same goes for legislators.
"I have an open-door policy here in the office," Deal says, "and I think most people would tell you we have honored that."
With the economy improving – slowly, but improving nonetheless – there is a sense among state leaders that the right man is at the helm, poised to get Georgia moving again.
For his dedication to job creation and his willingness to work with business and economic development interests, Gov. Nathan Deal is Georgia Trend's 2013 Georgian of the Year.
Two years into his term, Deal obviously relishes his job, and he will run for another term in 2014. "I hope the people of the state believe I have merited a second term. I've worked very hard and expect to continue to work very hard," he says.
"He shows leadership and gets engaged," Chris Clark, president and CEO of the Georgia Chamber, the state's premier business organization, says of the governor. "He shares a commonality with the business community. He has worked in his first term to build a team around him that is business-friendly. They are servant leaders. There's no ego there."
Clark and Chris Cummiskey, the state's economic development commissioner, co-chair the governor's Competi-tiveness Initiative. "At our first meeting," Clark says, "the governor said he wants to make sure Georgia is the most competitive state in the country today and 20 years from now. He is concerned about long-term economic growth."
Deal is a Georgia native, a conservative Republican from Gainesville who is part of the North Georgia Republican triumvirate (with Lt. Gov. Casey Cagle from Gainesville and Speaker of the House David Ralston from Blue Ridge) that runs the state. He has a varied background – military officer, lawyer, district attorney, juvenile court judge, businessman, lawmaker. He spent 12 years in the State Senate and 17 years in the U.S. House of Represen-tatives – he started out as a Democrat, then switched parties in 1995. He was elected governor in 2010.
Deal's campaign and first few months in office were dogged by financial difficulties related to a daughter and son-in-law's failed business. A few weeks before he resigned his House seat to run for Governor, the Office of Congressional Ethics recommended that the House Committee on Standards of Official Conduct do a review to determine whether he had used his office to influence decisions that favorably affected his Georgia business interests. That committee took no action; once Deal left office, it no longer had jurisdiction.
The state ethics commission investigated and dismissed four complaints relating to his gubernatorial campaign expenses; the governor agreed to pay $3,350 for "technical defects" relating to other complaints.
Right Man, Right Time
When Deal took office, the state had been under Republican leadership for several years, but his predecessor, Sonny Perdue, was a status quo governor who saw himself as a manager and caretaker and seemed to be missing the vision gene. Perdue's most enduring legacy remains his Go Fish Georgia program.
Republicans had survived a scandal in the House that unseated former Speaker Glenn Richardson and installed Ralston, as well as some intra-party maneuvers that stripped Cagle of much of his effectiveness in the Senate. The state was ready for some real leadership at the top, and Republicans were in need of someone willing to use the power of that office. Deal obliged.
His more open style was immediately apparent and generally welcomed.
Deal's early legislative successes included an overhaul of the HOPE Scholarship Program his first year in office, followed last year by criminal justice reform, a tax reform package and a tough immigration bill – that last one not universally favored by business leaders, particularly agribusiness.
Deal says he values his good relationship with legislators.
"I appreciate the fact that they alert me to areas they want to take action in, in advance, to give me the opportunity to evaluate," Deal says. "It may not be part of my agenda and sometimes there, of course, will be different agendas. I don't ever try to preempt their prerogative as elected representatives or senators. I hope as much as possible that we try to coordinate our efforts."
Deal doesn't have a label for his style of leadership, he says. "I just believe that good decisions are made with good information. I don't ever presume that I have all the information. If an issue is raising enough concern or interest for people to express their opinion, I think it's my duty to listen, to consider whatever evidence they have to support their position. They deserve to be heard. My job is then to decide what is the best course of action and what direction should I lead in."
He credits his own legislative service for his success in working with legislators. "Having served in the State Senate was valuable to me because I understood the institution of state government. I understood the way it worked. I'd seen the good and the bad," he says. "My goal as governor is to help the legislative body achieve what they want to achieve – and hopefully both of us [will be] on the same page at the end of the day in terms of the accomplishments."
Government's Role
Public safety, Deal says, is the No. 1 responsibility of state government, and the second is public education. Just about everything else is way down the list.
Even absent decreased revenues and tighter budgets, Deal is an advocate of smaller government. He pulls out a budget document and points to some figures, proud of the fact that state spending per capita has dropped from $2,035 in 1990 to $1,971 in the current 2013 fiscal year and that the number of state employees dropped from a high in 2008 of 82,080 to 70,324 for the last fiscal year.
"One of the good things, but at the same time one of the more difficult things, is that state government is required to live within its means, required to have a balanced budget," he says. "When the economy fluctuates as greatly as it has for the state of Georgia, the state government has to react. Sometimes the federal government can just sort of roll along and add up deficits – we saw it happen rather dramatically over the last 10 years. It's not a question of what do you want to do sometimes, it's a question of what you can do with the resources that you have."
Making the tough budget choices, he says, is all about prioritization. "You try to allocate your resources to the most important functions of state government. That of necessity means you have to do things like search out areas where you can eliminate, can consolidate, trying to achieve efficiencies in the governmental process."
His decision to turn down $40 billion in federal money to expand Georgia's Medicaid program, he says, "comes down to being able to afford things," and he doesn't believe Georgia can afford a larger program.
The governor favors a strong economic development role for the state. "Finding and creating job opportunities is one of the primary goals the state should have," he says.
He describes a meeting he and his economic team and some business leaders had with a consultant for Baxter International after the announcement that the company was coming to Georgia: "He was telling the story about when he was contacted by Baxter to find a location in the U.S. They had preconceived notions about where they thought they should look. They were the places you would expect – the North Carolinas, the Californias, the Boston area, because they had entrenched communities dealing with the products they [Baxter] make. When he suggested Georgia, they said, 'Georgia? We never heard of Georgia as a place to do business.' But he said when he started telling them and showing them all the benefits and advantages Georgia had, it became very obvious this is where they should come."
Deal enjoys the victory and its come-from-behind aspect, but he sees a need to be even more aggressive.
"Part of our story is not being told. That's why our Economic Development Department is so important – they tell our story. They do the outreach to those who are like the Baxters and the Caterpillars who want to come in and create new job opportunities. We think we're on the right track.
"Part of our tax reform package last year was directly aimed at increasing manufacturing in Georgia, phasing out of sales tax on energy used in manufacturing." The measure had not passed the General Assembly at the time the Caterpillar and Baxter announcements were made, but knowing it was in the works was important to the companies, Deal says.
The Education Component
Given his goal of making Georgia the top spot for business, Deal takes a pragmatic view of the role education should play. "I think we are making great strides in transitioning education from just being perceived as a function of government in and of itself to realizing that education has as its goal to make our citizens employable."
He wants to see changes in public schools, especially high schools – more apprenticeships, the "Move On When Ready" approach instead of "so many hours of seat time." Many drop out, he believes, simply because they are bored and don't see the relevance of their high school education.
"Generally," the governor says, "talking to prospective employers, one of the biggest concerns is 'Will I have a qualified workforce?' If we can begin to have those assurances instead of having to go back to train people in remedial fashion, if we can have those kinds of quality graduates coming out of our high school, then we'll go a long way to being able to fill that gap."
He supported the Charter School Amendment that passed in November and is critical of what he calls a "disastrous" opinion of the Georgia Supreme Court that ruled local boards have exclusive authority over public education.
"If the state is going to be expected to come up with money, the state should have some opportunity to come up with options," Deal says. "We have school boards in the state that are totally dysfunctional. We have some where I've had to remove the entire board, in other instances members of local boards of education.
"Georgia has great opportunity as one of the few states eligible for Race To The Top money – we are able to be innovative, able to think outside the proverbial box for education. We have about 26 systems that are partners in that process and 15 other schools also participating. It's encouraging. Great things [will] come out of it.
"Till that same aggressive approach to improving public schools is evident all across our state, I think parents in poorly performing public school systems deserve the opportunity to have their child go to something like a charter school in order to improve the quality of education."
Looking Ahead
After two busy and productive sessions, Deal says his 2013 legislative agenda is more about implementing some of the measures already passed than initiating any sweeping changes. He mentions revisiting some of the changes made, to see if there are "technical corrections" needed.
As an example, he expects the secretary of state to propose legislation to streamline the process of applying for a business license that has frustrated business owners.
Nonetheless, his plate remains full. Water is on his mind. "When I became governor, I made a promise to Georgians that we would appropriate some $300 million for additional water supply for the state of Georgia. We are well into that program."
Despite a favorable 11th Circuit Court of Appeals ruling on Georgia's right to water from Lake Lanier, Deal says talks with Florida and Alabama are ongoing.
Transportation is a big problem getting bigger, especially in light of the T-SPLOST initiative, which Deal endorsed, but which failed in seven of 10 regions in the state. He is looking to the business community for help.
"How do we leverage the private community and the resources from private outside funds to be able to build the kind of infrastructure that we need in our state? The reality is that there is not going to be enough state gas tax money, not going to be enough federal gas tax money to keep up with increasing demands. We have to be creative."
Yet he has no intentions of giving away the candy store, he says, referencing the proposed public-private partnership that would have built toll lanes on the I-75/I-575 corridor by leveraging private contributions mix-ed with state and federal money. He scuttled it, believing the state was conceding too much control to private interests.
"I became very concerned about that format," he says. "I realized we were going to be giving a private company a 60-year exclusivity with a 10-year option – 70 years over a major corridor in Georgia in which they would have a major say-so about how toll roads would be operated."
So that plan went away and a new approach was instituted. "We are going to have a public-private partnership in which we ask contractors – instead of giving them a set of plans drawn up by DOT engineers or consultants, we're going into a flexible approach called design-build. We're saying these are the goals we have for this project, this is how many cars we want moved, these are the essential ingredients. You submit a proposal to us of how you would design this road and how you would build it and what the cost would be. I think it generates great competition. Our calculations are that it will save us a considerable amount of money."
Whatever other issues surface, Deal gives every indication of keeping his Capitol office door open for the next two – or six – years.
" I think that's where our success has really come," Deal says, "from trying to get people working together, moving in the same direction."