Cobb County: Team Effort
Job creation and higher education.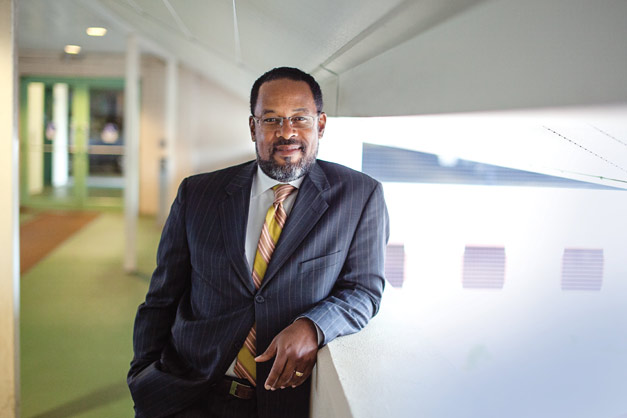 Cobb County's motto these days could be a variation on "you can't keep a good man down." This suburban region just north of Atlanta went through some rough times during the still lingering great recession, but the news is getting better.
Since December 2007, the county shed nearly 36,000 jobs – fully eight percent of the workforce. Those losses effectively wiped out all gains since 1998 with many coming in construction and service industries.
Now those bad days seem to be past, and Cobb is enjoying a budding economic resurgence.
"As far as jobs creation, 2011 was a great year for us and that's continued here in 2012," says Demming Bass, COO at the Cobb Chamber of Commerce.
While the Metro Atlanta region was creating some 30,000 new jobs during 2011, about one in three of these was locating to Cobb County.
"That was really the first time we saw job growth since 2007 – really since the recession hit," says Bass.
New jobs are appearing in industry segments such as manufacturing and biotechnology – both areas that the county is trying to promote. And Cobb has attracted some big projects lately. There is The Home Depot call center in Kennesaw – one of only two such centers in the U.S. – that promises 700 jobs. The county aggressively sought to entice The Home Depot to locate in the county where its corporate headquarters is based.
The Development Authority of Cobb County came up with a variety of incentives, including industrial development revenue bonds, to finance the project. The Home Depot received a personal property bond for up to $15 million and another for the building's developer valued up to $12 million. The company also receives a $2.2-million property tax break over the 10-year life of the bonds. That sweetened the pot for one of the biggest recent job announcements, and the state ponied up a $500,000 grant.
Another victory came with the announcement that Talenti Gelato, the best-selling gelato and third-bestselling premium ice cream in America, had relocated its primary production headquarters to an existing building in the Marietta Industrial Park. The new plant will mean another 100 jobs for the county.
"They took over an old Kroger ice cream manufacturing facility," says Cobb County's economic development director Michael Hughes. "It was quite an opportunity for them. The facility came on the market sort of at the last minute, while they were looking at another facility."
Still another victory came when Wilmington, N.C.-based Osmotica Phar-maceutical opened a new research, development and manufacturing operation in Marietta. The company, which specializes in neurology-based drug therapies and drug delivery technologies, is spending $20 million and creating 156 jobs over the next five years in return for $2 million in incentives. Osmotica will be occupying a facility that formerly housed the pharmaceutical operations of Solvay SA.
The plant is in one of the city's Opportunity Zones. As a result, the company can qualify for tax breaks equaling $3,500 for each new job created.
Local officials say these wins are coming not just from an improving economy, but from a united front that everyone is presenting these days.
"All of these (projects) have been team efforts of the county working with the local chamber of commerce and other development partners," says Hughes.
This new emphasis on teamwork arose out of a realization that Cobb had lost its edge economically," according to Bass. "Back in the 1980s and '90s, Cobb was the place to be. Everybody was coming here, and you just heard about Cobb nationally," he explains.
As other regions became more competitive and went after companies more aggressively, Cobb began to lose business relocations and expansions that it should have won.
To reclaim its mojo, the chamber and other economic development organizations launched Competitive EDGE – a five-year regional growth acceleration initiative focusing on the county's natural strength and targeting the industry clusters that might find a natural home here.
"That was at the heart of what [Competitive] EDGE is all about," says Bass. "What do we need to do to be the most competitive community in the United States and target industries we want to compete for?"
The primary task was to make an in-depth assessment of the county's economic strengths, as well as the industry clusters that hold the greatest potential for expansion. Within the county is a large and expanding healthcare sector anchored by WellStar Health System, which owns Kennestone Hospital, Windy Hill Hospital and Cobb Hospital and other facilities around the area.
Economic Engine
Higher education is one of the prime economic engines driving the local economy. There is a wide variety of educational institutions ranging from Kennesaw State University (KSU), the third largest university in Georgia, to Chattahoochee Technical College, one of the state's biggest technical schools. For the budding engineer there's Southern Polytechnic State University, while the chiropractors are being trained at Life University. Atlanta's universities and colleges are just a short drive down I-75 in the city.
All told there are more than 42,000 students enrolled in these institutions, and their presence has helped make Cobb the best-educated county in the nation, with almost 45 percent of local residents holding a bachelor's degree.
Education is big business here, too. KSU is responsible for $900 million in economic impact annually. Once a commuter school that catered to older and nontraditional students, it has transformed itself into a major university with a budding national and even international reputation.
Students now arrive on campus from across the region and many foreign counties. That has led to a building boom in housing – both on campus and off.
"We've seen a lot of activity in private purpose-built student housing," says Bob Fox, economic development director for the City of Kennesaw. "The target market is KSU students, but this is not university-developed student housing, but privately developed products that are very similar to the suite-style dorm rooms you see built now on campuses."
American Campus Communities recently opened a 114-unit $20-million development named U Club on Frey that is already fully occupied and had a waiting list even before opening. The company plans to add a second phase next year with the same number of beds for students.
"It also gives housing options to the students that are more appropriate for them, and it's a more controlled and managed environment," says Fox. "It gets them out of renting houses in neighborhoods."
An even bigger development is under way on Cherokee Street, where South City Partners is constructing The Sanctuary at Kennesaw, a mixed-use student housing development with room to house 850 students in several buildings grouped around a three-acre park. About 25,000 square feet of student-oriented retail will occupy the lower floors of the buildings.
KSU has been in a significant growth phase in recent years as it has added degrees to meet the demands of both students and the Georgia economy.
"Our faculty and staff and administration has a pretty good handle on the economic development needs of Cobb County and Northwest Georgia," says KSU's President Dr. Daniel Papp.
The university has expanded its offerings in math and science to complement the growth in Cobb's bioscience and pharmaceutical industries. Many of those programs are now concentrated in the new $21-million College of Science and Mathematics Science Laboratory Building.
"We are just slammed for space in our lab sciences – particularly in chemistry and biology," says Papp. "We also built it because we're moving more and more into research. We have a strong cadre of great teachers who are also excellent researchers who've been attracting NIH (National Institutes of Health) and NSF (National Science Foundation) funds."
KSU garnered more attention when a neuroscience team won a major grant from the Department of Defense to validate the efficacy of a new "biomarker blood test" for concussions and mild traumatic brain injuries.
Led by KSU professor Svetlana Dambinova, the team is using the $2.38 million as part of an effort to better diagnose battlefield concussions. The team's work focuses on the chemical reactions that occur in the body in the aftermath of concussions and strokes.
Through an alliance with WellStar Health System, the university has been turning out more nurses than any other college in the state, and KSU students are passing the state's licensing exams at a higher rate than any other school's. Kennesaw State is the No. 1 source of teachers for Georgia schools. Recently it's stepped up training of needed STEM (Science, Technology, Engineering and Math) teachers.
Turning out trained business professionals is the mission of KSU's Coles College of Business, whose executive MBA program is ranked, along with Harvard's, as one of the best in the nation by CEO magazine.
"That's pretty high cotton," says Papp.
The big footprint made by KSU has prompted local officials to ponder whether this section of Cobb should be considered a university city like Athens and the University of Georgia.
"Because of the campus, we also have class A office [space] here as well," says Lanie Shipp, executive director of the Town Center Area Community Improvement District. "It's a balance between being a university area or a corporate area."
The Town Center Area CID has clearly benefited from the economic impact of KSU, which has helped increase its tax digest by three percent while other areas have fallen, she adds.
The CID also includes Cobb Coun-ty's busy McCollum Field airport, which recently got a boost when the county greenlighted the construction of a building to house U.S. Customs and Border Protection agents. Private and corporate jets flying from outside of the country currently can't land at McCollum Field because it lacks a customs inspection office, but that will change when the building opens this spring.
Some 30,000 people already work in the CID, and that number is growing with the opening of The Home Depot call center and a research and development center for aluminum can and sheet maker Novelis Inc. The facility is expected to employ 150 well-paid scientists and technologists over the next few years.
A big concern has been keeping traffic moving through the area for both students and employees. To provide an alternative to the main thoroughfares of Chastain Road and Barrett Parkway, the CID helped finance the reconnection of Big Shanty. The road had been split by I-75 since the 1970s, until the $27.4-million connector project reopen-ed this past summer.
Transit Plans
Just how vital transportation is to business development and redevelopment is reflected in Cobb County's plans to build a $1.1-billion bus rapid transit system. The proposed system would stretch 29 miles from KSU to Midtown Atlanta. By traveling between stations on a dedicated right-of-way, the bus system would not only provide an alternative to cars, but would also spur economic development around the stations themselves, according to Cumberland CID Executive Director Malaika Rivers.
"The old model of developing an area that's drivable/suburban is really not the market that is going to attract development," says Rivers. "We're a market that is matured. We already have 20 million square feet of development, so we're not some small community any more. We have to take care of our existing investors, and when you're somebody who has invested $50 million or $100 million into a business, you have to make sure people can get there. If you're only focusing on one type of travel mode, you're really missing out."
Ask people outside Georgia if they've ever heard of Cobb County, and many will say no. Ask them about the cities of Marietta, Kennesaw and others, and they'll nod and say, "Of course I've heard of them." In many ways, these cities are the heart and soul of Cobb. The traditional downtowns and Main Streets provide the character and the attractions that draw both visitors and new residents.
Take Acworth in North Cobb, which was long the county's fastest-growing city. The recession called a halt to a bevy of residential and mixed-use projects, but Main Street has stayed active. In 2011, the city welcomed 50 new businesses and about 500 new jobs.
"The one good thing is that within the city our residential growth stopped as far as new construction, but we continued to have commercial business expanding," says Mayor Tommy Alle-good.
Recently, those other projects have also come back to life. A large family medical practice and imaging center occupied a newly constructed building on Main. The city was also in talks with Dollar General for one of its new concept markets to replace a failed grocery store.
The property once occupied by an auto dealership seems finally be on the verge of development into a large assisted living community.
The big story, however, is recent steps toward redeveloping a large swatch of town into new residential and greenspace, according to Allegood.
"We began to buy pieces of contiguous property about 10 years ago," he explains. "We said our downtown has been so successful, and what we want to do is continue the redevelopment."
Through agreements with the housing authority, the city was able to get rid of two aging low-income housing projects and replace them with new, more modern senior developments. The extensive greenspace is being developed and will make the construction of new multi-family residential properties easier to sell to developers.
At the other end of the county, Smyrna has also seen revived interest in projects that were initially cut down by the recession. In 2008, the city approved a development agreement with Halpern Enterprises for a $250-million mixed-use redevelopment of the former Belmont Hills shopping center at the corner of Atlanta and Windy Hill roads. Now the developer is back with a revised plan that is more in keeping with market realities.
Another project, Jonquil Plaza at Atlanta and Spring roads, is being developed as a retail-only site plan that may include a Publix Super Market.
The community has in recent years attracted a large number of upscale families to homes that have sprung up around the Village Green, itself a mixed-use development that fronts city hall.
"We have a lot of things that draw people into the downtown and into the area," says Smyrna Mayor Max Bacon, "and they want to stay and they want to be part of our community."