Bryan County: Economic Power
A port, a fort and an interstate.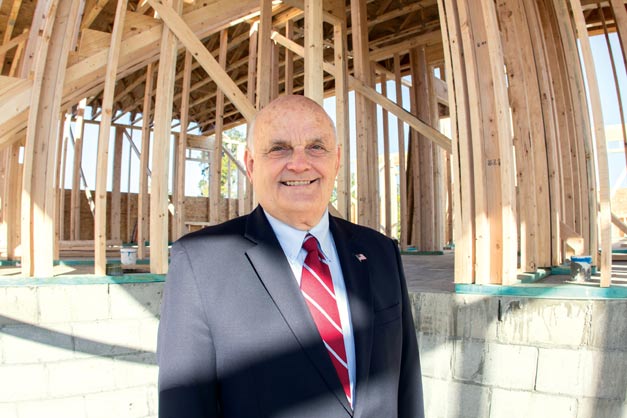 Bryan County leaders stop short of claiming their economy was recession- or depression-proof, but there is a widespread feeling here that the region fared much better than other parts of the state, thanks to two giant neighboring economic engines, the Port of Savannah and the U.S. Army's Fort Stewart. And there is Interstate 95, a river of revenue linking the Northeast to the playgrounds of Florida.
The presence of those amenities may explain why the county has historically enjoyed a per capita income higher than the state average and an unemployment rate lower than Georgia's statewide figure. It seems that even in the recent recession, the county fared better than most of its neighbors.
"We did have a downturn in 2009 and '10," says Bryan County Commission Chairman and banker Jimmy Burnsed. "But we did not see a deep downturn in sales tax revenues because of the traffic on I-95. It seemed to keep on pumping the money for us." Burnsed says he is seeing a robust rebound from any slight dips in the local economy. "We have another [residential] development coming out of the ground [in January] that's going to have 76 construction lots, and we are going to have 500 there before it's over."
The coming housing boom in the busy south end of the county is coming at just the right moment, according to Burnsed. "We have less than nine months of [residential] lots left available," he says.
Since the 1940s, Bryan County has been divided into two distinct parts separated by the U.S. Army's 280,000-acre Fort Stewart, requiring motorists traveling from the north end of the county to the south end to sometimes follow a route through several counties.
"A lot of people liked to refer to us by which side of the county we live on, but those days are ending," says Josh Fenn, executive director of the Development Authority of Bryan County. "We are one county, one voice, and that's what we believe in. And that trip around Fort Stewart is a good time to return phone calls or use the iPod."
Fenn is taking a visitor on a tour of the county and pulls up in front of a "doc box," a former retail anchor at a shopping center that has been transformed into the Richmond Hill Medical Home, a branch of the Fort Stewart hospital designed to treat dependents of military personnel. "This has been good for our community because it took a big chunk of an empty big box retail center. It's kept that center vibrant and brought in a lot more medical professionals and more associated offices, and stores have located there."
Costs And Benefits
It was the Port of Savannah that brought James Scarboro to Bryan County this year, where he says he found a few surprises. Scarboro is general manager of East Coast operations for Matson Logistics, operators of a 500,000-square-foot warehouse in North Bryan County's Interstate Centre, a location 20 miles from the port. When scouting locations for his company's warehouse, Scarboro says he had to weigh the costs and benefits of being that far from the port.
"We had to survey around and see what the cost would be in being closer to the port or being further away from the port," Scarboro says. "When we looked at all we were going to get from Bryan County, the tax breaks, the cost of real estate and other factors, we found out that being out in Bryan County actually was a cost-saving move for us." Scarboro says the West Coast-based Matson has seen its East Coast business grow, and he expects to add about 12 workers to his current payroll of 40.
"Our East Coast footprint has doubled over the last eight years," he says. Matson port customers use the warehouse to store products from beverages and spirits to baby strollers and furniture to appliances and packaged food at their facility in Interstate Centre II on Interstate 16 near Pembroke.
The 1,000-plus acre future site of Bryan County's Belfast Commerce Centre sits along Interstate 95, about 20 miles south of the Port of Savannah. The Belfast property is owned by TerraPointe Services, the real estate development arm of paper and timber giant Rayonier, with the Development Authority of Bryan County as a partner.
Right now the only development visible is a demo field carved from a pine forest flanked by a rail line and busy Georgia Highway 144, with 11,100 feet of frontage on I-95. Studies have shown that those numbers will add up to 2,700 new jobs here within 20 years. The Belfast project is expected to include 1,100 new residential rooftops when built out. "Our overall strategy is we will have product on I-16 and I-95 within 20 miles of the Port of Savannah," says the development authority's Fenn. "Belfast is going to become another city once everything is said and done. This is our growth area, the southeast part of the county."
Growing Population
That part of the county is home to Richmond Hill, one of the fastest-growing municipalities in the region. According to U.S. Census Bureau data, Richmond Hill recorded a 33 percent population growth during the decade that ended in 2010. "Even during this downturn, we have continued to grow and continued to issue building permits," says Richmond Hill Mayor Harold Fowler.
"We've been hit, but not nearly as hard as a lot of cities, and we haven't had to raise taxes. We just worked up a new budget, and we're keeping the ad valorem tax rate the same. We're working with TerraPointe to bring the Belfast project into the city, and that's a 900-acre industrial park," says Fowler. "Basically, if you live in Richmond Hill or the south end of the county, you've got to go outside the county to work. This is going to bring jobs and industry to the south end of the county. It's going to be tremendous for the entire south end of the county. This could mean a thousand jobs in the next 10 years."
Local officials have been working with the Federal Highway Administration to put a new interchange on I-95 near the Belfast project, and Fowler says the community received a go-ahead last fall in the form of an Interstate Justification Report (IJR).
"The IJR is approval for the interchange from the federal government," Fowler says. "The other big project we've got is a four-million-gallon per day wastewater treatment facility. It will be state-of-the-art and is going out where the existing facility is located." The $22-million project is being funded by loans from the Georgia Environmental Finance Authority.
Getting water, sewer and utilities out to the Belfast site carries far more importance than a routine infrastructure improvement, says Paul Boynton, chairman, president and CEO of Rayonier. "It's just hard to come up with a site that has all the things this one does," Boynton says. "It happens to be in an area where growth is anyway, and it is helping the county; it supports the state and it supports our shipping lanes off the Eastern Seaboard. Our site is 1,100 acres of rail-served land, and it's approved for 10.5 million square feet of industrial manufacturing, warehousing, distribution and commercial property, making it the largest rail-served site in the Savannah market. And it's got two miles of I-95 frontage."
Boynton believes the site will be fully certified by the first of the year and ready for site preparation by a user. "All the utilities are in place, the certification done, and that's what the site selectors are looking for," Boynton says. "That allows them to come in and get it [fully] ready in a short amount of time."
Housing Shortage
Mary Warnell is the mayor of Pembroke, the county seat of Bryan County where, she reports, there is a housing shortage. "We have quite a few people in our area that work for the Port Authority in Savannah and quite a few that work at Fort Stewart in civil service, and we have some military personnel in our area," Warnell says. "We currently have some apartment complexes that are fairly new that stay booked with a waiting list. If we just had more housing, we could better meet [military personnel] needs."
Warnell says Bryan is one of two counties in the U.S. separated by a military base. In this case, that's 105,000 acres of land dividing the county, forcing some unusual measures in the management of education system services, for instance. "We have nine schools in the county, five in the south end and four on the north side," Warnell says. "In order to service those schools, we are required to have two bus barns and two maintenance departments, etc., because it would be a little foolish to drive 30 miles for some spark plugs."
Keeping up with past and anticipated growth in the county's school system requires constant attention, according to Dr. Paul Brooksher, the Bryan County Schools superintendent. "We will outgrow ourselves very soon," Brooksher says. "We're going to need more classrooms on the southern side of the county. We need a replacement school for Bryan County Elementary School in North Bryan."
Because the children of Fort Stewart military personnel attend Bryan County schools, the county qualifies for Federal Impact Funds that totaled nearly $1 million in 2012, according to data supplied by Brooksher's office. "Every bit helps," Brook-sher says. "For instance, finding a large-sized piece of land on which to build a school can be difficult, and we have one on land donated by Rayonier. That was very important to us."