Art Of The Meal: One Eared Stag
One Eared Stag in Inman Park exemplifies an era: the post-crash, quietly confident attitudes of a new wave of eateries – with great cocktails.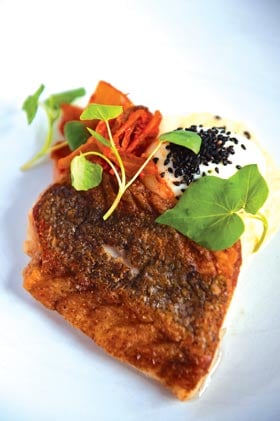 As Atlanta continues to climb out of its economic slump, it can be all too easy to mourn the loss of some favorite restaurants – all the while missing the forest's wildlife for the trees.
One Eared Stag is a prime example. Foraging on an excellent celery salad with North Georgia apples, pistachios, endive and parmesan, alternated with bites of prosciutto di parma, sliced wax-paper thin, with artichokes, radishes and manchego, I remembered how Shaun's, the former resident of this prime Inman Park space, in some ways exemplified those pre-crash days: It was rollicking, popular, featured valet parking and rave reviews – yet star chef and namesake Shaun Doty ended up shuttering the place in late 2010, going on to open his less glamorous but solid Yeah! Burger and Bantam & Biddy restaurants (see page 93).
A couple of visits later, One Eared Stag proves it also exemplifies an era: the post-crash, quietly confident attitudes of a new wave of eateries.
As good as Shaun's could be (oh, that arugula salad on flatbread!), I could never warm to its noise, its crowds and some of its studiously fussy food. The "East Village-style" chopped chicken livers were nothing like anything I sampled in the great old Eastern-European delis on the Lower East Side. I figured it was a place for a younger demographic than my own and left it at that.
One Eared Stag, however, also seems designed for a younger, more adventurous and more informed diner – yet it's one of my new favorite go-to spots, especially for lunch, a mid-afternoon hangout or early dinner. The whitewashed walls, namesake earless stag and friendly, expert waitstaff lend a calm, zen atmosphere during such times – though the bar area livened up considerably by the time we left one early dinner. Still, stealing in at such low-traffic times allows you to feel you have the place to yourself, along with the attentive, but never intrusive assistance of the staff. Like some of Atlanta's most fun post-crash restaurants (think H. Harper Station, The Optimist, even Abattoir or Leon's in Decatur), One Eared Stag starts with house-invented cocktails, often of house-made elixirs; mixes it up with small plates, lots of meats and local produce, interesting wines; and rounds it all out with a genuinely engaged staff, from the host-stand greeting to the bartender's good-bye as you leave.
For me, however, a meal is less about service and environment than the food and drink, and in this One Eared Stag stands a taxidermic head above its competition. Those cocktails, often seasonal, like the Hay Ride (apple bourbon, honey syrup, maraschino liqueur, lemon bitters) or the Fall Manhattan (Wathen's bourbon, Cocchi Americano, peach bitters). Those small plates, so well designed to accompany them: the velvety smooth, lick-it-out-of-the-jar potted chicken liver; or the gorgeous and tasty steelhead crudo with trout roe, radish, jalapeno and yuzu. The only disappointment: A grilled hen-of-the-woods mushroom did disservice to one of my favorite hand-foraged fungi, drying it to a distasteful crunch. Still, the larger plates were even more exciting – successful experiments in taste combinations, like the tilefish over Carolina Gold "rice grits," with kimchee and a beautiful six-minute egg flecked with black sesame seeds. Great with the broccoli rabe greens with roast garlic and guindilla peppers.
And as much as we enjoyed the specialty meats you'll often find on the menu here – quail, steak, lamb, rabbit – the fish dishes we tried were among our recent favorites anywhere, such as hogfish, in a thoroughly delectable preparation including "potato sauce," Brussels sprouts and bacon. Want to try a more prosaic preparation? Monday night is fried chicken night, recently offered with glazed carrots and duck liver gravy. (Unless you count the tomato bisque with grilled cheese, that's about as prosaic as it gets here.)
You won't really need dessert, but the chocolate pot de crème is a good one, especially paired as it is with cardamom cookies. One day, I'll have enough room left to try the Eton Mess, a British treat of roasted strawberries, cream and meringue.
I guess that just means I'll have to go back.
Speaking of Bantam & Biddy …
Just opened at presstime, Shaun Doty's newest "fast casual" venture at Ansley Mall offers a few other mains (pork schnitzel, meat loaf and plenty of gluten-free options), but as the name implies, it's all about chicken – in meat and three combinations, with dumplings, with waffles … and yes, it appears those livers will re-emerge, this time at breakfast, with eggs and "chicken liver hash." Doty is also reportedly planning a second, smaller location in Atlantic Station, to open early this year. 1544 Piedmont Road, Atlanta. 404.907.3469. bantamandbiddy.com