The Poverty Factor
Poor home circumstances often mean poor school performance, but some Georgia educators are working to change that.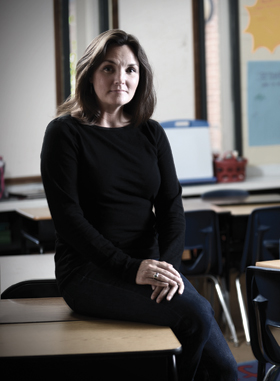 Stephanie Jones was born into the "it's not what you know, but who you know" world, and her close-knit family didn't know the right people.
Her family's Appalachian roots run deep in the Eastern Kentucky coalmines, and Jones grew up poor but happy, moving from trailer to trailer, mostly in rural Ohio, or wherever her mother and stepfather could find work.
She hated school, barely survived 12th grade, put off community college and struggled academically when she finally enrolled, while working full-time as a waitress. Life was too real for her to consider anything as frivolous as an American Dream.
"I know too intimately that when you are born into a family with meager economic resources, you get the short end of the stick in almost every deal," says Jones, associate professor in the Department of Elementary and Social Studies Education at the University of Georgia, whose writing and research focuses on poverty and education.
For her, the work is way more than a career or even a mission. She's driven by her empathy to the millions of working-class students. She's driven also by guilt, despair and sadness over her own family, most of whom live in rural Kentucky, struggling to find work and pay bills.
"It boils down to luck and serendipity that I am in my economic position, and [my family] is in theirs," says Jones. "I do research in this area because no one in my family has been treated well by the institution of education."
In Georgia, she has some fertile ground to toil in. About 26 percent of the children in Georgia live in poverty (an increase of more than 80 percent in 10 years), tying us with Tennessee, North Carolina and West Virginia at sixth in the nation for that dubious distinction. (Mississippi leads with 32 percent.) And inevitably, more kids in poverty means the challenge of educating gets harder.
"It's irrefutable. There's no question that there's a connection between the stresses of living in poverty and poor academic performance," says Neil Shorthouse, president, state director and cofounder of the non-profit Communities in Schools of Georgia (CISGA), part of the national CIS network, the largest dropout prevention organization in the U.S.
The worst-performing public schools tend to be in the poorest zip codes, while most successful public schools are in more affluent zip codes. The dropout rate of students in low-income families is more than four times greater than the rate of students from higher-income families. In Georgia, economically disadvantaged kids are about four times more likely than their higher-income counterparts to score below standards on the almighty CRCT (Criterion-Referenced Competency Tests).
"It doesn't have to be that way," says Shorthouse, well aware that it has been that way for a very long time.
Waves of politically charged education reform and legislation that have basically focused on teacher assessment through expensive and heavily weighted standardized testing or expanding charter schools haven't addressed the conditions that kids live in, conditions that have a profound impact on student and school performance.
"The issue is massive. There are so many reasons why working-class and poor kids disconnect from school," says Jones, who believes she succeeded in spite of the public education system.
Conversely, Georgia's State School Superintendent Dr. John Barge insists he succeeded because of it.
"In this country, in my opinion, we have the best educational system in the world, and it's because we educate every child that comes through our doors. From the poorest to the most profoundly disabled child, we take them all," says Barge, a former teacher (high school English and middle school Spanish) and school principal.
"I was one of those economically disadvantaged kids, and I was able to get to where I am thanks to our public education system. We can't choose the poverty argument as an excuse to not have high expectations for our kids' education."
Barge is a company man who is bullish on the public school system, a conservative Republican who doesn't mind breaking political ranks (as he did in opposing the charter school amendment Georgians approved last month). He believes the system relies and spends too much on standardized testing and should better recognize the challenges and needs facing a demographically diverse student population.
For Jones, changing the system is a moral imperative.
"I have to figure out how to make sure kids and families have opportunities that don't wait for luck and serendipity," she says. "We have to change the system – not the smart and creative kids and families who find themselves trapped in classism and struggle.
"That's why I became a classroom teacher, and that's why I am a professor and writer now."
Breaking Out
Utevia Tolbert grew up surrounded by protective adults, a hard-working single mother, a caring extended family of uncles and aunts – her absent father's siblings – who would walk her to school and enable her to be involved in extracurricular activities like cheerleading. Even the dope dealers in her urban neighborhood had a protective sense about them, leaving the kids alone but for the occasional polite hello.
"I didn't realize I was poor until I went off to college," says Tolbert, who experienced a bit of a culture shock when she left Atlanta's Fourth Ward for the University of West Georgia campus in Carrolton.
"I never knew that I was a high-risk student."
But now that she's a school administrator, assistant principal at Barrow Elementary School in Ath-ens, Tolbert is trying to balance high expectations for her students with clear-eyed awareness of who is at risk and why. It's taken some self-examination on her part, and she's had to overcome some of her own biases.
Even though she was poor as a child, Tolbert has learned to better understand the effects of poverty in school through workshops provided by Stephanie Jones and her UGA colleague Mark Vagle, part of their ongoing CLASSroom Project. But Tolbert wasn't instantly convinced they knew what they were talking about, these well-intentioned, white university academics.
"I walked in with an attitude and a mind frame like, 'You don't tell me what it feels like to be poor. I know what it feels like and what it looks like.' Some of what they were presenting wasn't how I was raised," says Tolbert. "I'm black and I was considered high-risk, but as we talked more, I realized the issue wasn't a black and white thing, but a socioeconomic thing.
"But I got what I needed. I had a good support system. Not everyone in a tough socioeconomic situation has that experience."
Through The CLASSroom Project at UGA, Jones and Vagle have instructed about 1,000 teachers, counselors and administrators over the last three years in how they can better meet the needs of economically disadvantaged students and families.
"We're working on how to be more class sensitive in their curriculum and teaching and in their school policies," Jones says.
Their workshops for educators have focused on social class and class-sensitive pedagogies, but they've also held weeklong seminars for graduate students focused on social, psychological, economic and political aspects of social class and poverty and the implications for teaching and learning in the classroom.
"Schools have been forced to narrow their curriculum and focus more on test scores," Jones says. "The curriculum doesn't align with the knowledge of working-class and poor kids. They face systemic classism through the ways they are tracked and labeled, and they often face disrespect among peers and, occasionally, teachers, even well-intended teachers who say things like, 'Oh, you don't want to be a waitress like your mother. You can do so much better.'
"It sounds like it could be a positive thing, but the student ends up feeling bad."
It's a classic neoliberal contention: You can do better than your waitress mom if you work hard enough, as if an endless supply of lucrative, high-paying jobs waits for every student who manages to climb the social class ladder.
Jones contends that educators who sell the upward mobility discourse without understanding what is behind it – without understanding the economic realities for workers – may alienate the very students they want to inspire.
"We have this idea in our society that we have infinite and exponential growth in our economy, and that as long as you work hard enough you'll find a job that'll move you into the middle class," Jones says. "When you look at the last 40 years of the U.S. and global economy, you see that just isn't the case. Real wages have actually gone down since the 1970s, and the middle class is diminishing."
Of course there are exceptions to every rule, even seemingly unfair rules. Jones is one. So is Tolbert. Poor kids who managed to carve out successful livelihoods in spite of challenging childhood circumstances.
For Tolbert, even though she says she didn't realize she was poor, it took some time to appreciate the childhood she left behind.
"Once I got out of that environment, I never wanted to go back, and I definitely didn't want to raise my two daughters in that environment, so I sheltered them," she says.
The UGA workshops helped change her perspective.
"If somebody found the time and energy to put into my life – and they had – then I should be willing to do the same, and to let my daughters visit their roots and come to the realization that we're all the same, and that there is sometimes a way out of poverty," Tolbert says. "To think that I would have a bias against a place where I grew up – that sat in my soul a whole lot, wondering why I would do that and what would make me think that way."
Now, she makes it her business to get back to the city, to sit on her mother's porch and play cards, to visit with relatives and old friends and breathe native air.
The Cycle
One of the things that keeps coming up in conversation with Jones, the educators who have taken her workshops and the CIS folks, is the concept of cyclical poverty. They all talk about it like it's a spinning arrow that keeps landing on the same target.
"We're dealing with kids who are caught in this cycle, and their parents have been caught in this cycle, and the only way to interrupt it is through education," says Shorthouse, whose organization partners with school administrators, regulatory agencies, businesses, faith-based organizations and other community-based agencies to help increase attendance and graduation rates.
In Georgia, there are 41 CIS local network affiliates scattered around the state, providing services and resources at 315 schools and community-based sites. In 2010-2011, they served more than 146,000 students, about 80 percent of them who receive free or reduced-price meals at school (in other words, economically disadvantaged).
They're making a difference, too – 97.6 percent of at-risk students served by CIS stayed in school or graduated. Grades have improved dramatically for students in standard public school settings and the CIS network of Perfor-mance Learning Centers (18 small, non-traditional high schools around the state for students who aren't succeeding in the traditional setting).
"We serve as a liaison for students, their families and businesses and people in the community who want to give something back," says Ivy Corder, CIS coordinator at Monroe Area High School in Walton County. "Administrators, teachers and counselors refer students to me for specific needs, and if I can't provide the product or service they need, I solicit the community.
"It takes pressure off of teachers for basic things their students need. So they can focus on teaching, and I can focus on the stuff that students need. Stuff like school supplies that their families can't afford or transportation – and clothing is a big deal – and food."
Jones and her workshop students are working on some of the same goals in different ways. She's trying to plant the seeds of change within a public school system that is often irrelevant for kids who wonder where they might be living next week or what they might be eating when they're not at school getting their free breakfast or lunch.
Trent Hatton, assistant principal at Clinch County High School in southeast Georgia, says the work begins with trust, which is a bit easier to achieve in a small, rural system, because as he says, "They all know who I am and what I'm about, and I know the kids and their parents and know where and how they live.
"Also, most of our teachers are from here, and a lot of them went to school with our kids' parents. We're surrounded by good people."
Hatton was something like a teacher's pet in The CLASSroom Project workshop, impressing Jones with stories of how they've empowered low-income students in Clinch County. For example, if a kid wants to play in the band but his family can't afford an instrument, "We get the money through our boosters.
"Around here, we try to find out what our kids love. Sports, drama, band, we've got a strong FFA (Future Farmers of America) program. All of these things help keep our kids interested in school and performing well.
"These kids are here to learn and experience everything they can, and just because their parents have run into some misfortune, we're not gonna punish the children. We want to end that cycle."
Clinch County is known for its football championships at the Class A level, but now they're known for meeting AYP (annual yearly progress, a measure of academic achievement) every year as well.
Another one of Jones' star students is Shane Rayburn, principal at Oakwood Elementary School in Hall County, where students are being empowered for what they already know.
"Our first step was recognizing the knowledge that kids bring to school with them, and honoring that, rather than working from a pity mode, like we should feel sorry for them," Rayburn says. "A lot of our families are working-class folks stuck in an economic crunch, so we're working to figure out how school can meet their needs."
They're meeting the kids where they live. When a struggling student was asked to write an "expert piece," to describe something he's really good at, he came in with an essay entitled, "I'm an Expert at Being a Redneck." It was funny and true.
"There was no better topic for him. He wrote pages of stuff, real stuff that he cares about," Rayburn says. "To him, it's relevant. We're learning to use curriculum in ways that respect who kids are and where they come from but also challenge the stereotypes we have about different groups of people."
The CLASSroom Project encourages educators to know their students' lives away from school, the idea being that education doesn't just happen in a bricks-and-mortar vacuum built by SPLOST dollars.
"So we're asking kids to talk about themselves and their lives," Rayburn says. "We ask them to do photo stories. They take school cameras home over the weekend and bring back the pictures, which capture their lives away from school, into school. Now we have to be willing to shape our decisions on teaching based on what they bring to us."
They're inspiring the students to become leaders in their own education plan, encouraging student-led conferences between teachers and parents.
"Our kids are beginning to see and believe that school can be a place where they take action," Rayburn says. "School isn't just being done to them. They can be an integral part of what happens at school and help redefine what school looks like.
"There's a ton of evidence that school hasn't worked for so many groups of people for so long. School ought to work for every kid, and we haven't quite figured that out yet. But we're working on it."