Southwest Georgia: Signs Of Recovery
Commerical, retail, agriculture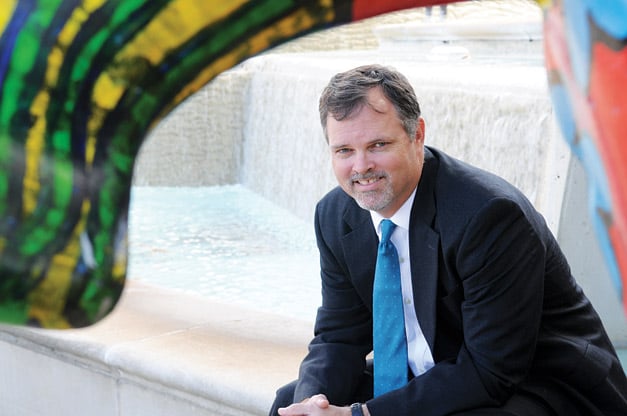 In Southwest Georgia, a vast expanse of 25 counties stretching from Interstate 75 to the Alabama line, signs of economic recovery are starting to take hold. Some traditional jobs centers like Albany and Valdosta are seeing an upsurge in company expansions and new hiring. In less prosperous and more rural counties, the talk is finding economic development in traditional places like farming and tourism.
Prior to the recession, big expectations were commonplace among economic developers, but no more. Now you're likely to find local leaders like those in Dougherty and Lee counties taking pleasure in smaller successes.
"We're heading in the right direction with very modest growth," says Ted Clem, president of the Albany-Dougherty Economic Development Commission. "There are more people working in the Albany marketplace as opposed to two years ago. In terms of economic development success, at the beginning of the year we saw a good increase in prospect activity that has tapered off a little bit as we went through the summer months, but we have some good active projects that we're pursuing."
The biggest success was last summer's announcement that Outdoor Network, one of the largest online suppliers of parts and accessories for marine and powersports enthusiasts, would relocate its Internet fulfillment center to Albany, creating an estimated 112 jobs. Plans call for the company to set up operations in a renovated 27,000-square-foot building on Seminole Lane off South Slappey Boulevard.
The relocation is a good example of what it takes to win new businesses these days. The company set its sights on Albany after company owner Tom D'Azevedo attended the 2012 Georgia Quail Hunt in Albany, co-sponsored by the development commission. According to company officials, he was impressed both by the hunt and the commitment of local officials to winning the deal – with what the Albany area had to offer in terms of quality of life, infrastructure and four-lane highway connectivity. Albany Technical College also chipped in workforce training for Outdoor Network new hires through the Georgia Quick Start program.
Existing Industries
New business is good, but the area has also seen a significant growth in existing industries as well – particularly the small, but important cadre of chemical companies. Equinox Chemical, along with Dominion Chemical and SASCO Chemical Group, have added about 100 new jobs among them. Equinox boosted hiring by 46 when it purchased and relocated Missouri-based Adco Cleaning Products to town. It also put $1.5-million investment in a 60,000-square-foot building.
"There's also growth in the retail market," adds Clem. "We're seeing a modest retail recovery with some new businesses looking at Albany. We have the two new restaurants – Buffalo Wild Wings and Olive Garden – both of which are new to our market."
One of the area's biggest job creators continues to be the Marine Corps Logistics Base (MCLB), which employs 2,400 civilians and about 600 Marines to create a $645-million economic impact.
A close partner – and supplier of workers for Dougherty – is next-door neighbor Lee County. As part of the Albany Metropolitan Area, it has long been not just a bedroom community, but an attractor of retail and commercial companies. In fact, when you combine the two you come up with the second highest retail pull factors in the entire state, boasts Winston Oxford, executive director of the Lee County Chamber of Commerce and Development Authority.
Lee County experienced its share of pain during the downturn in 2008 and continuing through 2012. Yet during that time, the tax base has continued to expand. Just take a look at the number of business licenses being generated in the county – a good barometer of economic growth. In 2004, just 680 were issued. By 2006, that number rose to 1,200 and then almost 2,200 in 2011.
"Over the last year and half as Lee County's development director, I spent all my time trying to recruit commercial investment," explains Oxford, adding that industrial prospects just aren't on his radar anymore.
Committing local resources where they will make the biggest difference grew out of a Georgia Tech study that pointed to recruiting retail and other commercial venues as the best place for developers to hang their hat.
Over the last few years, the county has landed grocery stores such as Publix and restaurants like a new Chick-fil-A. Recently the number of inquiries has risen dramatically as businesses have sensed an improving economy and are prepared to take advantage of it, he adds.
Having that strong retail pull factor has long been the area's saving grace. When Oxford was growing up in Americus, Albany and Lee County were the places where you came to purchase clothes or go out to a nice restaurant.
"That means more people come to the Albany area to spend their retail dollar than local people leave here to spend their dollars elsewhere," he adds.
Lee has also settled in to being a bedroom community for neighboring Dougherty. More than 85 percent of local residents leave for jobs in companies based around Albany.
Port City
In this region, there is a definite sense that times are getting better. Nowhere is that more evident than in Crisp County. Over the past year, shipments from the new Cordele Intermodal Services (CIS) facility have been steadily increasing. Known as an "inland port," the facility is a staging area for container cargo on its way to and from the Port of Savannah.
"It seems to have attracted a lot of companies," says Bruce Drennan, executive director of the Cordele-Crisp County Industrial Development Council. "We've got three [new companies] that are looking at locating here specifically because of the inland port."
Although the facility is a six-hour rail haul to the port, bringing goods here – whether they're machine parts or agricultural products – makes sound business sense, according to Drennan.
To begin with, costs are simply lower. As the port has grown more congested, costs of nearby storage options have gone up. However, containers can be loaded onto a rail car in Cordele and arrive in Savannah a few hours later to be loaded directly onto a waiting ship. They avoid the congestion – which sometimes leaves tractor-trailer trucks idling at the gate for hours waiting to get in. Trains can also carry greater weight than trucks, reducing the per mile cost of transit.
"What we've been pushing is that being in Cordele is the same as being at the Port of Savannah," says Drennan, adding that once containers leave here, they can receive a bill of lading just as they would upon arrival at dockside. Since the cars pull right up to the cargo ship itself, they avoid the prospect of being delayed on the highway and missing the berth completely.
Most of the cargo is going out for distribution overseas rather than being imported into the state. Given that this is Southern Georgia, much of the cargo has lately been peanuts, cottonseed oil, soybeans and other farm commodities.
"We're seeing a lot more [of these crops] during the harvesting season," he says. "Probably our largest product export going out of here up till now has been kaolin clay."
The material, which is mined in areas around Sumter and Macon counties, is used in a wide variety of products ranging from cosmetics to anti-diarrhea medicine.
Over the next five years, the inland port is expected to bring as many as 3,000 to 5,000 new jobs to the region as more companies relocate in the area. It may also create something of a building boom in logistics and distribution. At the moment there are few warehouses on the market, but those that are available are getting close scrutiny from companies.
One manufacturer of pressure-treated crossties and power poles is building a facility nearby for shipment of its products to countries such as Brazil. Norbord Industries, a maker of wood sheeting products, has leveraged its Cordele facility to begin exporting its products internationally, according to Drennan.
Adding Up
Across Southwest Georgia, communities are finding success in what others might call modest accomplishments. In Valdosta, Andrea Schruijer isn't expecting any one project to create a thousand jobs, but put a number of openings together and you come up with 650 to 700 within a nine-month period.
Among the parts of that puzzle is Southeastern Die Reconditioning, Inc., which moved its corporate headquarters and manufacturing operations to the Hahira Business Park. The company, which refurbishes pellet mill dies and rolls for biofuel and feed mill manufacturing plants, started with 18 employees and is now up to 36, says Schruijer, executive director of the Valdosta-Lowndes County Industrial Authority.
The county also scored the DuPont Crop Protection Logistics and Distribution Facility for its Westside Business Park – the first such expansion to locate in this certified park. DuPont, which will use the 150,000-square-foot facility to supply insecticides and fungicides to crop growers in the South Georgia and North Florida region, will employ about 25 workers.
"So we've seen some good activity, and we've had some good expansion," says Schruijer.
One harbinger of a better economy to come has been an upsurge in the retail sector. Gander Mountain, the nation's largest retail network of outdoors specialty stores, and Academy Sports have both opened new locations in Valdosta. There's also a new Olive Garden restaurant in town. Hospitality got a boost when Drury Hotels announced it would build a new hotel here, its fifth in Georgia. The 180-room Drury Inn & Suites is scheduled for a 2013 opening.
"It's promising to me that people are shopping in the retail sector and investing again," says Schruijer. "The other thing that has been really good on a positive note for us is in September 2012, residential sales were up eight percent compared to this time last year. It's been a good increase in that sector, and I think we can attribute that to the new openings. That's a great catalyst for what is coming up in the future."
One of Valdosta's strongest assets has long been its healthcare sector. South Georgia Medical Center has partnered with Valdosta State University and Wiregrass Technical College in the creation of a $40-million Health Sciences Center. The new health science building will be located on the University's North Campus across from South Georgia Medical Center and will provide a more hands-on approach for students.
"It really came about when the two partnered and worked with South Georgia Medical Center to really understand the future of healthcare at that organization," says Schruijer.
The transition of healthcare to high tech has also inspired local entrepreneurs. Azalea Health Innovations is a local company that supplies electronic health records and practice management software to meet the growing demand from hospitals and doctors' offices as they transition from paper.
While some areas are starting to see the light of day, many of the largely rural counties are still struggling with a lack of jobs and an abundance of poverty.
"It's been tough," concedes Tina Herring, director of the Brooks County Development Authority. "I hate to say this, but we didn't have a whole lot to begin with. We got hit harder when NAFTA (North American Free Trade Agreement) was approved. So we really had not recovered fully from that. This downturn, we've not lost any industry because we really didn't have that many to begin with."
For counties that lack a main roadway or a large workforce, finding the path to recovery has not been easy. For Herring, the goal is to maintain the status quo while building up the infrastructure that will make Brooks more attractive to companies further down the line.
The county recently opened a 250-acre industrial park. Taking a cue from other communities, the local general aviation airport has extended its runway to 5,000 feet to accommodate the corporate jets favored by site selection agents.
"We also built a new high school, so we have all new schools," she explains. "We continued to make strides in moving our community forward so when the recovery happens we would be ready."
For most local residents, jobs are to be found in larger communities outside of Brooks County. After all, companies here are [typically] less than 25 employees.
The county has scored some victories lately. Crown Health Care Laundry Services, which handles hospital laundry from Jacksonville to Atlanta, opened a facility that now employs more than 140 people following three rapid expansions.
Like other rural counties, most local jobs can be found in agriculture. Herring says cotton and peanuts are the primary row crops, while the county is the second largest dairy producer in the state. Timber has also come to occupy a large place in the economy.
Rayonier is building a new chip mill in Quitman. The mill, which should be up and running by the middle of 2013, will support demand from fiber production lines at the company's mill facility in Jesup. There, the wood materials will be converted to cellulose specialties fiber used in a variety of products ranging from LCD televisions to sausage.
"If you add in the trucking and logging jobs, there will be 50 new positions," says Herring.
Farming, that most traditional of industries, has continued to offer jobs throughout Southwest Georgia.
"We didn't suffer the way some places did because of our farming and agriculture," says Karen Rackley, president/ executive director of the Sylvester-Worth County Chamber of Commerce. "With farming comes irrigation systems, crops, chemicals, trucking – we have a lot of industry that caters to our farmers."
The lack of industrial plants can be both a blessing and a curse. Worth avoided the spectacle of a large outside firm showing up, taking concessions and tax breaks, but then folding without producing the promised jobs.
On the other hand, companies such as ConAgra that cater to farm customers have maintained steady employment levels.
Worth, like other counties, has also clued in to the fact that you don't need large amusement parks to create a thriving tourism industry. Hunters have flocked to the county's numerous plantations from around the country and the world. Along the way they're helping build a $11.9-million business, according to Rackley.
Rather than bemoaning what they don't have, folks here are making the best of the natural resources that still exist in abundance.
"Rural Georgia has been struck," says Rackley. "We've lost some businesses and some jobs, but where we've sustained ourselves is that we don't depend heavily on industry for economic development."
Community Snapshot
Local Leaders
Ted Clem
President
Albany-Dougherty Economic Development Commission
229.434.0044
tclem@choosealbany.com
Bruce Drennan
Executive Director
Cordele-Crisp County Industrial Development Council
229.273.9570
brucedrennan@crispidc.com
Karen Rackley
Executive Director/President
Sylvester-Worth County Chamber of Commerce
229.776.7718
karen@swcountychamber.com
Population (2011 projections)
Brooks County, 15,889
Crisp County, 23,710
Dougherty County, 94,788
Lee County, 28,575
Lowndes County, 111,885
Worth County, 21,921
Per Capita Income (2011)
Georgia, $35,920
Brooks County, $30,678
Crisp County, $26,520
Dougherty County, $30,549
Lee County, $39,941
Lowndes County, $30,431
Worth County, $32,382
Unemployment (August 2012, preliminary)
Georgia, 9.2 percent
Brooks County, 8.8 percent
Crisp County, 12.8 percent
Dougherty County, 10.9 percent
Lee County, 7.7 percent
Lowndes County, 8.8 percent
Worth County, 9.3 percent
Sources
Georgia Department of Labor, individual county agencies, Selig Center for Economic Growth at the University of Georgia