Finding The Right Hospital
Lists are a great starting point, but don't overlook your doctor, your health plan and the comfort factor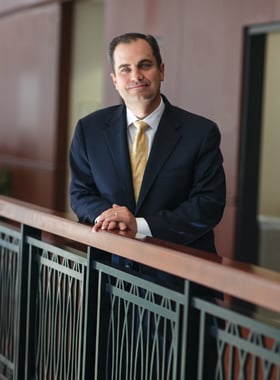 Jennifer Giliberto was searching for a doctor to treat a potentially malignant brain tumor when her search kept leading her to Emory University neurosurgeon Costas Hadjipanayis, M.D., Ph.D. After meeting with Dr. Hadjipanayis and his team, it didn't take long for her to realize that he was the doctor she wanted to treat her tumor, and Emory was the place she would go for treatment.
Not only did Emory have a fine reputation for brain surgery, but Dr. Hadjipanayis and his team respected and shared her treatment philosophy. "I saw him in May of 2008, we scheduled surgery for August 2008 and we have been moving forward since," says Giliberto.
Four years after her surgery, she continues to go to Emory for MRIs every six months – and likely will for life.
Pat Kight's relationship with Evans Memorial Hospital in Claxton began 32 years ago when her then 12-year-old son needed medical attention fast. She and her family had just moved from Savannah to Claxton, her husband's hometown. She chose Evans, she says, because it had the closest emergency room. But the care with which she was treated that visit – and numerous ones since – have kept her going back.
"I am an asthmatic, and I can't tell you how many times I have been there in dire straits," she says. "If you come in with breathing problems or heart problems, they take you right back. They have actually saved me several times."
Though their situations were much different, Giliberto and Kight faced a situation that practically every Georgian has or will – choosing a hospital. Granted, not everyone has the luxury of choosing. If you are involved in an automobile accident or suffer a heart attack, you usually go where the ambulance takes you – the closest place that offers life-saving care. But when you are expecting a baby, considering options for cancer treatment or planning for hip replacement, you have time to consider your choices. And even if you don't need a hospital now, most likely you eventually will.
If you have a serious problem that needs complex treatment, you need to research your best hospital options for that particular treatment. If you don't need a hospital now, it's not too soon to start looking for a good general hospital for when you do, says William P. Kanto Jr., M.D., senior vice president medical affairs and chief medical officer at Georgia Health Sciences Medical Center in Augusta.
The Lists
When many people look for hospitals, they go to a list – for example, U.S. News & World Report's Best Hospitals, Becker's Hospital Review's 100 Great Hospitals and, of course Georgia Trend's Top Hospitals. While lists can be a good starting point, in most cases they are just that – a starting point, says Dr. Kanto.
Not every good hospital makes a list, and not every hospital on a list is necessarily the best in every situation. For example, if you see on a list that a hospital provides the best cardiac care, but it doesn't specialize in the particular cardiac procedure you need, it still may not be the best hospital for you, says Dr. Kanto. In other cases, there are likely to be several hospitals that can provide comparable treatment, so many other factors will be involved in your decision.
So when should you use a list, and how do you go about choosing the hospital that's right for you? The answer depends on the complexity of the problem or procedure and how quickly you need care, but experts offer seven factors to consider.
1 Specialization and volume. Some hospitals specialize in certain areas and as a result do a high volume of procedures in those particular areas. Often – but not always – these are hospitals that make the list for those areas.
Particularly for more complicated surgeries and procedures, choosing a hospital – and doctor – that does a lot of those procedures can improve your outcome. Studies bear that out.
For example, a 2011 study of 974,000 patients who received elective total shoulder or total hip replacements found that those who had had their surgeries at high-volume, regional hospitals had better surgical outcomes and experienced fewer complications than those who underwent those surgeries at smaller, local hospitals.
Other studies dating back to the 1970s have had similar findings for other types of procedures, from prostate cancer treatment to heart surgery.
The importance of choosing a high-volume hospital likely differs depending on the type of procedure you are having, says Dr. Kanto. "The more complicated procedure, the more important to look at national data or to search out or seek out facilities that would be expert in that particular procedure."
2 Your doctor. For most people, the choice of a hospital will begin with their doctor. If your doctor will be performing the procedure, you will need to go to a hospital where your doctor practices. If you are looking for a specialist or hospital for your procedure, your own doctor can be a good resource.
"The person who can help you most is the physician who is referring you," says Dr. Kanto. "You need to use their guidance and solicit their help in making your decision."
Your doctor can also help you make sense of the wealth of information (see Hospital Info Online, page 27) you find on the Internet, says Dane Peterson, CEO of Emory Hospital Midtown. Peterson recommends doing online research but using the information to guide a discussion with your doctor. "All of those public reported areas can direct you to what questions to ask," he says.
Your doctor can help you interpret the data, which can be confusing, says Dr. Kanto. For example, he says, if you see that one hospital has a higher mortality rate than another, that doesn't necessarily mean it's an inferior hospital. "Frankly, some of the better hospitals will try more complicated procedures as part of their mission. That may make their mortality look bad, but their mortality looks bad because of what they are trying to accomplish.
"Sometimes it is hard because you are not comparing apples to apples, and that's why I think the personal physician is of great assistance to you."
3 Your health plan. Like it or not, finances will play a major factor in the hospital you choose, and for most people that means going to a hospital where their health insurance provides optimal coverage. Most plans negotiate rates with certain providers, including hospitals. If you choose those providers within that contracted network, your plan will pay a higher percentage of your medical costs – say 80 to 90 percent after a deductible – compared to perhaps 60 percent if you choose a hospital not on the plan. The difference for you – 10 or 20 percent of your costs, compared to 40 percent or more – could easily be thousands of dollars.
"You are going to want to stay in your network," says Dr. Kanto. "That could be pretty difficult if you didn't."
Before choosing a hospital, check to see which ones are included on your insurance. You may also want to check that any doctors who will be involved in your care will be, too, so you won't receive an unexpected large bill from the radiologist who reads your x-rays or anesthesiologist who administers your anesthesia for surgery, for example.
4 Location, location, location. For many people seeking medical care, there's no place like home – or at least close to home. When researching treatment, Jennifer Giliberto found a number of respected medical centers that treat the type of slow-growing tumor she was diagnosed with. She chose Emory, she says, largely because of its location.
"Obviously there are great tumor centers and hospitals all over the country. But for me, I have a husband and three children, and our life is in Atlanta. It was important for me to maintain a consistency in our life, and fortunately Emory was right in my back yard. We all as a family have had to make various sacrifices because of this, and it didn't feel right or necessary to ask or expect my family to make sacrifices and travel when everything was here."
Having her procedure close to home also makes it easier for her to get follow-up care and become involved in hospital activities – including counseling newly diagnosed patients – that allow her to help others and be more than a patient.
When the quality of care is comparable, studies show that people tend to do better when they are close to home, where they have the support of family and friends. "There is a great deal to be said for remaining close to home in terms of follow-up care and if there are any complications and being supported by friends and family," says Dr. Kanto. "Often there is not that much difference in outcomes between several good centers, and if you look at it with what we call a 95-percent confidence rate, they all fall into the same bucket. So just because a place has a slightly better number doesn't mean that it is a better place for you to go." You have to take into account other issues, including location.
5 Infection rates. Before choosing a hospital, Dr. Kanto recommends checking its infection rate, which is available from the hospital itself or on websites like the U.S. Department of Health & Human Services' Hospital Compare site (www.hospitalcompare.hhs.gov).
The Centers for Disease Control and Prevention (CDC) estimates there are 1.7 million hospital infections and 99,000 associated deaths in the U.S. each year. Obviously, in most cases, hospitals with lower infection rates reduce your risk of leaving the hospital with a problem other than the one you entered with. But Dr. Kanto believes a low infection rate says something more about the hospital as a whole. "To me, if a hospital is paying attention to infection rates and keeps them [low], that speaks to an overall environment of what the hospital is trying to accomplish."
6 Patient satisfaction. If other patients are satisfied with the care they receive at a hospital, there's a good chance you will be, too. Ask friends, family members, coworkers and members of your place of worship about hospitals they have used and their experience there, says Peterson.
When other people talk about their hospital experiences, take note. "If people are satisfied with their hospital experiences they tend to go back and talk about it in positive terms, and that tends to encourage other people to go there," says Dr. Kanto. "If your peers have all had a good experience there, that may be a good place to go."
Alternatively, he says, you can check out hospitals' patient satisfaction scores through the Hospital Care Quality In-formation from the Consumer Perspec-tive (HCAHPS) website, www.hcahpsonline.org.
Scores are based on patients' responses to 27 survey questions, which allow them to share their perspectives and rate items encompassing eight key topics: communication with doctors, communication with nurses, responsiveness of hospital staff, pain management, communication about medicines, discharge information, cleanliness of the hospital environment and quietness of the hospital environment.
7 Compassion, caring and re-spect. When choosing a hospital, like choosing a doctor, technical skill sometimes just isn't enough. You want to go to place where you are treated respectfully and compassionately and valued as a person.
"I like Evans Memorial because I don't think I have met more than one person who was not personable. They give you the impression that they enjoy what they are doing and they want to do everything they can to help you," says Kight.
During a recent weeklong stay, she says, the staff all treated her like they knew her personally. "They treated me like I was the only person in the whole hospital," she says. "They treated me like a friend."
The importance of qualities like compassion and respect are particularly important when you are faced with a lifelong problem, says Giliberto. "Some things that aren't as important when you are having a routine procedure become more important when you are going to have a relationship with that physician and that hospital for life," she says.
Building Trust
While online data, friends and doctors can all play a role in your choice of hospitals, in most cases, the choice is ultimately yours, says Emory's Peterson. "In general, I think it is all about confidence and trust – and how you as an individual build confidence and trust," he says.
Peterson recommends asking yourself how you make other important decisions – like buying a new car. Do you read the data about each model? Do you ask friends about their cars?
"My recommendation is whatever you to do build confidence in a decision, that is what you need to do."