Art Of The Meal: Rosé-Colored Glasses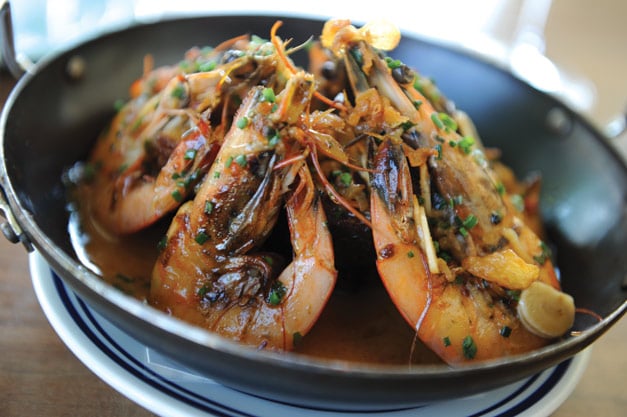 The Optimist
914 Howell Mill Road, Atlanta
404.477.6260
www.theoptimistrestaurant.com
Reservations: Accepted.
Parking: Valet only.
Credit cards: All major.
Prices: Smaller plates and sides, $6-$12. Large plates, $18-$30. Lobster and sirloin "surf & turf," $42.
Dress code: Anything from jeans to a little black dress.
Sitting in The Optimist, the new West Midtown Atlanta restaurant from JCT. Kitchen's Ford Fry and executive chef Adam Evans, I'm swirling a chilly glass of Merlot/Cabernet rosé. Outside, the clouds' upper edges begin to take on the same pinky-salmon tint as the wine – which is, appropriately, in a big glass, more than half-full.
It's also delicious, although the old-school-influenced cocktails are also good ways to welcome the dividing line between work day and evening rest. Take, for example, The Truth as We Know It, with Bitter Truth pink gin, Dolin Blanc French vermouth and Angostura bitters – grown-up and appetite-priming, even before you get to the plump caperberry and neatly folded strip of smoked salmon pierced on a pick bridging the glass. A perfect complement to fresh East Coast oysters – either icy, on the half-shell, with mignonette; or so quickly crisp-fried they seem to encase liquid globules of seascape.
We got here early because it's just about the only time to nab a reservation on short notice, even in the burgeoning foodie mecca West Midtown has become. (After our visits, Esquire named The Optimist its "Restaurant of the Year," further increasing the crush.)
The crowd inside and out is as interesting as this rehabbed former warehouse – monied folks in fancy cars, checking out the newest hit restaurant, killing time on the little putting green as they wait for a table or seat at the oyster bar; lots of young families with children, especially at this early hour; smart, attractive people exuding pheromones; and occasionally, a miserable-looking combination of the latter two. (Why do hosts seat people on dates next to tables with small children? It is the ultimate romantic buzzkill.)
On both visits, I sat in the quieter front room overlooking Howell Mill Road, but next time I hope to join the throng in the crowded main room, just to watch the people and the open kitchen. Still, it was a more than pleasant place to contemplate this perfectly named, perfectly timed restaurant. The economy limps along, but Atlanta throbs with ambitious new and soon-to-open eateries. Most are aligned along the new fine-dining paradigm – a casual environment, more options with smaller plates, more local and sustainable food, and good wines and cocktails.
The Optimist is a seafood restaurant (the name also describes a kind of boat), successfully combining the best attributes of a screen-door oceanfront fry-shack and the urban hotspot it is. Like New York City's The John Dory Oyster Bar, The Optimist is winning hearts, minds and stomachs with impeccably fresh marine fare in devilishly clever preparations. Like the "Truth" martini that comes with its own appetizer, there is often a little lagniappe – an unexpected freebie: the house-made pickles and smoked paprika mayo with those fried oysters, or the "little gem" salad that turns out to be big on authentic Caesar flavors.
Sometimes the freebies are more ethereal. Take, for example, the she-crab soup – here, the essence of crab and roe are intense but invisible in thick, frothy cream. Try to resist dunking the accompanying thick-sliced shrimp toast. You will fail. Speaking of dunking, the whole Georgia white shrimp "a la plancha" (grilled on a metal plate) comes complete with "sopping" toast. ("Messy, but worth it!" reads the menu, and that's right. The neighboring table kept looking longingly at our order, even as we swiped our plate clean.)
I love the big, clean salads, lightly dressed and dewpoint fresh. You could certainly make a great meal of the smaller plates, but then you'd miss out on the beautifully composed plates of seared yellowfin tuna, with spicy harissa and charred octopus; the boneless trout with charred okra and pepper jelly; or meaty triggerfish with sweet corn, basil and Padrón peppers. (Meat lovers need not mourn – hearth-roasted skirt steak, pork shoulder and lamb also make regular appearances.)
Star dessert chef Taria Camerino is also onboard, but despite her exciting work at Top Flr and Sugar-Coated Radical, the desserts I sampled here, while certainly tasty, didn't match the balance and sense of adventure in the rest of the menu. My companion loved the tapioca pudding with bananas foster, but the textures were a little too Gerber for my taste. However, another friend ordered the lemon and lavender meringue tart, despite my unspoken bias against desserts containing flavors found in bath salts. This beautiful little tart, however, surprised with its subtle (thankfully, nearly undetectable) hint of lavender, and the gorgeous little hut-like structure with meringue-thatched roof featured exceedingly toothsome shortcake-like "walls." Still, the advertised "honeycomb" wasn't present, and the pool of honey on the plate extraneous.
Despite these minor flaws, The Optimist is the place to eat now. Go there and order a rosé-colored glass, and see how your view changes.