The Carter Center At 30 Years
Filling vacuums in the world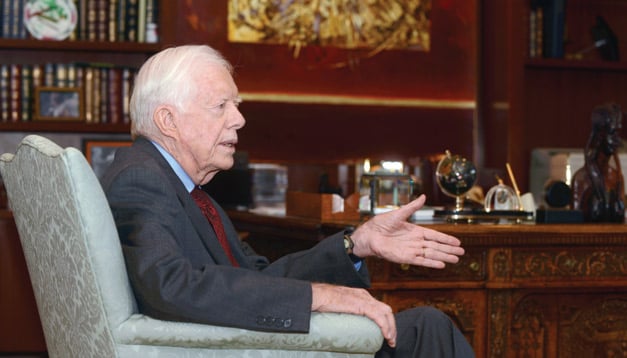 Jimmy Carter must have figured out a way to recycle time, because the man doesn't waste a minute. He gets more done before lunch than most people half his age accomplish in a day, reading a cyber-stack of newspapers every morning, writing, painting, and oh yeah, healing the world.
At 88, Carter still maintains a steady "level of participation" with his beneficent brainchild, The Carter Center. But that's just a fancy way of saying he isn't dead yet.
Death can be a touchy subject, and in Carter's personal experience, a word to be avoided by well-intentioned smart people who didn't want to fully consider out loud the prospect of Jimmy and Rosalynn Carter passing away, and certainly not while the ex-president and his wife still sat at the head of the proverbial table.
"This was probably 20 years ago, and we started planning for the time when my wife and I are no longer active in The Carter Center. Ever since, our basic strategic plan has been designed to address that eventuality," Carter explains. "But they were trying to be sensitive, and they never would say, 'When Jimmy and Rosalynn die …'"
Instead, the planning committee of Emory University professors, struggling to define a future at The Carter Center without the Carters, came up with their own euphemism for the grim inevi-table. And Carter wrote a poem about it.
"I imagined them, various people, standing around my casket, trying to find the right words. It's still funny to me," he says.
The poem, "Committee of Scholars Describe the Future Without Me," ends with the schol-ars, "stating the lamented fact in the best of terms that I, now dead, have reduced my level of participation."
Carter's role has shifted, depending on what he chooses to engage in. But he remains the most vital figure at The Carter Center, the global action-oriented non-governmental organization (NGO) he and Rosalynn started in 1982. For 30 years, The Carter Center has pursued – and redefined – its lofty mission to advance human rights and alleviate human suffering. And even though much of the Center's efforts are focused in the more remote corners of the planet, they don't have to look very hard for work.
"The Carter Center's basic premise, since we founded it, has been to fill vacuums in the world," Carter says. "When the world is in a crisis stage, like it currently is economically, we have a lot of opportunities.
"If the U.S. government, or the United Nations, or the World Health Organization, or a university is taking care of a problem, we don't get involved. We take on the issues no one else is addressing."
Whether he was brokering peace in Liberia or visiting a disease-ravaged village in Ghana or monitoring an election in Zambia, his work through The Carter Center has made for the most interesting, most effective post-presidency in history.
When he left the White House after losing his bid for a second term, to Ronald Reagan in the 1980 presidential election, Carter was 56, the second youngest ex-president since William Howard Taft.
Back in Georgia, as Carter explains in Beyond the White House: Waging Peace, Fighting Disease, Building Hope, he got busy settling the affairs of his dormant farm and warehouse business in Plains and working out the details for a presidential library in Atlanta. Meanwhile, he and Rosalynn pondered the question of what to do with the rest of their lives. The answer woke him up one night.
"I imagined something like a small Camp David, where a nation that had a civil war going on or where a civil war might break out, could come, and we would negotiate between the two opposing sides to try to bring peace, or prevent a war. Or, I could serve as a mediator in their country," he says.
"But we never dreamed when we started 30 years ago that we'd be involved in elections around the world – no one had ever done it before. And we never dreamed that we'd get involved in tropical, neglected diseases, and that has become the overwhelming thing we do."
Healing The Third World
Carter, an engineer by training, was a pragmatically progressive politician and remains a deeply religious man (who draws standing room only crowds to his Sunday school class in Plains). He seems driven equally by analysis and the Beatitudes, and that's reflected in the work of The Carter Center.
"He wants to improve the world. He wants to help people," says Dr. Steven Hochman, director of research for the Center and Carter's faculty assistant at Emory, where he is an adjunct professor in the history department. "President Carter is motivated by his values."
Those values seem most evident in the work of the Center's Health Programs division.
"When I first got here 23 years ago, the health programs were in their infancy," says Dr. John Hardman, president and CEO, who previously directed the Center's mental health program before becoming executive director (the board of trustees changed the title to President and CEO in 2007).
"The largest portion of our budget is now in the health area; and that growth is a tribute not only to the work itself, but it's an acknowledgement that results are important. Everything we do is data driven, and that data shows that people can improve their lives and control horrible diseases that most of us in the U.S. have never heard of."
Neglected diseases that torment millions, usually the poorest people in some of the most isolated settlements on Earth. Africa, Asia and Latin America are particularly hard hit by some of these diseases. Carter pronounces the big, ominous words perfectly, without a hitch in his South Georgia lilt: "Lymphatic filariasis, trachoma, schistosomiasis, onchocerciasis, and finally, dracunculiasis, or Guinea worm disease," he says, adding, "and we have founded at The Carter Center the only task force on disease eradication in the world."
That would make Dr. Donald Hopkins, vice president in charge of Health Programs, the Center's disease czar. He's known by a few other names in Nigeria – "Redeemer of Less Privileged" and "Healer of the World." They're fair appellations, even outside of Nigeria.
Hopkins helped rid the world of smallpox in the 1970s as part of the World Health Organization's (WHO) global effort, joining with Dr. William Foege in implementing a new, successful strategy called containment and surveillance.
Foege, who was director of the Centers for Disease Control and Prevention, would go on to become executive director of The Carter Center in 1986. Hopkins ran the CDC's international health programs and eventually became acting director. But in his spare time, he began a campaign to eradicate Guinea worm, which he saw as eminently doable. But no one was doing anything, really, except for him, and a few colleagues at the CDC. So Hopkins approached The Carter Center in 1986.
"President Carter was drawn to Africa and the developing world. He was working with farmers already, and one of the things that made Guinea worm disease such an inviting target is that it had such a terrible impact on farmers," Hopkins says.
People become infected with dracunculiasis by drinking stagnant water containing Guinea worm larvae. The symptoms show up a year later, after the female larva has grown into a full-sized adult, two to three feet long, about as thick as a spaghetti noodle.
It creates a painful, burning blister, usually on the legs or feet, and bursts through the skin. In an effort to relieve the pain, a person can immerse the wound in water – but that causes the adult worm to contaminate the water with millions of immature larvae, starting the cycle all over again. It's rarely fatal, but it is excruciating, slow and debilitating.
Not So Easy Fix
The solution was both simple and complex. Simple: Clean drinking water. Complex: These are some of the hardest to reach settlements in the world, and while no one wants to suffer from the disease, not everyone wants the help they're offered.
"I went to a community where they had only one source of water, and that's where the outbreak was coming from. But the community did not let us near it because they said their ancestral spirits lived in the water, and they thought we would kill those spirits," explains Dr. Emmanuel Miri, technical adviser of The Carter Center's health programs in his native Nigeria, where his name means "water" and "life."
The village elders wouldn't let him use Abate, an effective larvacide. This kind of resistance is not unusual and one reason why it's been 25 years and Guinea worm is still not eradicated. Yet. When The Carter Center took on the Guinea worm eradication program, under Hopkins' direction, in 1986, there were 3.5 million cases of the disease in 21 African and Asian countries. Today, there are only about 1,000 cases, and 99 percent of them are in South Sudan.
"There are important sociological reasons why South Sudan is still affected," says Hopkins, who spends his time in the field when he's not in Chicago or Atlanta. "It's a vast area with a very long rain season, and that makes it difficult to get around.
"The road system is poor, and you have very little of the other infrastructure, like telephones and other forms of communication, and you had that very long civil war, 20 years of it, most of which was fought in the south, destroying what little infrastructure there was."
Nonetheless, Hopkins expects that with the continued use of the cheap, low-frills filtering system he devised and treating water sources, Guinea worm will go the way of the dinosaur, and smallpox.
Meanwhile, there is the example of Nigeria, where Hopkins is revered, and Miri heads up a Carter Center contingent that is made up entirely of Nigerians. That, after all, is the point – to reference a proverb, The Carter Center is more concerned with teaching others how to fish, rather than delivering the fish already cleaned and pan-fried.
"We train some people in the villages to do the right things. It's education about public health," Miri says. "We also train them to treat the contaminated ponds. These are volunteers. They don't get paid, but we encourage villages to pay them in kind."
So, for example, now that Nigerian farmers aren't suffering from Guinea worm, crop yields are up, and local healthcare volunteers may get paid in food. Miri says that may not be enough for very long. It's a matter of economics.
The Carter Center's annual budget is only about $105 million, most of which is allocated to the health programs. But it's a pittance compared to some other NGOs, who can afford to pay the same people who are doing volunteer work for The Carter Center.
"This is a concern, because our volunteers are becoming overworked," Miri says. "It's a big challenge for me, because The Carter Center is promoting volunteerism at the village level, but another organization running a polio or malaria immunization program is offering an honorarium. It's difficult to compete with that."
The Carter Center depends on the largesse of individual donors, foundations, corporations and governments.
"The global economy constrains donors and what they are willing to spend," Hopkins says, who notes that the British government, Gates Foundation and United Arab Emirates, among others, were particularly generous in the fight against Guinea worm.
"They realize that it's expensive to combat these neglected diseases, but it's more expensive not to in the long run."
Big Idea
Turning Atlanta into a mecca of international peacekeeping might have seemed like an audacious idea, even coming from an ex-president. Carter was not popular after four years in the Oval Office (there was the Iran hostage crisis, and one poll that gave him the lowest rating ever for an American president), and Reagan routed him in the 1980 election. Carter was a beaten man by most accounts. Not by his.
He knew the world needed something like The Carter Center, and he knew that he was the right guy for the job. Of course he was. He brought peace between Israel and Egypt, ending 30 years of conflict. The challenges of raising money to fund his high-minded idea aside, he had plenty of faith in the concept.
"I knew when we left the White House that having been the president of a great nation, I would have access to almost everybody in the world," he says.
That's why they've been planning for the day when he is no longer able to do the work, and why the main focus of the Center's Peace Programs division has shifted away from conflict resolution and focused more on the democracy program, or election monitoring.
"After I'm gone, conflict resolution, that is, direct negotiation …" Carter says, hesitating a few seconds. "I think that might be a little difficult for a while."
The long-term view is one reason Carter insisted at the outset that the Center be affiliated with Emory University.
"Academic institutions tend to have lasting influence and long histories, a sense of continuity, and that was one reason we wanted to form the relationship with Emory," Hardman says.
Half of the board of trustees is appointed by Emory; the other half by The Carter Center from the world at large.
"That academic link means we'll always have strong relationships with regional leaders. It'll provide some degree of access, knowing that we'll never have another former president here."
There are five programs under the Peace Programs division, which is headed by John Stremlau.
"Elections monitoring and our work with advancing democracy are over half of what we do in the Peace Programs," says Stremlau, whose background is in policy planning, international relations and conflict prevention. But he says he took to election monitoring "with the zealotry of a convert."
The Carter Center pioneered the process, first observing the Panamanian election in 1989, at the invitation of President George H.W. Bush. They have monitored more than 90 elections in 37 countries, including Libya and Egypt recently. They even helped the Cherokee Nation with its special election for principal chief – one of the few domestic programs (in addition to the Mental Health program, under Rosalynn's leadership) The Carter Center has engaged in.
Matter of fact, the U.S. wouldn't even qualify for election assistance, because quite frankly, we don't play by the rules.
"We require that there be a central election commission and the procedure for casting ballots be uniform all over the country," Carter says. "In effect, we have over 4,000 election commissions – every county in America.
"Also, we require that any qualified candidate have equal access to the news media, and it doesn't depend on vast infusions of money from special interest groups that want a favorable return. We won't monitor an election like that," he says, adding, "It grieves me to see our country's political process degenerate into a system that's almost entirely controlled by massive contributions, most of which are spent on negative advertising to destroy the reputation of your opponent in order to win an election."
The U.S. is arguably the oldest democracy in the world. We literally wrote the book. So it bothers Carter, perhaps the last of the true American statesmen, to see the meaningful political discourse give way to TV talk-show hijinks and hysteria.
It bothers him that the gap between the richest and poorest Americans has doubled in the years since he left the White House – he believes that growing chasm presents the greatest challenge to maintaining peace and economic prosperity, in this country and abroad.
But he's encouraged by The Carter Center, a palace of peace that sits on top of a hill that General Sherman once stood upon to watch the burning of Atlanta a mile and a half away.
"We believe we're a treasure for Atlanta and Georgia," he says.
And he isn't worried about the future of The Center. He and Rosalynn gave it a 30-year head start, building an endowment that exceeds $400 million and laying a foundation that seems sturdy enough to withstand the ages.
"We know that over time our specific programs and the focus of those programs will change, depending on world conditions," says Hardman, who has worked closely with the Carters for almost a quarter century. "But the principles, I think, will be maintained, and that's the real legacy of President and Mrs. Carter.
"Because of those principles, and the direction they've given us, The Carter Center is set up to continue well into the future."