Power Players: Woman With A Purpose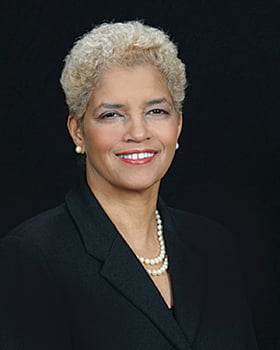 When former Atlanta Mayor Shirley Franklin left office in 2010, many assumed she would make a run for a statewide office or perhaps take a post in the Obama Administration. But Frank-lin says that was never her intention.
"One of the clear advantages I had was that I ran for office when I was in my 50s," she says. "In doing so, I was making a decision about how I was going to spend 10 years of my life. But I was also clear that I wasn't going to spend 20 years of my life [in politics]. That was never my desire."
Instead, Franklin, who also admits to being physically exhausted after two terms as mayor, went to academia, teaching interdisciplinary political science and anthropology courses at Spelman College. The experience rejuvenated her. A year later, in 2011, she accepted a position as CEO of Purpose Built Commun-ities, a holistic neighborhood revitalization program founded by businessman and philanthropist Tom Cousins.
It was a homecoming for Franklin, who studied sociology and psychology in college, cut her teeth in community development and worked as a consultant to Cousins' East Lake Foundation in 2007.
"I basically came back to Purpose Built," she says. "This is probably the work I should have done back when I was in my 20s. When you invest in a neighborhood that has had very little investment, when people are disheartened or locked out of the economic mainstream, and you come to them and say, 'We can change this, and it will change the quality of life for generations to come,' it's a blessing to be in that position."
Using the successful East Lake neighborhood as a model, Purpose Built Communities focuses on changing neighborhoods by addressing three key components simultaneously: mixed-income housing, the "cradle-to-college" education pipeline and community wellness. The foundation is built upon identifying neighborhood leadership who demonstrate the will to follow it through.
"The underpinning of that," she says, "is the private sector [organization] working with business and civic leaders to take ownership of that initiative. These are people who deeply love their community and are willing to risk their reputation and resources to put together a singularly focused, not-for-profit that's focused exclusively on neighborhood transformation."
Currently, Purpose Built partners with neighborhoods in Atlanta, Clarkston and Rome as well as in Charlotte, N.C., Indianapol-is, New Orleans, Birming-ham, Ala., Spartanburg, S.C., and Omaha, Neb.
Anyone who knows Franklin knows she's no figurehead CEO. "We have a very small staff, so all of us are involved in strategy development. I'm involved in strategic planning, networking, helping to connect Purpose Built in various cities," she says. "Most of the time I go in either in the beginning or during the stage where we're finalizing the relationship so that I can give the perspective from an elected official's standpoint."
Purpose Built addresses another essential element of neighborhood revitalization: sustainability. "The aspiration is that the Purpose Built model will be a model for community transformation that demonstrates time and time again, across America, that you can break the cycle of poverty," Franklin says. "You can break [the cycle], and it's sustainable if you build all the elements in."
Measurability is vital. "Our model is designed so the entire neighborhood will live better lives. You'll hear us talk about crime rates, graduation rates, employment rates and parent engagement rates – all those statistics are designed to measure the quality of life in the community. We believe that in order to sustain, you have to have an organization whose job it is to ensure that all the components are being attended to after you do the ground-breaking and dedication."
Franklin is embracing this next chapter of her life with as much zest as she did the mayor's role. "The key for me has been to be open to the possibilities that exist," she says. "Some people say you make your own opportunity, which I think is true. But you also have to keep your eyes and ears open and your heart open to the possibilities that exist."